Before you apply your makeup, it's important to invest in a base. Healthista reviews eleven of the best face primers around
When it comes to makeup, it's all about that base (to inadvertently quote Meghan Trainor). You could spend hours preciously applying your foundation, blush and contour only to have it slide off, go patchy or simply sink into your skin throughout the day. Whether you want to blur your wrinkles, mattify shiny skin, minimise your pores or even out skin tone, everyone could make good use of a primer in one way or another. So in true Healthista fashion, we've tried and tested some of the best products about – this is your one-stop shop to find the primer for your skin need.

No time in the morning for priming AND moisturising?   This Glossier product might just sort you out. The beauty babes behind the Glossier brand say that their priming moisturiser will help to visibly plump up your skin with moisture to help create a cushiony bounce in your skin as well as an even texture which they say will minimise the look of your pores. The product contains an anti-redness complex which is supposed to smooth and even skin tone, leaving a clean, dewy and balanced finish. Glossier say this comforting cream allows you to layer and build up to the perfect amount of moisture depending on climate, season, or how your skin's feeling on any given day.
Healthista writer Parisa Hashempour says: 
To describe a beauty product as comforting seems strange, but that's exactly what this priming moisturiser from Glossier is. With a strong but soft fragrance of lavender and a texture that feels almost like sudocrem, this thick white cream has a seriously calming effect. It glides on like a moisturiser and I found that it was seriously hydrating for my dried out winter skin (especially needed post-morning cleanse). I was pretty apprehensive about wearing only a moisturiser and no additional product to prime but was pleased to find that I didn't need it. My makeup stuck to it well and there was absolutely no patchiness. I loved that this product cut one extra step out of my morning routine and will definitely be using it on days when I want minimal effort.
Glossier Priming Moisturizer is available for £18 from Glossier here.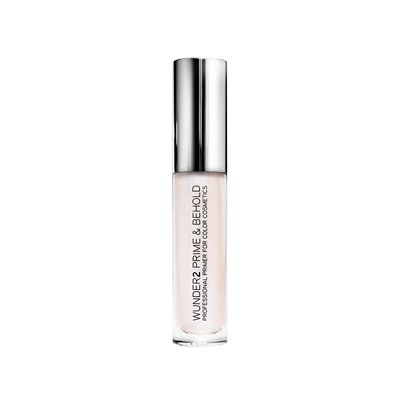 According to Wunder2 this product is the perfect companion to coloured foundations. The brand says it has been specifically designed to lock any colour pigment to the skin (so no disappearing foundation come lunchtime) and the lightweight, creamy formula dries to a holographic finish – giving you a shimmering, dewy glow. The primer isn't just for all over but can also be concentrated around the eye area to create a crease-free, even base ready for your eyeshadow application or on your lips to keep your lipstick from running amuck. The key selling point of this product? Wunder2's Light Transformation tech. According to the brand it helps create an intense colour effect on the skin, while promoting a silky finish AND enabling blendabilty of any loose pigments on top. They use a natural active ingredient called luminescence which protects the skin and absorbs UV rays, transforming it into a source of light that radiates directly from your skin to intensify any added colour cosmetics. Phew! Is there anything this primer doesn't do?
Healthista editor Anna Magee says: 
I'm a huge fan of the Wunder products and really adore their wrinkle filler when I'm tired. This product is different though. It gives your face this silky finish that makes putting make up on so much easier (I use a lot of creams and sunscreens and that often means make up slides off). It's quite dry to use to you have to apply it strategically where the face needs it. For me that was lips, eye, cheeks and nose (so everywhere then). I loved the slightly luminescent affect it gave my make up and it didn't budge all day. I'm sold on this – it's particularly good to put over make up before you re-do your face before going out after a day at work. It kind of restores the blank canvas without having to take it all off.
Wunder2 Prime & Behold is available for £21.41 from Amazon here.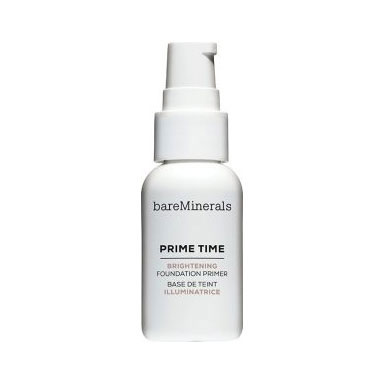 This primer from bareMinerals is made specifically to help brighten up skin that is looking and feeling a little dull. The brand says you should apply a single layer underneath your makeup to smooth out pores and fine lines. Using a combination of vitamins, minerals and antioxidants (hello, face brightening vitamins C and E) the formula claims to help combat both oiliness and dryness all in one go. Why is vitamin C in particular so great? It's used by your skin to help in the creation of collagen (the thing that keeps your skin young, supple and smooth), it's an antioxidant that helps reduce inflammation (who needs a turmeric latte?) as well as helping get rid of redness caused by UV light and other environmental antagonists – sounds good to us. According to bareMinerals, this primer is especially good at combating dry patches, using plant extracts to help keep your skin moisturised.
Healthista writer Parisa Hashempour says: 
The first time I pumped this primer out onto my fingers, I was a little alarmed – the liquid was pigmented with what looked like very bronze colouring. But when I massaged the primer into my face, I was pleased to find the colour blending naturally into my skin tone. It looked almost invisible aside from a subtle glow that I felt made an instant difference. The liquid was smooth and not at all tacky, drying quickly onto my skin (there's nothing worse than waiting forever to apply foundation) and the smell is pleasant but extremely subtle, disappearing quickly as soon as the fragrances of my foundation took over. The small pump is easy to use and makes for easy, clean application. The bottle size isn't big however I found I only needed the smallest amount of product and even though I've been applying the primer every day, I'm confident it'll last me for quite a while. I have extremely dry skin and I found that this product worked wonders for smoothing over dry patches around my mouth and chin and brightening up my face on days when it looked extra dull. I would definitely recommend this product.
BareMinerals Brightening Primer is available for £19.55 from Escentual here.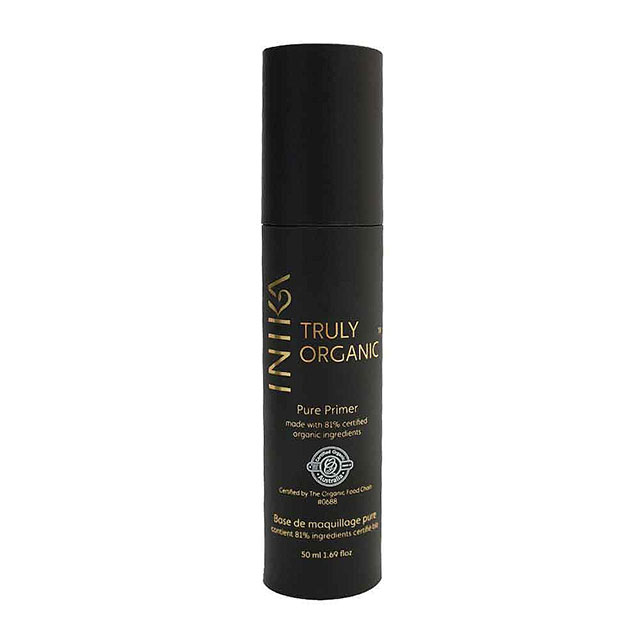 Australian brand, Inika has fast become a worldwide go-to for all-natural, organic makeup. Celebrity facialist, Abigail James is a big fan of the brand and earlier this year told us, 'I'm really impressed with all of Inika's stuff. If I did a skin peel on someone in treatment I could safely put Inika products on their skin immediately afterwards. In fact, I'd advise someone to do that after a peel. Not only is there nothing in it that's going to irritate what we've done but also the minerals actually aid the healing process.' The organic primer is made with Hyaluronic Acid and Inika says it offers protection and hydration for your skin prior to makeup application (whilst helping to keep your skin looking young and fresh).
Healthista intern Brianna Conley says: 
The packaging was really cute and sleek with simple black with gold font – I was instantly drawn in. I particularly loved the texture of this primer. It was smooth, not super sticky or too thick. It glides onto the skin really easily and acts as a great base beneath a foundation. I used this product during the day and was pleasantly surprised to see my makeup stay on and not budge later on in the day. The primer smells faintly like lemon which was lovely and not at all overpowering. I liked that the primer dried very quickly so I was able to apply my foundation immediately. I was a bit apprehensive that it might make my face greasy or super oily but that didn't happen at all.
Inika Organic Pure Primer is available for £29.50 from LookFantastic here.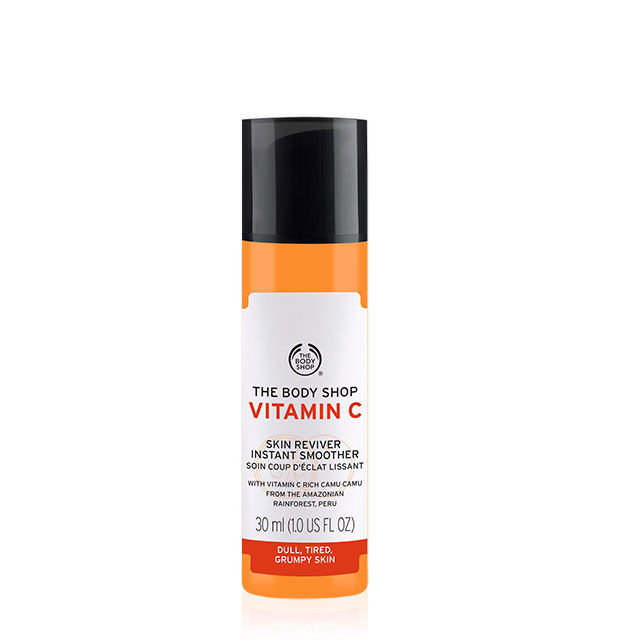 Brighton-born brand The Body Shop is famous around the world for being a cruelty-free skincare and makeup brand and for the seriously gorgeous scents of their products. This gorgeously citrusy scented serum hits the mark and although not technically labelled a primer, has made it onto our list of the best. The vitamin c serum goes on directly underneath makeup and on top of foundation to give your skin a healthy-looking glow. The brand says it will help to combat dull, tired complexions and we say it blurs over imperfections just as good as any targeted primer. The Body Shop says the product has light reflective particles to help enhance the natural radiance of your skin while moisturising ingredients give your skin a silky smooth finish.
Healthista writer Parisa Hashempour: 
I've been obsessed with this product for the last few years after a friend recommended I try it. The sweet, orangey smell is phenomenal and never fails to help wake me up mid-morning makeup routine. It leaves your skin feeling silky soft and is the perfect makeup base, helping to avoid patchiness without making your skin look greasy. My skin has a tendency to be a bit dry and dull but despite being colourless, this primer seems to perk my face right up, even before I've applied my makeup. I lather it onto drier parts of my face and it really seems to soften them up. I also love how quickly the product dries and sinks into the skin. One of my pet hates is having oily fingers post-priming but it quickly sinks into both my face and fingers after application. The only downside to this product is that thanks to the product design its hard to know when you're running out (which is why I make sure I've stocked up!)
The Body Shop Vitamin C Skin Reviver is available for £17 from The Body Shop here.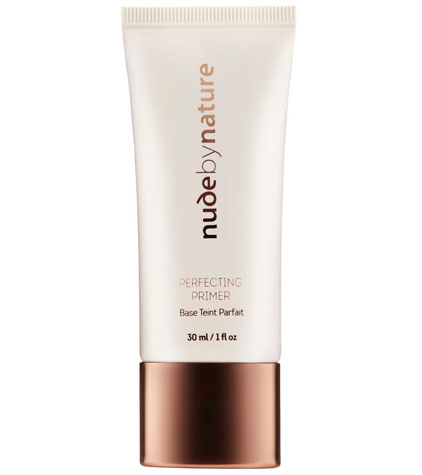 We love  PeTA approved, natural brand, Nude by Nature not just for their ethics but for their seriously effective products too. Perfect for anyone with sensitivities, this primer by Nude by Nature is silicon-free. The brand says it's a moisturising product that will create an even, luminous base for makeup application. The formula is untinted and aims to blend seamlessly into the skin, making your face look fresh and fighting visible signs of ageing (by smoothing you out in the places that could do with a bit of smoothing). Healthista picked this product for its amazing list of active natural ingredients including the native Australian Kakadu Plum, known for its abundant Vitamin C content, rich antioxidants Vitamins A and E, and Green Tea.
Healthista writer Vicky Hadley says: 
I haven't used a primer for a while and had started to find my skin felt and looked drier when I applied make-up. It was harder for my foundation to blend as my skin quickly absorbed it as I was missing a moisturising base. The texture if the primer is extremely light and absorbs quickly and easily into the skin. It has a lightly perfumed scent which smells fresh. I applied the primer after washing and moisturising my face. It appealed to me because it has the added benefit of including green tea in its ingredients list, to help wake up the skin. I found that my makeup blended a lot easier after applying the primer. The dry skin significantly lessened and my skin looked a lot smoother. But most of all, I loved the luminescent effect of this foundation, my skin was seriously glowy after applying this product.
Nude By Nature Perfecting Primer is available for £22 from Nude by Nature here.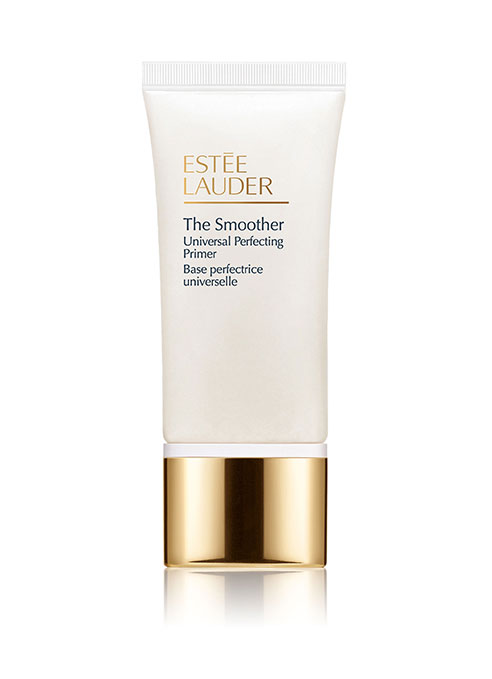 Estee Lauder has done it again with their amazing Universal Perfecting Primer. It's a lightweight product which helps to perfect the skin by evening out texture and diffusing the look of pores and imperfections. Estee Lauder boasts advanced formulas are the reason that the primers work at such a high performance, creating a smooth canvas for makeup application. The primer is available in four different finishes (for each skin type) – the range also includes a dewy primer which helps illuminate dryer skin and a mattifying primer for oilier skin types. This product sits at a happy midpoint, helping to evenly hydrate and smoothen out combination skin. The product also uses apricot essence to help soften up your skin.
Healthista editor Anna Magee says:  
'I'm addicted to this and convinced it gives my face a lift without any dryness. I have discolouration around my nose and it corrects without any real colour. Sometimes I even wear it on its own. When I want a flat, matt base – which is most days – this is a great starting point. It goes on silky and only a tiny amount does my whole face and there is no pilling effect with my sunscreen or when I then put my foundation. Whenever I use this, I also find I need less powder. I use a little extra around my nose actually to even out colour and stop me shining during the day.'
Estee Lauder The Smoother Universal Perfecting Primer is available for £25 from Estee Lauder here.
If you're looking for a soft-focus flawless selfie, the pros at benefit advise applying their POREfessional primer both underneath AND on top of your makeup. Benefit suggests applying underneath makeup (specifically to the T-zone area) to keep everything in place and again throughout the day when you feel as though your pores are creeping out. The primer helps to minimize the appearance of pores and fine lines to help create an all-over smooth look. The silky, lightweight balm can also be applied alone if you're heading to the gym without makeup but still want to give your face a little va va voom. The translucent formula contains a vitamin E derivative known to protect skin from free radicals. It's oil free making it great for oily prone skin and Benefit say it is perfect for all skin tones.
Healthista writer Vanessa Chalmers says: 
'I can't believe how soft-touch the consistency is. It feels like velvet between my fingers. As it goes onto the skin it doesn't leave any residue, only super-soft skin like a moisturiser with no moisture. I like that it has a slight colour to it (tan) so there is no contrast of colour to my foundation – other primers I use have a slight white tone which I find doesn't look good with my foundation. My tube has lasted a very long time, despite the fact that you need quite a bit to spread over the entire face. If you want to use less, I find it works best over my nose. It looks flawless. And great if you have big pores.'
Benefit POREfessional Face Primer is available for £26 from Escentual here.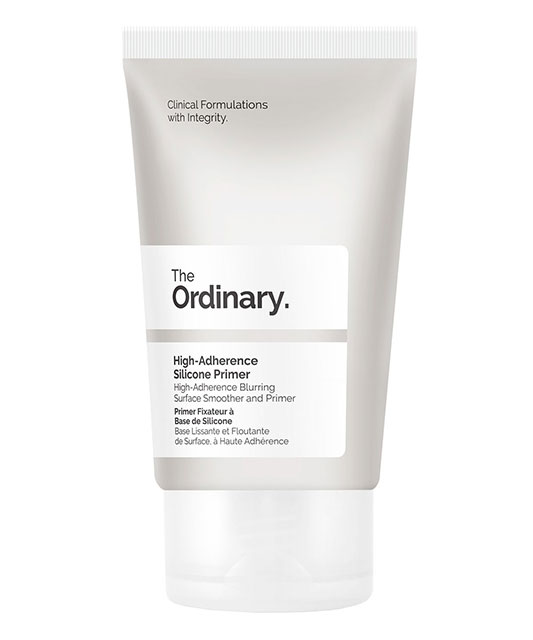 This pore-minimising primer promises to make sure your make up adheres for longer, so that you can prolong the staying power of your foundation, blush and bronze. How? Its formulated with advanced adaptive silicone particles that stick to your face and work to help everything else stick there too.The Ordinary promises a primer that is both mattifying and hydrating and say it can be worn alone or under makeup if you're trying to smooth over any imperfections and create an 'airbrushed' finish. The primer helps to reduce fine lines and enlarged pores which makes it easier to apply makeup too. The non-greasy formula contains zero alcohol (so it won't dry you out) and its free from oil – keep you shine-free.
Healthista reviewer Jess Hopcraft says: 
I've used products from The Ordinary before so wasn't surprised by the no-frills packaging; there are no wild claims or promises – just a silicone primer filling pores and blurring lines. That's exactly what it does. I have combination skin (oily nose and chin, dry everywhere else, thanks winter) and usually foundation will slide off, settle in to pores and highlight flaky patches. Needing just a tiny amount, it goes on smooth, doesn't feel dry like some silicone primers, and means by base looks like I just applied it for a good eight hours. I recommend it to everyone and buy and buy again! Oh, and its cheaper than a M&S sarnie. What's not to love?
The Ordinary High Adherence Silicone Primer is available for £3.90 from Cult Beauty here.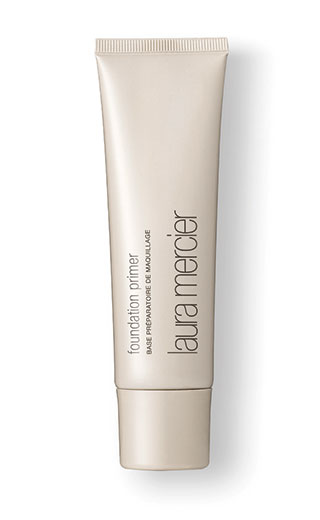 After being recommended to us by none other than Love Island's Montana Brown we were desperate to get our hands on the Laura Mercier Foundation Primer (because who doesn't trust the skincare tastes of someone with skin THAT flawless). The brand says the primer provides a 'soft-focus optics effect' to help minimise the look of pores, fine lines and imperfections and like all the others on our list helps provide the optimum base for makeup application – keeping your foundation fresh and colour-true for hours. The best bit? Unlike your usual primer, Laura Mercier's is water-based with a minimal concentration of the lightest silicones, which the brand says makes it feel fresh and lightweight on your face. This is  The product also contains an antioxidant vitamin complex that they swear will help protect skin from harmful, ageing effects of the environment.
Healthista digital director Yanar Alkayat says: 
A classic is a classic for a reason, right? This Laura Mercier primer quickly became a must-do step in my makeup routine even though I don't usually use a primer. After just one try I was hooked on the brightening, glowy effect it imparted on my skin, which magically still showed through after applying foundation. If you have dry skin or are using a foundation that's not moisturising enough then this is will make the perfect partnership. I also like how it's light on silicones and the ones used are water-based and light making it a great choice if you like to avoid silicone on skin or worried about blocking pores.
Laura Mercier Foundation Primer is available for £29 from John Lewis here.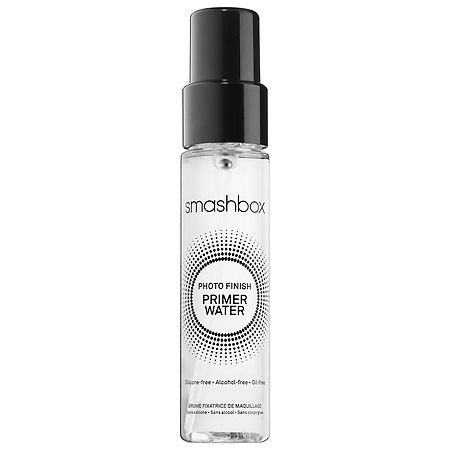 Not only does Smashbox Photo Finish Primer Water prep the skin pre-makeup regime, it can also be used as a refresher later in the day to hydrate the skin and keep your makeup from sliding off and even as a setting spray. Hold the spray eight to ten inches away from your face and give yourself a spritz. According to the brand this will help add moisture and radiance (without shine) to your skin. They say it is super fast absorbing and that the lengthy list of electrolytes included in the ingredients list will help reawaken your skin when it's looking and feeling a little dull. Smashbox suggests storing your primer water in the fridge so that when you use it, it feels seriously cool and refreshing.
Healthista intern Mary Stratton says: 
Using the Smashbox Primer/Setting Spray was the first time I've ever used a product like this, so I didn't really know what to expect. The bottle has a sleek and pretty design, and it's quite difficult to overuse or waste the product. I liked the way it felt on my skin as it covers evenly but it feels extremely light like I'm not wearing anything. Because it was so lightweight, I felt like it wasn't clogging my pores as much as creamy primers tend to do. I wasn't totally convinced that the product would last, but it worked well. My make up stayed put throughout the evening, and I was even able to sit next to an open fire without it melting, which is a huge bonus in the winter – all in all, I'm a big fan of this product and the fact that it's so versatile. I topped up throughout the day to keep my makeup looking fresh and in place.
Smashbox Photo Finish Primer Water is available for £22 from Boots here.
Read more
19 beauty products this makeup artist with psoriasis swears by
9 best skin brightening products to make your face GLOW
3 beauty trends from London Fashion Week and how to get them
11 best sweat poof makeup essentials – from a celebrity makeup artist