Voted favourite Love Island female, Montana Brown is big news right now. Parisa Hashempour found out how she got that body, that skin, that hair…
Officially voted Love Island's favourite female, it's no surprise that even two months after the end of the sizzling summer show, we're still seriously crushing on cool-girl Montana Brown. Now the face of her own clothing line at Pretty Little Thing (in case you missed the massive billboards) AND having just signed a deal with MTV, it's safe to say that the 22-year-old economics grad isn't taking a break from her climb to the top anytime soon. Speaking exclusively with Healthista the star said, 'I never really thought that I was built for reality TV but it's happened…  It's been a massive whirlwind and I've met some amazing people. It's weird that people that are really well known know who I am. I bumped into Abbey Clancy at some gallery event, she told me that she'd seen me on TV and I couldn't believe it.'
Famous on the show for her brilliant booty and flawless skin, we caught up with the reality star to find out exactly what she's eating and how she's working out to achieve that enviable bod.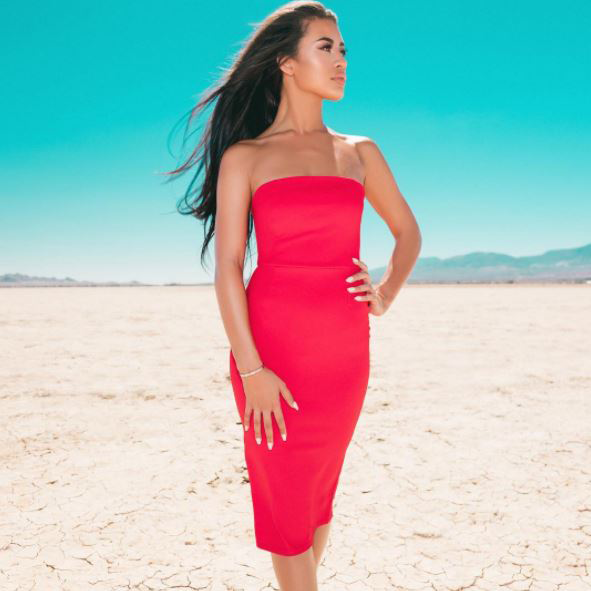 The Love Island lead-up
In the lead-up to the show, Brown admits that she was more than a little apprehensive. 'I was so nervous because as you can imagine I thought that they were going to send in the hottest girls in the world. So I needed to get my arse in the gym. I was spinning in the morning and doing weights in the evening every day…and I was eating the vilest stuff – all these superfoods. I was putting wheatgrass and spirulina in my porridge in the morning and it was disgusting. I don't miss that diet, that's for sure.'
And it didn't stop there. The star was on a seriously restrictive meal plan before going into the villa. 'My diet was literally just meat and veg. I was having quinoa for lunch but I wasn't having any carbs before bed and I wasn't drinking either. I'm not a massive drinker, I don't normally drink anyway but I probably didn't drink for about eight months before Love Island.'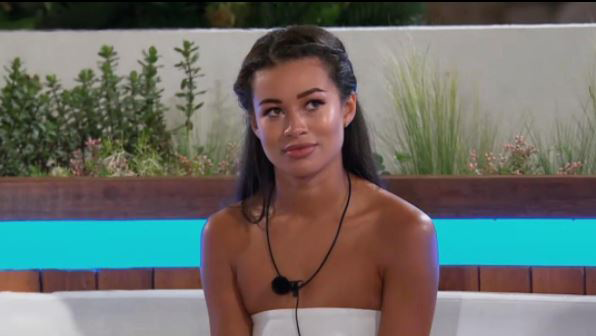 The workout routine
Okay, so we know the reality starlet worked her arse off in the lead-up to the show. But what does a typical workout week look like for her?
'I try and work out three or four times a week – it's all pretty much weight training. I've got a PT [royal ballet trainer Alex Minor] and he always makes me do uphill sprints which is fun. Luckily we don't do them every session.' So how does Brown like to split her training? 'We mix the sessions up between legs and bum and then abs. But I never really work on anything else. I don't do my back and shoulders – I just don't want a big back or big shoulders.' For the Hertfordshire based beauty, abs and lower body are the main focus. 'I try and do abs on every single session. And then I'll do calves on one day and then quads or glutes on the next session. I try not to work out my whole legs on the same day or I literally can't walk.'
I think everyone should have a resistance band, especially if you're a girl because it means that you don't always have to go to the weights section
And the top moves that she absolutely swears by? 'I do quite a lot of back squats at the minute. I do a lot of hip thrusts, all on the squat rack… I also do plyometric stuff like jumping squats off a box and lots of interval stuff which is a killer – it's giving me bad memories just thinking about it. And then I do a lot of weighted lunges.'
The booty
We'd be lying if we didn't admit that this was the first thing on our minds when we found out we'd be chatting with Brown. With the big bum trend making no pretence of disappearing anytime soon, we were desperate to know what moves Brown used to work her glutes. 'I'm a big fan of weight training and I think everyone should have a resistance band, especially if you're a girl because it means that you don't always have to go to the weights section which I know can be a bit intimidating for people – ladies, you seriously need a resistance band.'
But how does the star use her resistance band to work her bum? 'I normally do jump squats with a  resistance band. You can do hip thrusts on the floor with normal, smaller resistance bands. You can do incline walking on a treadmill with resistance bands but kicking your leg up each time, that really worked. And of course, single leg hip thrusts and also lunges.'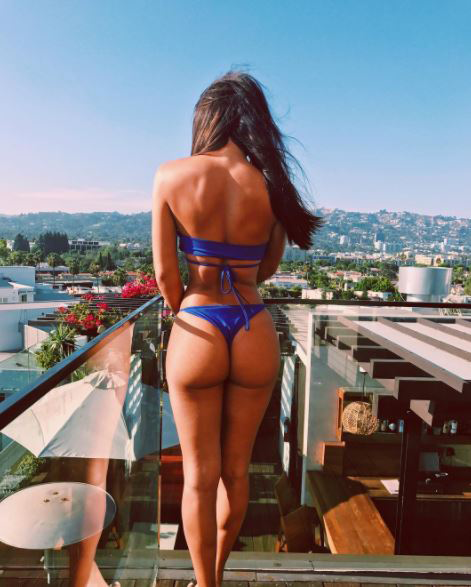 Staying motivated
Brown has always been into fitness. 'I've always loved sports. It was the only thing that got me into school. I used to love netball, lacrosse and athletics,' but that doesn't mean she hasn't had her share of unhealthy living. 'I used to be quite apple shaped, I'd eat loads of carbs all the time… in my first and second years of uni, I was on the microwave meals. I think when you first leave home it takes a while to learn to cook healthy stuff for yourself… I used to get cheesy chips or a Subway when I was coming home from nights out. It was really bad.'
Now she's turned over a new leaf and rarely takes a break from fitness. When she's not pumping iron in the gym she's planning sporting activities. 'I think you should work out because you enjoy it. For a lot of people, the gym and weight training just aren't for them and that's absolutely fine. There are so many different things you can do now whether it's boxing, Zumba or Pilates… I'm just starting training with a new netball team as well. I like being part of a sports team, I'm so competitive. And it just feels like an easy way to exercise.'
She is human though (if you can believe it) and says that sometimes getting herself to the gym can take a little bit of effort. To combat this, Brown works out with her friends. 'We have joint PT sessions. We've got a holiday in Dubai booked for December and we want to look fleek… we both get so achey but then we motivate each other. It's either me motivating her or her motivating me because I don't want to go. It's so much better to train with a friend.'
The diet
She's over the restrictive pre-Love Island diet but how does Brown eat now? The answer – still pretty healthy. 'Every morning I have porridge and fruit – berries, raspberries, blackberries and blueberries are my favourite. At the minute, lunch isn't that strict purely because I'm out every day so I'll just eat on the go. I try and get something semi-healthy from Pret like a salad. They do a really nice salmon Teriyaki. I'll get something like that with some edamame beans or some veg… I eat a lot of meat, I'm a big carnivore and a beef stir fry is my absolute favourite. Me going vegan is never going to happen. My go-to dinner is a can of tuna with balsamic vinegar, tomatoes and red onion. I like it because it's really light.'
I have cod liver oil and multivitamins every day. My mum has given me fish oil tablets for as long as I can remember
Constantly caught on camera with a snack in her hand, Brown loves rustling up some good healthy grub and likes to get experimental. 'One thing I love making at the minute is spreading tuna in miso paste and putting sesame seeds over the top of it – it's really filling. I'll have that with asparagus and spring onions, just fried. The sesame seeds all stick to it, it tastes so good.' And like any protein-loving, gym-hitting twenty-something, chicken is another favourite. 'I like to spread a chicken stock cube on my chicken breast and then fry it. It creates such a good flavour – it's not chicken flavoured, it just tastes really seasoned and I'll just normally have that with veg or sweet potato fries. I love broccoli and pak choi and I love eating fennel raw.'
As for cheats, the starlet is big on milkshakes. 'It has to be an Oreo or a Milkybar milkshake, it needs to be proper OTT. If you're going to eat the calories then its got to be good… and I'm always so tempted by cookies. There's this new cookie place called Blondie's Kitchen in Selfridges. They do the most amazing gluten-free cookies, they're incredible – you need to go.'
And when it comes to supplementing her diet, Brown keeps things simple. 'I have cod liver oil and multivitamins every day. My mum has given me fish oil tablets for as long as I can remember.'
Healthista loves BioCare Multivitamins and Minerals available for £11.95 here.
And Higher Nature Fish Oil available for £8.70 here.
The look
When it comes to beauty, Brown starts to get excited. 'I'm seriously into my skincare.So every morning I get up and use Objai vitamin C clarifying serum, then I put on the Chanel Hydra Beauty Micro Creme and follow that with Laura Mercier foundation primer. In the evening I'll use a makeup wipe to get off most of my makeup and then I'll use Liz Earle products. She's got something called the cleanse and polish which you wipe off using a muslin cloth and its so good, I've used that for maybe five years, I swear by it. And then I'll use Retriderm serum – it makes your skin cycle turnover double in speed overnight so that your skin cells repair quicker and it's brilliant – I used to get the occasional spot here and there as we all do and now I rarely get spots which is just a miracle. Finally, I'll finish with Origins Plantscription night cream – it's anti-ageing and they say you can never start too early.'
And when it comes to her super smooth locks, Brown is putting in just as much effort as she is to her skin routine. 'Because I've got naturally quite Afro-Caribbean hair I use a lot of Argan oil based products and I use shampoos and conditioners that are paraben and sulphate free. I recently had a Remi Cachet LA weave put in my hair and they do these special shampoos, conditioners and hair oils – they're really good because they don't dry out your hair too much which is really important for us afro-Caribbeans. There's not enough information out there on how to look after our hair and no one really speaks about it.'
And Brown's top secret to staying on top of tough-to-manage Afro-Caribbean hair? 'I swear by getting keratin treatment – it's called a Brazilian blow dry. I always get mine done at a place called The Dolls House Salon in Milton Keynes. It just puts keratin back into your hair makes it really soft. My hair used to be quite tight curls and frizzy and now I can just blow dry it straight, it's amazing.'
Read more
Celebrity trainer secrets: This PT's workout is a favourite amongst British TV stars
Celebrity trainer secrets: Jennifer Aniston's yoga teacher reveals the key to a healthy life (and it's not yoga!)
How to get fit – celebrity trainer to Zoe Saldana reveals his 7 steps
Meet the Mission Impossible trainer that says lifting weights is NOT the way
Like this article? Sign up to our newsletter to get more articles like this delivered straight to your inbox.