Vanessa Chalmers lost over a stone on her eight week weight loss transformation with No1 Fitness. She shares her diary for the last gruelling days 
In November, I started an eight week transformation with celebrity personal trainer Ben Camara at his gym, No1 Fitness. If you've been following my weekly diary, you'll have read about my challenges, tantrums (lots of them) and triumphs leading up to the final day.  Here are my results:
Weight lost: 6.9kg/15lbs
Body fat percentage lost: 5.4%
Body fat mass lost: 4.9kg
Inches lost: 7.8 inches/20cm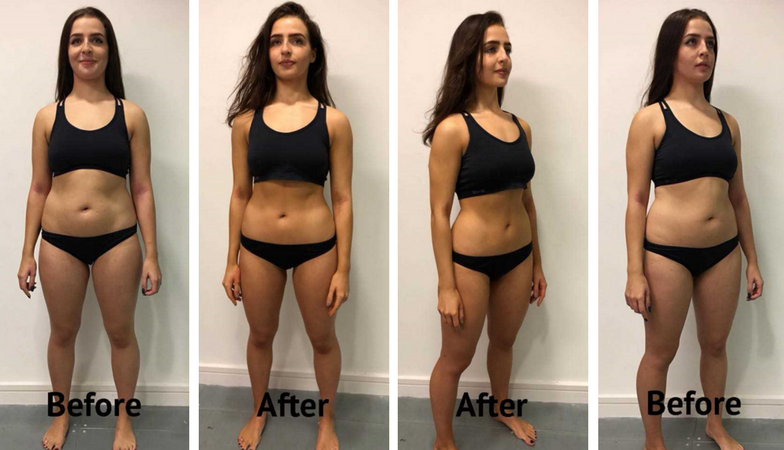 Week 7 and 8 diaries
It's the home stretch, thank God.  At the end of week six I had lost a total of 4.7kg (which is seven pounds).
The past six weeks of my eight week weight loss transformation with Ben Camara at No1 Fitness have rushed past, but the finishing line, ten days away, seems so far off. I'm counting everything down until that moment on December 22 when I can consume my bodyweight in Christmas food to celebrate.
As you can imagine, as I was doing this during the festive season, the Christmas thing has been very difficult. I've mentioned it quite a lot throughout my diary posts because the gluttonous nature of this season is round every corner. I can't scroll on Facebook without being bombarded by 'a new unlimited roast potatos and gravy café has opened', 'this restaurant is selling a coffee-flavoured bacon roll for your hangover' or 'you can now get gin flavoured cheese' type videos. Yes, these are all legit. And the supermarket aisles – let's not even go there.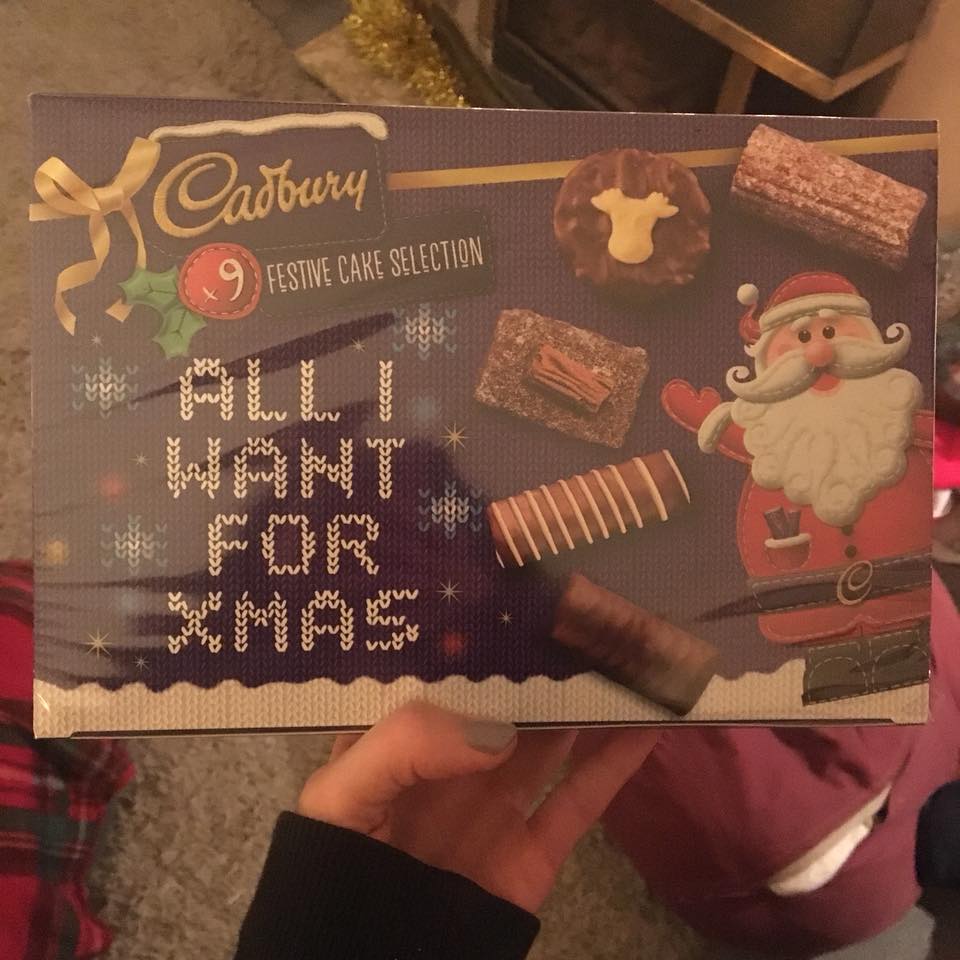 But there is also a great advantage to doing a weight loss transformation in the lead up to Christmas. As people keep telling me, 'you're losing weight whilst everyone else puts it on'. Whether they are or not, I would be if I wasn't doing this, and that makes me feel smug. It also means that by the time January comes round, I won't be jumping on the 'new year new, healthier me' wagon. I'll be driving it!
I feel a little like those bikini comp girls and bodybuilders who talk about 'peak week', whereby they do extreme dieting for five days in the lead up to their stage walk. Take away the 'extreme' part (oh, and the abs), I'm being very careful with what I'm eating in my last week. Spurred on by friends saying, 'I can't wait to see your before and after photos!' EEK.
I'm at just the right rate to keep my energy levels high and my body ticking over whilst it burns fat.
My calories have been cut to 1300 from 1500. With a lower body mass, my body's BMR (basic metabolic rate) is lower, too. I physically need less calories to function. This number is also with a calorie defecit calculated. Don't worry, I'm not starving. But I'm rarely full after meals either (sad times). I'm at just the right rate to keep my energy levels high and my body ticking over whilst it burns fat.
I'm taking such care that I use a bespoke healthy meal delivery service, Fresh Fitness Food, for week six. You can read my full review here, but simplified, the company delivers freshly made meal-prep to my door daily, calculated with my exact macros (40 per cent protein, 30 per cent carbs and 30 per cent fats). I wasn't macro counting myself, although I'd like to try this one day, so it's another level of precision. The food is delicious, and extremely helpful during a stressful week (I was in-between houses and you know, Christmas).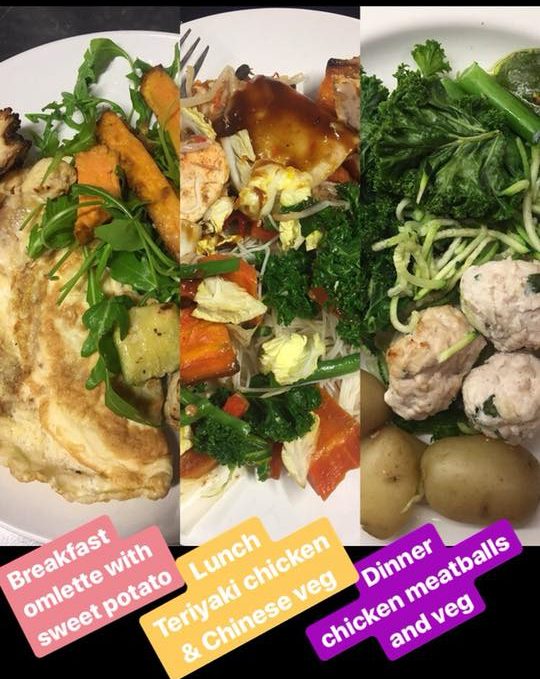 How my weight loss workouts have evolved
On day one of the weight loss transformation, the Fitness Slot at No1 Fitness gave me what felt like a heart attack. A few weeks on, things are a lot different. I wouldn't say exercise is easier, because it always needs to challenge you. I still have tears in my eyes doing a wall squat and my hands are covered in calluses from deadlifts.
But I am much more capable, now. I feel fitter from a cardiovascular prospective (I got to 5K in 30 minutes in week five) and more robust and able lifting weights than I was before. In other words, I feel more 'conditioned'. Which gives me the ability to progress a little more every week by adding more weight, reps or intensity.
https://www.instagram.com/p/Bc9NXOIAXKh/?taken-by=vanessa_chalmers
You need to do the mirror muscle training in the gym for aesthetics, but you also need to train for to be healthy
It's not just about picking up the heaviest weight you can bare, though. 'You need to do the mirror muscle training in the gym for aesthetics, but you also need to train for to be healthy', says Ben. 'You need to be moving in multiple directions, like side lunges and curtsey lunges, which large range movements and different joints – the hips, knees and ankles. Having healthy joints will help you age better, for example when you're bending over and picking up your kids. You also need to keep the fascia (connective tissue) healthy, and the only way is through force or massage, and multidirectional movements will do that by stretching it out.
'I'm a big believer in training to be long and strong', says Ben. 'If you're looking to achieve big arms and big pecks, you would do short movements such as bicep curls. But for health, you want to be doing full body movements that mimic every day things.'
Check out Ben's Instagram for more – he posts regular videos with this kind of training:
https://www.instagram.com/p/BduMg_YlTRt/?taken-by=bencamara
The last stretch
To be honest, the last few days are spent going through the motions. With the end goal in sight, my motivation is stronger than ever. It's like the lead up to a holiday, when the prospect of a bikini looms.
Even when my friend comes round to stay, she orders a Chinese takeaway and I stick to chicken and salad. The next day, on a day trip to Canterbury, I manage to avoid toffee crumble, my favourite sweet in the world in the sweet shop I used to work at – flashback to much, much chubbier times.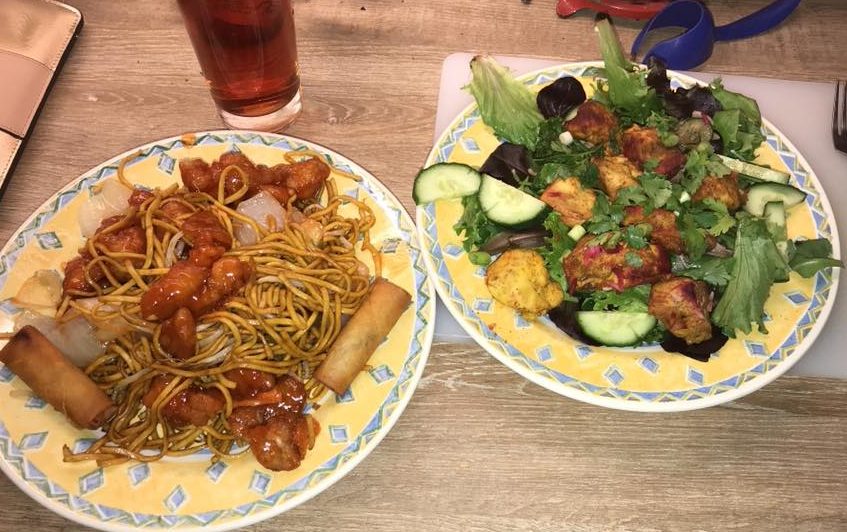 The only thing that gets in my way is a few spoons of cake mix. Funnily enough, I  am strong enough to leave the brownies and mulberry muffins I made for our work charity cake sale. But not the raw cake mix the night before. That stuff is my soul food.
Results at the end of the weight loss transformation
On my last day, Ben asks me 'how do you think you've done?' as I step onto the scales. In all honesty, I really don't know what to expect. But I've done my best, and that's all you can do.
In total I lost 6.9kg/15lbs, 20cm/7.8 inches and 5.4% body fat.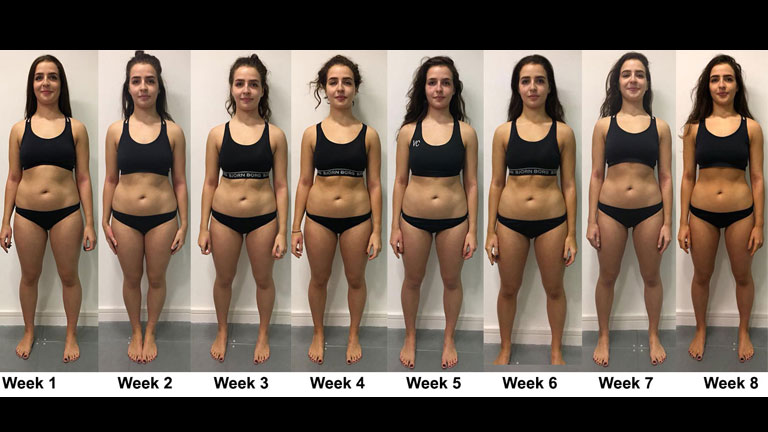 | | | | | | | | | |
| --- | --- | --- | --- | --- | --- | --- | --- | --- |
| | Before/Week 1 | Week 2 | Week 3 | Week 4 | Week 5 | Week 6 | Week 7 | Week 8 |
| Weight | 65.7kg | 64.1kg | 63.3kg | 63.4kg | 62.8kg | 62.1kg | 61kg | 58.8kg |
| Body fat | 25.1% | 25.7% | 23.4% | 23.8% | 24.5% | 23.7% | 22.5% | 19.7% |
| Hip | 102.5cm | 101.6cm | 96cm | 99.4cm | 97.4cm | N/A | 97.6cm | 96.2cm |
| Waist below belly button | 91cm | 88cm | 84.7cm | 87cm | 83.5cm | N/A | 82.5cm | 77.3cm |
| Overall weight loss | N/A | 1.6kg | 2.4kg | 2.3kg | 2.9kg | 3.6kg | 4.7kg | 6.9kg/15lbs |
| Overall cm loss | N/A | 3.9cm | 12.8cm | 7.1cm | 12.6cm | N/A | 13.4cm | 20cm/7.8 inches |
From week seven, it was almost like the penny had dropped. Suddenly I'm reaping the rewards of my hard work. The most exciting measurement has been in my clothes. I'm back in skirts I haven't worn for two years or more. And they are too big!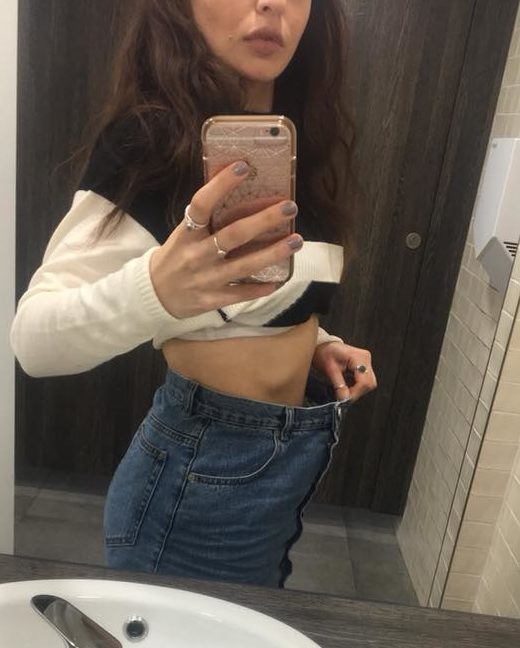 'When looking at you, you really did get the stomach bloating down' says Ben. 'You became a lot stronger through the legs and back (posterior chain) because of the hamstring and glute work'. Personally I have been most pleased with the change in my arms, shoulders and chest. I can thank the wide variety of exercises like the TRX pull up, cable crossovers, lat pull downs and overhead presses used daily for that.
'I think you are able to move better, by going deeper into a lunge or squat, which means that the muscle is then going to lengthen further', Ben notices.
You want to try and spare as much of the muscle as possible by making sure you always refuel post-workout and eat enough protein
Looking at my Boditrax graphs, it's clear I lost muscle mass too. 1.9kg, in fact. Should I be concerned about that? 'To build muscle you need a calorie surplus and to lose weight you need a calorie defecit, so the general rule of thumb is it isn't doable to achieve both', he says.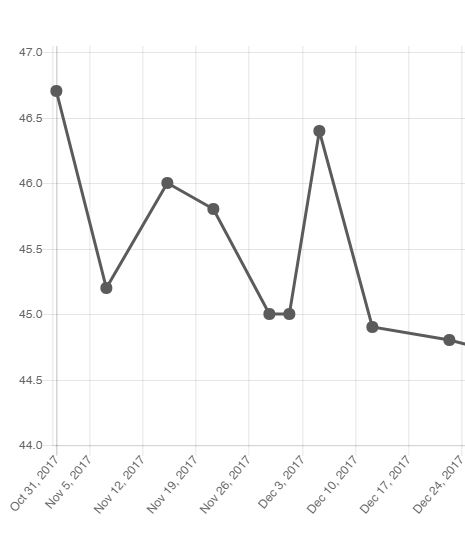 'Instead you want to try and spare as much of the muscle as possible by making sure you always refuel post-workout and eat enough protein to repair the muscle. You also need to be engaging the muscle and making it work hard so the tonality is still there. There are small gains that some people find, [aesthetically], but actual muscle mass, you won't get.'
How I felt at the end of my weight loss transformation
The weight loss transformation had given me self confidence, self belief, and control.
Despite my clothes fitting better, and a number on a scale dropping, the biggest change has been in my mood. This hit me one evening as I stood on the tube home. It was late on a Friday night, I was carrying a yoga mat after a really cool yoga class at Studio Society and my tummy was growling. But for some reason, I was smiling. A song came on shuffle that I had associated with tougher times in the past, and it made me realise how much had changed in just a few weeks. The weight loss transformation had given me a hobby and something positive to put my energy into. It had helped my self confidence, self belief, and control.
The word 'control' can be controversial. My mum might freak and say it means obsessive. But for me it means I am in control of my own health. I decided to get up and go the gym today, to eat better and challenge myself. And I feel amazing for it.
Check back next week for the secrets I learned from Ben after the transformation
Products that helped the last leg of my weight loss transformation 
1. Foam roller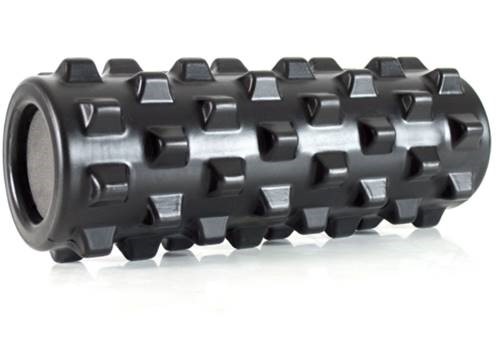 A foam roller 'can help switch muscles on and get nerve impulses into the tissue', according to Ben. It's not going to change your life – deep tissue massage and stretching will create big changes. It simply massages the top layers of the body and 'wakes' the up. I used a foam roller on my outside right thigh and glute which was giving me a tearing sensation during exercises like lunges. A lot of people find foam rolling beneficial for soothing tightness like this, as well as improving circulation during a cool down or in prep for a workout.
Buy Bodymax Max Grip Foam Roller for £19.99 here
I spend more time in gym kit than normal clothes at the moment. It needs to be three things – flattering, functional and most importantly, comfortable. I'm currently lusting over HPE (Human Performance Engineering), a London based brand that takes stylish to the next level. Its street style section is my favourite, with a collection of gorgeous athleisure wear. It's quite pricey, but you're paying for high performing items that you won't find on the high street.
The innovative clothes are designed by Nicholas Harris, a human performance specialist who has applied the systems and science used to accelerate performance, increase recovery and reduce inflammation. Loyal A-list brand fans including, Alessandra Ambrosio, Adrianna Lima, Ashley Graham, Jenson Button, Nicole Scherzinger, and Kourtney, Kim and Khloe Kardashian.
They have a subscription box service where you can select a pair of leggings, a top and a bra from any style category, delivered to your door to keep your workout wardrobe updated. A one off women's box retails for £160 (£110 for men) including free postage & packaging and returns, and annual subscriptions start at £110 per box for women (£85 per box for men).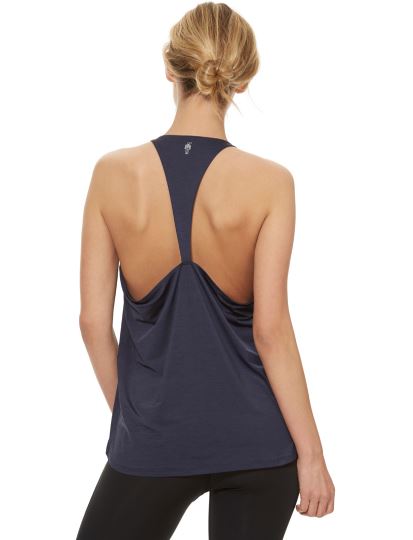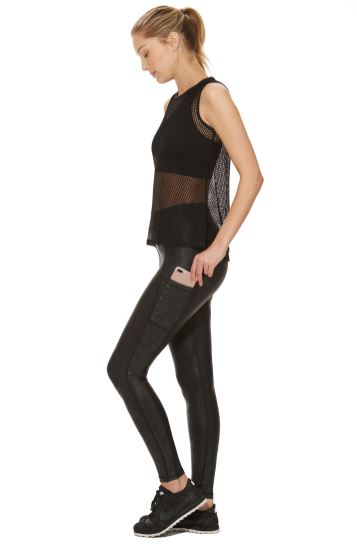 3. Healthista Lean Vegan Diet protein in vanilla
Post-gym, I always refuel with Healthista's protein powder. I have been using it every day for almost a year and couldn't live without it. Due to only having stevia as a sweetener, its just 89 calories per scoop. When I'm hungry, it's the easiest high protein snack available. It's formulated by Rick Hay, nutritionist and lecturer in weight management at the College of Naturopathic Medicine, and has cutting-edge ingredients that I haven't found in others on the market. Carnitine,  inulin, matcha tea and konjac root have been proven to encourage fat loss, and glutamine aids muscle recovery. The plant based proteins in the vegan blend – pea, hemp, rice and pumpkin seeds – are proven to help with energy as well as suppressing appetite. Definitely a helping hand whilst I've been losing weight.
Lean Vegan Diet Protein Vanilla £24.95 is available from Healthista.com. Click here to see the full range of flavour and blends.
Some fitness fanatics take all sorts of BCAAs and other pre/post-workout supplements. I don't feel quite enough of a pro to jump into that field yet. Instead, I take Healthista Body Food (blackcurrant flavour) before a workout as a metabolism and energy booster and sip it during my workout in a protein shaker while I am training. Formulated by nutritionist Rick Hay, the ingredients such as yerba mate, green coffee bean and maca extract are an antioxidant powerhouse and fat-burning aid.
Buy for £18.95 from the Healthista Shop
Workout of the week
 
REPS / Time
SETS
KG / TEMPO
REST
Notes
Warm up
Hollow Plank Isometric Holds
10
2
60s
Hold for ten seconds, squeeze glutes
 
Shoulder controlled articular rotations (arm rotations)
10
2
60s
Face forwards rotate arm up and back over shoulder.
Hips warm up
Lunges with overhead reach
14
2
60s
Curtsy, Lunge, Side Lunge, repeat. Use resistance band between hands to get better stretch to chest.
 
 Hip mobilisers
 10
2
TRISET – full body. 3 sets with 60s rest inbetween
Inverted dumbbell pull
12
3
12.5kg
60s
.
Deadlift
8-10
3
60kg
60s
 
Beast unload
12
3
BW
60S
Back/ Posterior Chain – pull focus. 3 sets with 60s rest inbetween.
Dumbbell chest press
12
3
9kg
60s
ECC focus
 
Push ups
12
3
60s
 Drop set
Cable tricep extenstions 
10
 3
 Bodyweight
 Treadmill
30 seconds run

30 seconds sprint

4
40s
 Core
VSits
10
3
60s
Hold then before dropping start arm under and over rotations
 
Side plank raises
10
3
60s

Ben Camara
 has worked with some of the most famous faces in the world with training and health coaching clients including Madonna, Kate Moss and Vogue photographers Mert & Marcus. Having carved out a career in professional football, Ben Camara wanted his next career step to allow him to continue working in the field that he was passionate about, that of health, fitness and nutrition. He and Harry Thomas  co-founded No1 Fitness seven years ago, offering bespoke personal training in two locations in London.
Follow on Instagram or visit No1 Fitness website.
Read Vanessa's full weight loss transformation diary: 
8 week weight loss transformation – the full results
Vanessa's weight loss transformation week one: why a high protein diet matters
Weight loss transformation diaries week 2: Intermittent fasting is tough but effective
Weight loss transformation diaries week 3: Alcohol and weight loss don't mix
Weight loss transformation diaries week 4: How sleep deprivation affects results
Weight loss transformation diaries week 5: How to get off the yo yo diet
Weight loss transformation diaries week six: Vanessa uses more cardio for fat loss AND mental health
Like this article? Sign up to our newsletter to get more articles like this delivered straight to your inbox.