Healthista writer Parisa Hashempour tried out boxing for a month and this is what she learned
It's official, boxing is the sport of the moment. Celebs like Gigi Hadid are making Victoria's (get-fit) Secret widely known and even Ed Sheeran's Shape of You music video sees the crooner and his fighting-fit love interest (played by Jennie Pegouskie) training in a boxing gym and then heading out on a date together.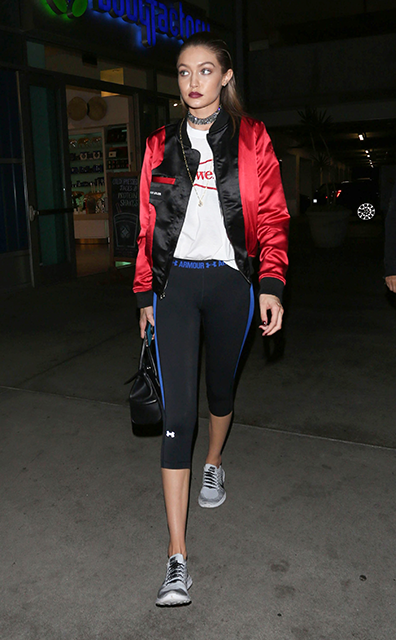 It was only seven years ago that women's boxing was shown on the BBC for the first time and what a long way the sport has come. Female boxers are picking up their gloves and taking to the ring and now, a stream of new boxing boutiques are springing up around London, set to cater to the female fighter.
MORE: The new Boxing Boutiques – hot new fighting studios you CANNOT miss
I went from zero boxing experience to full on training and while I'm no Ronda Rousey I did learn a few things along the way.
Because of both its feistiness and reputation for being the ultimate workout, boxing has always appealed to me. But as much as I love the idea of picking up a pair of gloves I was always intimidated by the prospect of jumping into a ring. I've always been overtly girly and while I hate to play into stereotypes I think this has left me with little confidence in my physical ability. Boxing for me would prove that I could be both bad ass and feminine (think Miss Congeniality meets Rocky).
So after reviewing a boxing class for Healthista, my mind was set. I instantly fell in love with the sport and knew that I had to have a good go of it. I decided to throw myself fists-first into six weeks of training with South London based Power of Boxing. I went from zero boxing experience to full on training and while I'm no Ronda Rousey I did learn a few things along the way.
When I first walked into Fitzroy Lodge, Power of Boxing's Lambeth training gym, I was struck by how much I felt as though I were stepping back into an old gangster movie. The gym prides itself on its authentic rustic style and it really does have a charming, rough-and-ready appeal.
'We believe in the power of simple, fun, authentic fitness. Non-contact boxing fitness is a perfect antidote to our hectic tech-driven lives' says Power of Boxing founder Bear Maclean. The workout is a one-hour high-intensity, non-contact, group fitness circuit. The class combines cardio and boxing exercises as well as pad work in the ring, muscle toning and core strength work. It was reassuring to find out that the classes were non-contact and that I wasn't about to be smacked in the face plus I loved the fact that the classes aim to develop and improve your overall fitness – boxers pair time in the ring with skipping and hardcore training to keep up a good level of fitness.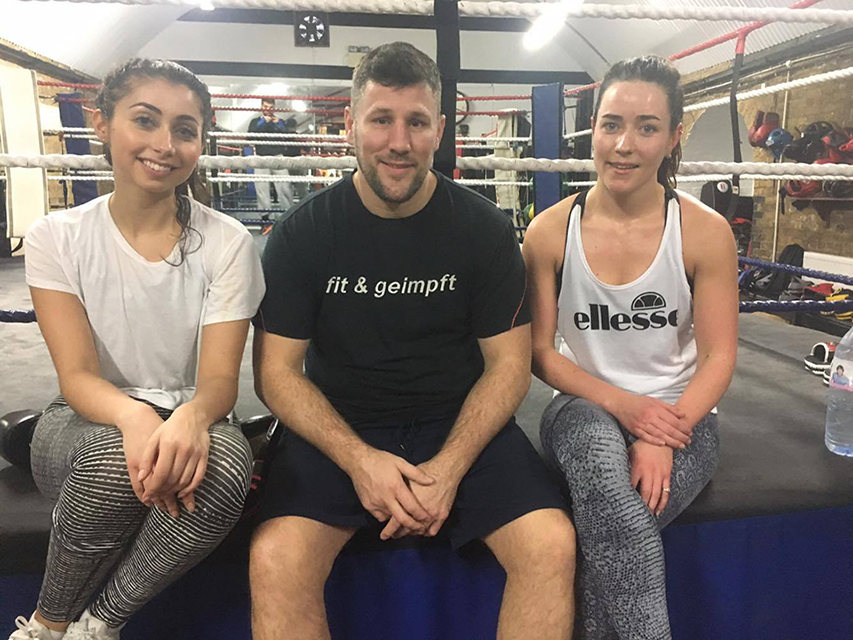 Trading in my usual running and yoga sessions for boxing, weights and strength and conditioning was a pretty big shock to the system
Aside from its authentic feel and hardcore workout, the most impressive thing about Power of Boxing is the positive impact that it has on the local community. The boxing boutique work with the charity, Carney's Community and together they help keep kids of out trouble and help ex-offenders to reintegrate into communities through boxing. Down at the Battersea boxing gym the words 'Discipline, respect, bravery' stand out from the wall. By instilling young people with these qualities they aim to keep them away from a life of crime. Classes take place in either Battersea or at the Lambeth location, Fitzroy Lodge. The latter is one of London's oldest boxing clubs, having been around since 1908.
The training plan: three days a week at Fitness First
Okay so I wasn't going to suddenly start training eight hours a day like a pro-boxer would but I did have to seriously step-up my gym routine. Trading in my usual running and yoga sessions for boxing, weights and strength and conditioning was a pretty big shock to the system.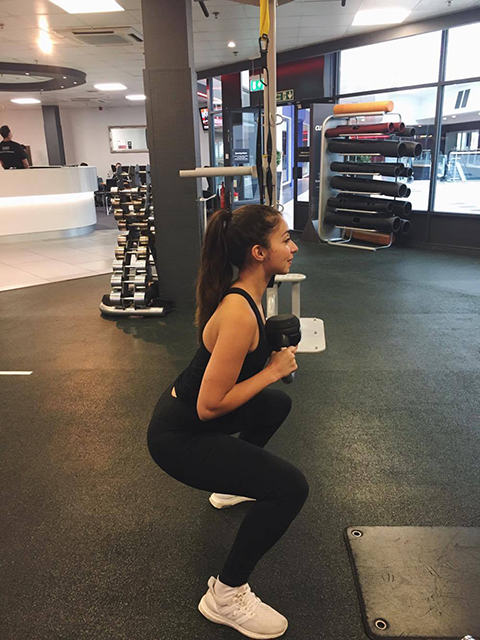 The training plan included three Power of Boxing sessions per week. These sessions are made up of equal parts circuits and skipping, boxing on the punch bags, boxing in the ring and a core and back strengthening exercise before a cool down at the end. On top of this, I was instructed to hit up the gym three days a week. I spent those three days at my local Fitness First gym – two of these days would focus on training my core and the final day would focus on strengthening my arms and legs. I'd expected boxing to be all about using my arms so I was surprised by all the different training elements that were being thrown my way.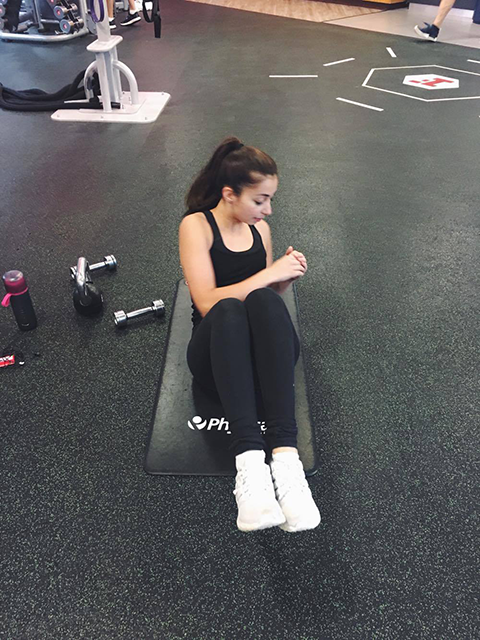 I'm hoping that this challenge will force me to break out of my comfort zone
On core days at the gym, I would do floor work exercises such as crunches, toe touches, seated twists and leg raises and days where I worked my arms and legs saw me doing kettlebell squats, bicep curls and dumbbell lunges. All three of my gym days also included some amount of cardio work – usually either hill sprints, 5km runs on a treadmill as well as 12 minutes of shadow boxing with weights.
Why am I doing it?
Okay, so that sounds like one intensive workout plan, especially for someone who is used to more chilled out steady-paced forms of exercise. So why did I decide to do it?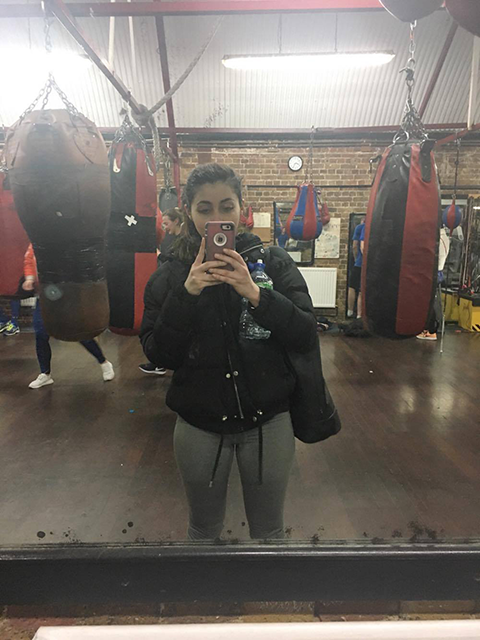 Although I love exercising, I find it hard to stick to one sport consistently and so I've never properly learned a skill when it comes to sport. It would be great to turn up confidently to a boxing class and feel as though I know exactly what I'm doing. I know that boxing is a great sport to increase your fitness level and so I'd really love to be the fittest version of myself at the end of these six weeks. I want to build up my endurance and push my body to its maximum, as I feel that sometimes when I'm working out I can go too easy on myself. I'm hoping that this challenge will force me to break out of my comfort zone and while I know it takes more than six weeks for your body to see changes, it wouldn't be too awful if I toned up a little.
the endorphins that followed the sweaty workout were amazing
Plus because boxing is such a bad ass sport I'd also love to gain some more confidence in myself from this challenge. By that I mean gain some confidence in my body and its capabilities. It would also be great to feel safer walking home at night knowing that I knew how to pack a punch.
Week one: Boxing is a serious stress buster
I woke up on day one ready for my new life as a bad ass boxer. The first week of working out has been tough – very tough. But one thing that stood out to me almost instantly was the effect that the classes are having on my stress levels. It makes sense – heading into a gym at the end of a long day and taking all that pent-up stress out on a punching bag and some pads. It seems to be working wonders for my mental health.
The great thing about these classes is that everyone gets one-on-one time with the coaches to work on their skill. The coaches really take the time out and make an effort to make sure that you're getting it right AND that you're working to your maximum potential. Having the coaches there to push me until I physically can't keep going really made me use all of my energy, punching as hard as I could and the endorphins that follow the sweaty workout were amazing. Allowing myself to feel stress and then channelling that into my punches had the ability to totally transform my mood. When the coach shouted out to do another ten burpees I was cursing under my breath but the pain was totally worth it for the incredible, uplifting feeling that came afterwards.
Week two: Leave your vanity at the door
This week I didn't collapse immediately into a ball mid-plank and sprinting on the machines, while still horribly difficult doesn't feel as impossible as it did at the start of last week (yay, progress!)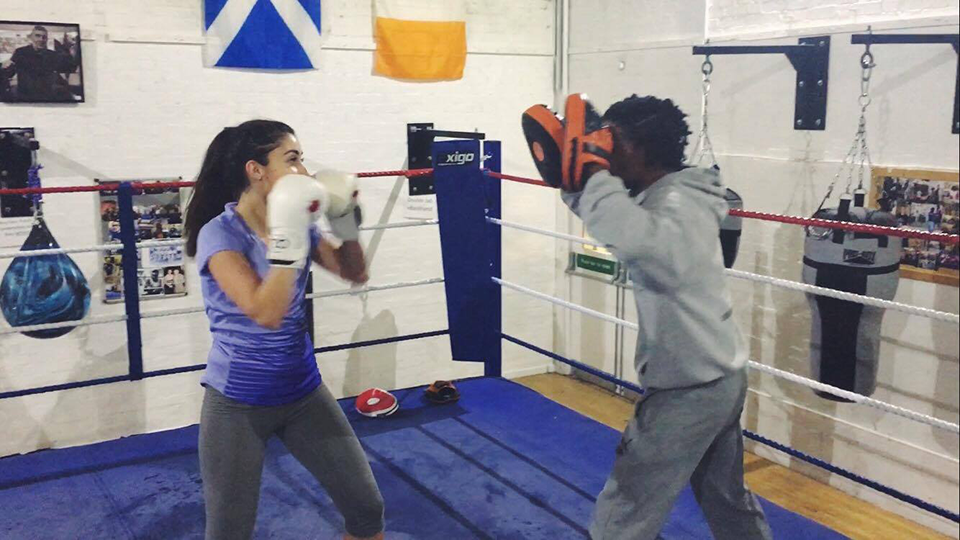 But during my first week of boxing, it's safe to say I still felt a little self-conscious. A workout as intensive as an hour-long boxing sesh leaves you looking like a hot mess and at first, I died inside a little every time I remembered my massive sweat patches, soaked through hair and smelly armpits. I died a little more when I heard myself groaning with over-exertion and breathing so loud that at points, it was all I could hear. I quickly learned that it doesn't matter much what you look, sound or smell like (okay, so it's best to keep the smell to a minimum) – nobody cares. It's all about putting all your efforts into punching and crunching as hard as you can. Every other person in the room, no matter their ability level is dripping in just as much sweat as I am anyway and my levels of sweatiness soon became something I was proud of.
I felt a bit silly standing in front of a mirror and punching toward myself
And it wasn't just in the classes that I felt self-conscious. Because I didn't feel very confident boxing, I was too timid to head straight to the gym and start shadow boxing in the first week. I did my first few shadow boxing sessions in my bedroom, watching YouTube videos and trying to figure out what the heck I was supposed to be doing.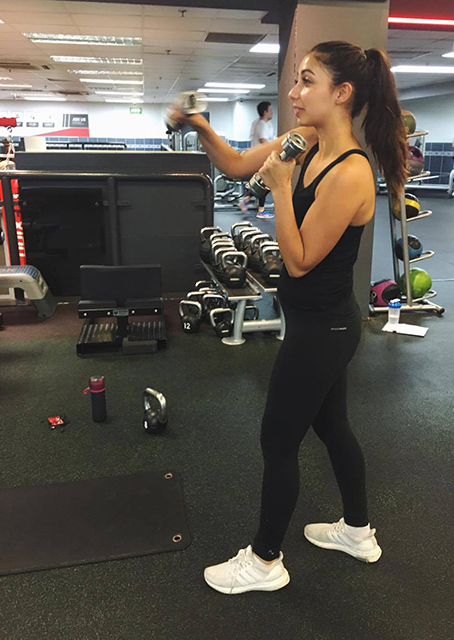 Finally, I gained enough confidence to up and take my routine to the gym so that I could use the weights and while I felt a bit silly standing in front of a mirror and punching toward myself by the end of week two I was rocking up to the gym quite happily pummeling away at thin air – in fact, it became my favourite part of my gym routine and is something I'll definitely carry on doing post-challenge.
Week three: Mind over matter
The one thing I'm really starting to notice this week is my tiredness levels. I'm drinking more coffee than I ever have before in my life and I seriously need it – every night I get home and sink relievedly into bed and fall instantly to sleep. This being said, there hasn't been a day yet when I haven't looked forward to my boxing session. The good thing about this sport is that although it leaves me a big, sweaty, hyperventilating mess, it's also a lot of fun. It doesn't feel like a chore in the way that going to the gym can sometimes do.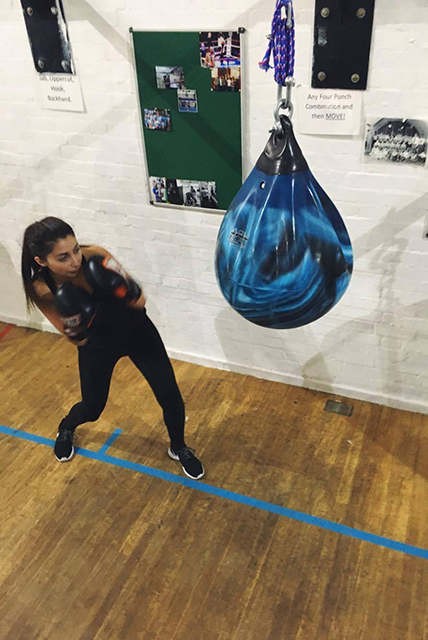 there's no music in the ring
While boxing requires an incredible amount of physical strength, by week three I came to realise that so much of it is actually mental. Sometimes your brain doesn't want to do the things that your body is capable of doing. On week three I was sprinting on a treadmill at the start of a boxing class. I was halfway through my run and the music that was playing overhead stopped without warning. All of a sudden it was as though my legs turned to lead, without the stimulation of the music to keep me going. When I started to slow down one of the trainers, Rupert, asked me why I was going so slowly. I explained that it was hard to run so fast without the music and he said simply 'there's no music in the ring.'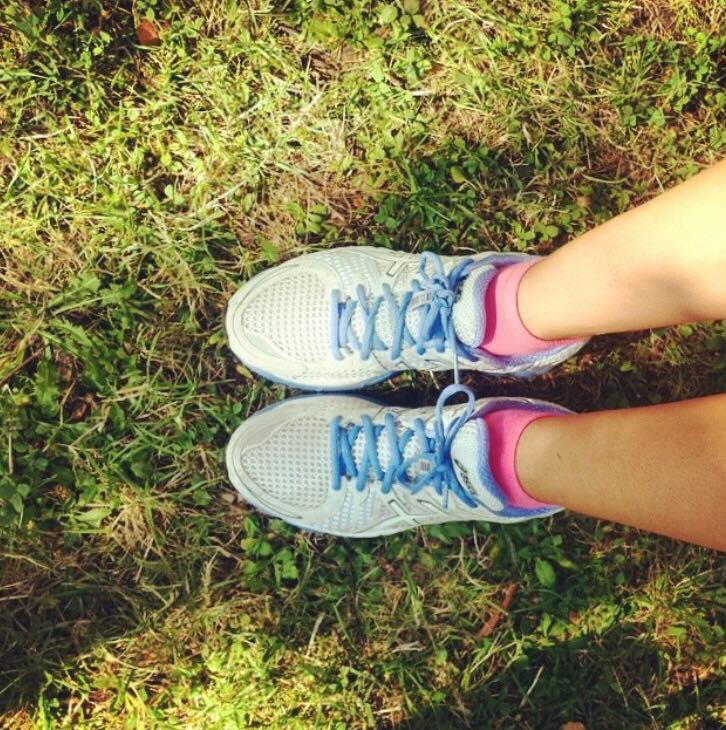 I took a deep breath and ramped the speed on the treadmill back up. This really drilled home for me the incredible mental capacity that athletes must have. I was nowhere near at the level of exhaustion that a boxer must be and I was ready to give up – it really is a case of mind over matter.
Week four: Your body is capable
Okay, I'm not looking like Rocky just yet but after week three I've started to make some real progress by way of skill and fitness levels. Skipping is such an iconic part of boxing and yet it was one of the things that scared me the most. I've managed to whip myself with the rope more times than I've  managed to jump over it in the past three weeks but I've finally got the hang of it. Week four has been amazing because I had an incredibly proud moment.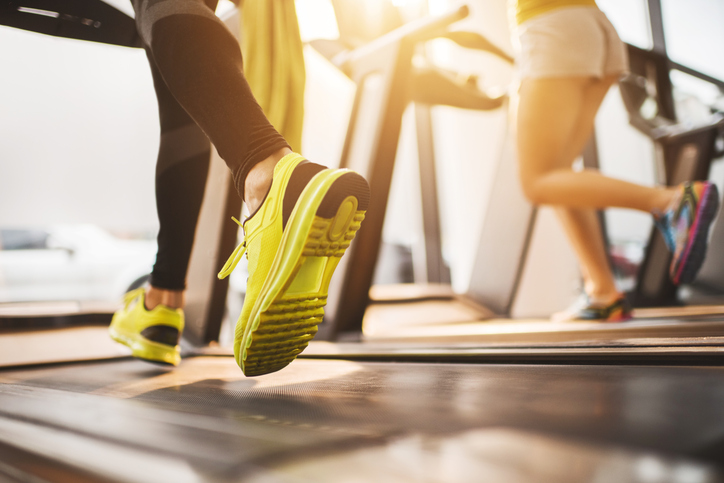 This week I beat my 5km time by three minutes and 18 seconds. This was such a massive accomplishment for me because even though I love running I'm definitely usually more of a slow-and-steady kind of person. It just goes to show that you never know what you're capable of until you try.
This week I beat my 5km time by three minutes and 18 seconds.
Working out on my own and trying to improve my fitness levels has also added a new level of enjoyment to my workout – I've started getting competitive with myself. All of a sudden I'm springing out of bed in the mornings and pushing myself to beat my previous times.
Week five: It will improve your strength
On my first week of boxing, I was doing about three proper push-ups before dropping to my knees. And I don't mean to brag but (I will) by session one of week five, I spent the whole time doing push ups from a proper plank position. I've never considered myself as strong and so it feels seriously amazing to have come this far and I physically couldn't stop myself from grinning as I collapsed onto my matt post-push ups.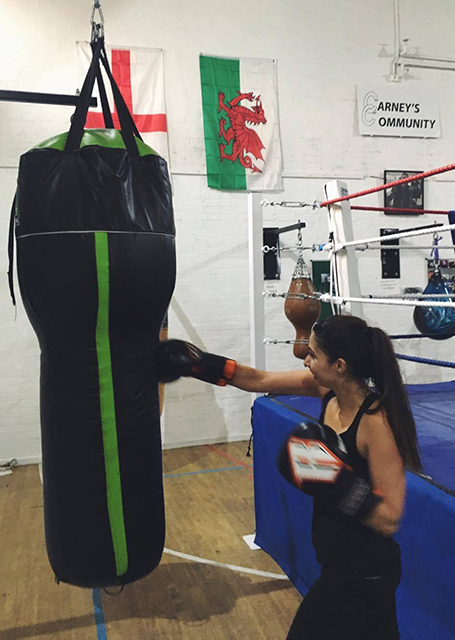 And it wasn't just the push-ups that were improving my strength. Boxing is the ultimate full-body workout. When you throw a proper punch you engage your legs, hips, glutes, core, obliques, back, shoulders, chest and arms and I could be imagining it but it felt as though each week I was hitting the punching bag with a little more force. I was picking up heavier weights in the gym and I was holding a plank for an extra 45 seconds – the speed at which this programme forced me to improve my strength was amazing as I had never improved my strength so significantly in such a short space of time before.
Even the act of throwing punches felt hugely empowering and at times I found myself shadow boxing alone in my room
I've been feeling a little defeated as although I'm five weeks in, I haven't seen any huge changes to my body but when I jokingly flexed my biceps this weekend, my friend poked them, meaning to laugh at me and was actually a tiny bit impressed. While it's not yet very visible my biceps are definitely feeling a little more solid than they usually do.
Week six: Confidence
The one thing that I am most grateful for is the confidence that this sport has given me both in and out of the ring. When I started this challenge I knew that I would learn how to throw a punch and I knew that my fitness levels would improve but I didn't fully realise the way that this challenge would impact the way I viewed myself.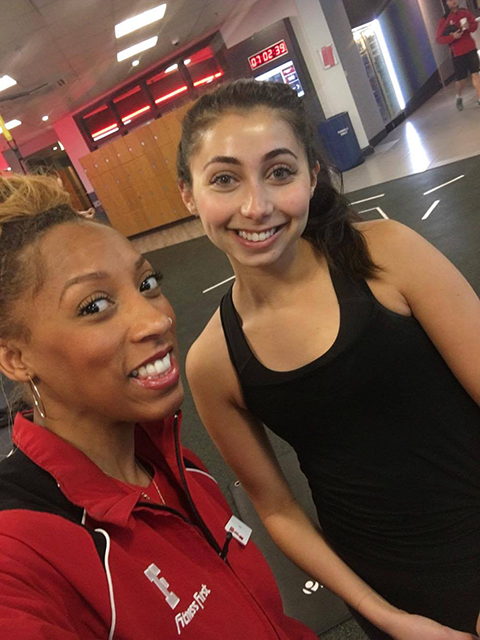 While I come across as very outwardly confident, I don't have a huge amount of confidence in my abilities – particularly when it comes to anything physical. Pushing myself to do that last pushup or burpee, forcing myself to hold that plank for another 30 seconds proved to me that I can do anything if I push myself hard enough. Even the act of throwing punches felt hugely empowering and at times I found myself shadow boxing alone in my room. Whenever I did this my mood was lifted and I suddenly felt more sure of myself.
The thing that I really love about boxing is that as you improve, the sport stays difficult
While I was embarrassed at first, now I'd feel totally comfortable going to the gym on my own and practising punches out on the bags and when I walk home at night I feel a little lighter knowing I'd be able to give an attacker a good thump.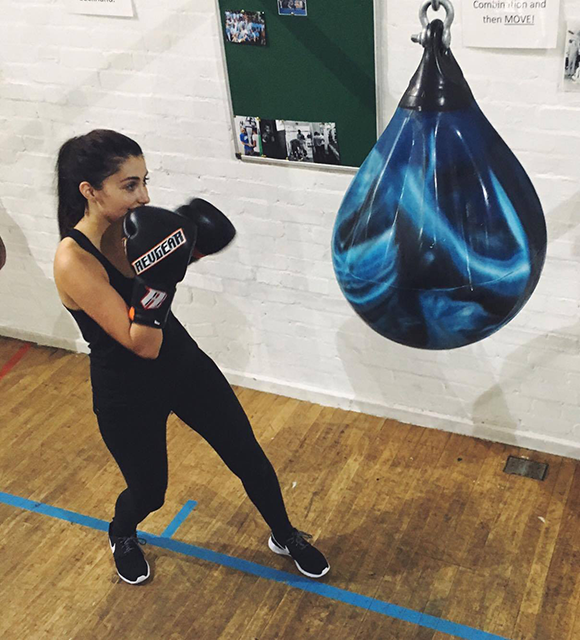 The thing that I really love about boxing is that as you improve, the sport stays difficult. Seasoned boxers and beginners alike are left a sweaty mess by the end of the session. This experience has not only taught me a skill but it's also taught me to have confidence in myself and my abilities – plus, I do feel pretty bad ass.
Power of Boxing sessions start at £12.50 per class and are available both in Battersea and Lambeth in London – head to the Power of Boxing website for more information.
And if you'd like to support Carney's Community, Power of Boxing is going to be holding a 24-hour Boxathon and raffle at 7pm on Friday 22nd September at their Battersea location so get involved.
Read more
The rise of the boxing workout (and how it could change your body AND mind)
8 best new-generation fitness trackers