New research released today has revealed an exhaustion epidemic amongst Brits with a third of us too tired to have sex and just 13 per cent getting the requisite eight hours sleep.  These foods and drinks are proven to help
If you feel tired all the time, new research reveals you're not alone.  In fact, energy levels in the UK have reached crisis point, leading us to cry, lie and avoid everything from sex to exercise to work and social events simply out of sheer exhaustion.
Energy – rather than money or status – has become the new commodity we all want but desperately lack in the 21st century
The research, carried out by Healthista on over 1000 men and women and commissioned by Tenzing, found a staggering 91 per cent of people worry that their energy levels are low, with it playing on the minds of nearly half of us every single day.
We had an inkling that the nation's energy was low – we all lead such oversubscribed lives after all – but we had no idea just how low.  Indeed, 28 per cent of respondents had the least energy when they woke up in the morning and 31 per cent didn't have enough energy to do a full day's work.
It's as though energy – rather than money or status – has become the new commodity we all want but desperately lack in the 21st century. 
Sleep stealers
Most of us know that 8-9 hours sleep is optimum but a third of those surveyed only managed between 4-5 hours and only 13 per cent reported reaching their sleep targets.  While a quarter of people blamed technology for their lack of sleep, a staggering 61 per cent put it down to worry and stress.
Too tired, too often
Nearly 50 per cent of us are too tired for housework, while a third would rather sleep than have sex. Meanwhile, 64 per cent of those surveyed have lied because they've been too tired go out with friends and a third have lied because they have been too tired to have sex.
What's sapping our energy?
Unsurprisingly, 65 per cent of us blamed a lack of sleep for our exhaustion, while 44 per cent blamed their jobs and one in ten said their partner was the reason they were so tired!
9 foods to help increase energy
While we can't (really) help you replace your partner, we can help you change your diet from an energy-sapping one to one that creates sustained energy.  In fact, the research found 27 per cent of us blamed our diets for lack of energy.
Here are some of the foods that have been proven to boost energy, that you can incorporate into your diet every day.
'Certain foods are nutritional powerhouses, packed full of vitamins and minerals to help the body with energy production,' says Rick Hay, a nutritionist and lecturer in weight management at The College of Naturopathic Medicine, London.
'Such foods can help you get through that common mid morning or mid afternoon slump and many of them also help with brain energy – something we could all do with every now and then'.
1. Banana and Almond Butter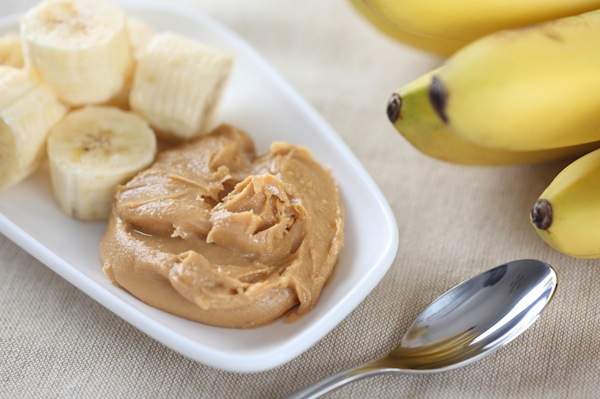 Banana with almond butter a delicious complex carb and protein option that combines the energy giving fruit sugars, magnesium, and the amino acids of the banana, together with the B vitamins, healthy fats and protein in the almond butter to supply a steady supply of energy. Pip and Nut's Coconut Almond Butter (£4.29 from Healthista Shop) contains no sugar, no palm oil and no artificial ingredients.
'The high potassium, tryptophan and B vitamin combination in this duo also helps with mood, and a better mood may well lead to better outcomes when exercising,' says Rick Hay. 'And more energy may help you to start moving in the first place'.
In a 2012 study by Appalachian State University, researchers concluded that bananas were as beneficial as sports drinks in terms of providing energy – and they're all natural.
Energy-sapping foods to replace with it: Biscuit fixes mid-morning or mid-afternoon, sugar-filled energy bars.
Extra tip: Beware of having too much if you're watching your weight. Half a large banana or a full small one, with a teaspoon almond butter is satisfying without being too calorific.
2. Sweet Potato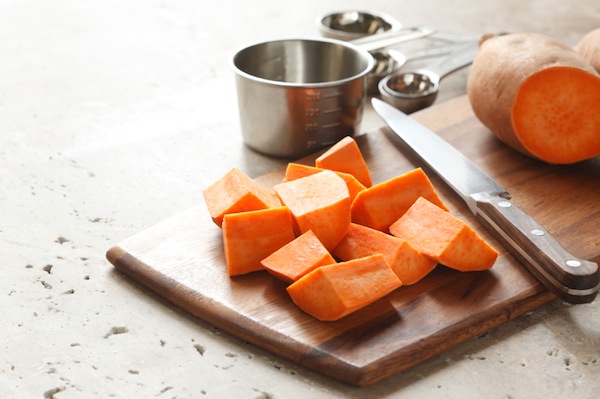 Complex carbohydrates like this release glucose into your system more gradually than refined carbs (such as sugars and white gain products such as bread and rice) which leads to a steady supply of energy.
As sweet potatoes are high in fibre they not only boost your energy, but can assist with weight loss too as they keep you feeling fuller for longer.
'Sweet potatoes are amongst the best complex carbs you can eat – they are rich in vitamin C, beta carotene, magnesium and iron – all of which are essential energy nutrients,' says Hay. 'The high potassium content helps to balance electrolytes whilst exercising, and lowers blood pressure too'.
What to replace with it? White potatoes in mash or slice it into thin wedges to make crispy healthy chips. Spray with olive or coconut oil for a hint of healthy fat.
Extra tip: Don't peel it. Give the skin a good scrub but leave it on – it's a great source of fibre, vitamins and minerals.
3. Maca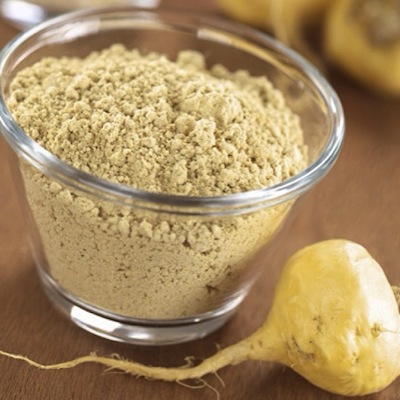 Maca, a root that belongs to the radish family, is most commonly available in powder form and has an earthy, nutty flavour.
Grown in the mountains of Peru, Maca has been named 'Peruvian ginseng,' because of its energy-giving properties.  Just about everyone on the streets of Peru drinks Maca in some form, with Peruvians adding it to biscuits, drinks, biscuits, bread and stews. It's believed maca can help regulate hormones, increase energy and libido.
'Add a teaspoon of nutrient dense maca to smoothies or juices to provide your body with an array of phytonutrients that fuel energy production, says Rick Hay. 'Maca provides natural vitamin C, iron and magnesium that all support cellular energy production'.
Maca is also rich in many other vitamins, minerals and enzymes and as this superfood is gaining in popularity we should see more global trials soon, Rick Hay asserts. There are already encouraging results coming out of its native Peru. Naturya's Organic Maca Powder (£6.99 from Healthista Shop) contains nothing but organic maca.
What to replace with it: Maca's earthy, nutty taste goes well in smoothies in place of sugar as it also has hints of caramel. It's also quite nice rolled into energy balls.
Extra tip:  Maca is used to increase fertility in livestock and some experts suggest it may also work in humans but more research needs to be done to confirm this.
4. Green tea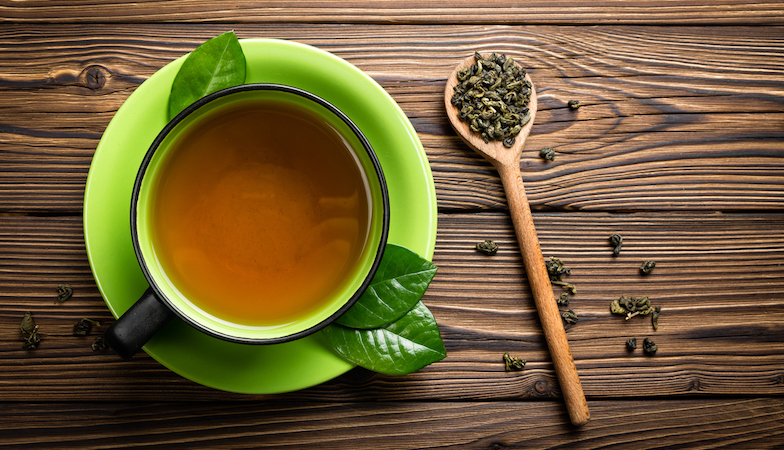 You've probably heard enough about the health benefits of green tea by now, from heart health to anti-agieng. But one of its key benefits is for increasing energy and metablism.  The increased fat burn effect comes courtesy of a family of phytochemicals present in green and white tea called catechins that have a stimulating effect on metabolism.
A study reported in the American Journal of Clinical Nutrition found that green tea-extract increases the metabolism by four per cent over a 24 hour period. Three to five cups a day can help you burn an extra 70 calories a day, which adds up to seven pounds a year, 35 pounds for five years and 70 pounds for 10 years.
Green tea has also been shown to inhibit fat absorption—the movement of glucose into fat cells, [support healthy] glucose levels after eating a meal, prevent insulin spikes which prevent fat storage, and reduce appetite., keeping energy levels stable.
The advantage of green tea as an energy boost is that the natural caffeine found in it is slow release. Moreover, it is balanced out with an amino acid called L-theanine, which works on calming alpha waves in the brain, helping with anxiety. 'This means you get a lift from green tea but it's balanced out with the natural occurrence of L-Theanine which has calming effects, making green tea a great choice for stabilising energy throughout the day,' says Rick Hay, adding that 4-5 cups are the ideal to have daily.
Energy-sapping foods to replace with it:  If you're inclined to grab a Diet Coke or Red Bull as an energy boost mid-afternoon, try green tea instead. If you want something cold, Tenzing, is  a new low-sugar energy drink containing 80mg natural caffeine from pure green tea, the same amount you would get by drinking a strong cup of it.
Extra tip: A 2016 study found that having dark chocolate, at least 60 per cent cacao with a cup of green tea, provided a sustained energy boost.
5. Organic eggs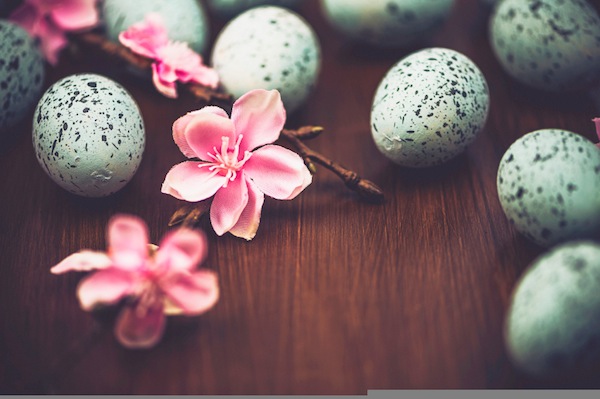 Eggs are another protein powerhouse – think organic or free range. They are a complete protein, and they contain all the essential amino acids needed for healthy body function and energy production.
'The thiamine in eggs helps to turn carbohydrates into energy that our body can use whilst vitamin B5 helps the body release energy from our food for our body to use,' says Hay.
Researchers reviewing 25 studies on protein suggest that the protein in eggs makes a valuable contribution to muscle strength, helps to satisfy hunger and provides a source of sustained energy.  The researchers suggest that because eggs are rich in leucine, an essential amino acid that plays an important role in how muscles use glucose, they may be a valuable food for men and women undergoing endurance training.
Energy-sapping foods to replace with them: Sugary cereals at breakfast.
6. Honey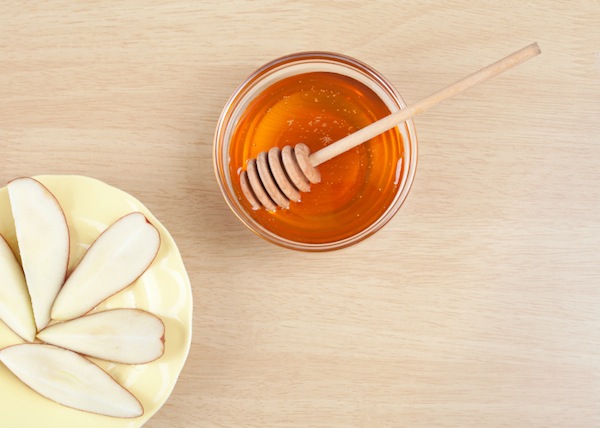 Honey was apparently used by runners in the Olympic Games in ancient Greece as a natural energy source. It is rich in carbohydrates and these carbs are the primary fuel that the body uses for energy. They also help to maintain glycogen (glucose in muscles used for energy) levels which helps to prevent muscle fatigue.
'The glucose in honey is absorbed by the body quickly, and it gives an immediate energy boost while the fructose is absorbed more slowly, providing sustained energy,' says Hay.
Have a teaspoon of honey in a cup of herbal tea mid morning or mid afternoon for a quick energy booster that tastes great.
Energy-sapping foods to replace with it: sugar and artificial sweeteners.
Extra tip: Look for organic honey where you can to ensure the least processing and most bee-friendly production. If you can, try and source local honey. Try Raw Health Organic Raw Pure Blossom Honey (£4.89 from Healthista Shop).
7. Mushrooms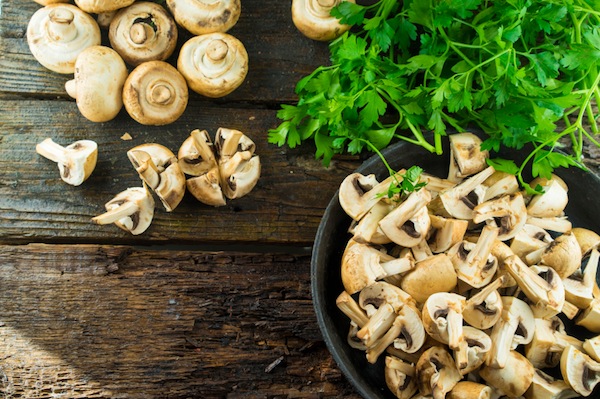 Mushrooms are rich in iron which helps to fight fatigue and lethargy and they assist the production and movement of oxygen throughout the body.
Include them in salads or soups to increase your energy nutrient intake – you'll increase your vitamin D and B12 levels which in turn will fuel your cellular energy production.
'Mushrooms also protect your mitochondria – the powerhouses in our cells – which is good news as this is where your cells produce energy,' says Hay.
Extra tip: One of the most nutritious varieties of mushrooms are the Shiitake species from Japan. You can try them raw from supermarkets or dried, they make an excellent soup flavouring. Try  Clearspring Organic Shiitake Mushrooms (£6.79 from Healthista Shop).
8. Spinach
Spinach is extremely high in iron, magnesium and potassium. The high levels of magnesium play a vital role in producing energy at a cellular level, Rick Hay asserts.
'Magnesium not only helps to boost cellular energy production, it also has relaxation properties so may well assist with sleep length and quality, which in turn will lead to more energy throughout the day,' says Hay.
Energy-sapping foods to replace with it: Instead of loading your morning smoothie, use a tasty protein powder that is sugar free and contains no artificial ingredients but plenty of natural flavour (try Healthista's Lean Vegan Protein Powder in berry or chocolate, both £24.95 from Healthista Shop), then add a handful of spinach. You won't be able to taste it and you'll be getting a huge hit of nutrients at breakfast.
9. Seeds – Sunflower, Pumpkin and Chia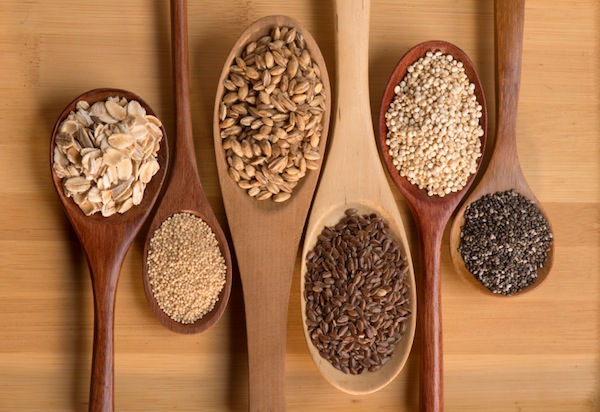 Sunflower, pumpkin and chia seeds are some of the best snacks for energy. They are full of minerals, fibre, and essential acids to assist with energy and endurance.
These super seeds contain high levels of protein too, which helps to release energy overtime rather than all in one spike.
Chia seeds have a long history of being used for energy production. If we go as far back to the Aztecs, we find that they used them to help with stamina and vitality. In fact, in the Mayan language chia means 'strength'.
Runners and warriors are said to have used them as fuel for long distance running, and as fuel during battle.
Extra tip: Try adding a teaspoon of chia seeds to the water you take to the gym to help with sustained energy production while you exercise (soaking activates the chia seeds and makes their nutrients more available to the body). Try Rainforest Foods Organic Chia Seeds (£6.49 from Healthista Shop)
10. Salmon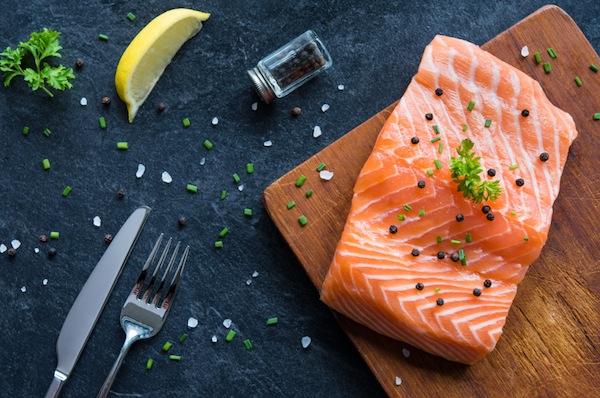 The Omega 3 and B vitamins in salmon help to produce energy, and help with brain function. So if you're feeling a little foggy, then a salmon dish could help to get you moving and improve cognitive function and mood at the same time.
'Sometimes it's not just about the production of energy, it's about being in the right mood to move, and I believe that salmon consumption can help with that,' says Rick Hay. 'It's also anti inflammatory, so it can be of use after you've worked out too'.
Energy-sapping food to replace with it;  if you love fatty or processed meat, try replacing it wth salmon. It's a fatty fish so will satisfy your tastebuds and deliver a much better hit of nutrients than processed meats.
Extra tip: Combine salmon with brown rice and spinach and you are on the right track for an energy boost a few hours later (or to fuel a workout the next morning if you're having it at dinner).
11. Nuts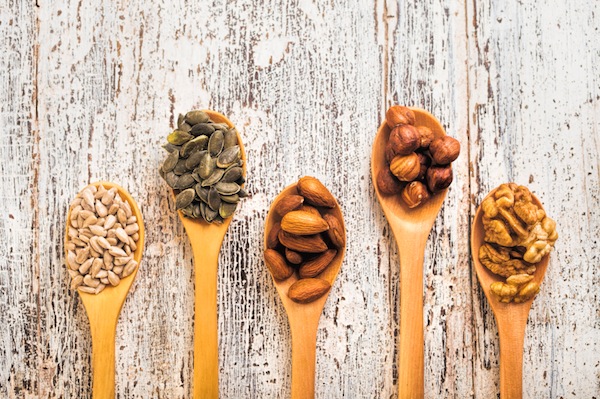 The combination of good fats, fibre and protein in nuts means as they are a low-glyycaemic index or GI. This means they're a slow-burn food, so they will deliver steady energy not just a quick burst.
'Nuts provide a wide range of B-group vitamins which helps with cognition and stress and they are also rich in iron, zinc, potassium and energy boosting magnesium,' says Rick Hay. 'They help keep the immune system strong too as they're rich in key antioxidant minerals, including selenium, manganese, and copper.  I recommend nuts both pre- and post workout and amongst the most nutritious are walnuts, Brazil nuts and almonds'.
Energy-sapping foods to replace with it: The afternoon chocolate hit. Try 6-12 almonds and an apple when you get a sweet craving and need a boost in the afternoon.
Extra tip: avoid peanuts, they're not strictly a nut, they're a legume and may cause tummy issues in some people. For peanut butter monsters, there is always almond, cashew, or walnut butter. (See Healthista Shop for lots of great organic choices)

Healthista is giving you the chance to win an incredible spa detox break worth £1750 with spa specialists The Body Retreat at their gorgeous Somerset venue. To enter, just take our 5-minute Gut Health survey
More Healthista content:
11 life lessons this world famous fitness coach lives by
58 energy hacks these busy Instagrammers swear by
9 caffeine benefits proven by science PLUS healthiest ways to get it
Home fitness video special:  HIIT workouts to do in your living room
What's really in your energy drink?
Like this article? Sign up to our newsletter to get more articles like this delivered straight to your inbox.