Celebrity hot spot Sardinia – from the food, to the lifestyle of locals, here's why it's one of the healthiest places in the world and why its population contains a high-concentration of centenarian's
Hotel and resort spas come in all shapes and sizes. From understated, low-key sanctuaries to spectacular star-studded complexes.
Delphina hotels and resorts falls into the latter, with their eight lush-green resorts and thalasso spas found among breath-taking surroundings of Northern Sardinia – a place of true natural beauty.
As the second largest-island in the Mediterranean, Sardinia has always been a popular summer holiday destination for many, including Hollywood royalty.
Celebs who have flocked to this stunning destination include: Rihanna, Beyoncé, George Clooney, Bradley Cooper, Gwyneth Paltrow, Leonardo DiCaprio and even the Obama's.
Just a two-hour flight from London, Sardinia is an island with characterful towns
Just a two-hour flight from London, Sardinia is an island with characterful towns, the most crystal-clear archipelago in the world and 300 days of sunshine a year – what's not to like eh?
Celeb-spotting aside, now, more than ever, is a great time to visit Sardinia. The island's stunning beaches are primed for peak season, which runs through the end of August.
Ordinary folk like us can also enjoy its pristine white beaches, clear turquoise waters and spectacular rocky scenery all for a fraction of the price.
READ MORE: Sani Resort: their newest complex is perfect for some rest and relaxation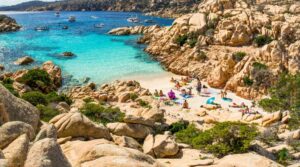 Why Sardinia is the healthiest country
Visiting Sardinia will truly open your eyes to a healthier way of life. Other than our basic needs of drinking, sleeping and eating, the new millennium has seen the evolution of something that can be summed up in just one word – wellness.
Not only is it beautiful and full of drop-dead gorgeous celebs, Sardinia is believed to hold the secret of longevity with the world's highest concentration of centenarians (those to live to 100 years or more), and is one of the world's only designated Blue Zones.
The reason for this is largely due to the authentic, locally sourced foods, culture, active lifestyle, environment and the vitamin D from 300 days of sunshine probably helps too.
I was lucky enough to meet two centenarians on my trip to Sardinia. One of which, Francesco Punta revealed that he believed the key to good health is down to the high levels of salt in the Sardinian sea and through the quality of meat and produce from their animals who are hand-reared on their farms.
Sardinia is believed to hold the secret of longevity with the world's highest concentration of centenarians
'Blue zones' are five regions that have the highest concentration of centenarians in the world. Although geographical distance and culture may be different, the people lead similar lifestyles. They are physically active, have low stress levels from living a slow pace life, take regular naps and have strong social and family connections.
Where food is concerned, again there are similarities. Their diets consist small portions and have a moderate calorie intake. They typically start their day with a large breakfast, followed by lunch and a smaller dinner.
What's more, nobody in Sardinia seems rushed off their feet or stressed. There is an essence of calm from everyone you meet and everywhere you visit.
They tend to get to most places by foot or bicycle, and spend plenty of time cooking, dancing and socialising with their friends and family.
Regular excursions at Delphina, led by locals, allow guests to appreciate and understand the nature and traditions of the island's communities, and the land around the resorts is either left 'wild' or planted with local flora needing little water and fitting in with the natural landscape.
READ MORE: The Mayr Method Diet – Healthista tries Rebel Wilson approved detox at Park Igls Medical Spa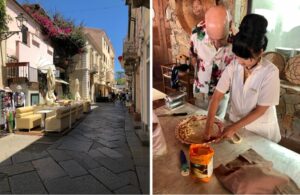 The Mediterranean diet
If you like Italian cooking, it's fair to say you won't be disappointed but there's more to this island than pizza and pasta.
Sardinian cuisine comes from a tradition entirely its own. Meat features heavily, with roast suckling pig, infused with myrtle, lamb and rabbit, all cooked to perfection, among other tasty offerings.
Full of wild greens like dandelions, legumes, beans and potato, it also features plenty of healthy fats found in fish and olive oil and on occasion, cheese and red wine.
Delphina takes great care to work with nearby producers
Olive oil is an especially important part of the diet and has a high antioxidant content. Be sure to eat a wide range of vegetables, fruits, beans, nuts, whole grains and fish. This food will provide your brain with essential nutrients.
Cheese is also a big deal in Sardinia, with strong and spicy pecorino taking the lead as my favourite. It's usually served alongside slices of cured meat on platters of antipasti or grated over pasta – just delicious!
Delphina takes great care to work with nearby producers to source the very best local food and wine according to season.
I absolutely LOVE pasta, and it's safe to say I don't think I will ever taste pasta quite like how it was prepared at Delphina. Ravioli filled with ricotta, lemon and sugar, pasta with octopus and fresh tomatoes, pesto – you name it, I ate it, and loved every mouthful.
READ MORE: 'Ditch FAD diets' says Dr Michael Mosley – plus 7 healthy recipes for the New Year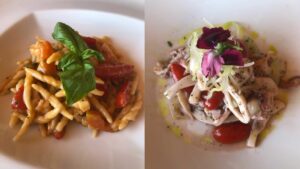 Where to stay?
If you want exquisite luxury and tranquillity, with all the amenities of a larger resort then one of the eight Delphina Collection Resorts dotted around Sardinia's beautiful landscape is the right choice for you.
Delphina is the first Italian hotel group to use entirely green and renewable energy, this includes electric buggies, recycled paper and inks and have won a number of awards including 'Europe's Leading Green Resort 2022' and Delphina is inspiring to become the World's leading green resort in the near future.
the eight Delphina Collection Resorts dotted around Sardinia's beautiful landscape
Delphina only use local artisans for all interior décor supporting the local community, they also produce their own wine, food and spa products which are all organic, as well as sourcing from small independent local producers – absolutely nothing is imported into any of the eight resorts.
Delphina resorts offer open air, sea-facing gyms, free outdoor yoga sessions under the wild olive groves, and a huge range of water-sports.
The guiding principle behind every resort is – 'do not lose contact with the sea', because of this the resorts have views of the sea from every angle of the resort, and in each bathroom there is a window with a view of the sea.
READ MORE: 11 travel bag essentials you didn't know you needed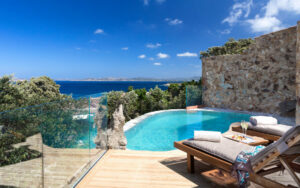 I didn't have the pleasure of visiting all eight resorts, however I was given a tour of three northern hotels and stayed in one of them -Valle Dell'Erica.
Valle Dell'Erica is an award-winning 5* family-run sanctuary found a short distance from the ancient village of Santa Theresa Gallura.
A sizeable resort, Valle Dell'Erica seems concealed due its extensive array of floral-scented shrubbery and secret coves dotted along the sparkling turquoise coast-line.
The resort is split between two hotels, Hotel La Licciola and Hotel Erica. There are 271 bedrooms, spacious and luxurious suites, four swimming pools, a relaxing Thalasso Spa, seven appetising restaurants and five different bars.
The beaches at Erica are a selection of idyllic white sandy coves
Hotel La Licciola opened in 2013 after Hotel Erica, as a stylish extension using traditional Sardinian décor in the various suites and rooms, one of which is a duplex Imperial suite with a private panoramic terrace and pool (see image above).
The beaches at Erica are a selection of idyllic white sand coves, with sun loungers for peaceful relaxation and to capture that perfect sun-kissed glow.
This resort is the ideal location for families as the resort has a children's club 'Ericaland', family excursions and an evening piano bar 'La Piazzaetta' with music and lives shows.
Price: Starting from £300 for a double room at Valle dell'Erica, with twin beds available on request.
READ MORE: How to make your own healthy Vegan Poke Bowl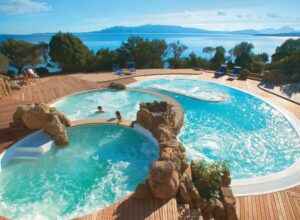 Capo D'Orso is perfect for a couples retreat or a peaceful getaway. It is smaller than Hotel Erica, although similar with its array of beautiful foliage.
With only 86 luxury suites with a private veranda, one small fresh sea water pool, a Thalasso spa, two restaurants and a nine-hole golf course, it is the ideal retreat for those wanting an intimate yet luxurious stay.
There are two beaches at Capo D'Orso and five wooden sun-decks resting on the edge of the sea, including a floating sun-deck. With another Thalasso spa here you can enjoy the opportunity to indulge your mind, body and soul with various treatments and specialities.
Additional facilities at Capo D'Orso include diving excursions, inflatable boat rental, fishing, biking and kayaking.
READ MORE: Thyme – the relaxing Cotswolds staycation & botanical breather for those January blues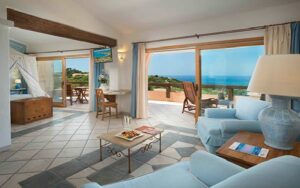 Marinedda is another fantastic hotel for families with around 200 rooms (including suites and inter-connecting family rooms), a Thalasso spa, two swimming pools, three restaurants and a children's club to allow parents to have some down-time.
For the gym-fanatics and sporty-types, there are free activities including gym, archery, tennis, five-a-side football, mini-basketball and trekking routes.
For the not-so-sporty types, the spa offers a 2,500 m2 haven of treatments that include massage, hammam, beauty essentials, and holistic therapies.
The main pool is surrounded by a panoramic terrace and is the perfect spot to enjoy dinner. The hotel is on a slope down towards the beach which means that the views from the main restaurants are breath-taking.
The beach (down the slope) at Marinedda is easily accessible and has plenty of sun loungers and a beach bar oh and the cherry on top? The beach at Marinedda is known as one of Sardinia's best beaches.
Like this article? Sign up to our newsletter to get more articles like this delivered straight to your inbox.