Looking for a holiday break full of rest and relaxation this summer? Mars Webb checks out luxury destination Sani Resort and fills us in on a holiday she'll never forget
Frazzled after a really busy time at work? Yearning for a luxury destination not too far away?
My friend and I  had lots of things going on in our lives – we wanted spa, well-being yoga, rest, a beach and some delicious food (cooked for us!).
It didn't take long to decide on Sani Resort. Maria, my friend, had been there years ago and raved about it. It ticked everything we wanted and more. Sani Resort is located on Cape Sani in Greece and it really did prove to be the perfect destination.
The resort features five award-winning hotels within walking distance
An easy early morning flight to Thessaloniki from Heathrow with a welcome pick-up transfer straight to Sani Resort meant we were there by lunchtime and settled in by the pool with a welcome check-in cocktail – bliss!
The resort features five award-winning hotels within walking distance (Sani Beach, Sani Club, Porto Sani, Sani Asterias and Sani Dunes) and for this trip, we stayed in Porto Sani's newly opened five-star €30 million complex.
This includes 50 suites (the complex has 148 suites in total), two new restaurants, adult-only and family heated pools and new babies' splash pad, a mini club and creche club, an indoor and outdoor gym, beautifully manicured gardens and a spa.
Read More: Is your bloated stomach ruining your life? 9 ways to relieve symptoms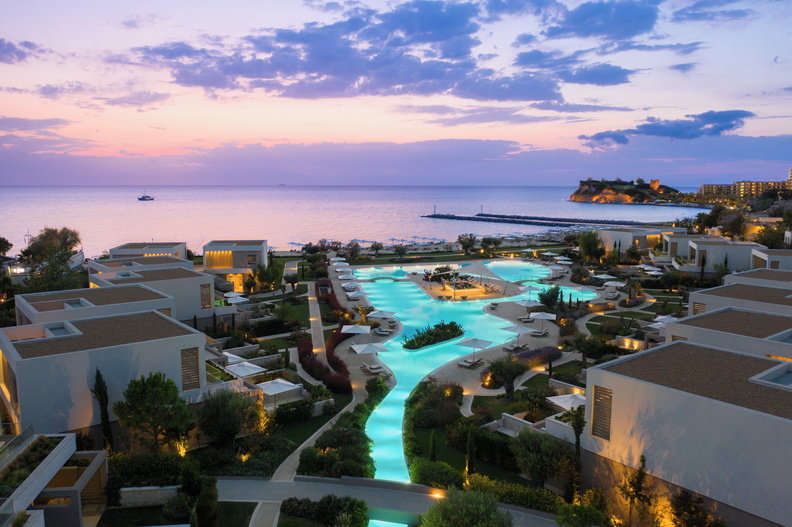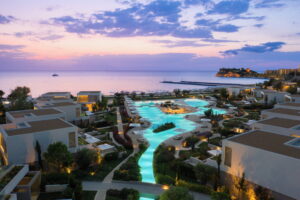 Like Sani's other accommodation, which ranges from doubles to junior, one, two and three-bedroom suites, the accommodation and communal spaces have been beautifully designed with stylish interiors by the visionary Dr Niki Manou-Andreadis of Nimand Architects.
At every turn, there is a beautiful chair or piece of artwork, all of which you want to transport back home.
Accommodation at Porto Sani is ideally positioned, central in the resort and next to Sani's glamorous yacht marina with 215 berths.
restaurants ranging from traditional Greek to French, Italian and Japanese
Surrounded by chic shops, including Missoni, Melissa Odabash and Vilebrequin, pavement cafes, and restaurants ranging from traditional Greek to French, Italian and Japanese, it is the perfect spot to grab a coffee, check out the amazing boats and yachts, and indulge in some holiday shopping.
Sani is one of those resorts that stays with you, continually evolving, providing space to relax and breathe. It has so much to offer whether that is the amazing food, wonderful five start service, breadth of activities and different locations on the resort so you never get bored.
Luxurious accommodation
Spacious and elegant with large, airy balconies the rooms have beautiful luxurious touches. A turn-down bed service, crisp bed linen and sumptuous beds and pillows meant we both slept well every night.
On day two, we decided to just relax on the beach and we were spoilt for choice. Sani Resort is set in a majestic 1,000-acre eco-reserve, with 7km of soft, beautiful sandy beaches it also has 110 hectares of protected Sani Wetlands to explore, and over 20km of lush forest trails which can be explored by bike or on foot.
The resort encourages you to reconnect with nature and enjoy the great outdoors in the Sani Sanctuary.
Read More: 8 healthy habits to help transform your mood (and your life!)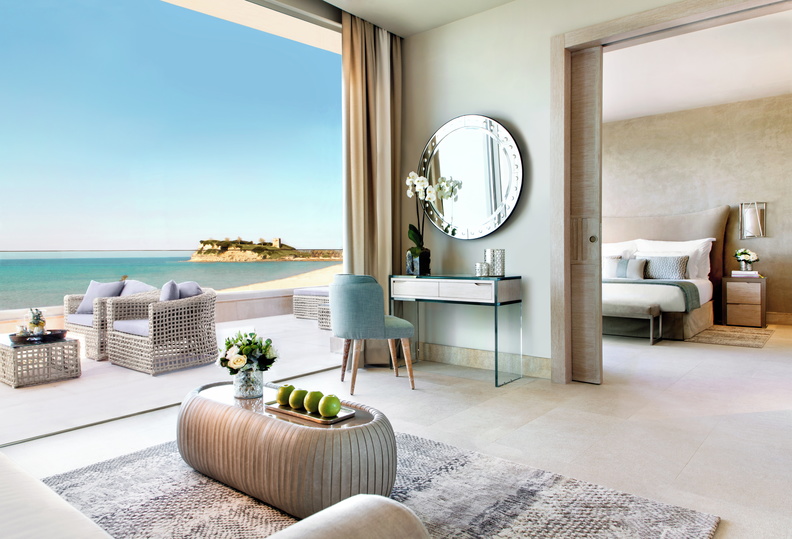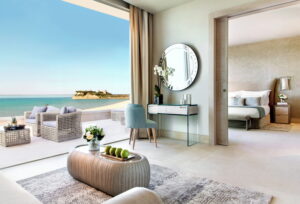 Deliciously spoilt for choice
At Porto Sani itself, there are plenty of places to eat. Elia is one of its two new restaurants, run by its friendly manager Tasos and assistant manager Elena, who both greet guests with infectious smiles and share their recommendations.
Chef Panagiotis Togias has created an innovative menu that offers delicious Greek food, elevated for a discerning palette. This was our first port of call when we arrived for a lazy poolside lunch and a glass of rosé it is also a fabulous spot for a chilled sunset dinner and where we indulged in a festive breakfast buffet feast every morning.
While there, the outstanding Sani Gourmet Festival was on which is held each year in May and sees the world's best chefs creating innovative menus for guests to experience.
he outstanding Sani Gourmet Festival was on which is held each year in May
Our first port of call to eat was Lima, which is the second new restaurant on the Port Sani complex, located on the veranda above Elia with views overlooking Sani Marina.
Headed by chef George Matziaras, the restaurant serves authentic Peruvian cuisine with dishes including Chilean Sea Bass Croquettes with Miso and Spicy Mayonnaise; Spicy Beef Fillet with Crispy Shallots, Aji Limo and Star Anise; Fire Roasted Octopus with Chorizo, Potato and Green Olives and a wide selection of salads.
My second favourite place to eat was Ouzerie, a Greek Restaurant with incredible views and a wonderfully welcoming manager, Maria, who makes you so welcome. The Fried Zucchini Balls with Tzatziki are a must.
Read More: 3 best facials in London for glowing skin – tried and tested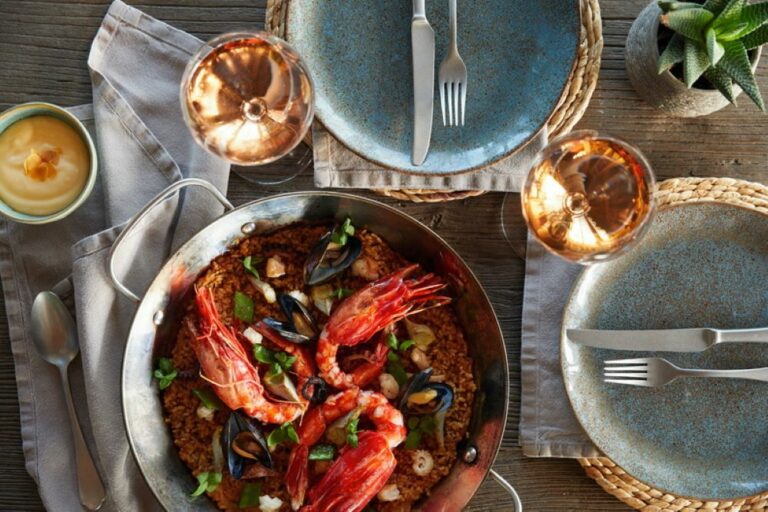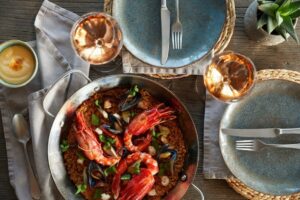 Serious pampering
By day three we decided we needed some serious pampering and immediately booked ourselves into the spa, located in the main Porto Sani building (there are other spas in the resort to choose from if one is booked).
There is a huge menu of treatments that have been designed by the famous Parisian brand Anne Semonin on offer. I opted for a Relax and Renew massage that worked its magic on my tense back and shoulders and my friend enjoyed the Radiance Express facial to refresh, firm and boost her tired-looking skin.
We were given the option of having it in a joint treatment suite so we could lie side by side and share the experience which was fun.
Read More: 5 CBD benefits for women you didn't already know about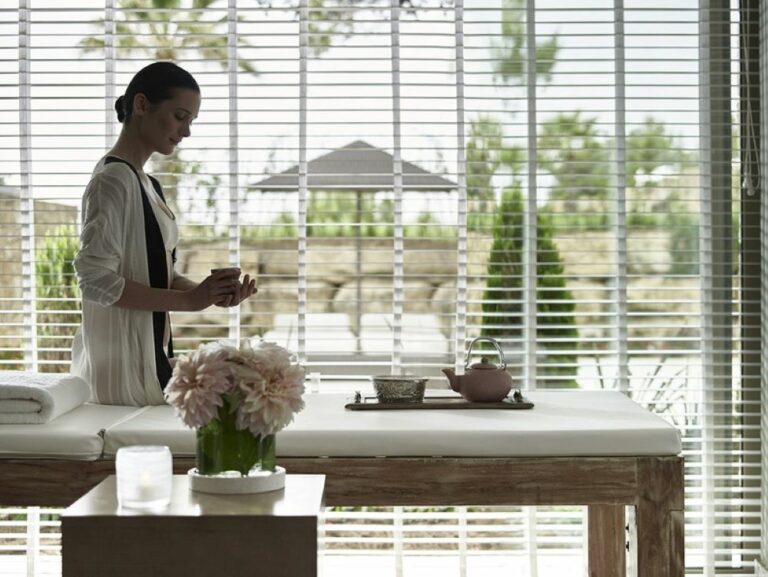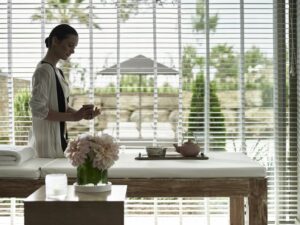 Well-being is at the heart of Sani
After checking out the well-kitted-out gym, we decided to download the Sani app and were presented with a huge choice of sports and fitness activities.
Guided jogging, mountain biking, HIIT, tennis, football, TRK, and aqua aerobics were all available to book.
A new 'Breathwork and Meditation' class had just launched too, so we kicked off our well-being break with that. Led by Sophia, a former classical singer and now sports instructor, we donned headphones on and tuned in to her soporific voice and spent an hour of pure mindfulness along with yoga techniques, meditation to focus on the breath and of course its amazing beachside location.
classes were located on a shaded deck with a magnificent view of the Aegean sea and Mount Olympus
A completely new experience and something we never get the chance to do at home, it was so relaxing, I  fell asleep towards the end and we both left with a clear and calm mind.
We also tried out the 'sunset yoga' under the careful guidance of instructor Maria and the next day tried out the morning Pilates with Raphaelle. Both classes were located on a shaded deck with a magnificent view of the Aegean sea and Mount Olympus spread before us so a spectacular location.
Read More: The 101 on calorie deficit – how important is it for weight loss?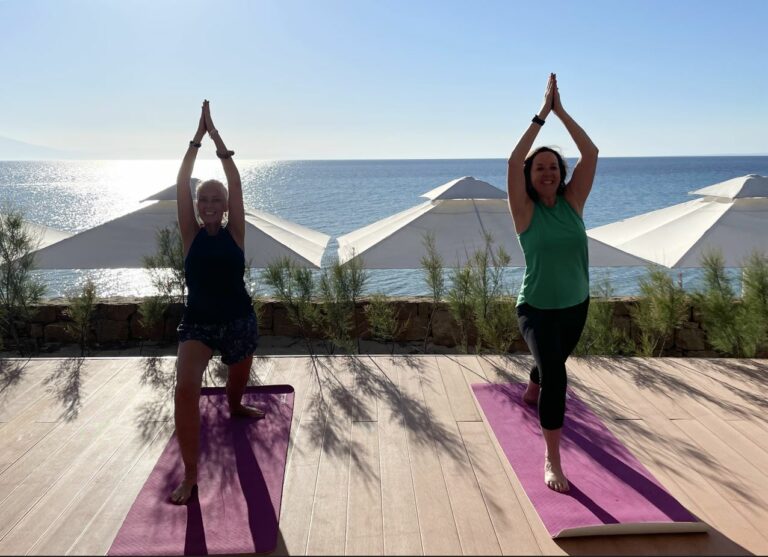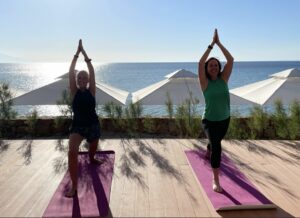 Caring for the environment
Sani resort was the first certified carbon neutral resort in Greece and has been awarded World's Leading Luxury Green Resort in 2021.
Its location in the heart of a 1,000-acre ecological reserve and 270-acres of wetlands means that sustainability is front of mind.
New for this year is the launch of the largest Bee Spot in Greece in collaboration with the non-profit organization Bee Camp. This gives shelter to the pollinators and provides guests with an opportunity to learn first-hand about the role of the pollinator in the local eco-system.
Sani resort was the first certified carbon neutral resort in Greece
It has also just teamed up with ISea to monitor the resident dolphin population and create the first catalogue of cetaceans in Halkidiki.  For those who want to further explore the area, it has a new fleet of hybrid plug in cars for transportation.
There are also new solar tree panels at Sani Marina for charging 'phones, and the resort has announced its zero waste ambition by 2024.
To book:
British Airways Holidays offers seven nights, at the 5* Porto Sani, from £1519pp, travelling on selected dates between 1 September – 30 September 2022 inclusive.
Includes economy (Euro Traveller) return flights from London Gatwick Airport, 23kg luggage allowance and accommodation on a Full Board basis. Book by 15 June 2022 at www.britishairways.com/sani
Like this article? Sign up to our newsletter to get more articles like this delivered straight to your inbox.