Does your skin need some TLC? Healthista has tried and tested 3 of the best facials in London that will give your skin an instant youthful glow
There's no escaping the fact that facials are expensive.
But despite the cost, the benefits of a good facial can be instant – leaving you with gorgeous glowing skin that will have you opting for no make-up days with ease.
the benefits of a good facial can be instant
Oh and you don't need a facial every week. Even three facials a year can help to keep your skin on the straight and narrow.
To make sure you choose a facial that's worth the money, Healthista have tried and tested three of the best facials in London (all in the name of work of course!)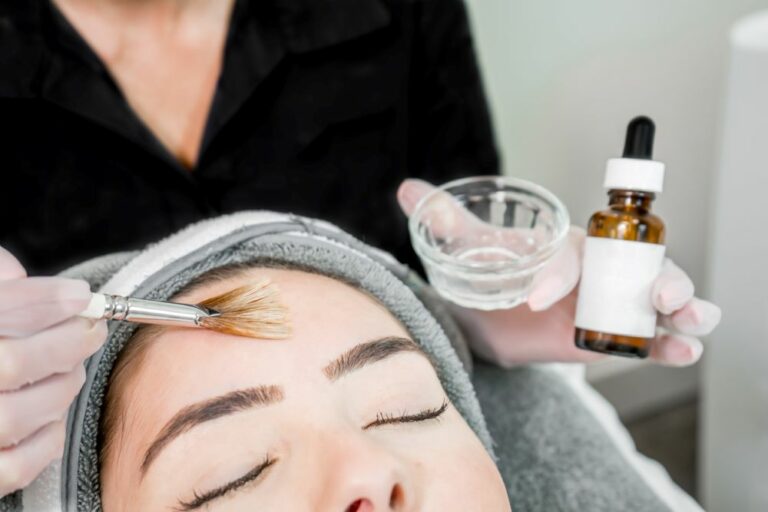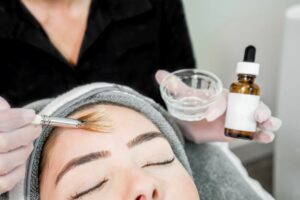 #1 Forbici Hollywood Facial
The Forbici Hollywood Facial is a results-driven facial that is named so as it is adored by A-listers and is said leave your skin instantly glowing and rejuvenated.
In a nutshell: A radio frequency treatment that combines cleansing, exfoliation and hydration with lifting, as well as smoothing and contouring to result in clearer, glowing and healthy skin.
Cost: Forbici, Knightsbridge on Treatwell – £200 for 60 minutes
What happens: The combination of radio frequency, water-based peels and the Aqua3 facial make up the signature Forbici Hollywood facial – perfect for those looking for non-invasive skin tightening and reducing the appearance of fine lines and wrinkles.
The first step incorporates an Aqua 3 Hydra Facial which involves a non-invasive microdermabrasion that deeply cleanses your face, removes dead skin, rebalances sebum and thoroughly moisturises the skin.
This part of the facial also removes impurities, improves skin texture and restores skin elasticity – hello youthful-looking skin.
The next step of the facial uses a a water-based peel containing sequential acids, followed by an oxygenating OxyPlus mask. The intensity of the peel can be adjusted to what is comfortable for your skin type.
a non-invasive microdermabrasion that deeply cleanses your face
The peel can be slightly uncomfortable and may sting if you have sensitive skin, so be sure to speak up if it something doesn't feel right and another intensity of peel can be used.
The final stage of the facial includes the radio frequency part of the treatment which helps to speed up the production of collagen, resulting in the tightening of saggy skin and can give you a glowing complexion.
Think of this part as a non-surgical and non-invasive face lift with no downtime, that uses an electromagnetic wave and radiation.
The electromagnetic wave generates heat within the skin that causes skin cells vibrate. When they vibrate they then heat up, which activates a type of cell called a fibroblast, and it's these cells that stimulate Elastin, Collagen and Hyaluronic Acid production.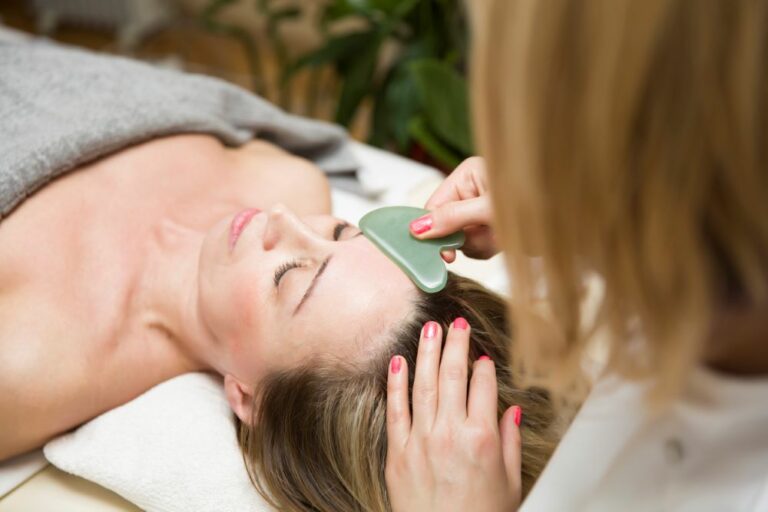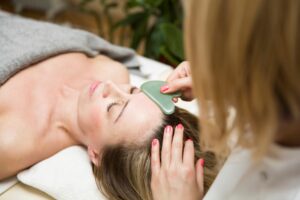 #2 The Katie Brindle Facial at Cloud Twelve
Katie Brindle, a Preventative Health Expert, Women's Wellness Commentator, founder of the multi award-winning 360° lifestyle brand Hayo'u and best-selling author of Yang Sheng: The art of Chinese self-healing has created this indulgent 60-minute facial.
In a nutshell: The facial uses lymphatic drainage and acupressure techniques powered by ancient Chinese knowledge to depuff, tone, lift and re-energise skin.
The ritual uses the most iconic Hayo'u products, including:
Rose Quartz Beauty Restorer,
Jade Precision Tool,
Clear Quartz Compress, alongside the Beauty Oils
As well as the brand-new Clear Quartz Crystal Eye Mask.
Cost: £200 for 60 minutes 
What happens: Healthista has hailed this facial as one of the most relaxing treatments – ever!
To start, Cloud Twelve's signature before treatment foot cleansing ritual (a gentle exfoliation).
Onto the facial, it begins with a luxurious double cleanse before the Rose Quartz Beauty Restorer is gently scraped in mostly upward strokes over the face leaving you with a natural radiant glow caused by increased blood circulation and lymphatic flow. This is done to relax stiff muscles and promote tissue drainage.
In Traditional Chinese Medicine the scraping motion is believed to stimulate facial meridians (energy channels found throughout the body), dispelling excess fluid from the face which helps to detox the skin.
the jade tool allows you to specifically target fine lines and wrinkles
The Jade Precision tool is also used to stimulate the dermis layer of the skin to improve elasticity and release the tension in your facial muscles.
What's more, the jade tool allows you to specifically target fine lines and wrinkles around the eye and lip areas.
The last part of the facial involves the Clear Quartz Crystal Eye Mask that is placed over the eyes while the cooling crystals decrease puffiness, soothe tired eyes and release tension.
According to Chinese medicine, clear quartz or the 'Master Healer', is believed to remove heat from the body created from the stresses of the day.
After your treatment we highly recommend that you visit the Brasserie that has been taken over by Erpingham House – the UK's largest vegan restaurant.
Featuring a creative menu using locally sourced, seasonal produce, expect delicious health-promoting meals and mouth-watering, guilt-free desserts, including our favourite – the espresso, mocha ice cream!
Oh and if you're a fan of carbs you simply MUST try the 'Textures of Potato' dish that features blue cheese gnocchi, potato milk béchamel, truffle potato and crispy potato.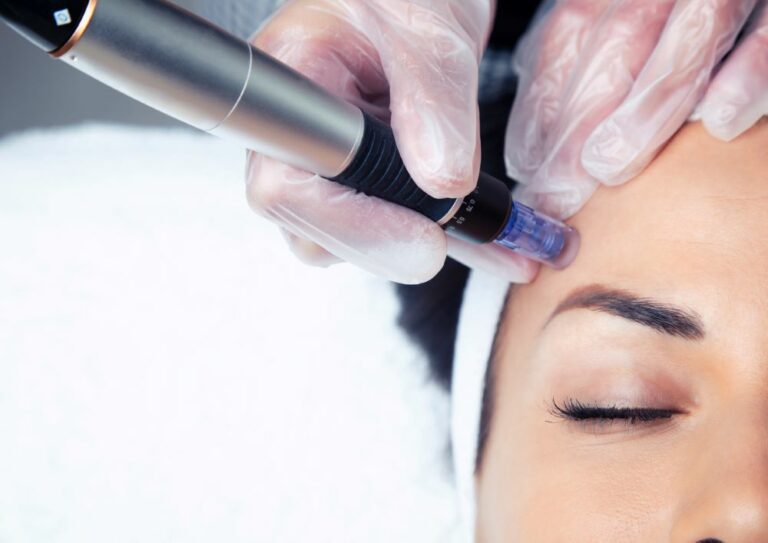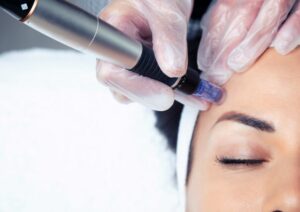 #3 Bespoke Anti-Ageing facial at Young LDN
At the heart of London's colourful Notting Hill district you can uncover the hidden gem that is Young LDN.
In a nutshell: Our specialists will cherry-pick and tailor-make this treatment for whatever your skin needs or desires.‍
Whether you're a youngster looking to help with your acne, scarring, large pores, or you're a little older with sun damage and looking for something to anti-age and even out your complexion, giving it that deeper cleanse and softening fine lines – this treatment is for you.
Cost: prices starting at £280 
What happens: The bespoke treatment started with a consultation, followed by the first protocol – a skin scan with the OBSERV devise; a state-of-the-art skin analysing system, gives an accurate skin condition diagnosis at both the epidermal and the dermal layer.
Following the analysis, the therapist discusses the best bespoke treatment that caters to your skin needs and concerns. I was told that my skin needed an anti-ageing focus, a chemical peel and microneedling.
LED light is the most effective all round non-invasive procedure you can have
The combination of a peel, microneedling and LED light is the most effective all round non-invasive procedure you can have. It is more robust, with deeper, longer lasting effects than just a facial.
First came the Amondola skin cleanse, followed by an Image resurfacing mask. Then you lay under an LED yellow light for approx 13 minutes that gently heats your skin. Whilst this is happening you get a hand massage and a hand mask for that extra touch of pampering.
Once the LED has done its thing the treatment is finished off with gorgeous thick layering of the below serums:
Image ormedic serum (calming rosacea),
Image brightening serum (helps with melasma and pigmentation),
A protective K ceutic SPF cream.
The result? A glowing, youthful and bright even skin-toned complexion. A few days later the peel and microneedling procedure followed…
Microneedling stimulates collagen and deep tissue repair by delivering highly potent ingredients into the skin, speeding up new cell growth, elastin development and stimulates blood flow.
The needles vary so unless you have very deep scarring you don't need for them to penetrate too deep and if you do there is always numbing cream to make you more comfortable.
The procedure started with a triple facial cleanse using the Circadia Vitamin Veil Cleanser, followed by Micro-Exfoliating Honey Cleanser and the Amandola Milk Cleanser. It felt like a deep facial massage, with soothing strokes from the therapist's latex gloves that made it feel even more luxurious.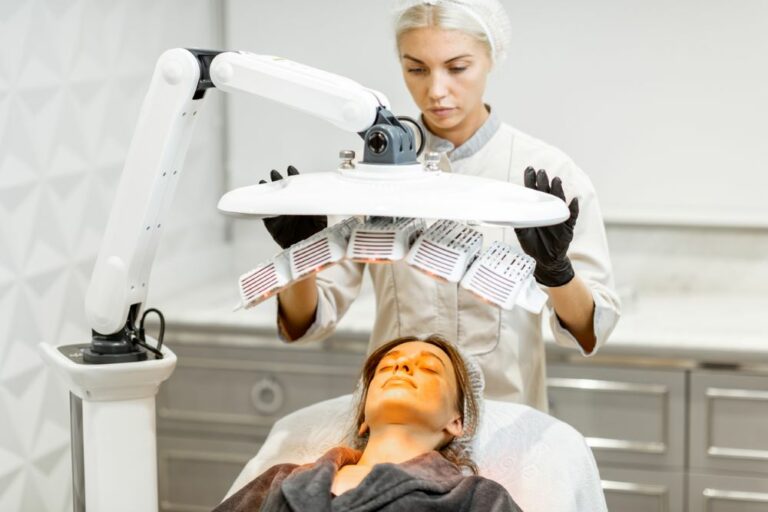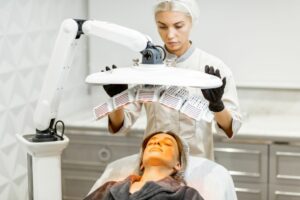 Once the skin was cleansed the therapist applied the Circadia Lactic Acid (35%) gel-based peel using a brush as thought painting a canvas.
Lactic acid is best used for sensitive, dry and photo aged skin. It moisturises, stimulates collagen and elastin production and reduces fine lines. This was left on for ten minutes.
Then skin was then cleansed again before microneedling. The swirling motions of the microneedling felt gently abrasive, as the Clinicare Glow Miso serum was worked into the skin.
The swirling motions of the microneedling felt gently abrasive
The therapist works on the whole face and will focus on heavier wrinkles where the needles need to penetrate deeper.
Following the microneedling treatment – the Healite NIR LED light was used to heal the skin, helping to reduce redness, superficial skin lesions, relieve any pain and promote skin rejuvenation.
The final steps followed with the Clinicare Glow sheet Mask applied with Cryo Globes massaged over to reduce redness and cool the skin, along with Circadia Post Peel Balm on the lips.
More Healthista Content:
From better sex to blissful sleep – 3 reasons you NEED to try CBD
How to boost your self esteem and find your inner confidence
8 healthy habits to help transform your mood (and your life!)
5 ways to get your steps in despite the rainy weather
Like this article? Sign up to our newsletter to get more articles like this delivered straight to your inbox.