For a sweet treat that's almost as healthy as your morning smoothie, no-refined sugar Raw Halo chocolate uses the finest ingredients and superfoods
Believe it or not, we eat chocolate all the time at Healthista HQ (I for one probably have it once a day, oops). But it's not any old chocolate – it's the best of a good bunch that we have tried and reviewed over the years. Meet Raw Halo, the bar with such pure ingredients you'll wonder how it got in the sweets aisle.
https://www.instagram.com/p/BX3TqcYHyNm/?hl=en&taken-by=healthistatv
Meg Haggar began creating chocolate bars in her flat's kitchen in West London in 2014. She was on a mission to make a healthy version, after what was on offer failed her. She had cut refined sugar from her diet but wasn't prepared to compromise on delicious treats.
Raw Halo was born and gradually, with the support of local London retailers, it gained popularity with the health conscious crew. Not only is it free from refined sugars, but it is free from artificial sweeteners, gluten, wheat, lactose and is even (except one) vegan – everyone's healthy eating niggles have been catered for here.
The collection is now 12 strong – 35g of heaven wrapped in rose gold foil and a rainbow of colours. But what is actually inside, you ask? The chocolate uses rich Peruvian cacao beans that aren't roasted like normal chocolate to make sure all it's nutrients are retained – antioxidants, magnesium and iron. To keep the indulgent sweet flavour we are used to, Raw Halo uses alternative sweeteners with a low GI which they claim cut the sugar content by half in comparison to other healthy chocolate brands – an impressive statement if we ever did hear one.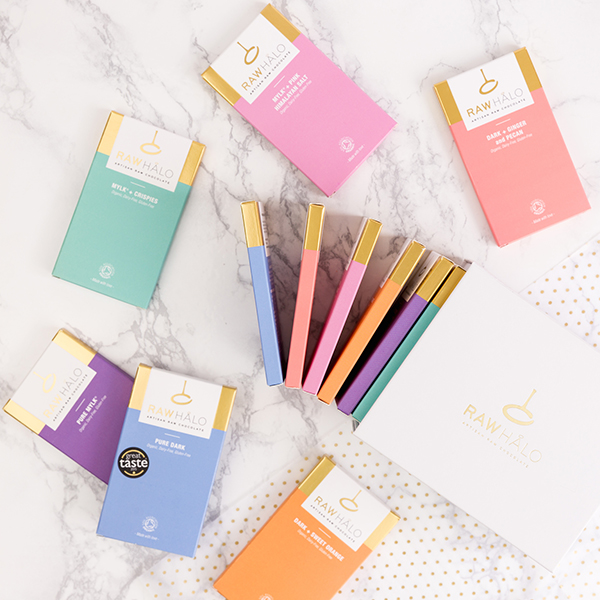 Of these alternatives sugars is coconut sugar, which contains 17 amino acids and is a favourite amongst healthy bakers. One you may not have heard of, however, is lucuma powder. Lucuma is an exotic fruit which originates from the Andean coastal valleys of Peru and is a good source of beta-carotene as well as containing vitamins and minerals such as niacin, iron, calcium, phosphorus, B vitamins and fibre. We wonder how it still manages to taste so sweet.
Every bar is either Pure Dark or Pure Mylk – mylk is a commonly used word that normally describes plant based milk. Despite having the creamy, indulgent texture of a milk chocolate bar, the Raw Halo Mylk bars use cashew butter and remain vegan.
Taking their range to the next level, Raw Halo have fused superfoods into the chocolate. Twists such as goji berry and vanilla, ginger and pecan and lemon and Pink Himalayan salt, or the simple additions of crispies, mint or orange. But in our eyes you can never go wrong with Mylk + Salted Caramel, which has one three Great Taste Awards as it is (but isn't vegan!). The Pure Dark, also award-winning, is made using just three fine ingredients: raw cacao powder, raw cacao butter and coconut sugar. It's hard to believe when melting in your mouth.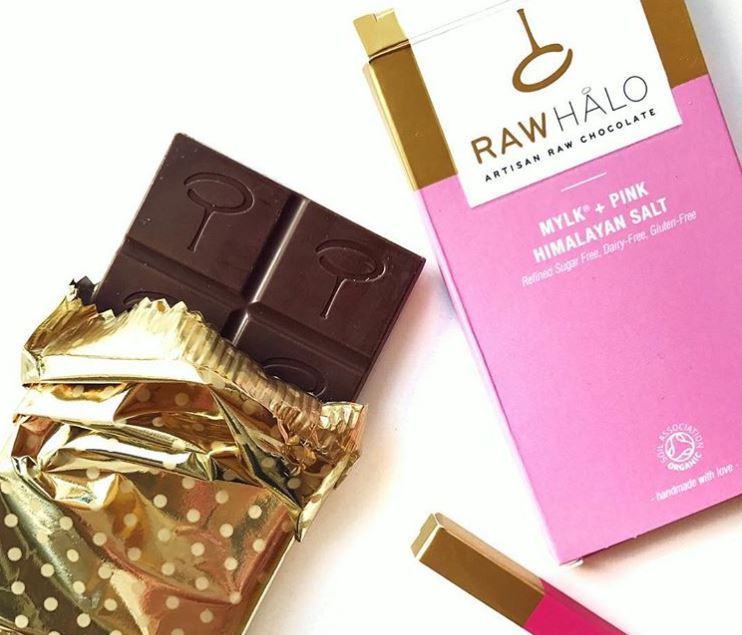 The pocket size bars vanish within seconds among the Healthista team, but make the perfect pick-me-up handbag treat. Luckily for us, the Pure Dark, and Mylk + Pink Himalayan Salt, plus an all new Mylk + Vanilla flavour are now available in a larger 70g bar and there are a collection of celebration boxes to chose from – great for gifts and gorgeously designed.
Velvety, luxurious but surprisingly pure – there is little to feel bad about when tucking into Raw Halo Chocolate. (Can I say chocolate again? Chocolate.)
Buy Raw Halo on the Healthista Shop
READ MORE:
9 Best tasting vegan chocolate bars with ridiculously pure ingredients
Chocolate mug cake made healthy – treat of the week
Treat of the week: Chocolate and maca quinoa pops
7 steps to a dairy free diet – the nutritionist's guide
11 ice cream brands you won't believe are healthy
Like this article? Sign up to our newsletter to get more articles like this delivered straight to your inbox.