Vegan chocolate is at it's highest ever interest according to Google Trends. Healthista rounds up the tastiest, purest nine
We heard the good news this morning that chocolate may be better for our cognitive health than we thought. Italian researchers looked deep into how the cocoa bean, which is rich in flavanols, affects the brain a few hours after eating it and in the diet over a prolonged period of time by examining existing literature. Their review, posted in Frontiers In Nutrition, shows that most of the evidence points towards a beneficial effect on our performance, with improvement in memory and visual information processing. Even weirder – counteracting the effects of sleep deprivation in women. Essentially, the next time you pull an all-nighter, reaching for dark chocolate is your best bet for switching back on.
Whilst tasting chocolate all afternoon at Healthista to pick our best recommendations (we may just have the best jobs ever) we have come to realise vegan chocolate may just be the way forward for the perfect pick-me-up. The dark chocolate vegan bars we have chosen have lower sugar content than typical mass-market brands (you know who we mean). Plus, most tend to use organic produce, sustainable manufacturing, and sometimes Fairtrade ingredients. Coincidence? We aren't sure. But we do know we feel good eating vegan chocolate for these reasons as well as its health benefits (which you can read more about in these bars). These nine have passed the stringent taste testers at Healthista HQ (they're the toughest critics), and will make you say 'wow, is that really vegan?'
Best for: milk tasting
Moo Free Caramalised Hazlenut Nibs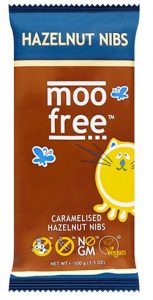 We couldn't believe this chocolate was vegan, because it tastes so closely to milk chocolate. Award winning Moo Free achieve this by replacing cows milk with rice milk, combined with other organic gluten, wheat, lactose and casein free ingredients. The bar comes in environmentally friendly packaging, which has their staple Clawdia Cat – cute!
Some found it a little on the cheaper-tasting side of chocolate in comparison to dark chocolate, which tends to be the case. If you like a sickly sweet milky chocolate, with a hit of nutty goodness, this is for you. The caramelised hazelnut nibs haven't been used lightly, giving a crunchy consistency. It's a little like Nutella in a more solid form – delicious.
Buy Moo Free Caramalised Hazlenut Nibs here for £2.70
Best for: novel ingredients (and divine packaging)
Doisy and Dam maple, toasted rice and pink salt

Doisy and Dam's chocolate looks like it was designed to be placed delicately in Instagram shots. The bright pastel colours make it an easy gift for an oh-so-difficult vegan friend.
We love the maple, toasted rice and pink salt organic dark chocolate (74%), because the trio of 'superfoods' make indulgence feel a little less sinful. The Himalayan salt is a chocoholic's dream (does any chocolate or brownie taste good without a sexy sprinkling of salt anymore?). Contrasting with the salt is the Canadian maple syrup, with the toasted wholegrain rice adding a playful twist.
Richard and Ed are the two guys behind the bars at D&D, which never contain more than eight ingredients, a minimum of eight per cent superfoods, and a high cocoa content. They are on to a win with the healthy indulgence crew.
Buy Doisy and Dam maple, toasted rice and pink salt for £1.75 here or their Easter Hamper, with all eight flavours in both original and mini sizes (16 in total), for £35 here. 
Best for: 100% dark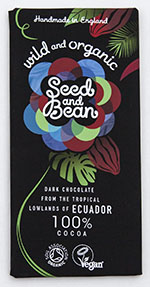 Seed and Bean 100%
You'll be spoilt for choice with Seed and Bean's bars, a favourite at Healthista Towers. They have 21 flavoured bars, all vegetarian, and the 14 dark chocolate bars suitable for vegans. It's no surprise the bars have nine Great Taste Awards, with an array or dreamy combinations that only use natural real fruit flavours.
As for the vegan selection, the Fairtrade 100 per cent dark chocolate from Ecuador was added to the range last year. It is made from premium organic cacao beans grown and cultivated by 396 farmer families in the tropical lowlands of Ecuador, the most bio-diverse country on Earth. The families are paid their deserved share, a trading principle incredibly important to the brand. Even their packaging is recyclable!
You have to like the bitterness of dark chocolate to enjoy this one, however out of an array of darks, this came out on top, being more refreshing than tar or rubber-like. It's no wonder, then, that Seed and Bean are the only chocolate brand to have scored 100 out of 100 in the Good Shopping Guide's Ethical Index for the past five years. The Good Shopping Guide helps people make informed decisions about brands that are positive for the planet, animals and environment.
Buy Seed and Bean 100% for £4.29 here
MORE: 4 vegan dessert recipes you have to make this Easter weekend
Best for: chilli chocolate
Montezuma's Charlie's Luck Dark Chocolate and Spiced Peanuts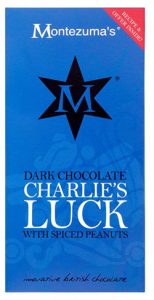 Even if you have an expertise in where to source the best vegan chocolate, there is a chance you haven't come acorss British brand Montezuma's. It doesn't scream vegan (it is written in small writing on the back), and the flavours are more than simple dark.
The brand began in 2000 with a small kitchen sink sized machine. Husband and wife Simon and Helen were self-taught chocolate makers (also lawyers), who's passion started after exploring South America in 1999. Now, they use the best quality and ethically sourced cocoa from plantations that meet their strict 'trading fairly policy'.
The quality of the chocolate is noticeable, building in your mouth pleasingly. But with Charlie's Luck, a Peruvian bar, that's not all. The spiced peanuts add a chilli zing, and the ginger a warming spice. They describe it as delicate, but we found it quite strong, yet still holding the chocolate taste.
Buy Montezuma's Charlie's Luck Dark Chocolate and Spiced Peanuts for £2.49 here
Best for: raw
Raw Health Extreme Dark Chocolate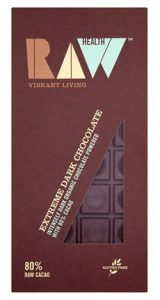 This 80 per cent raw cacao bar is interesting. Despite it being 'extreme dark', it has a refreshing tone, how we would describe as minty (although not quite an After Eight). It is soft and delicate, melting in the mouth quickly but not without leaving a bold impression – we couldn't stop ourselves finishing the bar very quickly!
Raw chocolate essentially means it has been made with raw ingredients that haven't been heated above 42°C. It is claimed this preserves the chocolate's nutrients; the antioxidants, iron, zinc and magnesium. What's more, Raw Health uses only organic ingredients, and where possible soak and sprout them to exemplify their nutrients. Chocolate that is good for us? Now we are talking.
And it really is not all too bad, considering it contains no refined sugars normally found in the local corner store chocolate bar, albeit considerably cheaper. If a plain chocolate isn't your thing, their range of flower and superfood infusions are to die for, such as the Rose Petal White Almond or Goji Berry Cacao Nib.
Buy Raw Health Extreme Dark Chocolate for £4.99 here
Best for: sustainability
Lovechock Sweet Nibs & Sea Salt Tablet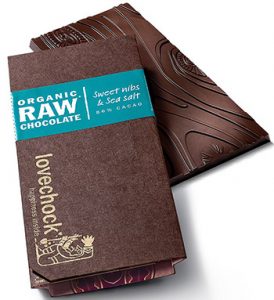 Lovechock is highly concentrated in nothing other than good vibes. The brand talk a lot about the effect of 'love chemicals' in chocolate, which we can certainly vouch for. Travelling through Brazil and Mexico, Laura de Nooijer became inspired by the power of plants and raw chocolate.
Cacao is a powerhouse of nutrients, and Laura was enthused to bring the superfood home and create handmade chocolate, at first just for her friends. Now selling bars, and Healthista's favourite Mulberry and Hemp Seed Rocks, Lovechock uses organic, raw cacao from Ecuador, and the dried nectar of Javanese coconut palm tree blossom to sweeten. The Food and Agriculture Organization (FAO) has declared coconut blossom nectar to be the most sustainable sugar.
Instead of roasting the beans, they are cold ground. This, according to them, makes their products 'a natural source of flavonoids and 'Lovechemicals': goodies that make you feel happy and loving'.
Conscious of nature, the products down to the cardboard they use in their packaging is made from trees in sustainable cultivated forests and the foil is wholly biodegradable. They plant trees in compensation for the energy they use, and only use ecological cleaning agents in their kitchens. Who knew such thought could go into a piece of food we so often eat without much consideration?
Buy Lovechock Sweet Nibs & Sea Salt Tablet for £3.99 here
MORE: 11 best vegan YouTube channels
Best for: refined-sugar free
Raw Halo Pure Mylk raw chocolate with pink Himalayan crystal salt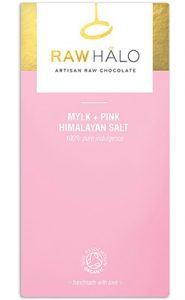 For a chocolate that has considered everyone's healthy eating niggles, Raw Halo is a top choice. The founder, Meg Haggar, set out to create the best vegan chocolate that was naturally sweet without any nasties. Launching in 2015, Meg had created bars using coconut sugar, an obvious choice for its naturally low GI and low fructose level in comparison to agave, for example. Some cashew butter, lucuma and Madagascan vanilla were added to create the indulgent 'mylk' bars.
Raw Halo claim that by weight, their Pure Mylk bar has almost half the amount of total sugars compared to other leading raw chocolate companies
There are a huge amount of healthy alternative chocolate bars out there using natural sweeteners, but Raw Halo claim that by weight, their Pure Mylk bar has almost half the amount of total sugars compared to other leading raw chocolate companies. Being refined sugar free, articifical sweetener free, gluten, wheat and lactose free, (phew), there is little to feel bad about when tucking into an angelic Raw Halo bar.
The Pink Himalayan Salt Pure Mylk Bar was our top choice, proving creamy taste was not the work of refined sugars and artificial flavours. The flavours go beyond the norm, however, with Mylk Raisin and Cinnamon and Dark Ginger and Pecan. We are waiting patiently until the Mylk and Salted Caramel is Vegan Society Approved, the last one of the bunch…
Buy Raw Halo Pure Mylk raw chocolate with pink Himalayan crystal salt for £3.29 here 
Best for: minimal ingredients
Loving Earth Dark Chocolate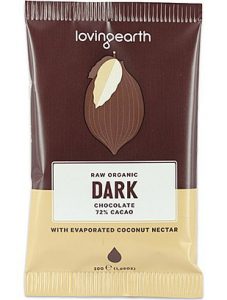 Upon opening the packet, the potent dark chocolate aromas hit you. It is, in fact, just two simple ingredients that make this bar – 72 per cent raw Amazonico Criollo Cacao Beans from Satipo, Peru, and 28 per cent evaporated coconut nectar from Java, Indonesia. How often can you say you know the exact nutritional calculations of the chocolate you are eating?
Powerfully deep and delightfully thick, you only need one bite to satisfy your needs.
Powerfully deep and delightfully thick, you only need one bite to satisfy your needs. It is a tribute to the purity of cacao, the philosophy of Loving Earth. Their ideals aren't tangled up with the growing movement of health trends, rather their genuine respect for the environment. They are sustainable, never using agricultural chemicals, and they are fair, sourcing products from the Indigenous communities where they originated thousands of years ago. The result? A healthy chocolate bar that nutures both humans and the planet.
The Loving Earth bars (you must check out Banoffee Bang Bang) are sugar, dairy, gluten and grain free, made with low temperatures where possible, and most importantly, yum!
Buy Loving Earth Dark Chocolate for £1.75 here
MORE: Meat-free Monday recipe: Vegan chocolate mousse with banana, avocado and honey
Best for: pure indulgence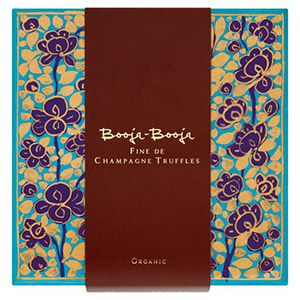 Booja Booja is the holy grail of healthy indulgent chocolates. We saved the best until last, knowing that once you try these majestic truffles, they shall be whispering your name forever. Fudgy in the centre with a hardness on the outside, the truffles don't stop giving the full three minutes you are savouring pure indulgence.
Booja Booja is the holy grail of healthy indulgent chocolates.
The brand has been around for a staggering 17 years, in which time it has won 86 awards, a lot longer than the many brands we see popping up. In this time, the Switzerland born company has perfected their recipe. They are now handmade by a small team in Norfolk, whereby only 34 ingredients are used in total for their wide collection. This, by the way, includes phenomenal dairy-free ice cream.
The Hazelnut Chocolate Truffles, for example, uses only chocolate (cocoa solids, cane sugar, vanilla), coconut oil, hazelnuts and cocoa powder, all organically sourced. It makes you wonder at one point manufacturers felt the need to add so many nasty ingredients.
The boxes of truffles come in an array of assortments, but the gift boxes in the artist's collection are beautiful. The details are hand painted by talented artists in Kashmir, India, using traditional art forms. The Fine De Champagne truffles are sure to get your vegan friend on your good side.
Buy Booja Booja Fine De Champagne (Artisan Collection) for £21 here
Do you have a favourite vegan chocolate? Please share with the Healthista crew by writing on our Facebook Page. Although we are pretty full after our tasting…
Read More
7 best ready meals for a vegan diet
4 reasons you're not losing weight on a vegan diet
How to go vegan – lessons our writer learned after doing Veganuary PLUS best vegan cookbooks