Vegan ready meals can be as processed and unhealthy as any ready meal. So we have been tasting and checking ingredients to find you then best for taste and health
Ready meals are quick and easy, when they are accessible to you. For a vegan diet, it can be difficult to source one that still has flavour and substance and ticks the boxes for health. Overall, vegan products are soaring in sales, Ocado saw a staggering 1500 per cent rise in vegan product sales in 2016.  Half a million in the UK are now adopting veganism according to The Vegan Society, so supermarkets are beginning to supply the demand for vegan ready meals, it's just a case of finding the yummiest. In aid of World Vegan Month, we've had a look for you.
Best for: FILLING YOU UP
Brazilian tomato and black bean with cashews and quinoa- Soulful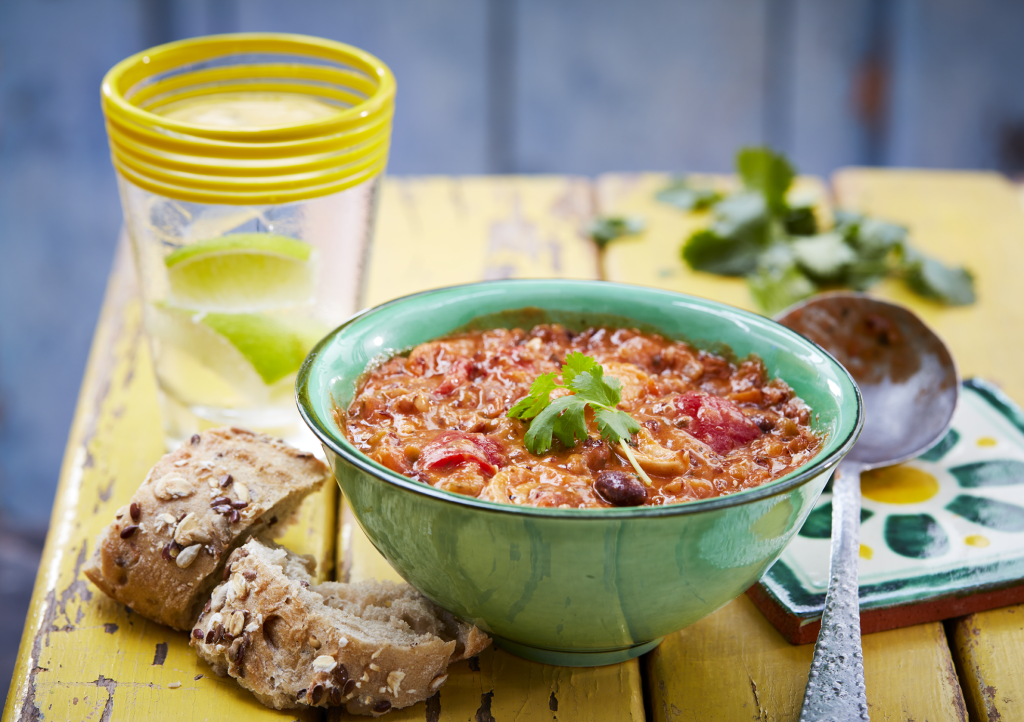 The tub said 'a jalapeno kick', and they weren't messing. Soulful have created these OnePots so people can enjoy the great taste of classic slow cooked meals in just five minutes in the microwave. Each pot contains either grains (spelt or barley), pulses (lentils) or noodles (kelp), with vegetables purchased from Covent Garden market, and is simmered for hours for a warming blend of flavour. The Brazilian tomato and black bean is bursting with pungent spice that hits the back of the throat. The cashews are the tastiest part, but other ingredients such as quinoa, coconut, and black beans make a nutrient-rich satisfying square meal, in a great serving size. You could add a side of greens, but just on its own is a perfect slow-releasing lunch. This was the Healthista team's favourite of all the ones we tried, and we look forward to trying their vegan butternut, lentil, and spinach hotpot, and mexican bean and sweet potato stew.
Extra credits: Gluten and soy free and 429 calories
Best for: VEGETABLE CONTENT
2. Thai green curry- Thrive on Five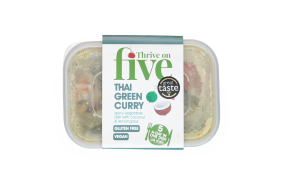 Five, seven, or ten portions of veg a day? The most recent suggestion is seven, which despite being achievable, is not by any means easy. But for lower risk of heart disease, stroke, obesity, and diabetes, it is a necessary dietary advice we should aim to follow. Thrive on Five give you a little head start with their soups, curries, salads, and snacks, suitable for a range of diets, and available on websites such as Whole Good. The sisters behind the idea Nina and Jo Littler and their friend Randi Glenn also wrote a recipe book,Thrive on Five
, which I can personally say is one of my go-to's for meals that just need a little tweaking to include your five-a-day, such as colourful salads, meal-in-a-bowl soups and even dips.
I picked up this thai green curry from Wholefoods and it isn't too far off the traditional chicken and coconut favourite. It has a mild chilli aftertaste, and is packed full of crunchy vegetables, eight to be exact. A ready meal which contains your five-a-day is something I have never come across in a ready meal before. It is slightly lacking on the coconut taste, despite the sauce being flavoursome. I personally am not much of a fan of a thai green curry, but I enjoyed these flavours and its veg heavy recipe makes it feel really nutritious. I think more exciting things are coming from this company.
Extra credits: Gluten free and 291 calories
Best for: TASTE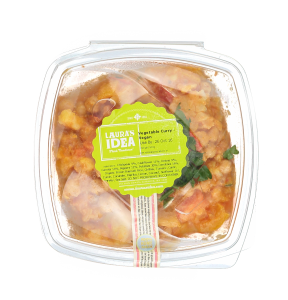 I picked this up fresh in Planet Organic because its typical curry look drew my attention, and I was told by staff it was very popular with customers. Laura's Idea has been around for 30 years or so, gaining popularity for its stripped back simple vegetarian and vegan meals that are still tasty. I spotted this delight, but there are 50 different lines in health stores across London, many of which look promising for vegans- salads, meals, and a few sweet suprises (hello apricot mousse). With an expiry date of two days later, it was clear the curry contained fresh ingredients, prepared and put on shelves not long before I bought it. After serving up, it's a warming bowl of veggies, chickpeas, and organic brown basmati rice in a just-right creamy spicy sauce. It's texture was just right, and despite being a small pot, the ingredients are filling. Healthista's Harry even went as far to say it's the 'nicest healthiest thing I've ever eaten'. Well that's him sold.
Extra credits: No MSG (monosodium glutamate used to enhance taste) or GM.
MORE: 10 best tasting vegan protein powders
Best For: CALORIE WATCHERS
4. Bean burgers- Gosh!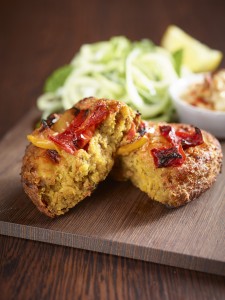 I love a good bean burger, but it needs to have a wealth of flavours before I'll try it again. But Gosh's Moroccan spiced chickpea, courgette bakes topped with harissa peppers were suprisingly pleasant hot out the oven, and even warmed up in the office the next day. Editor Anna, who is vegan, said she'd be able to serve this to friends- pleasing others when you're on a vegan diet can be a challenge! Dense with pulses and veg, one or two is very filling, and one of your five-a-day. With a side salad and a pre-made, homeade guacomole or salsa dip, they are quick to rustle up in the oven, or even at a summers BBQ.
Gosh!'s brand is centered on minimal added ingredients, and the use of all-natural ingredients and spices is reflected in the bright colours of these burgers. Without extra nasties such as preservatives and colourings, beetroot, kale, and quinoa packed in together creates a bright purple bake, which looks far from unhealthy, and we are always advised to keep our plates full of colour. Even better, their recipe is naturally free-from all the top allergens- 14 of them. Cereals containing gluten, eggs, milk, soya, nuts, peanuts, celery, mustard, sesame seeds, lupin, sulphur dioxide, crustaceans, fish and molluscs are all absent from their bakes, so you can't go wrong there.
Extra credits: 207 calories per burger
Best for: COMFORT FOOD
Vegans don't eat cheese but no one ever said they don't like it… Mac and Cheese is a favourite, and hugely popular ready meal. So thank Amy's Kitchen for finding Daiya Cheeze for her frozen rice pasta meal.
Amy's Kitchen has been ahead of the game since 1987, long before the good health and wellbeing lifestyle took of. Founders Andy and Rachel Berliner, parents to Amy, decided to provide vegetarians with quick frozen meals, and have since expanded their range to gluten free and vegan, with over 200 frozen meal and ambiet products. It has become a leading brand in the USA, and now successful internationally.
Their extensive range of vegan foods cover different cuisines, so you can expect to find an indian vegetable korma, burrito, or chinese noodles with veg. Intrugued by how on earth cheese could be incorporated in a vegan diet with such casualness, I had to give the rice mac and cheeze a try. The best way to describe the flavour is wotsists, and its very sticky (and stodgy), not much different from the real deal. However, rice pasta is made from ground brown rice, instead of wheat in white pasta, which means no post-pasta bloat. Sometimes a load of vegetables isn't your cup of tea, so this dish isn't bad for a vegan comfort food. You're love affair with cheese doesn't end if you become vegan.
Extra credits: Gluten free
Best for: FREE-FROM
6. Malaysian butternut squash curry- Kirsty's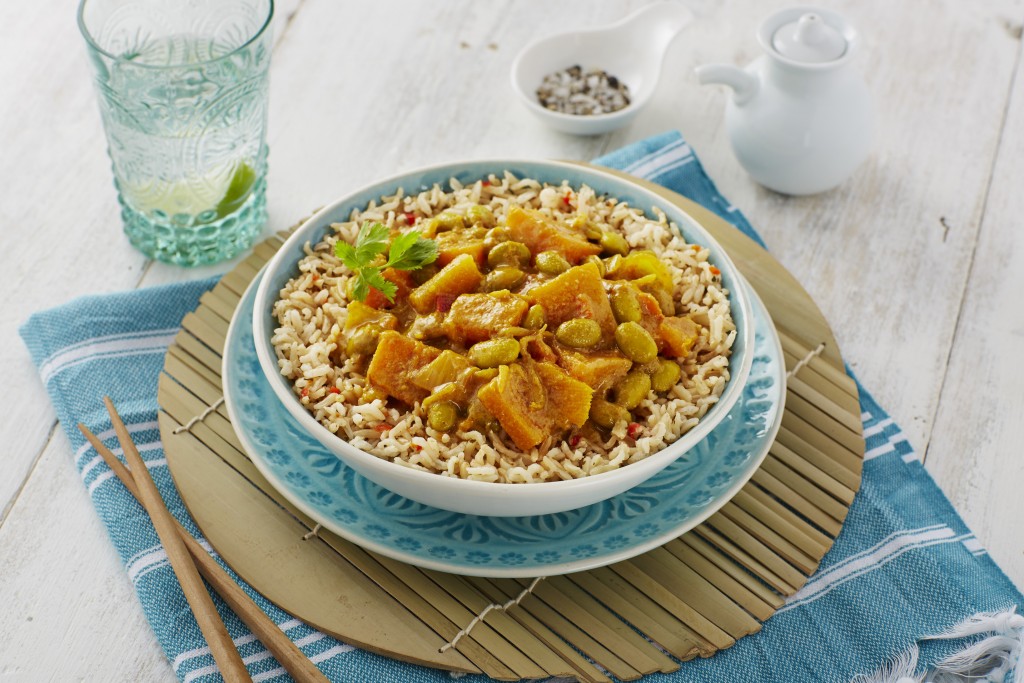 We were so very excited for this. The photo on the box looked appetising, and to our delight, it was just as much when served up, (unlike many ready meals!). It's a soft, mild curry with chunks of butternut squash, peppers, and soya beans, in a creamy-textured sauce, with brown basmati rice. A deal-breaker is the fact that the meal can stay fresh in your fridge for up to 35 days, so it can really stay there for unplanned last-minute meals.
The curry is one of seven award-winning dishes in the range launched by Kirsty Henshaw in 2012. All gluten, dairy, and wheat free, as well as containing at least one of your five-a-day, it's convenient for those with special dietary needs who still want delicious food. As well as this, it's no secret cooking healthy and quick meals for children can be testing, so to make things easier for families, a childrens range, 'Kids' Kitchen' for children aged 2-9, was also brought out in 2015.
Extra credits: Gluten and wheat free and 348 calories
Best for: WHEN YOU FANCY MEAT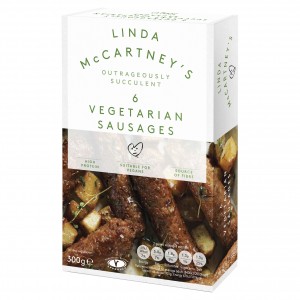 I was very wary of trying these. I'm not vegan, and sausages are my favourite meat, so I didn't see how vegans sausages could even come close. The brand has been around for decades, founded by Paul McCartney's late wife Linda, who had a collection of successful vegetarian cookbooks and was an animal rights activist. I was dubious the brand might be behind the times. But then again, this has given them years to perfect their sausage recipe, and they must be popular for some reason… Whilst cooking they smelt delightful, like a roast dinner was on its way. To taste, they were succulent inside, and on the outside had a crisp casing. If you swapped these in a traditional English dish such as 'bangers and mash', I don't reckon there would be much grumbling around the table. They were still wholesome and comforting, and had a mock meat consistency (although not a meat flavour). A downside of this product is it is not vegan society approved, and contains ingredients such as gluten, palm oil, and soya, so it won't be to everyone's liking. I certainly would enjoy them as a winter Sunday dinner treat!