Looking to reduce your meat intake but still eat delicious food? Healthista brings you our new meat free Monday recipe series – today it's vegan chocolate mousse
This week we bring you a recipe that can be quickly assembled at work with the help of Rachel Maylor's recipe book, Made in the Office: Tasty And Hasty Meals With Just a Kettle, Toaster & Microwave
(Frances Lincoln, £12.99). This amazing book is packed with easy-to-make recipes that take delicious. And we know that giving up meat can be hard. But even reducing your meat intake rather than totally cutting the stuff out entirely can be beneficial not only to the planet but also to your health. So that's why we've picked out our favourite meat-free meals from this clever little cookbook which uses only a kettle, microwave and toaster to make your food.
Ingredients 
1 ripe banana
½ ripe avocado
1 tbsp almond milk
2 tsp cacao powder
1 tsp honey
a handful of berries
(blueberries, raspberries
or strawberries)
a handful of almonds
To make
Peel the banana and chop it into chunks. Tip the chunks into a bowl and gently mash them with the back of a fork until smooth.
Using a spoon, scoop the avocado flesh into the bowl. Mash as before until smooth.
Pour in the almond milk and whip together. Next add the cacao powder and whip again.
Finally, drizzle in the honey, give it one last stir and top with the
berries and a handful of almonds.
This week's recipe was a massive hit here at Healthista HQ. Who doesn't love a sweet treat? The avocado and banana gives this mousse a beautifully smooth consistency, plus the healthy ingredients pack a nutritious punch that leaves us feeling guilt-free after indulging in this chocolatey treat.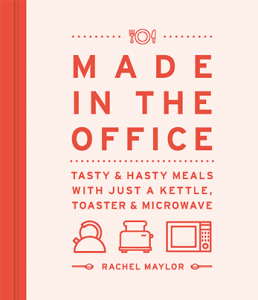 For tasty and easy-to-make meals that are perfect to be made up in the office read Made in the Office: Tasty And Hasty Meals With Just a Kettle, Toaster & Microwave
. Rachel Maylor proves that we don't need a fully equipped kitchen to knock up poached egg on toast and that we don't even need to prep our food the night before.
Available to buy here (Frances Lincoln, £12.99)
Read more
Meat free Monday recipe: fruity kale salad from new book Made in the Office
Meat free Monday recipe: Mango, avocado and quinoa salad with a lime dressing
Meat free Monday recipe: Tofu Pad Prik Curry from nutritionist Alli Godbold
Like this article? Sign up to our newsletter to get more articles like this delivered straight to your inbox.