As part of our National Vegetarian Week special, we're bringing you three vegetarian recipes each day this week. Today, nutritionist Alli Godbold teaches us how to make delicious quinoa burgers with salsa and a tahini dressing
Ingredients 
For the burgers 
100g quinoa (200g ready-cooked quinoa)
200g frozen peas
1 400g tin chickpeas
1 tsp ground cumin
1tsp ground coriander
half tsp smoked paprika
4 dates
large bunch fresh parsley
1 tablespoon harissa
1 tsp Dijon mustard
50g sesame seeds
For the salsa 
1 red onion, finely sliced
200g cherry tomatoes, chopped
balsamic vinegar
fresh coriander, chopped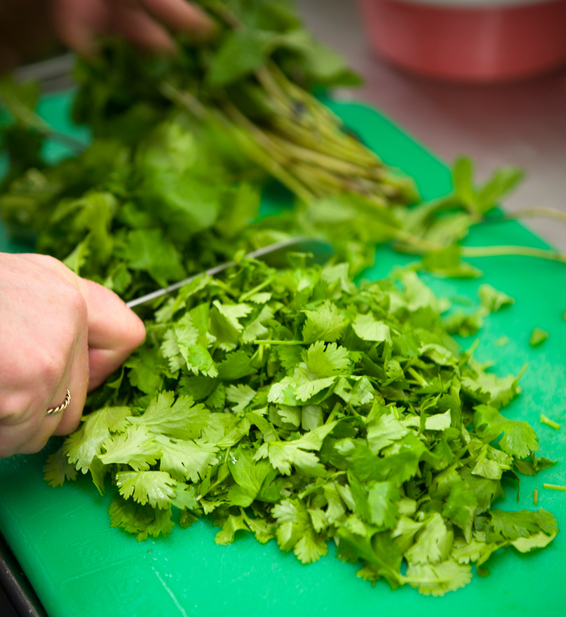 salad leaves
For the dressing
2 tablespoons tahini
6-8 tbsp boiling water
half a small garlic, finely chopped
150g natural yoghurt
3 tablespoons freshly squeezed lemon juice
3 tablespoons olive oil
half tsp sea salt
quarter tsp black pepper
(this makes twice as much as you will need – but good to have in fridge)
To make 
Toast the quinoa in a pan until it starts to pop and then twice the volume of boiling water. Cook until all the water has been absorbed and the quinoa grains have released their curly 'tails'.
Cover the peas with boiling water and allow to sit for 10 minutes.
Add the drained chickpeas to a frying pan with the ground cumin, coriander and paprika and toast until all the moisture has gone.
Drain the peas and put in a dry bowl. Tip in half the chickpeas and half the cooked quinoa, add the dates, parsley, harissa and mustard and use a hand blender (or Magimix) to blitz the mixture until combined. Stir in the remaining chickpeas and quinoa and mix well. Form the mixture into 6 burgers and place on an oiled baking tray in the fridge whilst you make the relish.
Heat a little olive oil in a pan and fry the onion slowly for about 8 mins. Add the cherry tomatoes and cook for a further 5 mins. Add a dash of balsamic vinegar. Transfer to a bowl and add some coriander leaves.
Sprinkle the burgers with sesame seeds and bake in a hot oven for 20 mins.
To make the dressing whisk the tahini and water together to form a smooth paste. Whisk in rest of ingredients.
Serve the burgers on a bed of salad leaves with the tahini dressing and relish.
MORE: Meat free Monday recipe: Tofu Pad Prik Curry from nutritionist Alli Godbold
MORE: How to go vegan – lessons our writer learned after doing Veganuary PLUS best vegan cookbooks
MORE: 5 best healthy food delivery services
Like this article? Sign up to our newsletter to get more articles like this delivered straight to your inbox.