Looking for a healthy food delivery service to help you get organised? Or maybe you need a diet that will give you all of the protein you need? We've tasted plenty and found the best healthy delivery services around so that you can pick the one that suits you 
When it comes to healthy eating, sometimes it's easier to get someone else to do all the work. Diet delivery services can be a great way to kickstart that diet and they come in all shapes and sizes. Here are five of our favourite we've been trying and testing.
Best for feeling like you're not on a diet: Bodychef 
What is it?
Bodychef was born in 2002 when  Jayne Ritchie started the first fresh food home delivery company in the UK. She turned part of her home into a production kitchen to get started and the company quickly grew. The delivery service aims to make weight loss easier, by taking away the stress of shopping for healthy food and having to prepare your own meals. Bodychef claim that anyone doing one of their plans can typically lose between three and seven pounds during the first week and up to a stone a month depending on their starting weight. With a claim like that, I was intrigued to see what effect Bodychef would have on me.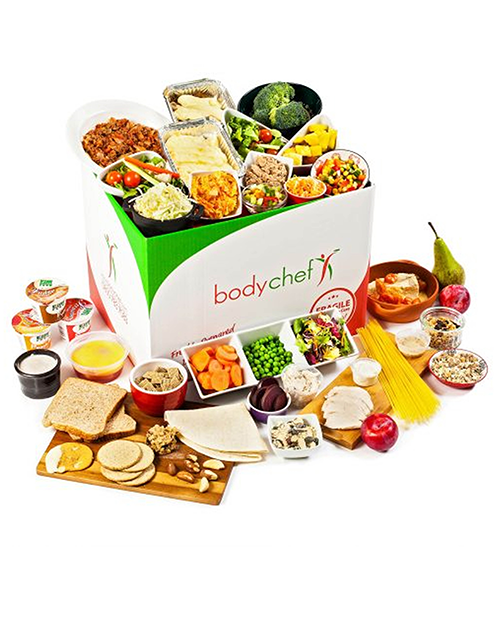 I tried the premier plan which is based on a daily calorie consumption of between 1200-2500 calories and can be varied depending on your specific weight-loss goals. Bodychef describe this plan as keeping you 'fuller for longer, maintaining high energy levels, while suppressing cravings.'
How much is it?
The plan starts from £15.98 per day.
Where can I get it?
Order from BodyChef online here and choose from 23 different plans.
Healthista reviews
Much to my housemate's surprise a huge box packed with three days' worth of food turned up at my house the evening before my Bodychef diet was scheduled to begin. There was ice inside the box to keep everything that needed to be refrigerated nice and fresh. The first thing that struck me was how organised this box was. Every bit of food from my evening meal right down to my mid-morning snack was labelled and had my name on it. I felt incredibly smug and well prepared as I put my labelled lunch and snacks into the office fridge at work. Bodychef also included a list of the food which detailed what to eat each day.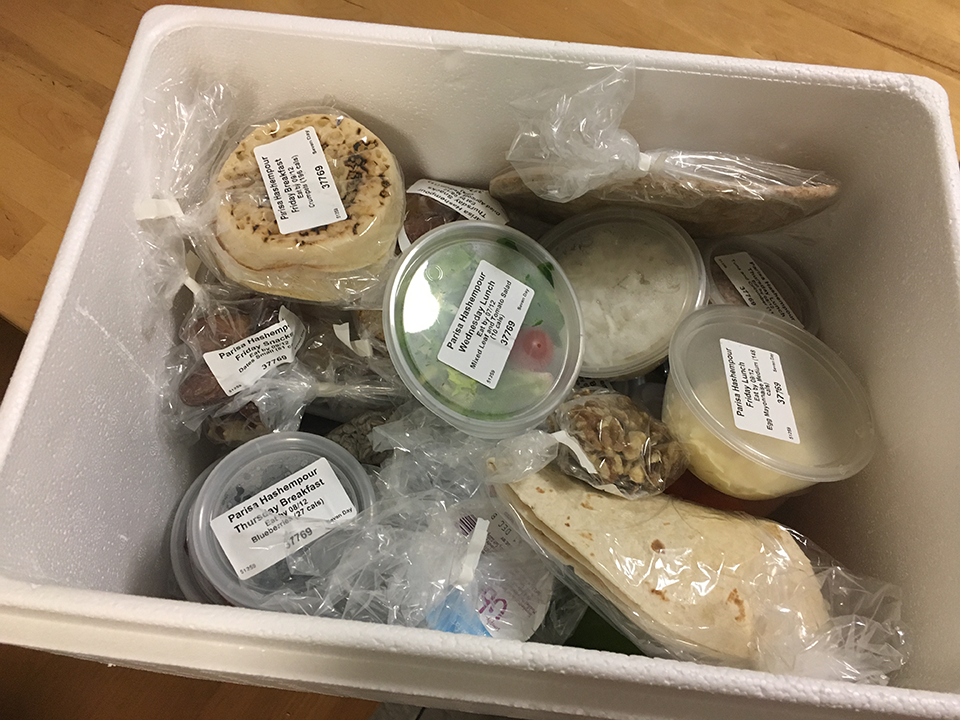 When I think of a diet plan I assumed that this plan would include lots of vegetables, salads and miserable non-sweet breakfasts. I was wrong. While there were plenty of veggies such as cabbage and carrots to pair with my evening meals this was a diet plan that took me by surprise. There was no cutting out different types of food. I ate a huge mix of foods over the course of the three days including bread, potatoes and white rice. This is definitely a plan for someone that isn't ready to make that big switch away from sugar and toward a diet free from refined foods. This was perfect for me as I am a total carb fiend and I think I'd find it hard to cut them out completely.
How did it taste?
Day one started with crumpets and jam with an apple for breakfast and I was sold. This was a diet plan that was do-able. I especially loved that having Bodychef pre-prepare all my food and limited my portion sizes. Usually I would slather jam onto my crumpets but because I was only given a small amount that was limited – and it still tasted just as good. Bodychef detailed the exact nutritional information of this diet which I found very useful.
This was a diet plan that was do-able.
When choosing my own food I would definitely try and get more fibre in my diet than I had on this plan. However at around just over 100g a protein a day I was consuming a lot more protein than I would have done without it. Each item of food on the diet has the amount of calories it contains listed next to it and also on the label which was a feature of this diet that I really liked. I should have been consuming around 1600 calories a day but this really didn't prove enough food for me however and I would say that this was my main criticism of the diet.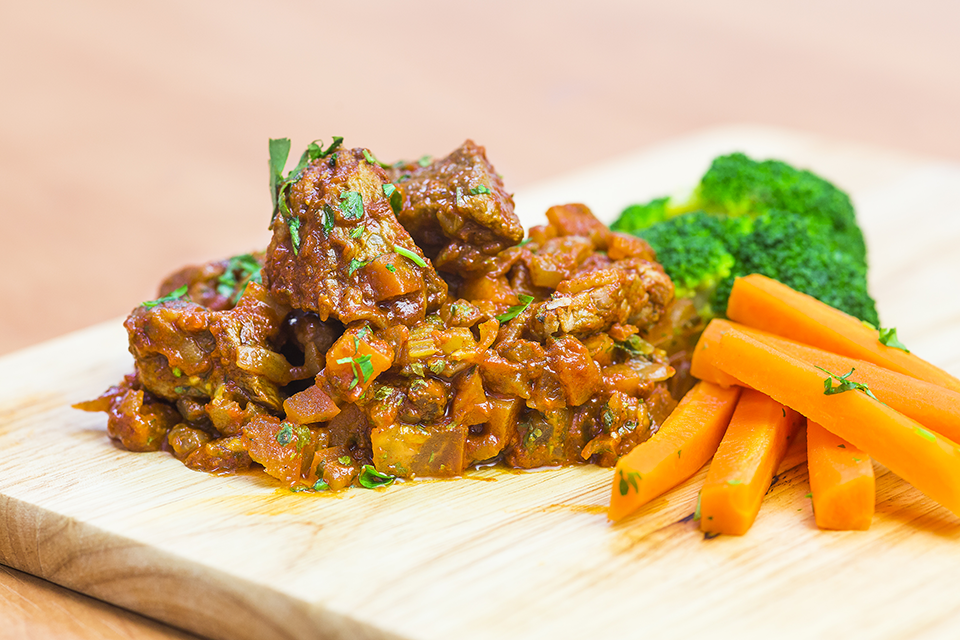 The lunch portions could be quite small which meant I had to top up with snacks throughout the day. For example on my first day my lunch was a slice of pitta with a small amount of egg mayonnaise and a little lettuce. It tasted brilliant but I needed just a little bit more to sustain me. My absolute favourite meal from this plan was the Beef ghoulash. It was the kind of meal that you never want to end and was perfect for the cold wintery night that I ate it on. It tasted like real home cooked grub and the flavours of the beef really came through in the sauce. It was brilliant to be able to just stick a meal like that in the microwave and have a portion ready to eat complete with calorie content without spending hours over the stove.
What's the verdict?
My housemates were always asking what my evening meals were as they could smell them heating up in the microwave. Other evening meals included Soy glazed chicken and a chicken and vegetable stew. The packaging on all the Bodychef was very simple. Simple stickers and transparent tubs that weren't too flashy and did the job well.
Overall I was impressed with the Bodychef plan. While it isn't the most nutritionally driven diet plan on the market it is definitely a plan that is doable. It is filled with the kinds of foods we all like to eat anyway and to top it off every day you are allowed a dessert. I would definitely recommend this plan to anyone that is looking to have a better understanding of the amounts of calories contained in certain types of foods and the portion sizes that they are having. Just make sure you have the willpower to stick to the smaller lunches.
MORE: 'I have misophonia' – the baffling condition where the sound of a clicking pen can send sufferers into a rage
Best for taste: Balance Box 
What is it?
Ten years ago Irish-born Jenny Irvine set about to bring healthy, convenient and tailor-made diet foods to private clients living in and around London via her company The Pure Package. Now she's turned her hand to creating The Balance Box – for food that is both tasty and good for you. All of the ingredients in these boxes are fresh and ethically sourced and created by expert nutritionists and chefs. The company now delivers nationwide making it accessible for Britons living past the M25. Available in three to four day boxes Balance Box is delivered on the first day of the recipient's diet between 12am and 7am if based in London (or between 8am and 10am outside the capital), with each meal individually packaged and labelled.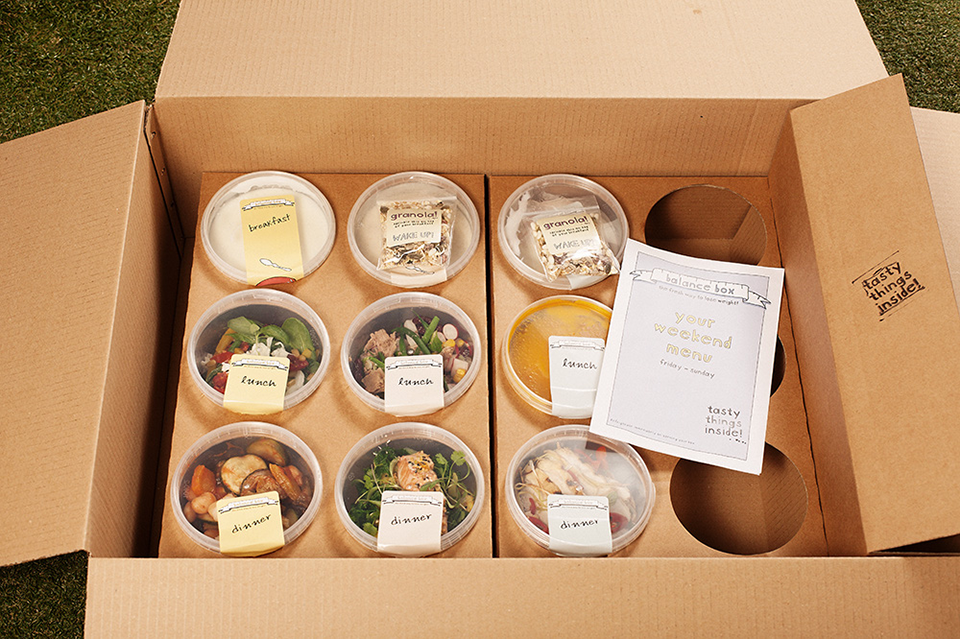 How much?
Balance Box prices start from £19.99 per day.
Where can I get it?
Balance box delivers not only to London but nationwide. You can order one online here.
Healthista reviews
The Balance box was delivered overnight so I woke up in the morning with a pile of beautiful food to ogle over. The food is delivered in a cardboard box and cooling bag and then the company send someone back to pick up your empties for recycling the following day. The first thing I noticed was how many snacks were in this box. Most delivery services I've tried leave you with mostly three meals a day and very little by the way of fillers between meal times.
as much a feast for the eyes as the tastebud
Everything in the box was clearly labelled so that I knew exactly what I should be eating for breakfast, lunch and dinner. I was immediately struck by how FRESH everything looked. This is definitely as much a feast for the eyes as the tastebuds.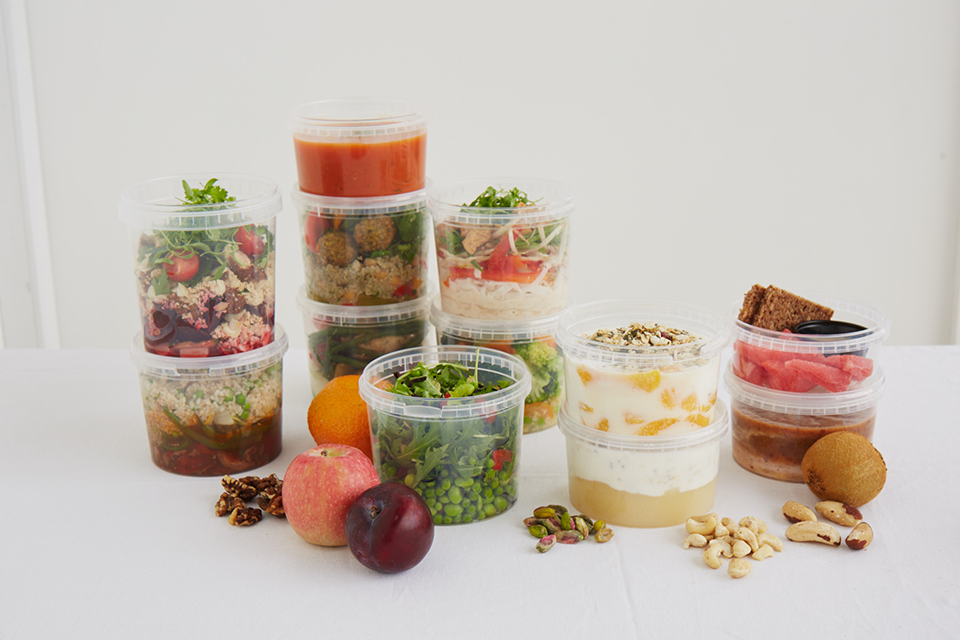 Each meal came in small circular plastic tupperware pots. These tubs were easy to fit into my bag and stacked easily in my fridge and the food inside look visually delicious, I was supposed to be consuming 1200 calories a day but what I like most about Balance Box was that it didn't feel too much like a diet. The company also included a menu which detailed all of the ingredients in each meal so I knew exactly what I was putting into my body.
How did it taste?
I absolutely loved my Balance Box breakfast but you can't really go wrong with granola. The Roasted Stone Fruit Granola was home made and was served with a low fat yoghurt. The yoghurt wasn't too sweet and the granola added a beautiful crunch to my morning meal. There were also hints of cinnamon coming through in the taste. My absolute favourtie Balance box lunch was the Smoked Mackrel pate with a potato salad. This totally stole the show for me and my lunch box was the envy of the office. I had Healthista's video producer, Will Coddington eyeing the meal up over my shoulder. 'That looks amazing! Is that dill sprinkled on the potato? It looks so good.' he chimed. It was good. The ingredients were fresh and the taste was amazing, the only thing I could have asked for were a little bit more but that was just me being greedy. It was a light lunch but relatively filling.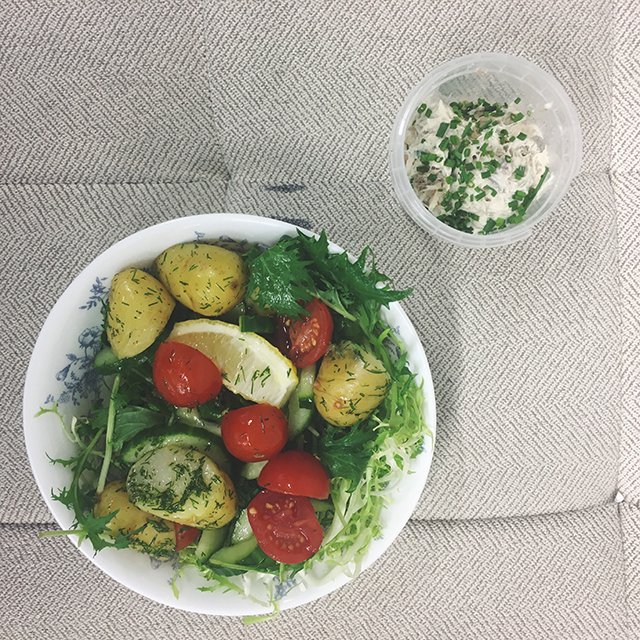 Evening meals ranged from Butternut Edamame and bean risotto to Salmon tandoori with Bombay cauliflower. The latter of which I enjoyed the most. It was tasty, healthy and most importantly filling. It was the kind of meal I would make for myself at home but without the hassle and it didn't taste like reheated food in the slightest.
One of the best part of this diet plan, however, were the snacks.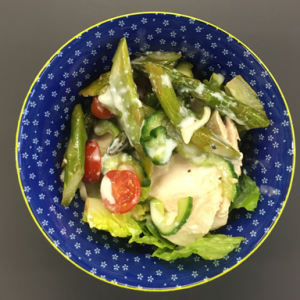 The best part of this diet plan, however, were the snacks. I could not get enough of the Berry bars and trail bars. I had to physically stop myself from eating two in a day. They tasted a bit like a flapjack but with a sweet burst of berry. They were thick and almost cakey in texture and I couldn't believe I was allowed them as part of a diet plan.
What's the verdict?
The best thing about The Balance Box was the taste. I was incredibly impressed with the flavours. Nothing about this diet plan was bland and the ingredients were real, nutritious and flavoursome. Some meals were less filling than others. The Caesar salad, for example, was delicious but left me feeling a little bit hungry and I reached straight for my berry bar afterwards. But all in all, I've very little bad to say about this company. The food tasted and looked amazing and was in fact, one of the most delicious diet delivery foods I've ever tasted.
Best for a takeaway treat: EatFirst 
What is it?
EatFirst sells itself as restaurant quality food that is 'designed for delivery'. It was originally founded by Rahul Parekh, a former Goldman Sachs trader who was frustrated by the poor quality of food delivered to his office, even when he ordered from his favourite restaurant. It never tasted great, often arrived lukewarm and felt less healthy. So he quit his job and launched EatFirst and made the companies main priority delivering fresh and healthy food. You can order food from EatFirst online from 11am to 10pm in London's zones one, two, three and four.
How much?
A typical meal costs from £6-£10.
Where can I get it?
Order online here. Food is available from 11 am to 10 pm in London's zones one, two, three and four.
Healthista reviews
From the moment the big EatFirst bag arrived in our office, we knew we were in love. Everyone from Healthista HQ crowded in for a big tasting session and nobody was left disappointed. EatFirst kept me updated with texts to let me know how soon my delivery would arrive. We planned for the food to arrive at our office for our lunch but the company can also deliver brunch complete with alcohol to your home on a weekend. This is something I HAVE to try at some point.
The thing that first caught our attention about this food was how great it looked visually. The food was fresh and the colours were vivid. From orange butternut squash to bright green avocado, before we could bring ourselves to tuck in we had splashed images of this yummy munch all across our individual Instagrams.
We tried a selection of EatFirst dishes so that we could get a good idea of the range of foods that can be delivered. Each dish came with its own card with your name on it, detailing the ingredients, how to serve the dish and even a photograph of the chef that made it. We loved this personal touch.
Each dish came with its own card with your name on it, detailing the ingredients, how to serve the dish and even a photograph of the chef
All of the dishes were easy to prepare and came in containers that are both oven and microwave safe. The longest any of them took was the Salmon Teriyaki and that was just 4 minutes in the microwave. As a plus all containers are also recyclable or compostable.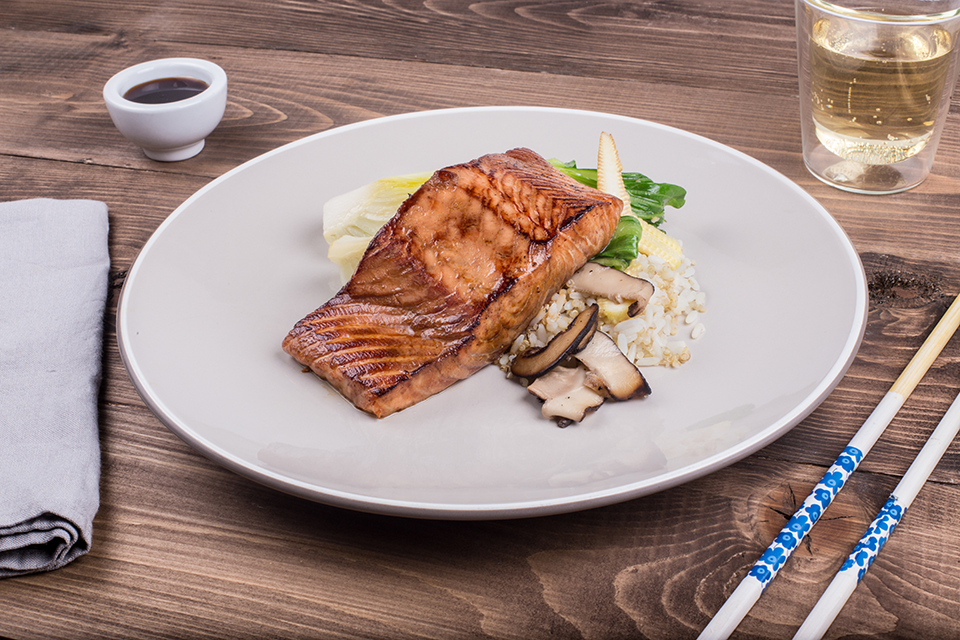 We were somewhat apprehensive about the idea of a microwaved lunch but reheating this food in no way compromised the taste. It all tasted freshly made up.
MORE: 7 weight loss tips proven by science
How did it taste?
My personal favourite were the Korean chicken wings. I didn't even have the patience to heat them up before I had my first taste. The wings are 'faux' fried to keep them healthy. This means they were marinated for 24 hours before being baked and reglazed with a Korean honey-chilli sauce. The wings were succulent and the marinade was perfect. Just the right amount of a spicy kick. A little messy to eat on your lunch break but more than worth the sticky fingers.
Our editor Anna Magee loved the avocado and beetroot sliders. The avocado and beetroot hummus came on slices of sourdough with spinach leaves, sesame seeds, micro greens and honey. 'The flavour is beautiful and the bread is so dense' said Anna, eyes widening as she tucked in.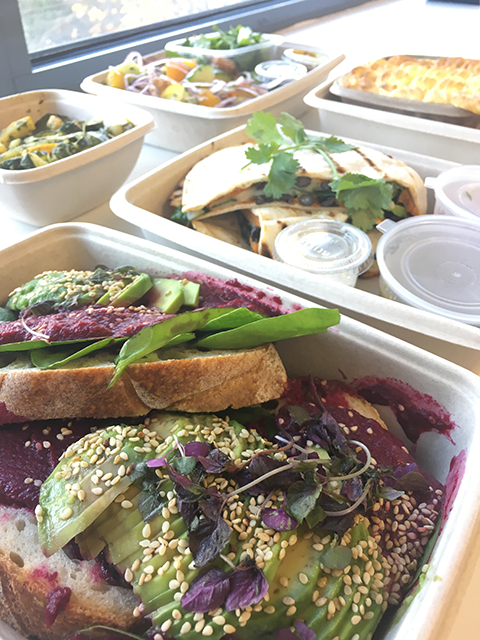 The butternut squash quesidillas had a uninamous "YES" from everyone when I asked if it was going down well. The spicy salsa side was also a big hit. The consistency was thick and it had a deep spicy punch to it, that at the same time didn't overpower the rest of the food. "You could eat this salsa straight from the tub" Healthista's Vanessa added. The butternut squash was smooth and creamy and the quesadilla surprisingly held together well. It looked as though it might fall apart easily but it wasn't messy to eat at all.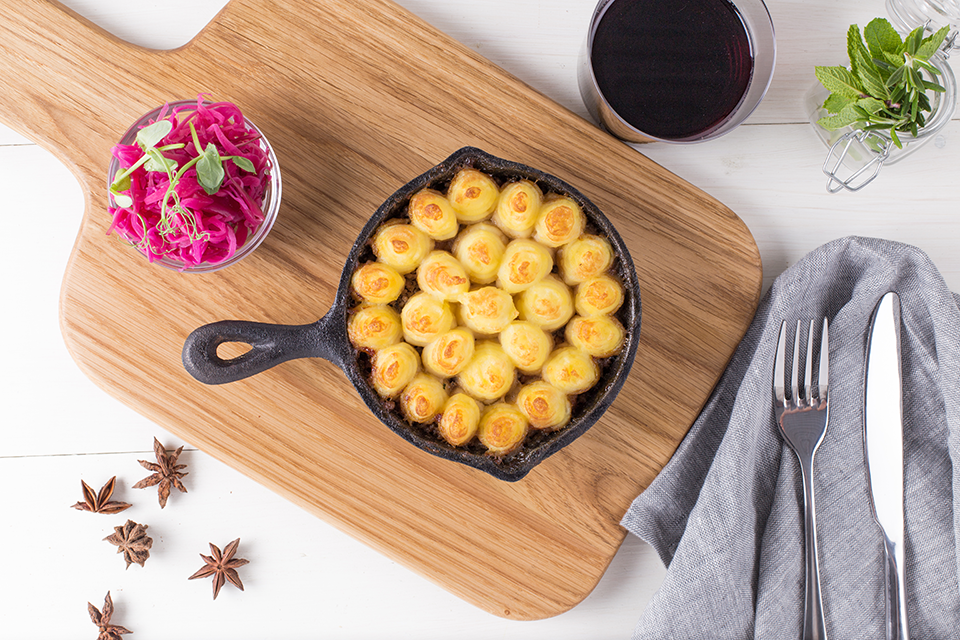 The Shepherd's Pie is a meal that I would definitely order again if I felt as though I was in need of some real home-made comforting grub. The creamy mash was just right and although it possibly wasn't the healthiest option we were presented with it was incredibly delicious and very filling. To top it off a sauerkraut was used to accompany it. For me this was the perfect combination of vinegar and thick potato. The sharpness of the sauerkraut offset the creamy taste of the mash in the pie.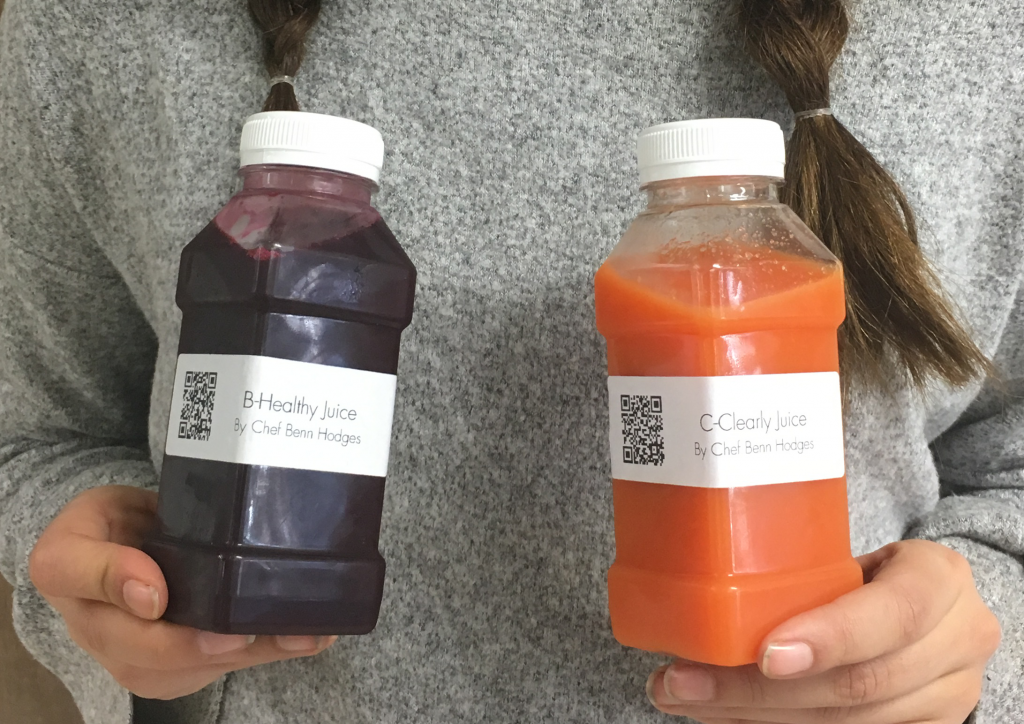 We also tried a selection of Eat First's juices and smoothies. The coconut and banana was my favourite, it was delicious and creamy and was wonderful as a dessert to follow down the main event. I wasn't a huge fan of the beetroot juice but it went down well with the rest of the team. Unlike most earthy tasting beetroot juices this juice was sweet which is why it was such a hit with everyone else. Healthista's Will happily chirped "It doesn't taste like normal beetroot" as he took a second glug.
We also tried a side of courgette with parsley and thyme, fattoush salad and the Loch Duart salmon Teriyaki all of which we all thoroughly enjoyed and would happily recommend.
What's the verdict?
We LOVED this food. After eating this meal I felt great. The food was fresh and kept me full right up until my evening meal. Overall I was super-impressed both with the service and quality of food from EatFirst.
The only negative for me was that although EatFirst gives a detailed ingredients list they do not give nutritional information which would have been quite useful. However, all things considered this was an amazing delivery service that I'm confident to say I will definitely be ordering from again.
Best for Instagramming: Spring Green 
What is it?
Spring Green was founded by Bonnie Stowell, a chef who trained under Michelen-starred Matt Tomkinson. She aims to create healthy nutritious meals that challenge people's perceptions of what healthy food looks and tastes like. More recently when her father, a seemingly fit and healthy man, was diagnosed with type 2 diabetes, Stowell devised a diet plan for him. He looked the picture of health but for years he'd worked late and eaten pre-packaged food almost every night of the week. The sugar and processed food in these meals can contribute towards the disease. According to Spring Green, Stowell's plan helped his sugar levels return to normal. None of Spring Green's diets contain dairy milk or wheat and totally plant-based diets can also be catered to.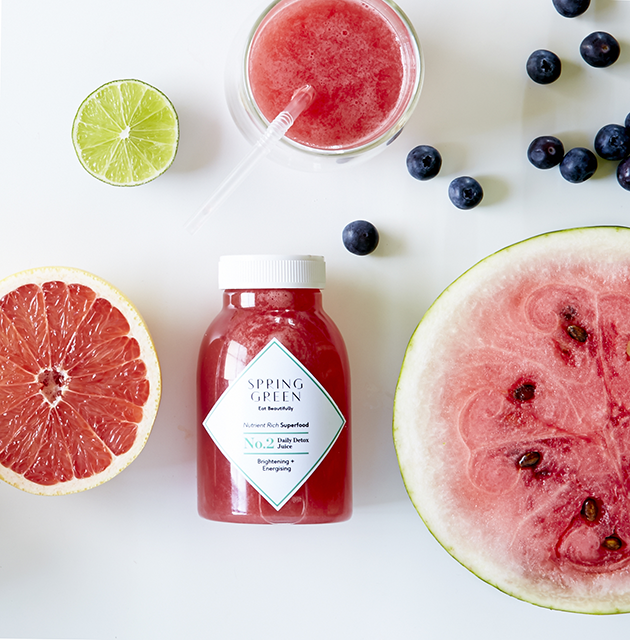 How much?
Prices start at £45.00 per day
Where can I get it?
Spring Green meal plans are available online here.
Healthista reviews
Spring Green delivered my food to me the night before my plan started. The company deliver your food daily in this way which really gives you a sense of the food being made up fresh. I also enjoyed receiving my food in this way as it left me feeling a little more organised, unlike with other delivery services I tried which often left my fridge overflowing with meals and meant that I'd be rifling through every morning to try and find what I needed for the day.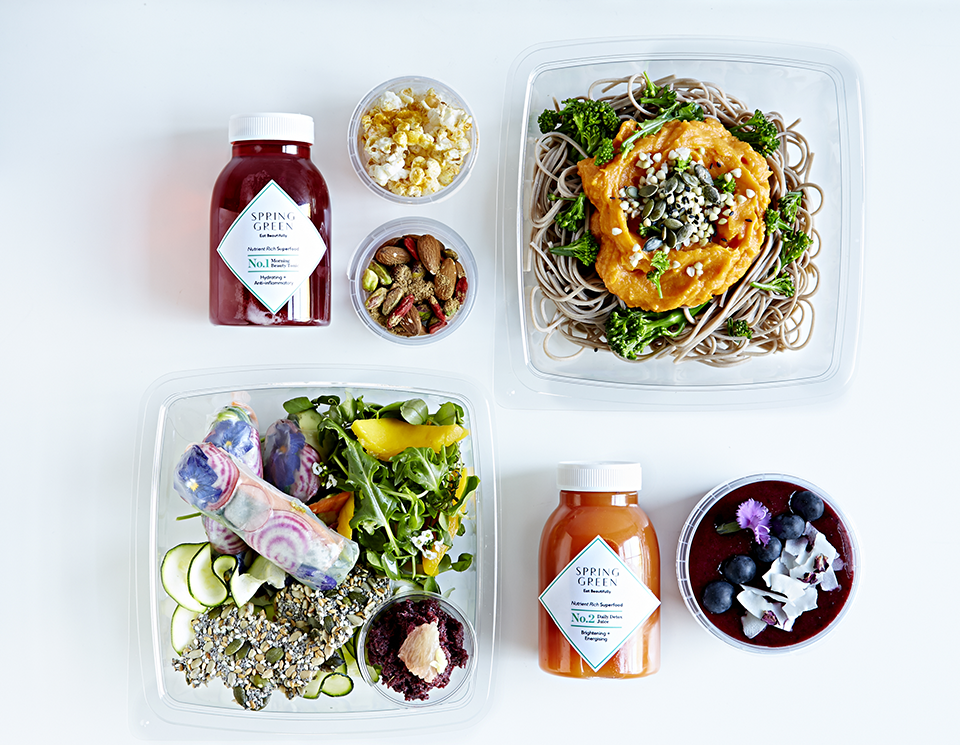 My package contained breakfast, lunch, dinner plus two tonic juices, a snack and tea. The programme I tried out was Spring Green's Botanical superfood radiance programme and the first thing I was struck by was how incredibly beautiful it all looked. I knew as soon as I looked at it that it would leave me spending the whole day on Instagram. The quality of food was incredible and all of the ingredients used looked fresh and delicious. The colours from this food were striking. Red and green juices, a purple evening meal and a gorgeously green lunch. Simple and beautifully labelled even the packaging was visually stunning.  I couldn't wait to dig in.
How did it taste?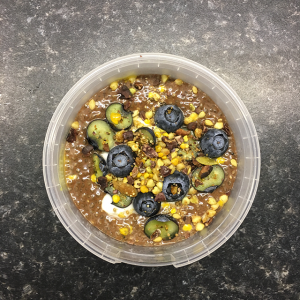 So it looked great, how did it taste? In all honesty – amazing. For breakfast, I tried the raw cacao chia bowl with coconut yoghurt, sprouted buckwheat sprinkles, blueberries, bee pollen, cacao nibs, coconut butter and brown rice milk. It was the kind of breakfast that I've seen in recipe books and littered all over the internet but have never had the time or the ingredients to make. The flavours that came through were delicious, the toppings gave the breakfast a lovely crunch and I honestly felt great and set up for the day. In fact, this breakfast convinced me to invest in some packets of breakfast toppings like bee pollen and cacao nibs to add to my kitchen cupboard.
It was the kind of breakfast that I've seen in recipe books and littered all over the internet but have never had the time or the ingredients to make
The detox juices and the morning tonic were a little bit more difficult to get down me. The cucumber, coconut water, ginger and lime detox juice was pretty delicious but the morning hibiscus and berry infused filter water was a little bit more difficult to stomach in the early morning as it was a lot more bitter than I was expecting.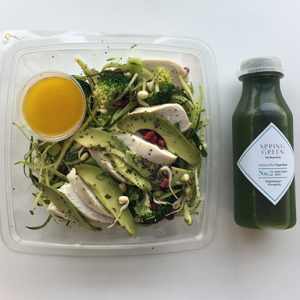 Lunch was DELICIOUS. I tried the chicken salad bowl with courgetti, broccoli, pomegranate, greek basil, sprouted grains, omega 3 seeds and tahini dressing. I couldn't believe how filling this was – particularly for a lunchtime meal. I was so full I almost couldn't finish it and that's really saying something because it tasted so good. I'm not usually a huge lover of cold meals, I'm such a fan of a warm lunch but this nearly converted me to the cold chicken club. The quality of the chicken was fantastic, so tender and tasted delicious and moist when covered with the tahini dressing.
And although lunch was my favourite meal of the programme, Spring Green's evening meal was pretty delicious as well. I had black rice noodles with smoked tofu, rainbow chard, brown miso, sugar snaps, ginger and lemon. What I loved most about this meal was that to me it felt like restaurant food. This wasn't something that I would ever think to make myself at home so it really felt like a treat. The noodles were amazing and a delicate smokey flavour ran through the dish.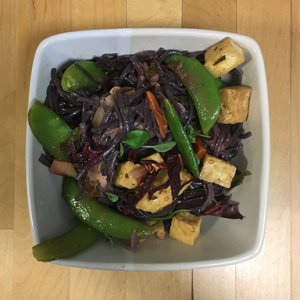 What's the verdict?
All in all, I would definitely recommend trying out Spring Green. If even just to see the beautifully vivid food first hand. I was a huge fan of this plan, I only wish I'd tried a few more days worth of food. I can imagine after three days of nutritious food like this you would be feeling brilliant.
I also love that you receive the teabag, detox and tonic juices as part of this plan, it's a great touch and really made Spring Green stand out from other similar services to me.
MORE: How to stop emotional eating
Best for fitness: SIXPAX 
What is it?
I tried SIXPAX as part of my four week vegan challenge. It just isn't always that easy to get creative in the kitchen, up your protein intake and avoid meat, eggs, milk and dairy all at the same time. SIXPAX meals are high in protein and are specifically designed with weight training in mind. The meal plans were created in collaboration with bodybuilder and 2014 World Champion, Jaime Bishop. SIXPAX claim to help strip body fat and promote muscle growth.
Created to strip body fat, meal plans were created in collaboration with bodybuilder and 2014 World Champion, Jaime Bishop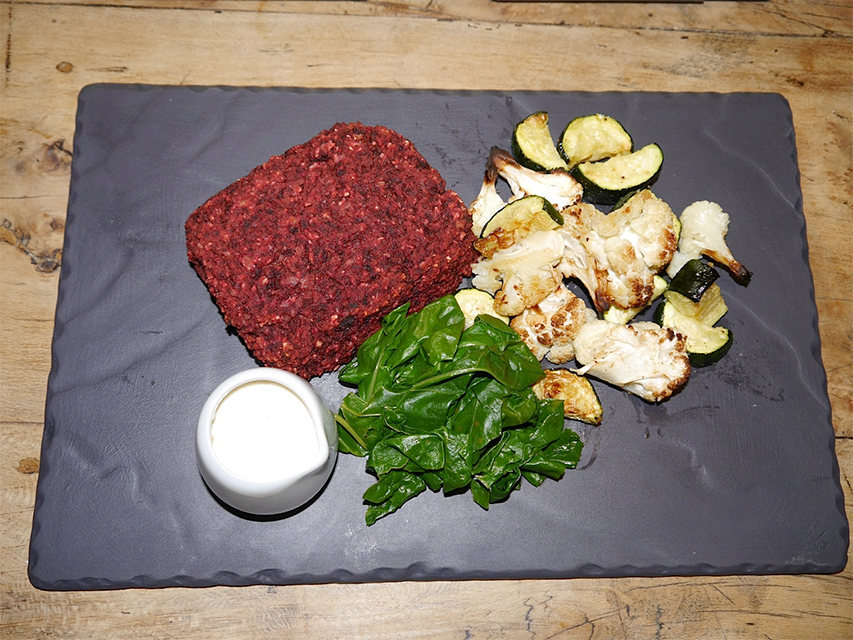 How much is it?
Prices start at £19.99 for a trial day.
Where can I get it?
SIXPAX deliver to around the UK and meals are available to buy online here.
Healthista reviews
SIXPAX delivers your food to your home the day before your diet plan is set to begin. As I first rifled through the box of food I was struck by the sheer amount of protein that was packed into this meals. Most meals had around 15g of protein in throughout the day, plus the plan included a mid-morning protein powder.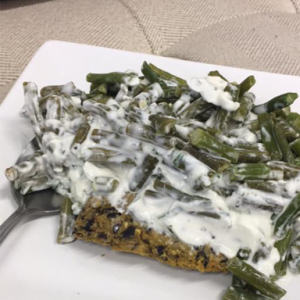 The second thing I noticed was how much tofu was involved in this plan. I don't hate tofu but that also doesn't mean I want to eat it every single evening. But, I reasoned, tofu equals plenty of protein and that is exactly what this diet promises to pack you full of.
The SIXPAX packaging was not the prettiest. Function over fashion seemed to be the theme. The food was vacuum-packed into plastic bags that stored easily in the fridge.
How did it taste?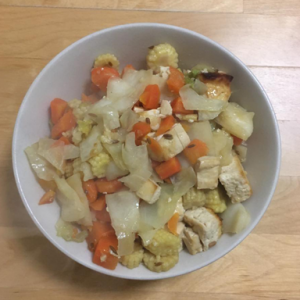 Despite the vacuum packed bags, this food tasted pretty great. The ingredients tasted real and fresh and I  felt as though my body was thanking me when I ate this. The ingredients were nutritious and many of the meals were padded out with vegetables like cabbage and beans.
Each morning there was a protein pot which switched daily between peanut and date protein crumble and a berry and cinnamon protein pot. Both were delicious. The crumble had a bit of a gritty consistency but the flavour was deliciously sweet and kept me full for a surprisingly long amount of time. Every evening meal consisted of tofu but flavours ranged from sticky orange and hoisin to greek tofu and harissa. My absolute favourite evening meal was the hiriyalo tikka tofu. Although it didn't have much seasoning it had a mildly spicy taste. The texture of all of the tofu was lovely and firm.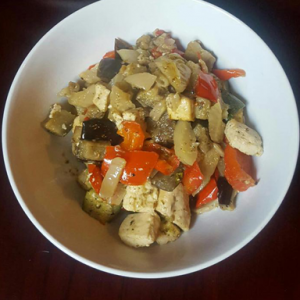 The broccoli could have been firmer but I quite like it soft so that suited me perfectly. Plus the meal was packed with vegetables, which really left me feeling full. The dish was packed with cabbage especially, which makes it really good for a detox. Plus the meal contains 15.3g of protein which is amazing. This is definitely a brilliant diet for anyone weight training and looking to up their protein intake.
The tropical protein shake tasted both sweet and sharp. It would have been nice to have a different flavour each day but apart from that, I can't complain. Lunches consisted of pulses, chickpeas and beans. The thing that really struck me about this diet was how much food it included. It definitely wasn't like other diet plans that left me feeling hungry.
What's the verdict?
All in all, I would say that this is THE diet delivery service to go to for fitness. Each meal had around 15g of protein and there is no way I would have easily fitted in all of that protein had I had to plan out my meals myself. This diet provided maximum macronutrients with minimum effort.
MORE: 10 best supplements for vegans
MORE: 10 healthy snacks for every diet need