As part of our National Vegetarian Week special, we're bringing you three meat-free recipes each day this week. nutritionist Alli Godbold teaches us how to make a delicious tofu pad prik curry 
Giving up meat can be hard. But even reducing your meat intake rather than totally cutting the stuff out entirely can be beneficial not only to the planet but also to your health. That is why we're bringing you three veggie recipes a day for this week.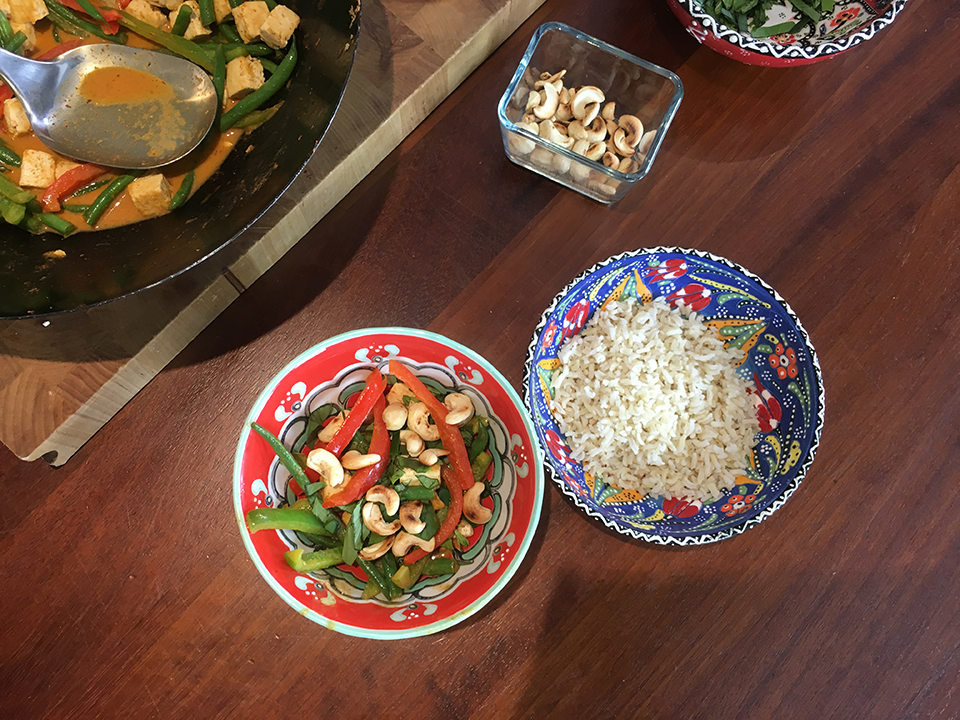 Today, nutritionist Alli Godbold shares her tofu pad prik curry – serve it up with some rice and enjoy. The flavours in this are incredible and fish sauce can be swapped for soy sauce depending on your dietary preferences.
Ingredients 
1 Tbsp olive oil/rice bran oil
250g firm tofu, cut into small squares
2 Tbsp Thai red curry paste
200g green beans, trimmed
1 red pepper, cut into strips
1 green pepper, cut into strips
75ml vegetable stock
half Tbsp fish sauce/Tamari soy sauce
half can coconut milk
half tsp coconut sugar
4 fresh kaffir lime leaves, finely sliced
large handful Thai basil leaves, torn
large handful peanuts or cashews, toasted
To make 
Heat the oil in a wok over a medium heat, add the tofu and sauté until golden on all sides. Set aside on kitchen paper.
Add the curry paste to the wok and fry for 2 mins, then add the stock to thin the paste.
Add the beans and peppers and sauté until tender.
Add the coconut milk, fish sauce and sugar.
Simmer for a few minutes and add back the tofu.
Remove from the heat and add the keffir leaves, Thai basil and nuts.
Serve with brown basmati rice.
More recipe content from Healthista:
Buckwheat protein waffles with blueberries
Healthy granola recipe to keep you fuller for longer
Meat free Monday recipe: Spiralized salad with cashew nuts and Japanese dressing from nutritionist Alli Godbold
Meat free monday recipe: kale, butternut squash and chickpea hotpot from nutritionist Alli Godbold
10 surprising signs of gut problems
Like this article? Sign up to our newsletter to get more articles like this delivered straight to your inbox.