Looking to reduce your meat intake but still eat delicious food? Or maybe you're a full time vegetarian and you're on the hunt for new foods. Healthista brings you our new meat free monday recipe series. This week nutritionist Alli Godbold teaches us how to make a delicious hotpot with kale, butternut squash and chickpeas
Giving up meat can be hard. But even reducing your meat intake rather than totally cutting the stuff out entirely can be beneficial not only to the planet but also to your health. That is why we're bringing you our new meat free Monday video series where we'll provide you with delicious weekly recipes, meat not included.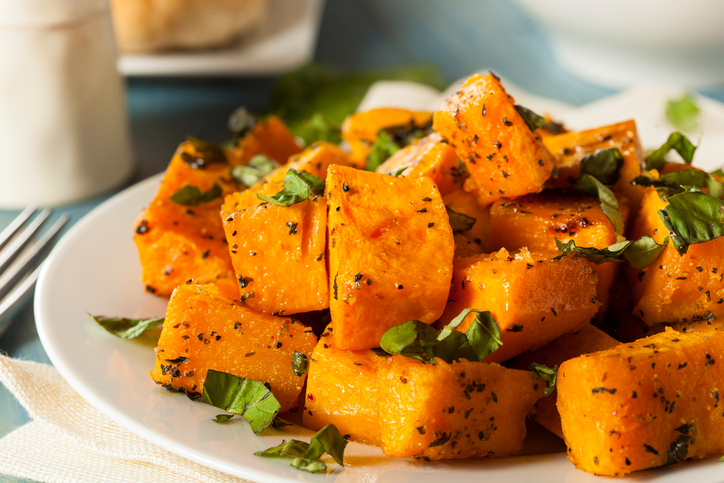 This week nutritionist Alli Godbold shares her amazing kale, butternut squash and chickpea hot pot recipe. The hotpot is warm and comforting and perfect for those January nights. Who needs meat when vegetarian dishes taste this good?
MORE: 10 best healthy cookbooks for 2017
Kale, butternut squash and chickpea hotpot
Ingredients 
1 can chickpeas, drained
4 cloves garlic, peeled
1 lump fresh ginger, peeled
5 tbsp olive oil
1 onion, diced
4 bay leaves
1 tbsp coriander seeds, ground
half tsp dried chilli
4 sprigs rosemary
3 sprigs sage
2 tins tomatoes
1 butternut squash, peeled, chopped and roasted with a little coconut oil.
400ml vegetable stock
120g kale, washed and chopped
To make
Smash the garlic and ginger to a paste in a pestle and mortar.
Heat the oil in a large pan, cook the onions very slowly with a good pinch of salt and the bay leaves for approx. 15 mins covered with a lid.
Stir through the garlic and ginger and then add the coriander, chilli, herbs, tomatoes and squash, cook covered for another 10 mins.
Stir in the chickpeas, add the stock and bring to the boil. Cook on a gentle heat for another 10 mins. then stir through the kale to wilt.
Season and serve!
MORE: Meat free Monday recipe: Spiralized salad with cashew nuts and Japanese dressing from nutritionist Alli Godbold
MORE: Best winter running gear you need right NOW