Love Spanish food? Then count yourself lucky – this paella recipe from new book Market Vegetarian is veggie food heaven
As summer approaches we're turning to countries with warmer climes for foodie inspiration. This week's meat-free Monday recipe is a veggie paella from brand new recipe book Market Vegetarian
by Ross Dobson.
This dish is Dobson's vegetarian take on the classic Spanish rice dish paella. It's colourful, delicious and bursting with fresh, young vegetables grown on the vine and enhanced with the subtle flavour of saffron – ideal for making in bulk and showing off at summer garden parties. This straightforward dish is easy to make and tastes delicious. We were fighting over the leftovers in Healthista HQ. Here's how to make it.
To prepare: 10 minutes
To make: 35 minutes
Serves 4
Ingredients 
a large pinch of saffron threads
80 ml olive oil
200 g red or yellow cherry tomatoes
100 g green beans
4 baby courgettes, halved
80 g freshly shelled peas
2 garlic cloves, chopped
2 fresh rosemary sprigs
320 g Arborio risotto rice
800 ml vegetable stock
30 g flaked almonds, lightly toasted
To make 
1.Put the saffron in a bowl with 65 ml hot water and set aside to infuse. Heat half of the oil in a heavy-based frying pan set over high heat and add the tomatoes. Cook for 2 minutes, shaking the pan so that the tomatoes soften and start to split. Use a slotted spoon to remove the tomatoes from the pan and set aside. Add the beans, courgettes and peas and stir-fry over high heat for 2–3 minutes. Set aside with the tomatoes until needed.
2. Add the remaining oil to the pan with the garlic and rosemary and cook gently for 1 minute to flavour the oil. Add the rice to the pan and cook, stirring constantly, for 2 minutes, until the rice is shiny and opaque. Add the stock and saffron water to the pan. Stir just once or twice, then increase the heat and let the liquid reach the boil. When the stock is rapidly boiling and little holes have formed in the rice, reduce the heat to medium and let simmer gently for about 20 minutes, until almost all the stock has been absorbed.
3. Scatter the cooked tomatoes, beans, courgettes and peas over the rice, cover lightly with some foil and cook over low heat for 5 minutes so that the vegetables are just heated through. Sprinkle the almonds on top to serve.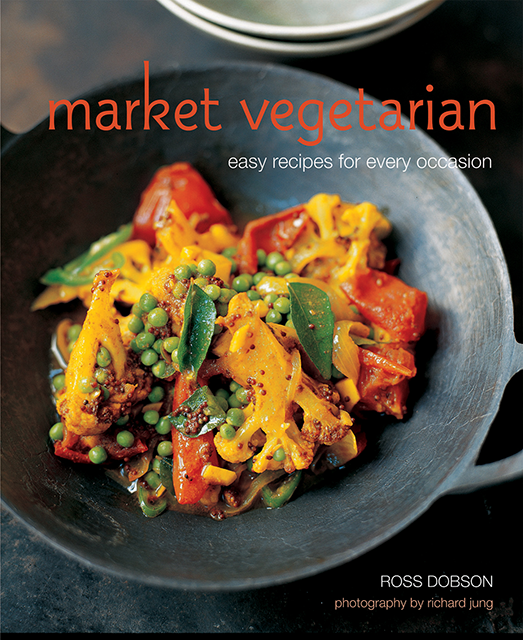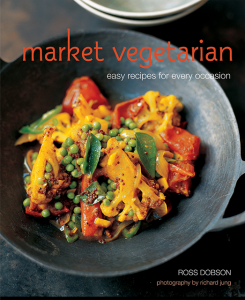 Ross Dobson is a chef, food stylist and cookbook author with 14 books to his name. In his non-writing time, he has been kept busy as the chef/owner of two western Sydney restaurants. His no-fuss recipes in Market Vegetarian proves that vegetarian food doesn't have to be labour intensive or dull.
Market Vegetarian
 by Ross Dobson (Ryland Peters & Small, £16.99).  Photography by Richard Jung © Ryland Peters & Small
Read more
Vegetarian recipe of the week: 10-minute gazpacho soup
Vegetarian recipe of the week: Spinach-shiitake salad with yuzu-wasabi dressing
Meat-free Monday: vegan red bean salad recipe
Like this article? Sign up to our newsletter to get more articles like this delivered straight to your inbox.