Celebrating National Vegetarian Week, here's a delicious salad with a kick – a spinach-shiitake salad with yuzu-wasabi dressing from Vegan: The Cookbook by Jean-Christian Jury
Super simple and easy to make this salad is one delicious lunch with a twist – plus all the ingredients are raw so it's perfect for your health kick (plus that means no cooking time).
Jean-Christian Jury's Vegan: The Cookbook
 is a mammoth of a recipe collection, boasting 450 recipes from over 150 countries. These plant-based recipes include starters, mains and desserts that are made with readily available ingredients that are naturally delicious. The book proves that being vegan in no way means having to go hungry.
Preparation time: 20 minutes
Ingredients for dressing 
4 tablespoons yuzu juice
1 tablespoon Tamari (gluten free soy sauce)
1 teaspoon wasabi paste
4 tablespoons sesame oil
1 teaspoon whole-grain Dijon mustard
salt and freshly ground black pepper
Ingredients for salad
500g shiitake mushrooms stems removed and sliced
500g baby spinach
125g baby asparagus
4 radishes, thinly sliced
120g cherry tomatoes, halved
To make 
To make the dressing, using a food processor or high speed blender, blend the yuzu juice, soy sauce, wasabi puree, vegetable oil and mustard until smooth. Season to taste with salt and freshly ground pepper.
To make the salad, transfer the dressing to a large bowl, add the salad ingredients, mix gently to coat with the dressing. Serve immediately.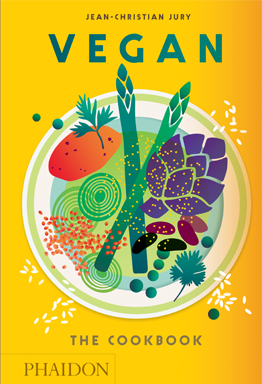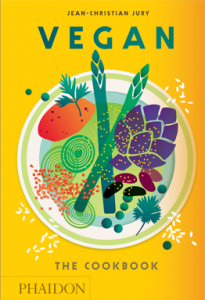 Jean-Christian Jury is a vegan and raw-food chef from Toulouse, France, who is now based
in Los Angeles.
Jury's book Vegan: The Cookbook
 (Phaidon) is available to buy for £20.36 here
More vegetarian recipes on Healthista:
Meat-free Monday recipe: raw pea and courgette soup
Meat-free Monday: vegan red bean salad recipe
Meat-free Monday recipe: Chilli and mango superbowl
Like this article? Sign up to our newsletter to get more articles like this delivered straight to your inbox.