These 11 healthy ice cream brands are bringing joy to Healthista foodies this National Ice Cream Day. Low in sugars, fat and additives but stratospheric in indulgence, you have every excuse to tuck in
National Ice Cream Day falls on July 16th when the sun is hottest (well it should be) and the mood is highest. There is no better way to enjoy a refreshing ice pop than on a warm summer's evening (unless it's your heart-break comfort food on a lonely night). Ice cream brands are finding ways to make a top dessert increasingly lower in calories, sugar and additives whilst retaining the fantastic taste we love. While dipping our spoons into a huge variety at Healthista, we have been delighted at the vegan, dairy-free and unique flavoured options. Here are our favourite 11…
Magnum made vegan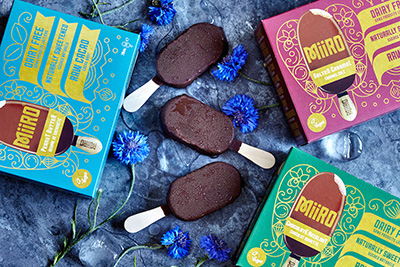 Shoreditch-based startup MiiRO aren't messing about. They know just how much Brits love their Magnums, and so have created healthier versions which we can say taste like the real deal. The vegan pops come in three flavours of salted caramel, peanut butter and chocolate hazelnut – all the best, basically. Without any refined sugar, preservatives, gluten or artificial flavourings, how do they taste so damn good? The 166 calorie treats are sweetened with coconut sugar, Italian grapes and nuts, with a touch of Himalayan pink salt and pea protein. Yep, these ice creams are actually balanced in terms of protein, carbs and good fats, with even the chocolate coating being raw to maximize nutrition.
Buy MiiRO bars, £2.49 for an individual bar and £6.49 for three, at WholeFoods, Planet Organic and As Nature Intended.
Creamy (no-dairy) dream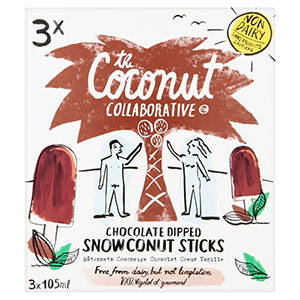 As long as the ice cream is creamy, it's got to be good, right? The Coconut Collaborative have got that consistency perfect with their vegan coconut milk ice pops in a variety that will have you spoilt for choice. So smooth and moreish – don't say we didn't warn you. For a mini treat, the Little Coconutters for children are dairy, gluten and refined sugar free in a classic vanilla. Similar are Snowconut dipped sticks in mango and chocolate. But the Snowconut Tubs are where the real party is at, flavoured with mango, raspberry, vanilla and coconut or chocolate.
Buy The Coconut Collaborative Dark Chocolate Snowconut Sticks 3 pack for £4.29
Just fruit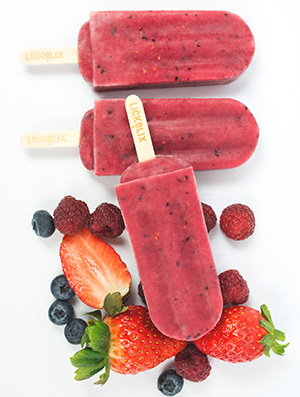 If you're looking for an iced dessert in it's purest form, you won't get much better than these babies. Free from, well, everything, these gourmet popsicles use seasonal fruit for flavor, and boy are there a lot of flavours. On the shop shelves, expect berry and banana classics, with some specials such as Caribbean Twist thrown in. But for the 'adults', Stawberry Mojito and Pina Colada with splashes of alcohol make cocktails on a stick. All the ingredients are of high quality and organic, right down to the lime in the Natural Cola sticks. On the website, you will find tons of other varieties available including Pimms O'clock, Orange Curry and White Chocolate and Peanut Butter Jelly… wow.
Buy Lickalix – 3 pack for £3.99 
Asian infused
Yee Kwan Wasabi flavour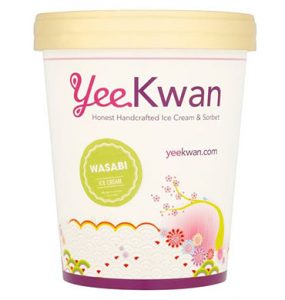 You either love it or you hate it, according to our taste panel (if you love wasabi, it's likely you're the former).  But those who love it find this Yee Kwan ice cream refreshing and unique. Inspired by her Chinese heritage and travels, Yee Kwan developed her artisan ice cream brand to appeal to the Asian cuisine lovers, making a dessert that compliments the main meal. All the tubs are gluten free and made with real milk and whipping cream which is low in fat and full of flavour – if not the Far-Eastern ingredients including lychee, shichimi and Vietnamese coffee.
Buy Yee Kwan Wasabi Ice Cream £4.99
Just irresistible
Oppo Salted Caramel
A real hit with the Healthista team, Oppo's salted caramel is a perfectly balanced blend, using lucuma, a fruit containing beta carotene, iron, zinc, vitamin B3, calcium and protein, to get the maple taste and a pinch of rich mineral sea-salt. It's made using fresh milk, virgin coconut oil and stevia leaf, and proves that indulgent food certainly doesn't need tons of sugar to taste good – each scoop of this is just 40 calories. Yippee!
Buy Oppo Salted Caramel for £4.99
Cake meets vegan ice cream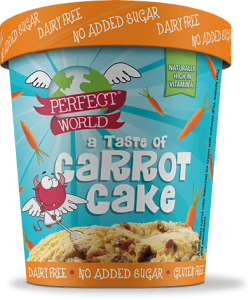 Cake and ice cream combine, and we know you are wondering how this got on Healthista's radar. This is junk without the junk, in fact full of vitamins instead. According to Perfect World, one scoop of this bad boy has 59 per cent of your daily GDA of vitamin A, as well as being a natural source of iron, dietary fibre and monounsaturated fat (the better fat). Free from dairy, added sugar and wheat, it's dolled up instead with nutmeg and cinnamon spice, walnuts and succulent sultanas. If you're still dubious, head to Perfect World's site where an abundance of information on their ingredients will make you feel at ease half the tub down.
Buy Perfect World Carrot Cake for £3.99
Cravings curbed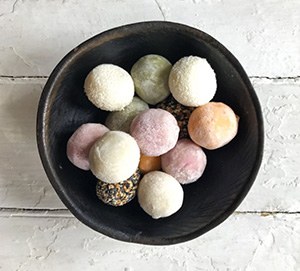 For the times your sweet cravings just need a little attention, these palm sized ice cream balls are your best friend. The soft spheres have a delightfully chewy outer made with rice flour (mochi), much like mascarpone, and a soft ice cream centre. We tried the matcha green tea variety, which are gluten free with no artificial additions. There was a mixture of either screwed up faces or faces of delight with the Japenese flavour coming through very strong, so another love or hate. Other varieties include mango, raspberry and toasted sesame.
Buy Little Moons Matcha Green Tea Mochi Ice Cream x 6 for £4.99
Adults only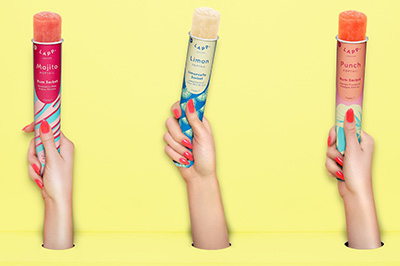 For the long evenings spent on a rooftop or cider festival, Poptails by LAPP, with 4.5 per cent alcohol, are a twist on the favourite Calippo-shaped ice lolly. And honestly, there was some giddiness in the office once we had slurped one of the delightful cocktail sorbets down. A refreshing blend of just fresh fruit and booze, they are vegan and fat-free with no additives, colourings or guilt at 130 calories – oosh! You'll find the trio of blends – Mojito, Punch and Limon – at hippy bars such as Shoreditch Platform, festivals such as Lovebox, hotels, or just a click away on Uber Eats.
Buy Poptails by LAPP for £3.99 per lolly at listed stockists.
All natural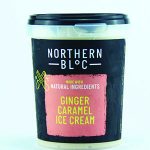 Next level creamy made with Yorkshire milk from a local farmer, Northern BloC's prides their ice creams on the fact they are '100 per cent natural'. No additives, colourings or artificial flavours go into their rich products. They are serious about the science behind ice cream, warning not to underestimate the skill behind the most irresistible mouthful. Their latest product is ginger caramel, with a light spice, hint of toasty marmalade, wrapped in a sweet vanilla caramel to finish off. Superbly executed, guys.
Buy for £4.50 in selected Waitrose stores.
Simple plant-based
Alpro Hazelnut Chocolate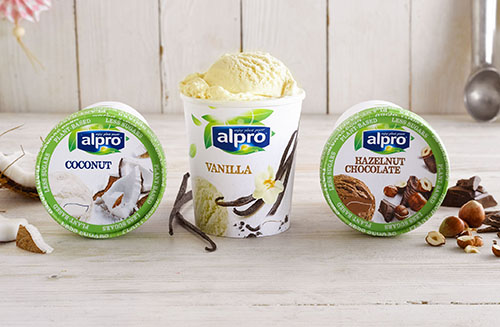 Healthista always have a tub of this in the freezer. With 30 per cent less sugars and saturated fats compared to the average top three UK competitors, there is no harm (right?). Despite this, it still tastes divine. It's entirely plant-based, made from nature's tastiest ingredients from almonds to hazelnuts to coconut to soya, making it free from gluten and dairy. Grab it in either vanilla, hazelnut chocolate our favourite) or coconut for when cravings strike.
Buy Alpro Hazelnut Chocolate 500ml for £2
Summer (vegan) love
Booja Booja Raspberry Ripple Ice Cream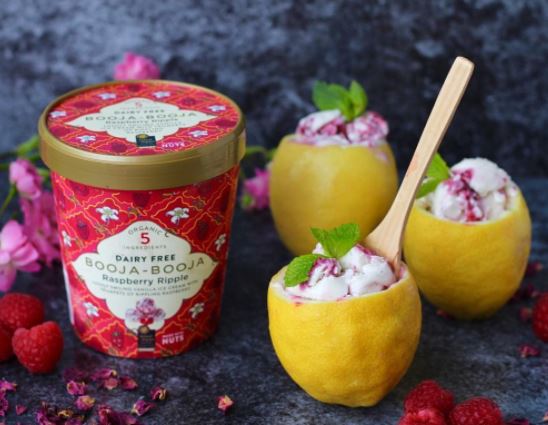 Somehow this vegan summer berry ice cream by 17-year-old Booja Booja reaches new levels of incredible taste with just five ingredients. These are water, agave syrup, cashew nuts, vanilla and freeze dried raspberries. We reckon the so-called Mister Booja Booja (who we are unsure whether is fiction or not) threw in some magic dust too – especially as he has his own chant about the tub: 'No pot of klik or tub of klak, or merely superficial snack. Just nature blended and joy extended.' The dairy-free delight has at least 70 per cent less saturated fat than the leading dairy ice cream, so dig in post BBQ.
Buy Booja Booja Raspberry Ripple Ice Cream 500ml for £5.99
READ MORE
Treat of the week: Iced yoghurt lollies
4 dairy-free ice cream recipes using summer berries
6 sugar free ice-cream recipes to keep the indulgence going
Best dairy-free ice cream in London
16 surprising foods for a healthy BBQ