The best dairy-free ice cream in London, discovered by our Healthista Eats blogger, Charlotte Dormon
Eating out and avoiding dairy and lactose (the sugar found in milk), can be totally impossible and quite frustrating when it comes to finding enjoyable dairy-free alternatives.  For those needing to avoid cows milk, cheese, butter or cream – menu options can be quite limited, even when compared to gluten-free.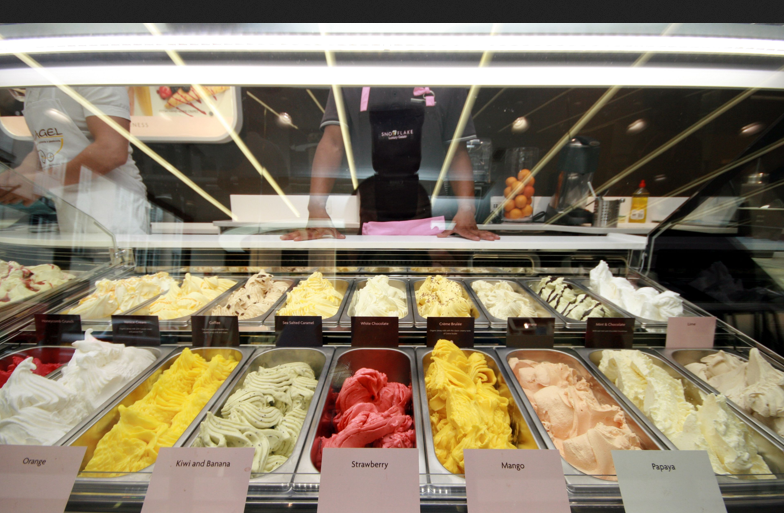 Lactose and dairy intolerance is a serious issue and can cause a great deal of pain and discomfort to those who suffer with it. Bloating, flatulence, headaches and skin irritations are just some of the common symptoms caused, so a very good reason why those with intolerances need to be cautious of any hidden ingredients in their dish.
Some people, even if not intolerant, prefer to avoid dairy for specific health reasons, (especially cows milk) as it can cause excess mucous. I hear from those in the know, that many famous performers will avoid it a few days before live performances, and David Cameron has even ordered a lactose-free meal when flying on business.
when it comes to ice cream, looks can be deceiving
My doctor diagnosed me with lactose intolerance over ten years ago, and although you can pick up good dairy-free ice cream in most health food stores (Booja Booja is very good) I really miss the pleasure of going out with friends after dinner or a watching a movie to enjoy a really good Italian gelato.
Over the last few weeks I made it my mission to search out the very best places serving the finest dairy-free ice creams you could ever wish for – to make sure I, and other lactose-free ice cream lovers, could enjoy a date at an Italian gelato this summer.
The ones I have chosen score highly on my Healthista Eats credentials for good health, style and taste.
Although there is a vast number of ice cream places popping up all over town – be aware, when it comes to ice cream, looks can be deceiving. The ones I have chosen are really quite special and score highly on my Healthista Eats credentials for good health, style and taste.  The chefs produce the traditional Italian gelato on-site and make them fresh each day.  They use real food, no nasty sweeteners, or additives and focus purely on sourcing the best natural ingredients.  The taste of the gelato from these chosen few is not only sensational, but you really will not believe you're eating something that is so good and totally dairy-free.
Here are my favorites: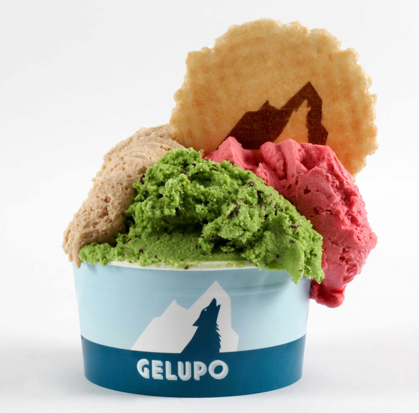 Staying open until midnight at the weekends, this deliciously stylish 1950's traditional Italian style ice cream parlor (owned by the renowned chef Jacob Kenedy, who founded the popular Soho Italian restaurant Bocca Di Lupo) is perfect for those wanting somewhere fun to wander to after dinner, or post-theatre for a coffee and something to hit the sweet spot.  There are a few seats at the espresso bar, which is a great area to sit and share a scoop, and bigger tables at the back where you can sit back and enjoy the lively, upbeat atmosphere (the manager tells me it's a popular spot for first dates).  Gelupo does gourmet ice cream at its best an offer an outrageously good dairy-free selection, which are all completely free of milk and cream, but also lower in calories and fat than regular ice cream. Flavors include: rich dark chocolate, coconut, espresso, cinnamon and cherry. I was totally blown away with how good they tasted and if you are dairy-free and love gelato, get in here now and go wild – with a wolf sign used as the their branding on the door, you will certainly want to howl with happiness when you leave.
Find Gelupo: 7 Archer Street, London, W1D 7AU (a short walk from Piccadilly Circus or Oxford Circus tube) Prices start from £3.00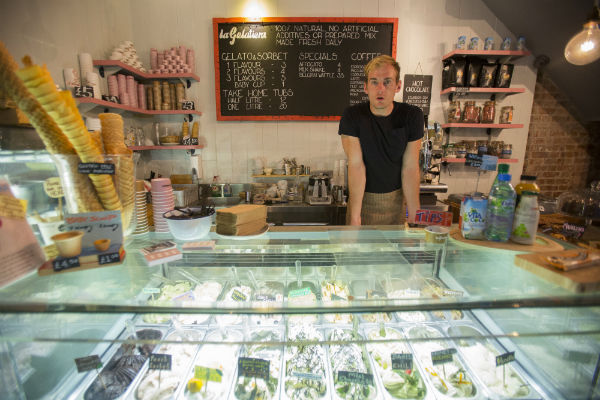 This small, boutique, artisan ice cream parlor was set up by three friends with a love for photography, good food and ice cream. Antonio, one of the founders was taught how to make traditional Italian gelato by his Italian grandfather from a young age. Following in his footsteps and using specialist skills taught from a young age, Antonio put with this his own modern twist and punch of fun flavors, gives us all the opportunity to enjoy a very good time when hanging out here.  They have a range of vegan and dairy-free sorbets, including Great-Taste award-winning chocolate with chilli, regular dark chocolate and other exciting fruity flavors, including: Alphonso mango, Sorento lemon, elderflower, melon and many more. As well as naughty alcoholic flavors: Classic Mojito, Bellini, Vodka Melon and Gooseberry Tequila.
I am not normally a fan of sorbet but these award-winning recipes go above and beyond the regular ones you come across, and come as a refreshing change to sample such exciting flavours.  The best news (I was told Healthista are the first to hear this news) is about the launch of the new range of dairy-free nut flavours.  The chefs have spent months perfecting these recipes and they will be the only place in London serving this.  As from August, when London is really hotting up, you will be able to cool off and enjoy almond, Sicilian pistachio and Bacio (choc and hazelnut) sorbet.  I am told by Stephan, one of the owners, that they think their new range is going to be the best dairy-free offering in town.  As well all this flavor-fest to choose from, they also have gluten-free cones available, which I enjoyed with great pleasure alongside my scoop of dark chocolate. Open until 11:30, once again a great spot for an evening or to cool off after shopping in the day.  There are some tables both inside and out (when sunny). They serve excellent barista-made coffee with soya milk available and if you are feeling extra indulgent, there is a big selection of dairy & gluten free cakes to choose from.
Find La Gelatiera: 27 New Row, Covent Garden, London WC2N 4LA (a short walk from Leicester square, Charing Cross or Covent Garden tube)
Prices start from £3.00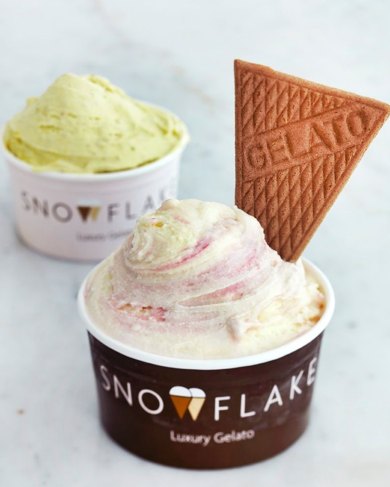 New on the ice cream scene, Snowflake has gone all out to impress its health conscious customers with their vast selection of luxury fresh fruit sorbettos – which are dairy, sugar, gluten-free and suitable for vegans.  There is a huge selection of standard fruit flavors, of which I enjoyed the banana and pear piled up on a gluten-free cone.  The Sorbetto has a smooth and light texture, much more of a creamy consistency than standard sorbet and thanks to no added sugar, it was refreshing and cleansing, not unbearably sweet.
Snowflake is very modern with bright lights pink walls and big white seats and shiny tables. If you were a child, this would be the place you would want to go and spend all day hanging out with friends eating huge mouthfuls of ice cream.  Although Snowflake is open until late into the evening like the other two, it has a very different atmosphere. Westbourne Grove would be great to take kids and Soho is a good if you want somewhere to stop by and find easy seating as it has a lot more available.
Where:  43 Westbourne Grove, London, W2 4SA (nearest tube is Queensway and Westbourne Grove) and 102 Wardour Street, London W1F 0TP (Piccadilly Circus is a short walk away)
Prices start at £3.50
Gelateria Danieli – Richmond, Kingston Upon Thames and Shaftesbury Avenue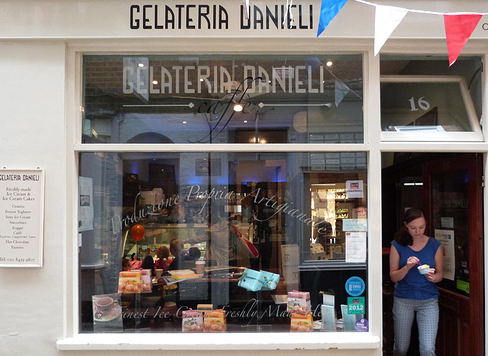 Gelateria Danieli is a traditional family run gelato business with four beautifully stylish venues located inside and outside central London. Carlo, one of the founders, has a background of working in fashion and Men's wear, has delivered his sense of style and traditional Sicilian, Italian roots to the heart of the business. The other founder, Bridget, a qualified and experienced nutritionist, has made sure good health credentials and catering for those with intolerances and specific dietary requirements, is always top priority alongside great taste.
The first shop opened in April 2005 and I remember heading down one weekend after I was told from friends that they were serving dairy-free chocolate ice cream. Although it is some time ago now, it was simply amazing and has the choice and quality has only got better.  With over 20 flavours to choose from and only 100 calories per scoop of, you can easily fit in a few. I personally love the coconut, dark chocolate and chocolate & cardamom, either in a cup or gluten-free cone. I haven't been to the Shaftesbury Avenue branch (I did call up and hear that the selection is just as good and that they have seating available), but if you have not ventured to Richmond, this delightful place gives you an excuse to go.  With one of most beautiful parks in and the most gorgeous riverside, there is no excuse to not visit this part of town, enjoy an Italian gelato and a stroll nearby.
Where: Richmond (two locations, please see website link, but within walking distance from the station), Kingston Upon Thames (station is 5 minutes walk away) and 222 Shaftesbury Avenue, London WC2H 8EB (Tottenham Court road tube is 5 mins away).
Prices start from £2.50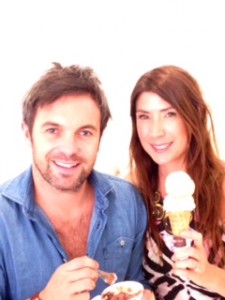 CHARLOTTE DORMON is our Healthista Eats blogger.  She's not a chef, or even that much of a cook.  If it's recipes you're looking for – you're in the wrong place.  But whether it's Sunday lunch or Friday night cocktails, she's the one friends and family turn to when they want to know how to eat out and be relatively healthy.  Each week she'll now be bringing you the same insider knowledge.  We'll drink – and eat – to that. Follow Charlotte on Twitter @lottielurvsu
Like this article? Sign up to our newsletter to get more articles like this delivered straight to your inbox.