Thinking about going dairy free but worried you won't have enough nutrients? Nutritionist Rhiannon Lambert reveals how to do it and gives us some recipes to make it easier
Unless you've been hiding underneath a rock for the past few years you will have noticed that veganism is taking the planet (and internet) by storm. With people becoming more and more aware of the environment we're seeing a rise in dairy-free diets, as well as vegetarian and vegan diets seeing a high rise. Unavoidable on Instagram (with over 47 million vegan hashtags) it's safe to say that everyone is giving the environmentally-friendly diet a go. For some, it's about trying new options – new research from Dairy-Free Dream shows that 31 million people in the UK are keen to drop dairy from their diet, but only 12 percent of people actually attempt to make the big switch, believing it's too difficult or they'll miss out on key nutrients without dairy in their diets.

Lactose intolerance, or an awareness of it, appears to be on the rise too. Ten years ago, the knowledge around intolerances wasn't as high as it is today and I've seen a rise in lactose intolerant clients who are realising there are dietary solutions to their discomfort. The benefits of going dairy-free are different for everyone but if you do have a diagnosed intolerance, people tend to find that their skin feels better and they are less bloated once they cut dairy from their diets. While people worry they might not achieve a balanced diet without dairy, the reality is there are a huge number of ordinary vegetables and fortified plant-based milk alternatives that can help you drop dairy without missing out on key nutrients.
1. Listen to what your body is telling you
Listening to your body is just as important as listening to the scales. New research shows that only 12 percent of people in the UK attempt to switch to the dairy-free diet that they would like to try. My nutritional philosophy is all about nutrients, not numbers.  Rather than just stepping on the scales – it's about listening to what your body needs and enjoying food as well as seeing it as only fuel. Fad diets create misconceptions and guilt around food but if you listen to what your body is telling you and seek sound advice, changing your diet can be simple.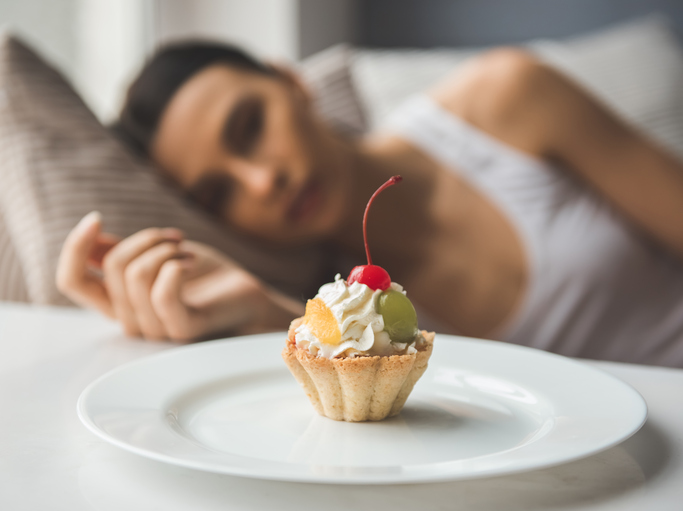 2. Start with a plan
I've seen a rise in lactose intolerant clients, and there's a big demand for dairy-free diets and meal plans like the 21-day Dream Challenge – which contains 28 recipes and nutritional tips to help make switching to a dairy-free diet simple and convenient. If you are switching to a meal plan, make sure it's one put together by a registered nutritionist like the Dream Challenge (which I created), as these are carefully put together to ensure you don't suddenly start missing out on vital nutrients when dropping dairy.
3. Know your nutrients – and where to get them
There are plenty of non-dairy alternatives and crucially, many are fortified with the same nutrients found in dairy. Dream has created a range of fortified products with additional calcium and vitamins D and B12, so you needn't worry about missing out on any nutrition when you swap from dairy milk to a plant based milk alternative. For an all round diet, following a meal plan like the Dream 21 Day Challenge will ensure you are getting vital nutrients from other sources like kale and broccoli which are great sources of B12 and calcium.
4. Don't sacrifice taste
Some people think meal plans are written based on nutrition alone, but the coconut curry in the 21-day Dream Challenge meal plan is really, really tasty, it's also so colourful which I LOVE. The rainbow pancakes are also amazing and taste as good as they look. You even get a dairy free carbonara included! – which most people can't believe is possible. See the recipe below.
The Dream Challenge provides a tasty, balanced seven-day meal plan featuring breakfast, lunch, dinner and snacks that can be used across 21 days, as well as tips and tricks for easy dairy-free swaps and nutritional information. I'm not a chef so all the recipes are super easy and quick to do – we've all got busy lives. I've also included some snacks to combat those snack cravings.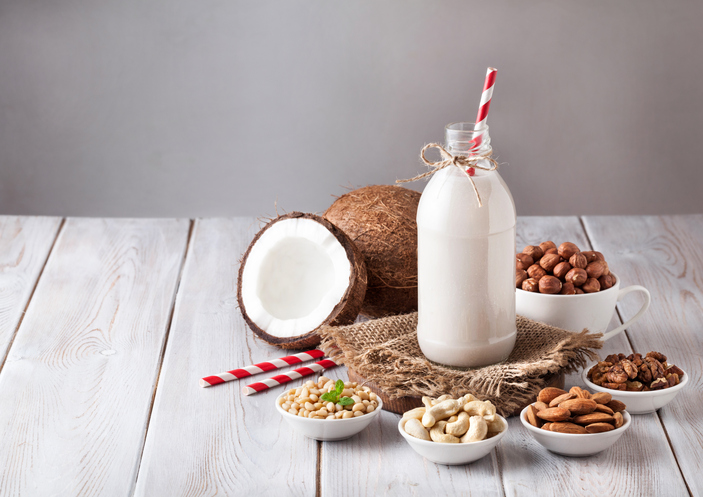 5. Seek advice
If you need to be dairy-free then you hopefully would automatically become more nutritionally aware and do some of your own research into the vitamins and minerals you need in your diet. If you are thinking about going dairy-free for the long-term, seek advice from a registered nutritionist to ensure sure your diet remains balanced. The meal plan I've created for Dream ensures you aren't missing out on any vital nutrients when giving up dairy and ensures you are eating a balanced diet. If you do have a diagnosed intolerance, you may find your skin benefits and bloating decreases.
6. Be prepared
Eating on the go is often when you have to be most mindful and prepared when cutting a food group from your diet. Always have some snacks in your handbag – things like a piece of fruit or some almonds. Be organized and identify the situations that can lead you to eat something you didn't intend to (like that chocolate bar). Sometimes putting in an extra half hour at the weekend and packing some snacks and lunches in advance in Tupperware, is a great way to get through those situations. The meal prep trend is growing and there's good reason for that – it helps keep people eating well and it saves us money in expensive lunches.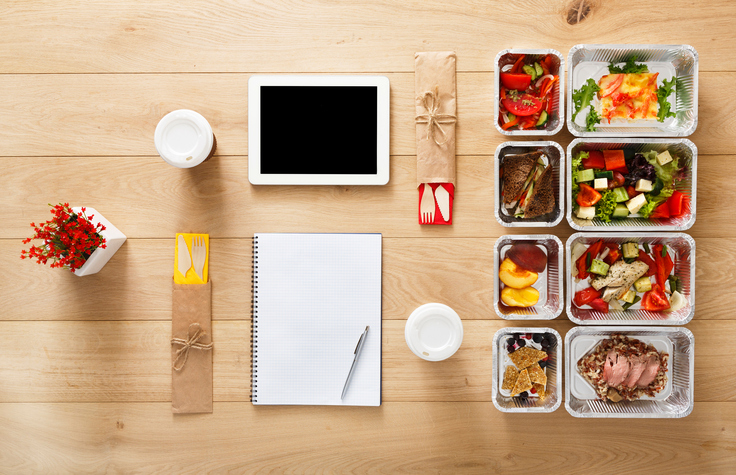 7. Know your alternatives
If you're giving up dairy milk, you're spoiled for choice in terms of plant-based alternatives. Dream is probably best known for Rice Milk, but there's a huge variety of other flavours like almond, coconut, quinoa, oat and ancient grains. Each of these has a  unique flavour and they go well with a variety of different foods. Oat milk is great for baking and porridge while I love coconut milk in curries and soya in tea and coffee.
For those hard-to-cut dairy products like cheese, there are great plant-based swaps you can make. Try swapping mozzarella for grilled tofu,  butter spread for mashed avocado, milk chocolate for dark chocolate (check it is dairy free first as many dark varieties still contain milk) and Parmesan for nutritional yeast. I've created a delicious, rich carbonara for the Dream Challenge meal plan that tastes just as indulgent as a cream-based dish but contains no dairy.
Healthista loves: Bioreal Organic Nutritional Yeast Flakes £3.75 from Healthista Shop
3 super-easy dairy-free recipes
Have we piqued your interest? Here are a few recipes to get you going.
Spinach, beetroot and turmeric rainbow pancakes
Prep time: 15 minutes
Cook time: 10 minutes
Total time: 25 minutes
Serves 2 (makes 2 of each flavour pancake)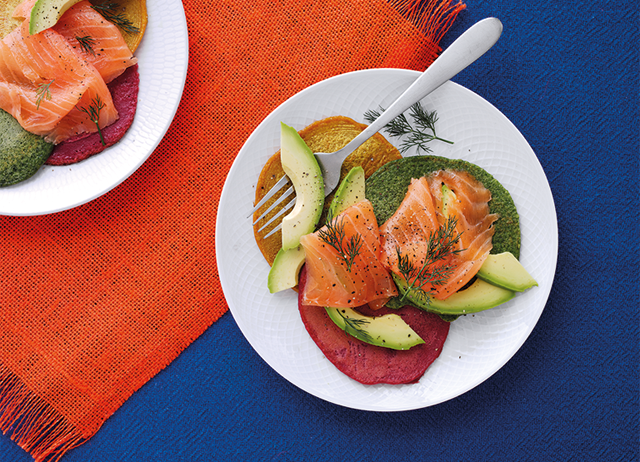 You'll Need: 
120g plain flour
3 free range eggs
60ml Oat Dream
3 tsp extra-virgin olive oil for frying
A handful of fresh spinach, wilted in boiling water, drained well
20g beetroot, pureed
1 tsp turmeric
To serve per person on top of stacked rainbow pancakes: (pick from one of the two options below)
1 poached egg, 1 slice of smoked salmon, sprinkle of fresh dill, quarter of avocado, salt and pepper to season
Heaped tablespoon dairy-free yogurt, teaspoon of honey, mixed fresh berries (blueberries, raspberries, strawberries etc.) (30g)
How-to 
Place the flour, eggs and Oat Dream into a blender and blitz until smooth. Split into three equal parts, adding the spinach to one bowl, the turmeric to the second and the beetroot to the third (Note, this mixture will have a fairly thick consistency)
2. Heat the oil in a small frying pan and cook two small pancakes with each mixture. Fry for 2 -3 minutes on each side.
3. Enjoy with one of your favourite toppings from above!
Best served warm.
Tip: Savoury pancakes also make a delicious lunch option with various fillings, much like a wheat wrap. The Oat Dream and eggs provide you with Vitamin B12, which is involved in making red blood cells and maintaining a healthy nervous system.
Nutrient breakdown
Carbs:  48.5g
Protein: 16.85g
Fat: 15.4g
Calcium: 148.5mg
Vitamins D: 2.95 mcg
B12: 3.4mcg
Kcal per serving: 394.5 Kcal pp
Tofu Pad Thai
Prep time: 15 minutes
Cook time: 20 minutes
Total time: 35 minutes
Serves 4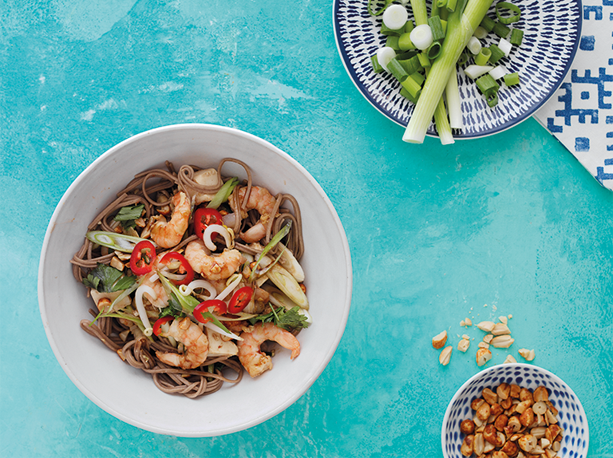 You'll Need: 
300g brown rice noodles
80g shelled unsalted peanuts
1 large shallot, finely chopped
1 large garlic clove, finely chopped
200g sustainable raw peeled prawns
180g firm silken style tofu drained and cut into cubes
½ small bunch fresh chives
40g tamarind purée
35g brown sugar (or palm sugar)
35ml fish sauce (optional)
Juice ½-1 lime, plus extra wedges
2 large free-range eggs
1 tsp light soy sauce
Pinch hot chilli powder (optional)
4 spring onions chopped, plus extra to serve
Small bunch fresh coriander, plus extra to serve
1 tbsp Coconut Dream
A few slices red chilli to garnish
1½ tbsp extra virgin olive oil
Handful ready-to-eat bean sprouts
How-to
Put the noodles into a large bowl, cover with cold water and set aside.
2. Put the peanuts into a small bowl. Put the shallots and garlic in another small bowl and the prawns into a third bowl.
3. Put the tofu into a small bowl and snip in the chives.
4. Put the tamarind, sugar, fish sauce and lime juice into a saucepan.
5. In a jug, beat the eggs with the soy sauce, Coconut Dream and chilli powder (if using). Put the spring onions and coriander into a bowl.
6. Set the bowls of ingredients by the hob in the order you've prepped them.
7. Put the saucepan with the tamarind mixture over a low heat and stir until the sugar has dissolved. Taste and adjust the seasoning. It should be salty, sour and sweet (it may need an extra squeeze of lime). Keep on a low heat.
8. Heat a large wok with 1 tbsp of the olive oil over a medium-high heat.
9. Add the peanuts and cook, tossing regularly, for 2 minutes or until golden.
10. Remove the peanuts, keeping the oil in the pan, then finely chop them. Let the wok cool slightly while you do this.
11. Meanwhile, cook the noodles in boiling water for 3-4 minutes until just tender. Drain in a colander, then rinse well with warm water.
12. Return the wok to a low-medium heat and add the remaining oil. Stir-fry the shallot and garlic for 2-3 minutes until just soft but not golden. Increase the heat to medium-high, then add the prawns and cook for 2 minutes or until just pink. Add the tofu and chive mixture and cook for 1 minute. Add the egg mixture and stir gently for 1 minute or until just set.
13. Turn up the heat under the wok to high, then add the noodles along with the tamarind sauce and toss well. Add the spring onions, coriander and half the peanuts, then stir. Taste and season.
14. Divide the pad Thai among 4 bowls and serve scattered with the remaining peanuts, the beansprouts, extra coriander and chilli slices.
Tip:  This meal contains prebiotics, which are foods that are non-digestible, and act like a food for the probiotics (live microorganisms) in our gut.
Nutrient breakdown
Carbs: 85.25g
Protein: 29.5g
Fat: 20.5g
Calcium: 109mg
Vitamins D: 1mcg
B12: 1.58mcg
Kcal per serving: 639Kcal pp
Chicken and Serrano ham dairy free carbonara
Prep time: 15 minutes
Cook time: 20 minutes
Total time: 35 minutes
Serves 2-3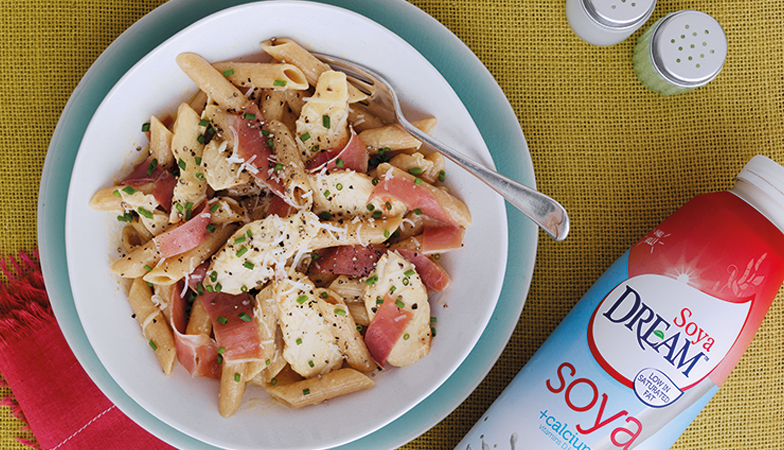 You'll Need:
2 handfuls whole wheat pasta
1 tbsp extra-virgin olive oil
1 large garlic clove, chopped finely
2 cooked chicken breasts, sliced
2 free range eggs beaten
125ml Soya Dream
50g grated dairy free mozzarella cheese/cheddar
2 slices of good quality serrano ham, chopped
Pepper
Handful of chopped chives
Step-By-Step 
Boil a saucepan of water (add a little salt if you wish to), add the pasta and cook according to packet instructions.
2. Whilst the pasta is cooking, heat the oil in a large pan and add the garlic until you start to smell it (less than a minute). Add the chicken breasts and heat through for 2 to 3 minutes.
3. In a jug beat the eggs and Soya Dream together.
4. Add some of the grated dairy-free cheese to the mixture too and season with pepper.
5. Once the chicken is cooked, add the ham then the egg mixture and stir thoroughly to make it smooth.
6. Don't have the pan too hot or the eggs might scramble. Cooking for 4-5 minutes to ensure the eggs are done.
7. Add extra dairy-free cheese to taste if you wish.
8. Add the cooked pasta to the chicken mixture. Make sure the pasta gets thoroughly coated then reheat for a few moments. Serve sprinkled with chives.
Swaps: You can always swap the chicken for firm tofu or extra veg too such as peas, roasted courgette and roasted pumpkin. These make lovely additions with a boost of protein, vitamins, minerals and fibre keeping your digestive system happy, and helping you to achieve your five a day)
Tip: Whole wheat pasta is a better alternative to white pasta, it is a complex carbohydrate and provides you with fibre, protein, and vitamins and minerals.
Nutrient breakdown
Carbs:  25.67g
Protein: 41.33g
Fat: 17g
Vitamins D: 1.8mcg
B12: 1.6mcg
Kcal per serving: 423Kcal pp.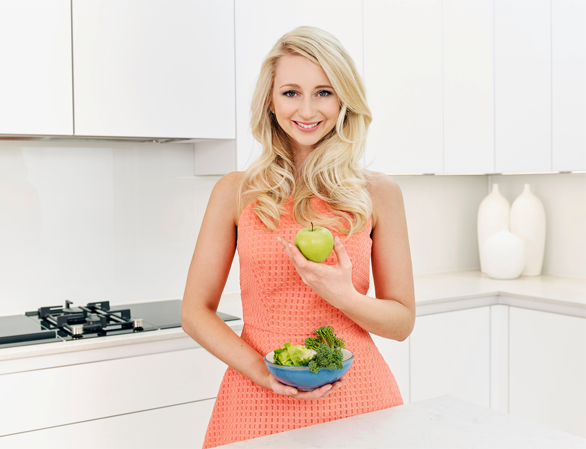 Rhiannon Lambert is a Harley Street nutritionist and has designed a balanced meal plan for plant based milk alternative brand Dream's 21 Day Challenge, making it easy to cut dairy from your diet. Visit mydairyfreedream.com/21daychallenge to download your Dream Challenge pack.
Read more
4 dairy-free ice cream recipes using summer berries
Best dairy-free ice cream in London
How to go vegan – lessons our writer learned after doing Veganuary PLUS best vegan cookbooks
8 healthy food essentials from the UK's hottest vegan couple
Like this article? Sign up to our newsletter to get more articles like this delivered straight to your inbox.