Coronavirus has brought countries to a standstill. Whether you are self isolating or your gym has decided to close its doors, we have 13 home workout videos to keep you fit from the comfort of your own home
The current coronavirus pandemic means that now more than ever people are looking for ways to workout out effectively at home, as gyms have been said to be a hotbed for spreading the virus.
So, considering the times, we thought it would be super helpful if we put together the ultimate guide of home workouts.
Is your gym closed? Are you self isolating? If you are worried that the coronavirus will halt your fitness progress, fear not as we have 13 home workouts that will help keep you on track.
Oh and no excuses, we all know you'll have plenty of time to get a workout in.
What's the Healthista team doing to keep active?
The Healthista team are currently keeping fit in this crisis by doing an eight week lean guide called Lean with Lilly by Instagram sensation Lilly Sabri.
This plan is ideal as the exercises that Lilly showcases can all be done from the comfort of your own home, showing you don't need to head to the gym or studio to get an effective workout.
And excellent news folks, Lilly is giving Healthista readers 20% OFF anything from her website when you use code HEALTHISTA20 at checkout. 
If it's the 8 Week LEAN Transformation Guide you're interested in, then 20 per cent off would take the price from £64 to £45.60.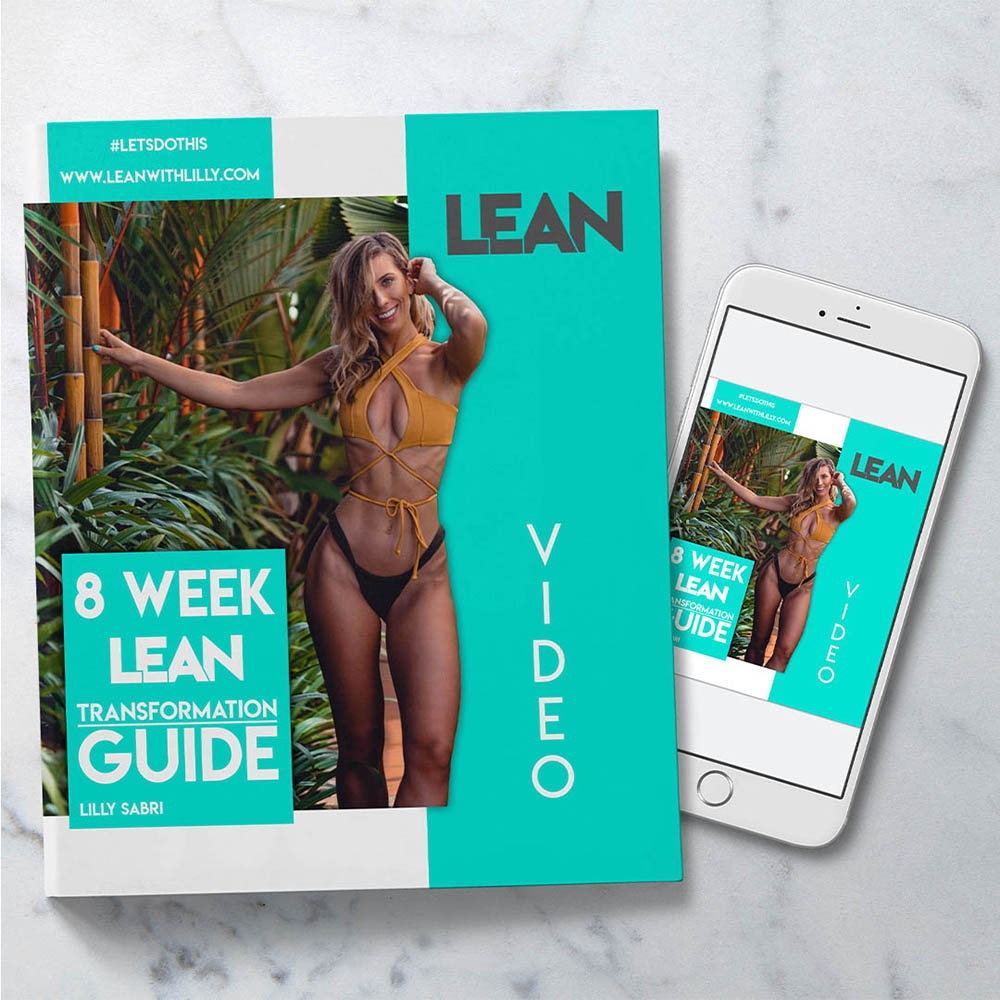 This program is designed to help you build a lean, toned physique using four styles of training: Fat Burn HIIT, Resistance Training, Pilates and Active Recovery.
Lilly, your trainer is with you every step of the way instructing you throughout Real Time Workouts every single day, for 8 weeks and providing daily motivation, encouragement, form correction and all round positivity.
As well as having access to 28 unique workouts, ranging from 30 minutes to one hour in length, this guide also provides seven warm up videos, seven finisher videos and modification exercises for beginners (or if you are looking simplify a certain exercise).
Once you have received your guide, it is yours forever so you can repeat the videos as many times as you like. Read more about Lilly's fat loss body hacks here.
Anyways, without further ado, here are 13 other home workout videos to get you though self isolation…
#1 30 Day Fat Burning Home Workout Challenge
You asked, we've delivered. Welcome to day one of our 30-day fat-burning home workout challenge.
For workout videos that will help you burn some serious fat, torch the calories and target your whole body in just ten minutes, look no further.
Personal trainer to the stars Svava Sigbertsdottir, creator of The Viking Method is about to take us all on a 30 day workout challenge journey that has been created with you and your busy lives in mind.
Svava will be guiding us through quality and challenging exercises that really burn the fat and strengthen the core, think burpees, squats, walking planks, bunny hops, kicks and core rotation.
Plus, Svava is a big fan of home workouts herself. Oh and she's helped sculpt the bodies of Nicole Scherzinger and Amanda Holden – so she's one to listen to.
#2 30 Day Yoga Challenge
Yoga has been on the rise for quite some time now. For those who participate in the ancient practice, it's become a lifestyle that they simply cannot live without.
Sarah Malcolm, a London based yoga teacher, will be taking us on this journey. Although Malcolm teaches in London based studios, she also teaches at worldwide yoga retreats. She wants to encourage her students to not be defined by one body type, but rather to feel good in their own bodies.
Our 30 day challenge We've invited our readers to participate in our 30 day yoga challenge. Each day you will be learning a new aspect to the practice, so in a month you have learned a proper sequence you can do yourself.
Shockingly to most people, yoga is a meditation that anyone can do. You don't need a specific body type to master the practice, you just need the right skills. Our 30 day challenge will give you the skills to become a true yogi.
#3 30 day Hiit challenge
This free workout video is fat burning and will help you work your way to that leaner and fitter body in a short amount of time.
No equipment is needed as these exercises all make use of your own body weight. They're also the perfect exercises for if you're working out in a small space. Plus high impact and lower impact options are available so don't worry if you're just a beginner.
There are three exercises in each routine, so let's get started!
#4 Anti-ageing workouts with Annabelle Johnstone-Dougall
Now it's no secret that getting your heart pounding and your blood pumping is good for you, but how does cardiorespiratory exercise affect the ageing process?
On a microscopic level cardio acts to increase the number of mitochondria within our cells. Mitochondria, tiny as they are, play an enormous role within the body and essentially act as the engine of each cell taking in nutrients and creating energy so that our bodies can function.
As we age the number of these little engines within our cells decline.
Cardio workouts when implemented 4-5 times per week have been proven to reduce the risk of age related conditions such as diabetes, heart disease and stroke while improving lean muscle mass, metabolism and weight management.
So with all these amazing lifelong benefits for only 26 minutes of daily commitment what are you waiting for?
#5 30-Minute fat burning workout for Lower and upper body
You've been asking for fat-burning workouts and we've enlisted special guest, Helle Hammonds founder and CEO of GymClass to deliver.
This sweat-inducing workout designed and delivered by Helle Hammonds of GymClass focuses on using the lower body to quickly burn off fat.
Helle has long been praised for her effectiveness with motivation and professional-level sculpting techniques. Like GymClass, this time-efficient workout is high intensity but yields results.
#6 25-minute glute and leg workouts with Olympic freestyle skier Rowan Cheshire
To kick off this series Rowan is starting you off with a 25-minute workout focusing on building strength and stability in the legs, glutes and around the knees. This workout does not require any equipment and can be done at home.
The muscles worked are your quads, hamstrings, glutes, calves and hip flexors.
#7 Yoga for beginners with leading yoga teacher Julie Montagu
Healthista has partnered with Wanderlust to bring you a 'Beginner's yoga course', featuring yoga expert Julie Montagu.
Julie Montagu, a leading yoga teacher has many people telling her that they can't do yoga because they are'nt flexible, but what she tells them is that yoga is what makes you flexible.
This beginner's yoga course is all about taking it back to basics, so that you as a beginner know that you too can do yoga.
So roll out those matts and lets join Julie in the first yoga seqeunce.
#8 How to get fit – Rick Hay's Healthista 12 week fitness plan
#9 30 Day Squat Challenge
Here's what happens: make a commitment for 30 days – any 30 days you choose – and each day, do a new five minute squat video designed to get your heart pumping and your butt leaner and more toned in five minutes a day.
Be prepared, these workouts are seriously tough and each day, each one increase in difficulty. It's designed to get you learning new butt-blasting moves to see your through to summer.
#10 30 Day Dumbbell Workout Challenge
Get ready to start working because Helle Hammonds has just turned up with 30 days of dumbbell workouts to target the whole body and the best bit is that you can do them at home.
The dumbbell workouts consist of three moves in three sets for you to sweat too. These workouts are short with no rest to boost a calorific deficit and aid toning. Helle recommends using 1-5kg dumbbells. Don't have dumbbells at home? Fill up some water bottles with water.
If you want to advance these workouts you can simply add another set, repeat the whole workout and add weight to your dumbbells.
#11 Strengthening and Toning Pilates
If you are trying to develop strength while toning in your training and looking to improve balance, posture and flexibility all at the same time, then Pilates is a low impact workout that could be missing in your fitness programme.
Founder of London gym, OPUS, David Kingsbury has put together three selective workouts that don't require equipment and can be done at home.
#12 30 Day Abs challenge
The Healthista abs challenge has returned and so has Helle Hammonds, with 30 days of five-minute abdominal workouts.
Helle has created a different workout for each day in January consisting of two strength moves and one fat burner, these are performed back to back and all movements last 30 seconds.
Each day provides beginner and advanced options to provide a challenge for everyone.
#13 30 Day plank challenge
Personal trainer and creator of the Healthista Fit Hiit app, Kelly Du Buisson, brings you the '30 Day plank challenge'.
Each day focuses on three different planks in just as little as five minutes. This challenge will work your core, upper and lower body.
Relevant Healthista Content:
6 fat loss secrets Instagram fitness star Krissy Cela wants you to know
11 weight loss hacks this Instagram fitness star wants you to know – clue: they're not what you think
Healthista Content you may also like:
50 supplements these health experts take themselves
5 easy vegan dinner recipes ready in 30 minutes or less
Hair loss – 'Wedding stress made my hair fall out – here's how I got it back'
23 ways to talk about sex with your partner
Like this article? Sign up to our newsletter to get more articles like this delivered straight to your inbox.