If you're looking for fat loss that works – and a programme you can do at home – we have found it. Lilly Sabri has key hacks that work and a complete body plan you can download. It's our new favourite thing  
There aren't many people as experienced or qualified as Instagram superstar Lilly Sabri to help you get your dream body.
After graduating as a chartered physiotherapist from Manchester Univeristy in 2010, Lilly has gone on to be an APPI Pilates instructor, personal trainer, model, as well as a fitness, health and lifestyle influencer with a whopping 171k followers on Instagram.
Not only that, but Lilly is the founder of Lean with Lilly, a workout programme that helps educate and empower hundreds of people around the world to live a healthier lifestyle in a way that encourages increased body confidence regardless of shape, size and fitness level.
After being obsessed with sports from a young age, Lilly found herself working with elite athletes, focusing primarily on footballers and rugby players.
She has worked with Chelsea FC, Watford FC, Barnet FC, and the England Women's Football Team where she further developed her knowledge as a sports physiotherapist.
Lilly, who is known for her 'washboard abs' and lean physique has taken her knowledge and experience of physio and working with athletes and poured it into her workout guides and videos to help people (and herself) develop a fit, confident, healthy and happier lifestyle.
Plus, Lilly's workouts fuse together high intensity training and Pilates as this is what the athletes focus on to get their incredible results and lean physique. If it works for athletes it will work for us too right?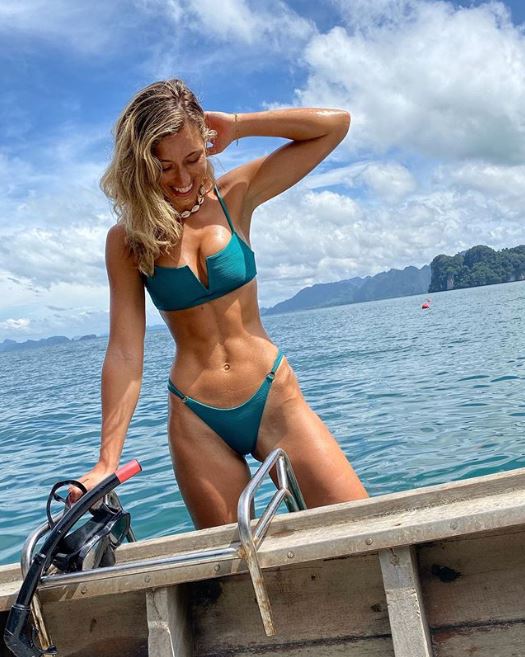 'Our goal is to be the healthiest and happiest versions of ourselves. To feel confident, healthy and look great from the inside out,' says Lilly.
'The issue is time, I don't know about you, but I don't have two hours spare every day to go to the gym. Even if I do manage to build up the motivation to drag myself to the gym, I have no idea what exercises to do when I get there'.
As well as time being an issue, the current coronavirus pandemic means that now more than ever people are looking for ways to workout out effectively at home, as gyms have been said to be a hotbed for spreading the virus.
Fortunately, many of the exercises that Lilly showcases can all be done from the comfort of your own home, showing you don't need to head to the gym or studio to get an effective workout.
So if you're reading this and thinking Lilly's plan is the boost you need to help you on your journey, then join the #LeanWithLilly family to take control, feel confident and make changes towards a healthier, happier lifestyle.
Oh and good news folks, Lilly is giving Healthista readers 20% OFF anything from her website when you use code HEALTHISTA20 at checkout. 
If it's the 8 Week LEAN Transformation Guide you're interested in, then 20 per cent off would take the price from £64 to £45.60.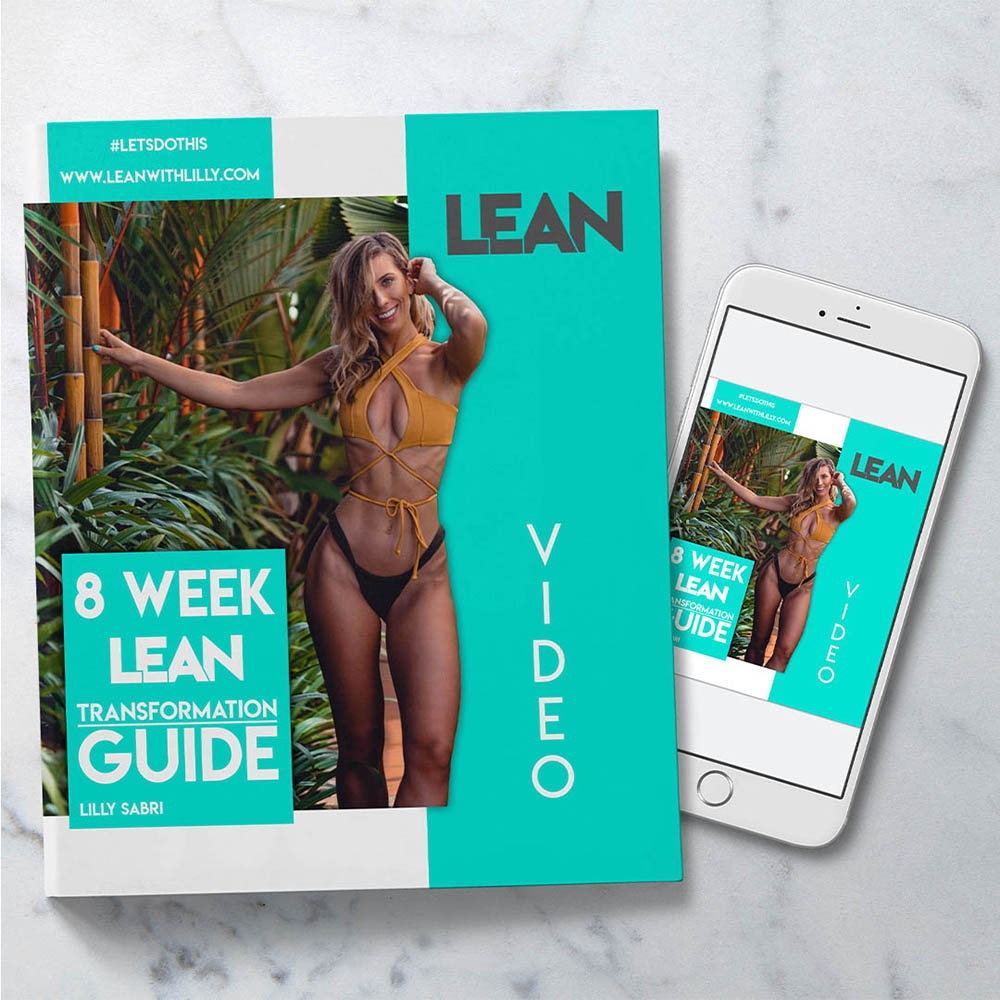 This program is designed to help you build a lean, toned physique using four styles of training: Fat Burn HIIT, Resistance Training, Pilates and Active Recovery.
Lilly, your trainer is with you every step of the way instructing you throughout Real Time Workouts every single day, for 8 weeks and providing daily motivation, encouragement, form correction and all round positivity.
As well as having access to 28 unique workouts, ranging from 30 minutes to one hour in length, this guide also provides seven warm up videos, seven finisher videos and modification exercises for beginners (or if you are looking simplify a certain exercise).
Once you have received your guide, it is yours forever so you can repeat the videos as many times as you like.
Anyways, other than Lilly's incredible workout plan here are 9 fat loss hacks Lilly says will transform your body…
#1 The perfect exercise recipe to change your body is…
I have been doing free online workout guides for about three years now, as well as training clients myself and over the years, I have found that the perfect ratio of exercise per week that works for both myself and my clients is this:
Three resistance (weight training) sessions
Two HIIT (high intensity interval training) sessions
One Pilates session
One active recovery session (low intensity steady-state cardio) or another HIIT session.
I have found that this 'recipe' of exercise is the best way to burn fat and transform your body. High intensity training will of course burn the fat, but so will weight training as this increases your muscle mass meaning you burn more calories as well as raising your heart rate as much as cardio does.
With my experience as a physio particularly, when someone is looking to change their body, we're not just talking about fat loss. Changing your body is also about progression and performance, which involves recovery and the prevention of injury.
This is why Pilates and active recovery are just as important as high intensity cardio and resistance training.
It's a combination of exercise, recovery and injury prevention that will provide you with a long lasting lifestyle change, not just going to the gym everyday and hoping for the best. In the end whether it's motivation, willpower or injury, something will eventually give if you only focus on exercise.
With my new programme, the first few people are finally coming to the end of their eight week transformation and there are some incredible transformation photos. These clients have used this exact exercise recipe and seen amazing body transformations.
https://www.instagram.com/p/B58NlmigvkA/
#2 There's NO quick fix – it's a lifestyle change
One mistake I see people make time and time again is jumping into their fitness journey too fast with heavy training and a strict diet.
Transforming your body is not a quick fix. It's OK to start as a beginner, in fact it's better for you to start slow if you want long term results.
Transforming your body is not a quick fix. It's OK to start as a beginner
Plenty of beginners don't enjoy the strict diet or the exercise because they have thrown themselves in at the deep end and that's why they end up giving up completely.
I worry especially when it comes to women who have just had a baby and are feeling the pressure to get their body back. If they have experienced and abdominal splits or had a cesarian, the muscles will need to be rebuilt slowly and carefully.
Even for women who have never worked out before or done the very minimal, there needs to be more emphasis on growing, building and progressing slowly so that you can make habitual changes that will actually last.
That's why my team and I have deleoped a beginners' guide that will last for four weeks (see below).
PRESALE: You will receive your eBook via email on this date, 17th March 2020.
Use code HEALTHISTA20 at checkout.
If you are at more of a beginner level you can opt for the Beginner Guide: 4 Weeks To A More Confident You.
This plan includes: four weeks of Real Time Workouts at Home, recovery, two warm ups, three cool downs and three finishers.
This Guide is designed for YOU, if you're looking to start (or re start) your fitness journey, I will be with you every step of the way for four weeks.
After using this beginners' guide for the first four weeks, when my clients begin their lean eight week guide they will have already developed new healthy habits with food and be enjoying the exercise before they start their eight week transformation.
https://www.instagram.com/p/B7gWooghjcD/
#3 Surround yourself with people who motivate you
I have a private Facebook group for women who are following my guide, and without sounding totally cringe I call them my online family, because that's what they are to me. A family support you through life, and these women support me (and I them) everyday on our fitness journeys.
Logging in every single morning to see them putting in the effort, doing the workouts and posting their progress even when they are not feeling their best is all the motivation I need.
I'm a massive believer that we can share energy amongst us as a community
The support they give each other is absolutely phenomenal and that for me is everything when it comes to staying focused and motivated.
It's amazing to see the different circumstances each of the women are in too, from a school girl, to a first time mum to a woman in her 70s, the fact that they are all so encouraging of each other is incredible
Many people say to me 'you always have so much energy and you always look good', but I am only human and I go through the exact same things everybody else on a fitness journey goes through – low energy, lack of motivation, fatigue as well as days where I don't want to leave the sofa.
I'm a massive believer that we can share energy amongst us as a community, energy encourages us to keep going. So join an online group, or join a local park walk or run. Just being part of a community will encourage you to stick with it.
https://www.instagram.com/p/B7JNdlYhnqs/
#4 Meal prep is key to staying on track
One of the best pieces of advice I can offer not just all women but everyone who is trying to get into or stay in shape is to prepare their food in advance as much as possible aka meal prep.
I try to encourage my girls to spend a couple of hours or just one hour on the weekend prepping their meals and snacks. It doesn't even have to be individual portions, it can be in bulk and then you can put some in the fridge and some in the freezer.
we spend an hour on a Sunday prepping all of our snacks as well as our meals
I recently uploaded a YouTube video on snack prep as most women struggle with what to grab when they are really hungry or really short on time when working etc.
Often people will just grab a packet of something to satisfy a craving or hunger, it happens to us all when we are hungry, my partner is the worst for grabbing a packet of crisps or ordering something in. So what we do in my house is we spend an hour on a Sunday prepping all of our snacks as well as our meals.
For example, we will do some savory snacks such as a pot of houmous, a pot of baked chick peas and kale as well as sweet snacks such as banana bread or protein balls. All of these snacks are super easy to make and you can keep them in the fridge and they will last a whole week.
By doing this snack prep it is far easier to stay healthy and on track because there is something ready made for you to grab when you really need it.
#5 Calories are important but don't obsess over them
Up until a couple of weeks ago I have never counted calories, and when I mentioned this to my partner I received wide eyes and a shocked expression.
Apparently not counting calories these days is very unusual, but for me due to my background in physio I have always known my body and what it needs. Plus, growing up I was sporty and a swimmer, I needed to eat loads to sustain my energy.
I have always been driven by performance rather than aesthetics. For me it has always been about how fast and strong I could be and not how thin I could be – which is the way it should be really and why I have never focused heavily on calories.
I prefer intuitive eating, however I do say that you have to be in calorie deficit in order to lose fat
But what I have learnt is that my average client (and most people) aren't like that and they aren't always sure how much and what their body needs. I still wouldn't advise my clients to count calories religiously as I prefer intuitive eating, however I do say that you have to be in calorie deficit in order to lose fat.
Of course, those who are new to nutrition will not know what the amount of calories they need looks like, so I would suggest calorie counting for one to two weeks to gauge an idea of how much food amounts to the amount of calories you need.
It has to be healthy food though!
Recently I filmed a YouTube video called the 5000 calorie challenge to show people the difference between healthy calories and unhealthy calories. I also wanted to find out what happens to your body after the eating the two different types of food.
In this 5000 calorie challenge, I ate 5000 calories of healthy vegan food one day, then 5000 calories of unhealthy processed food on another day.
I monitored, my energy levels, my bloat and how easy it was to reach 5000 calories with the two different types of food (see below above).
It was super interesting to learn just how hard it was to get to 5000 calories when eating healthy food – it was just so filling. However when I was eating the unhealthy food I would eat one packet of Oreo's and had already reached 1500 calories.
The point I am trying to make is learning about how many calories are in what is important, but once you get an idea, eat what you think your body needs and how much you think it needs.
#6 Find what foods work best for you and your body
I don't ever believe in cutting out food groups or any specific type of food, purely because it is against everything that I believe in when it comes to lifestyle changes and living a healthy and happy life.
If you do need to cut out a specific food, for example if you find that bread really bloats you, then I recommend replacing it with something else such as gluten free bread or oats, rather than cutting it out completely.
people need to learn what their body needs and what types of food work for them
One thing I say out loud at least once a week on social media is that carbs are not the enemy. In fact it's an ongoing joke in my house that I'm a walking carb. That's because I need carbs, everyone does for  energy, brain function and to be able to work out properly and effectively.
My diet consists of plenty of potato, sweet potato, brown rice, brown pasta. I still eat white rice and pasta but not as often as I find the complex carbs keep me fuller for longer.
I also eat plenty of fruit, veggies and fish, salmon is my favourite. The only thing I don't eat is meat and I haven't eaten meat for 15 years now. I stopped when I was 12 years old, and I have continued need for sustainability when it comes to plant-based eating.
I find that my body does well without meat, but this might not be the same for others. I personally think that people need to learn what their body needs and what types of food work for them and make them feel great.
If you know that eating pasta will make you feel groggy or bloated, don't give up on it completely, instead try alternative pasta or replace it with rice, quinoa or buckwheat and see how your body adapts to that.
https://www.instagram.com/p/B0tWfmzAR6v/
#7 Restriction is my biggest bugbear
When it comes to fitness I stand for making positive lifestyle changes that are gonna last and living a healthier and happier lifestyle without any restriction.
I see so many people sacrificing and restricting not just food but even going out and having fun. That is not what life is about. If it's your best friends birthday, go out and have fun. There is a time and place to think about calories, exercise and weight loss.
We have to learn to enjoy life and find a healthy balance at the same time or what is the point? Seriously. Plus the only way we can make long term changes is by enjoying what we're doing in the first place. If we restrict ourselves too much we are not going to be enjoying life and therefore will not stick to it.
We have to learn to enjoy life and find a healthy balance at the same time or what is the point?
I understand if you are wanting to look as good as you possibly can for your wedding day or for an upcoming holiday, that is absolutely fine and I support that.
But if you're trying to do that in a way where your significantly restricting yourself, even for a short period of time, you'll end up binge eating on holiday or after your wedding. I mean we've all been there right? That won't only affect your physical health and waist line, but your mental health too.
I like my clients to find a happy middle, where they can live a healthy lifestyle but also know that you can still have foods that are considered unhealthy every now and then, it won't ruin your progress.
It's about enjoying the journey and being the healthiest possible version of yourself while still living your best life!
https://www.instagram.com/p/Bwmzi61hzrp/
#8 Do NOT let the scales determine your progress
How do you perceive your progress and results? Well if you answered that it's how much you weigh – that needs to change.
Currently I am the heaviest I have ever been, but I am also the leanest I have ever been. Muscle is heavier than fat. So just because the scales tell me I am the heaviest I have ever been as see it as a reduction in body fat and an increase in muscle aka the leanest I have ever been.
Also, recently I had a client who looks the leanest she ever has, but she was talking about her weight and how from a medical point of view she would be considered overweight, even though she isn't. She has been so used to the scales as a marker of her health when in reality she is the healthiest she has ever been.
I want to stress the importance of falling in love with the feeling of being healthy
So if anyone out there is getting upset because you have put on weight even after killing it at the gym and sticking to clean eating, throw the scales out – you have gained muscle NOT fat. The aim is not how much you weigh, it's how you feel in yourself and how much muscle and body fat you have.
That is where progression pictures are the best way to measure results. I tell all of the girls who are doing my guide to take progress shots as they really are an incredible way of knowing how your body is changing, far beyond how much you weigh.
Again, I want to stress the importance of falling in love with the feeling of being healthy, and being happy that your clothes fit in a good way. It isn't about making yourself miserable and upset by seeing what is on the scales everyday.
https://www.instagram.com/p/B4aMdSoAseU/
#9 Home workouts will seriously boost your fitness confidence
I am a huge supporter of home workouts. Why? Because I think that starting off your fitness journey by working out at home is an excellent confidence boost, especially for women.
Women often say they are worried about going to the gym and looking silly or being judged and if you think that you are so not alone.
There are so many women in the same position, who were scared to begin their fitness journey due to those very reasons. But please don't worry as you have plenty of options other than the gym to help improve your health and fitness.
Sometimes I don't want to be judged at the gym or I am low on time to get to the gym
Home workouts are an absolute savior especially for mums who are putting their babies down for half an hour and being able to workout out efficiently while they sleep – it's a really safe place to be and not feel like your being judged.
I go to the gym myself but not all the time, because I'm the same. Sometimes I don't want to be judged at the gym or I am low on time to get to the gym in the first place.
That is why I created my programme that offers women the chance to improve their fitness from the comfort of their own home. The programme is in real time, so I am literally doing the workout with you, sweating with you, encouraging you and coaching you throughout.
I describe it as doing a fitness class in your living room. I will be telling and showing you how to do the exercises with the correct form, especially when it comes to improving core strength as a lot of my clientele are young mums.
More from LEAN with Lilly: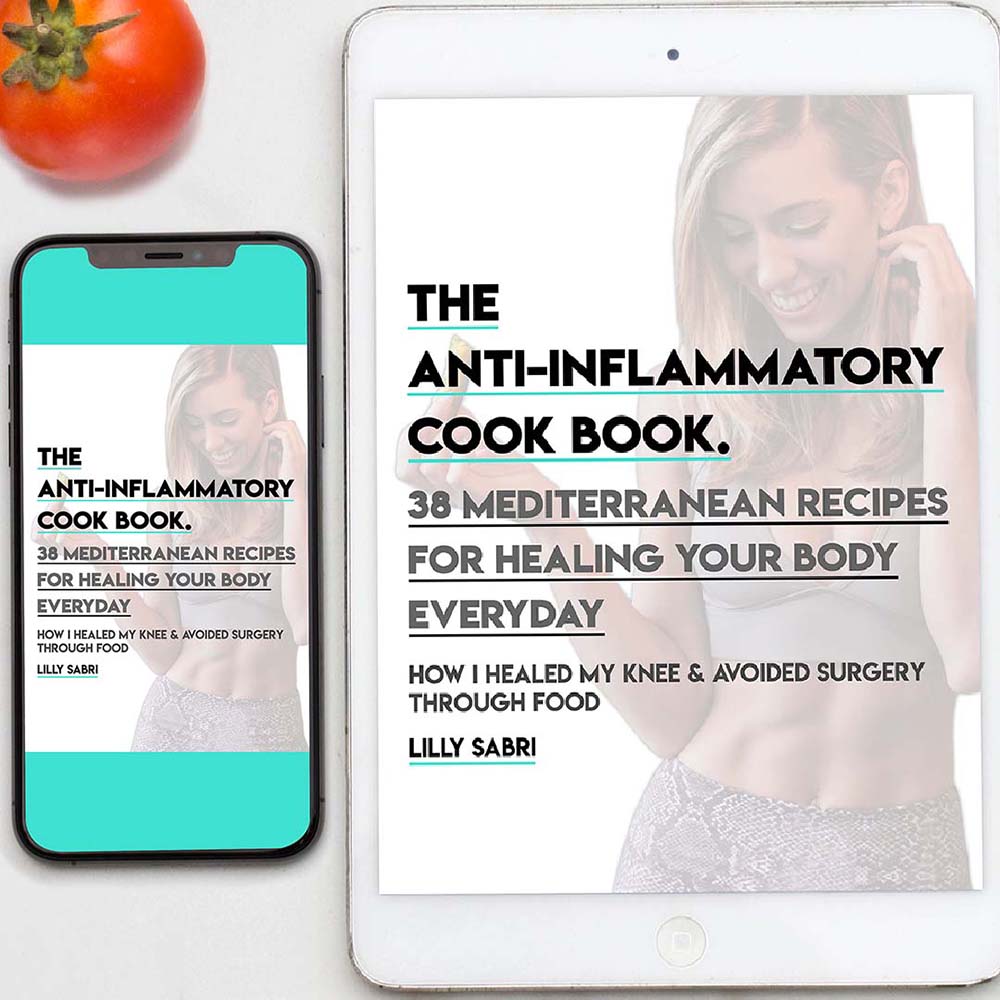 PRESALE: You will receive your eBook via email on the 17th March 2020.
Use code HEALTHISTA20 at checkout.
From fighting the dreaded bloat and inflamed skin, to healing your gut and injuries – decreasing inflammation is absolutely key.
This anti-inflammation cookbook contains 38 recipes to help you calm the inflammation in your body and heal from the inside out. The Mediterranean diet is widely known and recommended by health professionals.
After being raised eating and cooking a Mediterranean diet, Lilly shares her secret yet simple family recipes to help you live a healthier and happier lifestyle.
These are the foods that author Lilly Sabri eats on a daily basis.
You can purchase the LEAN Lifestyle Bundle, which includes: LEAN 4-week Beginner Guide, LEAN 8 Week Transformation Guide and the LEAN Cookbook at a bundle discounted rate.
Valued at £94. Bundle price for only £69 – Use code HEALTHISTA20 at checkout.
The LEAN Lifestyle Bundle has everything you need to achieve your health and fitness goals, we provide the workouts in Real Time, follow along format, the motivation, the recipes and foods you can eat to get the best results.
Including: the 8 Week LEAN Transformation Guide, LEAN Beginner Guide: 4 Weeks To A More Confident You and The Anti-Inflammatory Cookbook.
AND all of this can be done from the comfort of your own home with minimal equipment (just water bottles as weights is enough).
Relevant Healthista Content:
6 fat loss secrets Instagram fitness star Krissy Cela wants you to know
Nicole Scherzinger looks hotter than ever – her PT reveals 7 key tips
7 body hacks Instagram fitness star Chloe Madeley wants you to know
11 weight loss hacks this Instagram fitness star wants you to know – clue: they're not what you think
Healthista Content you may also like:
10 fat loss secrets I learned from doing a body transformation – and losing 17 inches!
How to lose body fat – the 9-step nutritionist's guide
I did a body transformation and lost 11 inches – this is what REALLY works for fat loss
9 weight loss hacks this celeb PT wants everyone to know
Like this article? Sign up to our newsletter to get more articles like this delivered straight to your inbox.