Need a workout you can do on holiday that you'll be motivated to sacrifice sunbathing time for? Check out these eight for every type of holidaying Healthista
On holiday, unless you're on a detoxing spa getaway with the promise of rejuvenation and a new lease of life, the chances are you'll be relaxing by the pool with a cocktail in hand and what I call an all-inclusive-food-baby. For almost a quarter of Brits, our holidays involve so much heavy drinking that we spend every day hungover. According to research on over 2000 people by sunshine.com, 76 per cent of people drink 'much more' on holiday than at home. This leads to them either recovering in their air-conditioned room, lazing on a sun lounger or for 13 per cent, drinking more (guilty!).
For almost a quarter of Brits, our holidays involve so much heavy drinking that we spend every day hungover
Whilst some find relaxation and solace in the form of a drink, others may be itching to get a holiday workout or two squeezed in (or perhaps both). No matter how small the resort room or how sweltering the heat, some people really do have #noexcuses. Whatever your intentions, you've searched 'best holiday workouts' for a reason, and whether you're strapped for time, destressing, desperate to get away from the family or, god forbid, living without wifi, Healthista have you covered. Check out these eight workouts to get the boozy blood flowing…
Best for little time – Healthista Fit HIIT app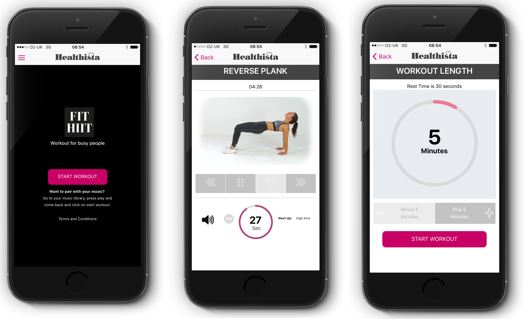 Healthista's new fitness app Fit HIIT is based on High Intensity Interval Training (HIIT) which has been scientifically proven to burn more fat in less time than long, slow workouts, while also boosting energy levels because it leads to the production of fat-burning hormones. It's created by trainer Kelly Du Buisson, Healthista's Fitness Director who is an expert in HIIT training. First, it teams with your playlist on iTunes, then you simply tell it how long you have (five-60 minutes) which body part you want to work – core, full body, upper or lower body and what level you are, then you're off. It's broadcast quality video and there's plenty of warning about the next exercise coming up with rest periods pf different lengths depending on your level. There are male and female models demo-ing it and when we chose them, we definitely had the eye candy factor in mind. You're welcome.
Healthista editor Anna Magee says: 'It would be disingenuous for me to say I am giving this an unbiased review as it's an app that represents a workout I have dreamt of most of my exercise life. I was far ahead of the HIIT curve, you see…I have always wanted a workout where you don't need any equipment, can play your favourite music, can workout at any level, always get something different and really feel you have sweated at the end. So I asked Kelly Du Buisson, my favourite HIIT trainer to design one for us. It includes over 350 moves and an algorithm that mashes up the moves into a different workout each time, so you never get the same workout sequence twice. There are no annoying in-app purchases (my pet hate – just a one off cost of £2.99 you will never have to pay again, however many upgrades we do) and it's all high/low intensity so you'll get body weight low impact moves such as bridges and push ups, lunges and squats before and after burpees, high knees and more high impact stuff. The result is a workout that whatever level you do, you really sweat and tone. We have had case studies on it in the office and one guy has lost two stone in six weeks doing ten minutes a day and replacing a meal with Healthista's Diet Protein. This is a workout that is designed for busy people who have little time they can devote to training, but can do it often. Do it daily for 5-10 minutes on your holidays and you'll set your metabolism on fire for the rest of each day. Good news for the food-baby buffet.'
Healthista Fit HIIT is £2.99 from iTunes
Best for toning – Dalton Wong Mini-band workout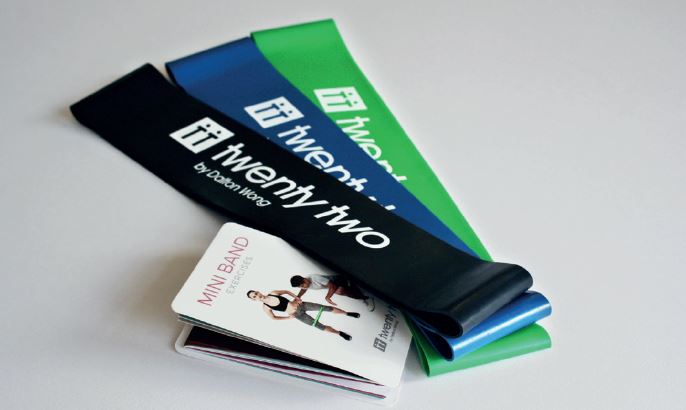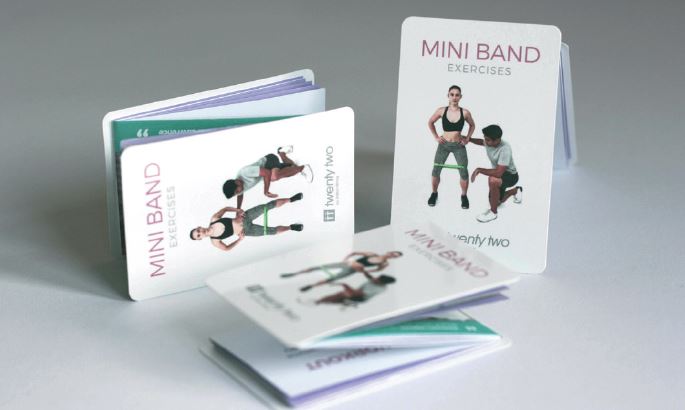 Anytime, anywhere. That's exactly what leading personal trainer Dalton Wong, owner of London's Twenty Two Training gym, had in mind when he created the Mini-Band workout. With celebrity clientel, including Jennifer Lawrence, Kit Harrington and Alice Eve, Dalton needed an effective way of keeping people fit even if it meant catching them for 15 minutes on a film set (with their character costumes on!).
The pack comes with three resistance bands and a fold-out programme with three workouts – one for posture, lifting the bum and chest whilst pulling the shoulders back and down; fat burning to melt fat and sculpt the body; and toning to target the bum, hamstrings and strengthening the back. The circuit training plan targets those all too familiar problem areas: the bum, thighs, stomach and arms (AKA, this is total body conditioning). In such a small portable packet, it can be easily slot into a suitcase or even hand luggage. It's the perfect way to add some resistance to what would be a bodyweight workout. Forget dumbbells – a little tension goes a long way.
Healthista writer Parisa Hashepour says: 'I usually struggle to workout at home as I have very limited space available but as all I needed was the resistance bands and a small amount of floor, this was easy to do in my bedroom – it really is the perfect hotel room workout. Minimum space and equipment is needed. I hadn't done much training with resistance bands before but I found that I really liked working with them. I particularly liked the posture exercise as I could really feel it working my lower back muscles, an area that rarely gets much attention. The workouts were straightforward and switching up the exercises kept me engaged. This was a fast and effective workout that surprisingly had me feeling the burn the next day.'
The Mini-Band workout is £30, available here
It's not surprising some need more motivation to workout over their holidays. With the website Jump and Juice, live classes will keep you accountable of putting your gym clothes on at 7.30pm for an abs blast class (unless you are across the globe – the time difference may be an obstacle).
The subscription based website posts five new home workouts every week, normally half an hour, with qualified personal trainers. Filmed live from their own houses, the workouts will only ever utilise the same sort of space and equipment you would have yourself. The timetable uses a rotation of HIIT, weighted workouts, yoga, Pilates and abs, making sure things are different every day. Log in with your phone, tablet or laptop to stream a workout, or if the wifi (or your commitment that day) is dodgy, all the workouts are available on demand.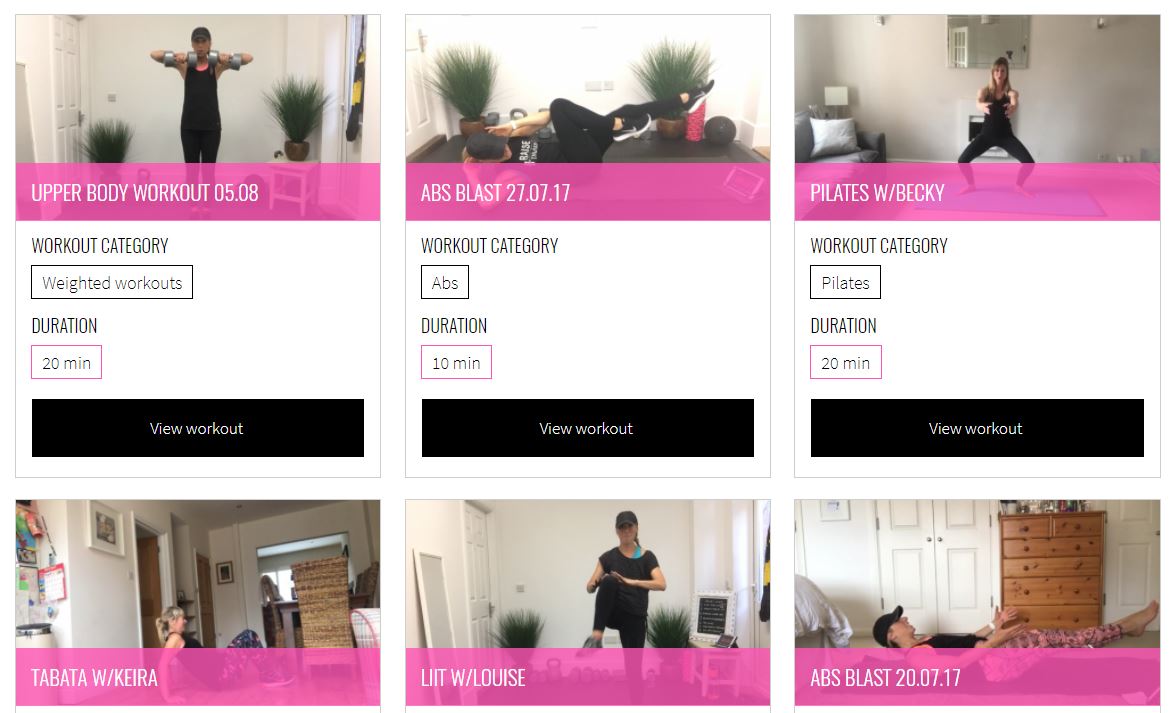 On sign up, you receive a two week free trial followed by a rolling £5 a month subscription – bargain! On top of the daily workouts, you receive a six week detox plan and a weekly recipe to keep you motivated. If you're in need of some moral support, you'll find friendly support on their Facebook community to keep your health goals in check whilst holidaying.
Healthista writer Vanessa Chalmers says: 'Water and dumbbells at the ready, I logged onto the website for a full body weights class with the founder of Jump and Juice, Louise Condon. She was full of beans for the class – just what you need when you're lacking in motivation yourself. The class was just over half an hour, consisting of four rounds of seven different exercises – lunges with bicep curls, squats with an overhead press, and press up with row are the sort of things to expect – and exactly what I enjoy!
Having someone else there (and in real time) made working out a lot less boring and I realised I was challenging myself more. The workout becomes more fast paced towards the end, and I was fully out of breath transitioning between moves. A workout that tested every muscle group left me feeling energised and accomplished. If I were to use this every day I am sure I would benefit from shaking up my routine with these classes'.
Jump and Juice is £5 a month. Sign up here.
Best for destress (and budget yoga) – YogaGlo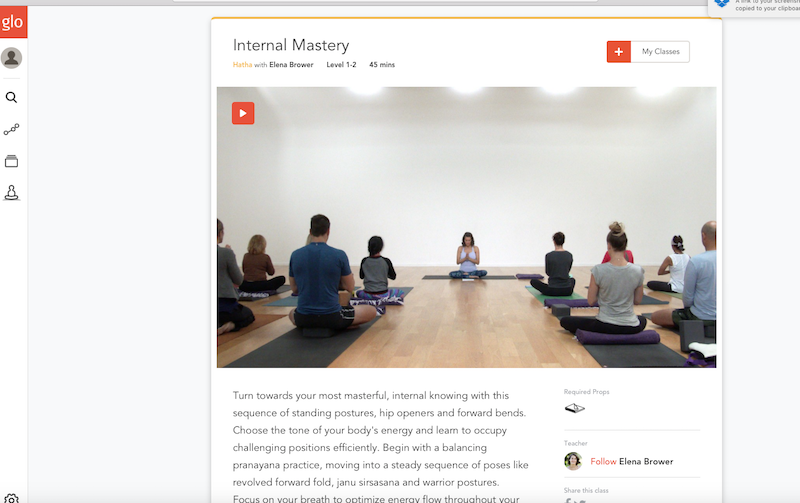 YogaGlo offers over 4,000 professionally-filmed online yoga classes taught by experienced, certified yoga teachers to customers around the world. We believe that yoga should be accessible to everyone and our classes are designed to give you an in-studio experience, at an affordable price, in your own home. Yoga is ultimately the lifelong process of investing in the quality of our condition; our intention is to empower people around the world to engage in this process.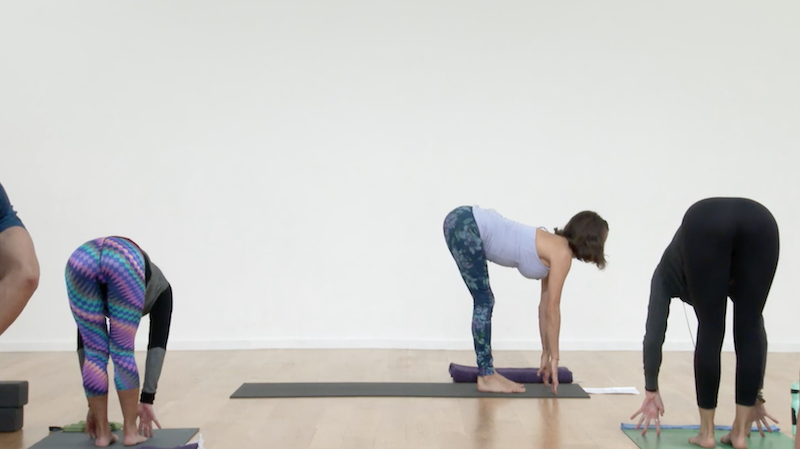 Our classes are taught by world-class, experienced, and certified teachers who embody yoga and teach with an intimate understanding of the classic yoga texts and various yoga traditions, whose devotion, lives and teachings are their art.
Healthista Editor Anna Magee says: 'Yogaglo.com is my go-to morning yoga centre. I literally can't live without it. With what seems like hundreds of classes of yoga to choose from in every kind of style and flavour you can think of – meditation, Iyengar, tonnes of vinyasa flow, Kundalini, yin, Ashtanga – literally, people this is pure, unadulterated yogi paradise. What I love most is that these are America's best teachers and they have joined Yogaglo from New York, San Francisco and Los Angeles, where the studio is based, so you're guaranteed an amazing teacher. Some of the big name teachers and those whose classes I am addicted to include Elena Brower, Marc Holzman, Rod Stryker and Noah Maze as well as the world famous Jason Crandell. But naming only those is doing an injustice to the other teachers on there because I find they are all at such a high level that whenever I try a new one, I am always satisfied. For around 15 quid a month – which is less than you pay for one yoga class at some London studios – this is the best money you will  spend on yoga. From a holiday perspective, while you need an internet connection to run the yoga videos, there is also a YogaGlo app that comes with the membership that allows you to download ten classes at a time. I went away in July to the mountains of Greece where Wifi is something you put on your souvlaki, and I didn't have to miss my classes. in fact, doing yoga in those surroundings was pure bliss.
YogaGlo is $18 a month, after a 15 day free trial
Healthista is all about making sure being healthy is accessible for everyone. So if there is no room in your suitcase to squeeze some resistance bands, or even time in your day to squeeze in a session, our YouTube has a host of short and simple videos. In the lead up to your holiday, the 30 day plank challenge, 30 day HIIT Challenge, 30 day bikini challenge, 30 day squat, abs or arm challenges are going to be your go-to (each no more than 5 minutes a day). Or try the couple workouts if you can convince your partner to get involved.
But for a more intense workout, the Sweaty Thirty series, for example, was designed for Healthista by Helle Hammonds to get you drenched in sweat but without any equipment needed. Helle founded fitness studio GymClass in 2014 to encourage people to see exercise as a means to become stronger with lean muscle and a happy healthy life, as opposed to those striving daily for a tiny figure. Helle puts her expertise for fat burning and muscle sculpting into practise with the Sweaty Thirty workouts, all whilst keeping you pumped with her infectiously bubbly vibe. Who said you need a gym to get fit?
Healthista's Vanessa Chalmers says: 30 minutes – that's all I had to push through today to get my workout fix. But the time flew by with Helle, who's passion made my reluctance seem laughable. I did the upper body workout, which was broken down into three sections. Each section consists of three exercises, repeated three times. Pike push ups to triceps dips made my arms kill, but I was determined to keep up with the extremely hot and glamorous former PT on my screen – who, by the way, screams in agony as she works. That kind of commitment pushes me to work to my maximum too. If she could do it, why couldn't I? The end of the workout saw a killer finisher of four minutes cardio. If that doesn't set you up for a well deserved day of poolside chilling, I don't know what will.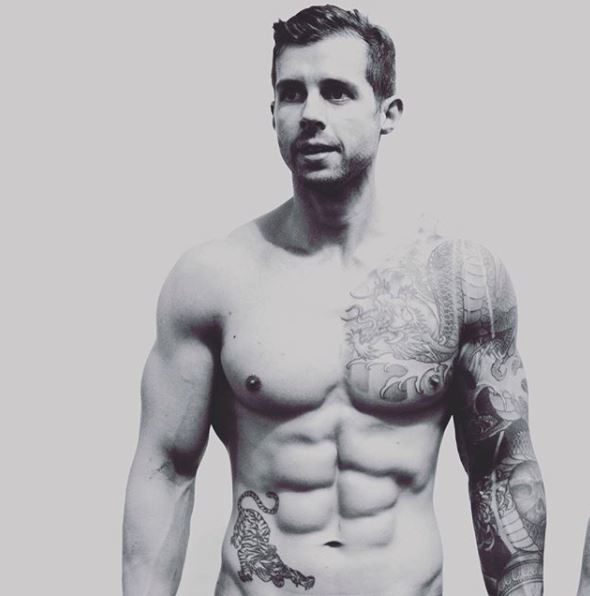 Ahh, the luxury of a fully functional gym on your holiday. But without a PT, class instructor or workout plan – how can you use this alien gym to your advantage?
The training plans from David Kingsbury's BetterSelf website make full use of equipment to push you to your maximum for 45 minutes or so whilst other hotel guests grab their continental breakfast. David has been a personal trainer for Blockbuster actors for the past five years, whipping them into shape sharply in time for Hollywood roles (we're talking Hugh Jackman, Michael Fassbender, Jennifer Lawrence and Chris Hemsworth to name a few). Now, David's top of the range expertise are channelled through the BetterSelf nutrition and training system for every day customers.
On sign up, you are asked for your current weight and measurements, how many hours of exercise you do and your goal. Following this, a personalised plan is designed for you with the most effective progression. Nutrition is adjusted based on your suggested calorie/macro count, making sure every recipe (and there are hundreds) is within your goals. And there isn't just one training guide to follow – but 40 to chose from. All have been written by David to achieve maximum results – whether that's fat loss, muscle gain or generally stronger. Chose from weight training, cardio, total bodyweight and flexibility workouts to download as a PDF (two pages or less). Take them on holiday and you are good to go.
Healthista editor Anna Magee says: 'I had a personal trainer for about 18 months who used to charge me £564 a month and only worked out of a gym that cost me an additional £80 a month. That's a lot of money to spend on getting fit. And, whilst I know this isn't a story about saving money or budget workouts, I do have to say that this programme's fitness sessions – there seem to be hundreds to choose from – are better than any session I had with a trainer and at £40 a month instead of over £600 I am now both fit and no longer poor. You can choose to do split routines where you do leg day, arm day, back day etc with different workouts or do full body a few times a week. The workouts are all delivered via PDFs you can download. I went low-tech and printed them out and took them with me on holidays and used them in the hotel gym. But I found the workouts so good, I have continued with the programme. I have always wanted to do split training and so downloaded some of the many leg day, arm day, back day and shoulder day workouts. Hugely challenging, yet with moves that were reasonably familiar, they tell you exactly how many sets, reps, weight and how much rest you need, so nothing is left to you. The only downside was that the moves are listed, without pictures so you might have to Google some of them. Just to say though, they are given exactly the same way my own trainer used to give me my programmes so it's no less than you get from a personal trainer you're paying. I just love these workouts though – they're so challenging and you get to utilise the equipment only used in the gym by people who really know what they're doing.  Plus, there are so, so many amazing clean eating recipes on there to go with the programme, that you literally have everything you need to get A-List fit for £40 a month.
BetterSelf is a subscription service at £40 a month
Best for a low intensity workout – Asana Rebel (fitness yoga)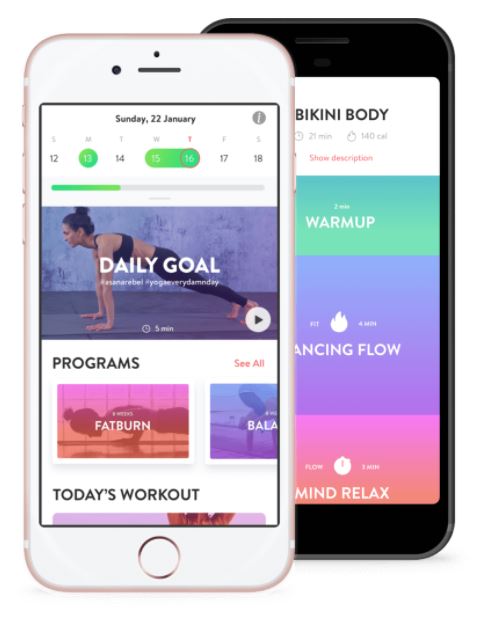 There is a high chance you don't want to beating up your body with rigorous workouts whilst on a break. Asana Rebel incorporates the holistic training of yoga with interval training, making it the perfect middle ground for those who need a workout and to escape every day life, too. It's as calming and invigorating as it is effective for strengthening the muscles, increasing flexibility and burning fat.
With the cardio workouts, Asanas are repeated in quick succession with short relaxation phases. Strength workouts consist of holding a number of different Asanas for five breaths, and the flow workouts are a sequence of Asanas which are carefully matched to each other. You can chose the workout, the music, and for how long you fancy working out. A coach's voice guides you through, previewing what move is up next to keep you on track. You'll also get a '5 minute workout essential' every day to keep you moving.
There is a great sense of achievement with the app
In the long term, Asana Rebel offers programmes that have been created for goals such as fat burn, core strength and for busy mothers, ranging from four to eight weeks. But whilst on holiday, the workouts are downloadable to your phone, making them easy to access when away from WIFI. Whack it out in your hotel room or even the airport if you are brave.
Asana Rebel is £12.66 a month for 3 months, or £4.92 a month for 12  months, available for iPhone and Android. 
Healthista reader Jess Hopcraft says: 'The app is great for getting a tailored and flexible exercise. I can choose between a quick six minute morning session to a 20 minute flexibility workout, or a combination of two or three! There is always a preview for each workout in a set (which you can disable) meaning there's no scrambling to see your phone whilst you're trying to do a new pose- this is a great plus for me!
The profile page shows how many work outs I've done, my consecutive daily 'streak' and if I lean towards strength, focus or cardio so I know where my preferences lie.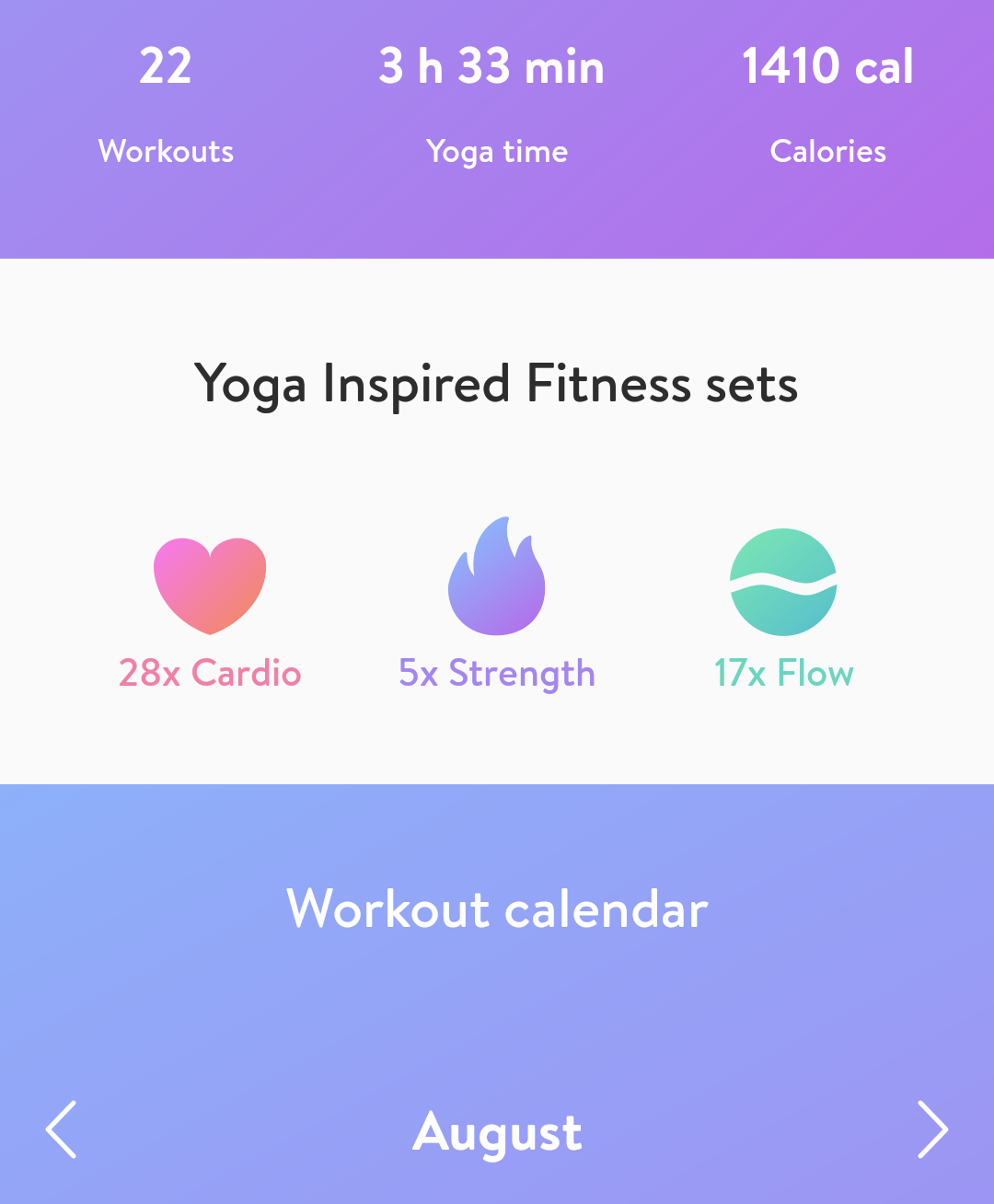 There is a great sense of achievement with the app; the coach really encourages you along without being patronising. I feel empowered for completing a work out- especially when the coach congratulates you. I am usually tired out too; it definitely works up a sweat and gets your heart pumping'.
Asana Rebel prices start at £12.66 for 3 months subscription, but there are free videos too. 
Best for workout against the clock – Yanar's no equipment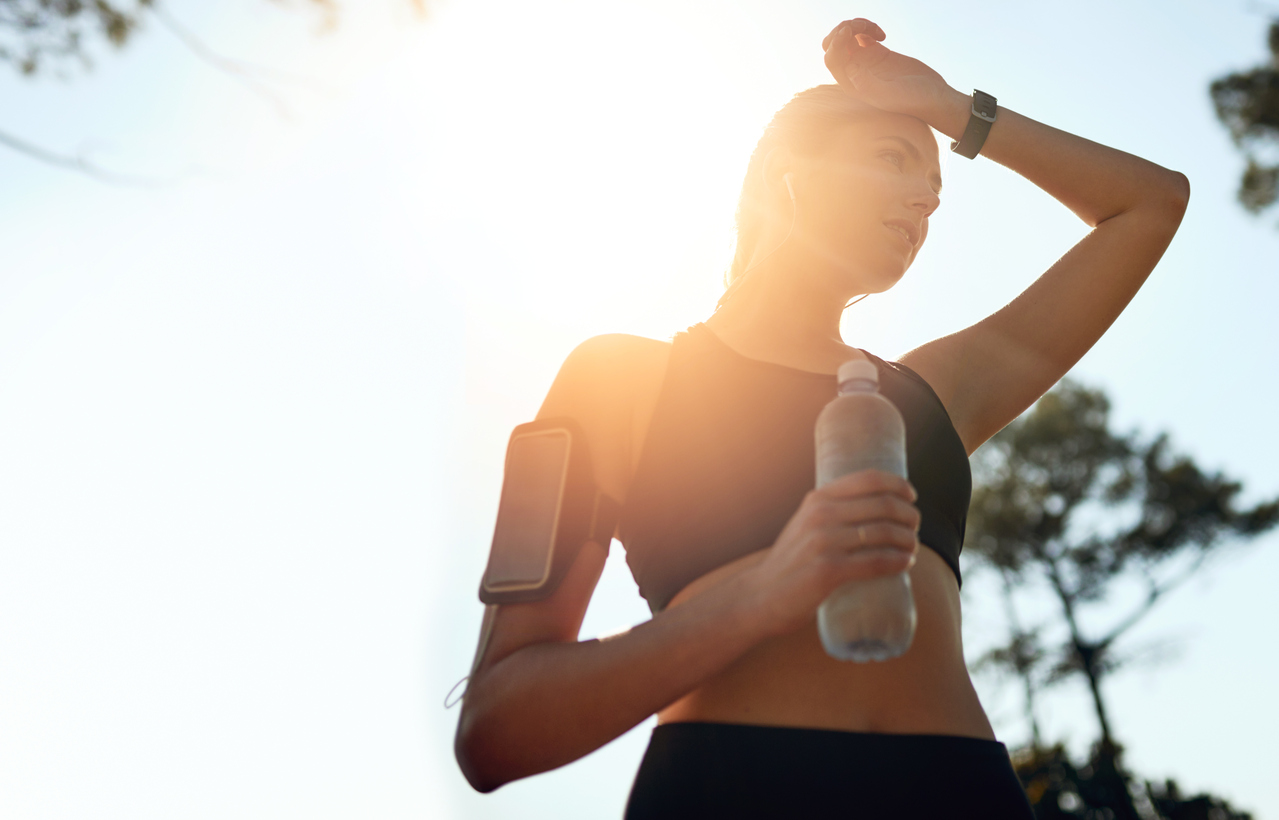 Healthista's digital director Yanar Alkayat is also our Crossfit queen. Yanar devised these 13 Crossfit inspired no equipment workouts to balance out the cocktail calories and clear away the cobwebs. The sequences on this list targets the whole body, strength, mobility and cardiovascular power in one swift session. No corner will go unturned, with a mix of high intensity and strength exercises making it super efficient.
The workouts use 'for time' as a measurement. This means you need to work as fast as possible to finish the workout. Yanar says this pressure creates more intensity and a higher volume of reps. You can then repeat your workout another day to see if you can beat your time (although sore muscles will definitely put you out the game for a couple of days).
The other workouts use AMRAP, which means 'as many rounds or reps as possible', for example a 20 minute AMRAP of 4 different exercises. This creates a sense of urgency. Having a rep scheme to work to – rather than simply working for 30-seconds – contributes to a more effective session. Yanar believes you push harder to finish, making these workouts short, sharp and very sweaty.
Healthista Hint: When you see 100 reps, break it up which ever way you want. So I did 10 rounds of 10 for workout #2. Five rounds of 20 is also doable, although you might find you slow down on the burpees if you have to do too many in a round.
The workouts:
#1. For time: 100 burpees
#2. For time:
100 push ups
100 squats (hip crease below knee)
100 burpees
#3. 10 rounds for time:
10 pushups
10 sit-ups
10 air squats
#4. As fast as possible for time: – this is a great warm up workout
21 air squats (hip crease below knee)
21 pushups
15 air squats
15 pushups
9 air squats
9 pushups
#5. 8 rounds for time:
#6. For time: 
75 air squats
50 pushups
25 burpees
#7. 10 rounds for time:
10 air squats
10 pushups
10 situps
10 dips
For the rest of these workouts, go to Yanar's blog site A Brighter Shade Of Green
Good luck!
Have a holiday workout you stick to? We want to know! Tweet us @HealthistaTV or write on our Facebook page @Healthista
READ MORE
How to stay healthy on holiday – the nutritionist's guide
Celebrity trainer secrets: The PT that keeps Ibiza party go-ers in shape with this workout
The healthy holiday where fitness meets coastal luxury
10 best workout channels on YouTube
The 45 minute athlete's workout by heptathlete Katarina Johnson-Thompson
30 minute fat-burning workout for abs – new Sweaty 30 series
Like this article? Sign up to our newsletter to get more articles like this delivered straight to your inbox.