As part of our Hemsley & Hemsley special, we bring you three healthy recipes from the sisters that are as indulgent as they are good for you
MORE: The Hemsley sisters' real-life good diaries
The breakfast:
HUEVOS RANCHEROS WITH GUACAMOLE
https://www.youtube.com/watch?v=gCcrWmTj_U4&feature=youtu.be
SERVES 2
4 large handfuls of
spinach, roughly chopped
4 eggs
1 large handful of fresh coriander,
leaves and stalks, roughly chopped
1 small handful of grated mature
Cheddar
FOR THE TOMATO SAUCE
1 large onion, diced
1 tablespoon ghee or coconut oil
2 garlic cloves, diced
2 red peppers, halved lengthways, deseeded and sliced into strips
2 bay leaves
1 teaspoon
smoked paprika
A pinch of cayenne pepper or finely diced fresh red chilli, to taste
2 x 400g tins of tomatoes or 800g
Fresh tomatoes
200ml water (100ml if using fresh tomatoes)
Sea salt and black pepper
FOR THE GUACAMOLE
1 large ripe avocado
1 tablespoon extravirgin
olive oil
Juice of ½–1 lime
2 spring onions or
1 small handful of fresh chives, chopped
1 handful of fresh coriander leaves, chopped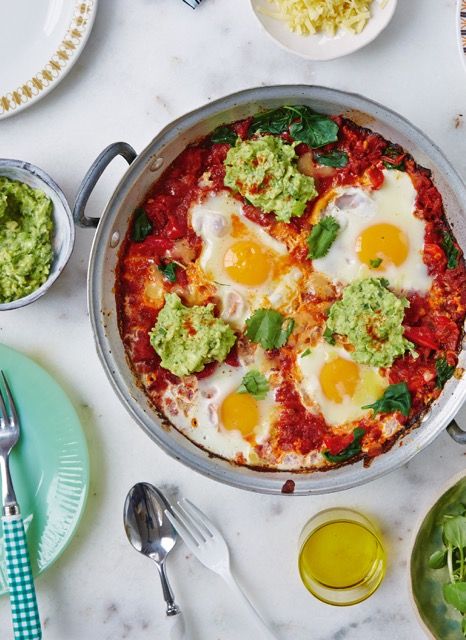 Method
1 First make the tomato sauce. Fry the onion in the ghee or coconut oil over a medium heat for about 8 minutes, stirring occasionally, until softened.
2 Add the garlic, peppers, bay leaves and spices to the pan and cook for another 2 minutes.
3 Add the tomatoes and water, season generously with salt and pepper, then stir everything together and leave to simmer for 10 minutes until reduced to a thick, rich sauce.
4 Meanwhile, make the guacamole. Halve and stone the avocado, then scoop out the flesh and roughly chop. Place in a bowl and stir in all the remaining ingredients and some seasoning. Set aside.
5 Check the seasoning of the tomato sauce, adding extra salt, pepper and cayenne/chilli as needed, then stir through the spinach and cook for a few minutes until just wilted.
6 Use a spatula or spoon to make four wells in the tomato sauce mixture and crack an egg into each. The eggs will poach in the sauce and cook in about 4 minutes (lid on) for set whites and runny yolks.
7 Scatter over the coriander and cheese. Serve immediately (as the eggs will keep cooking) with big heaped spoonfuls of guacamole on top.
The bread alternative:
FLAXSEED BUNS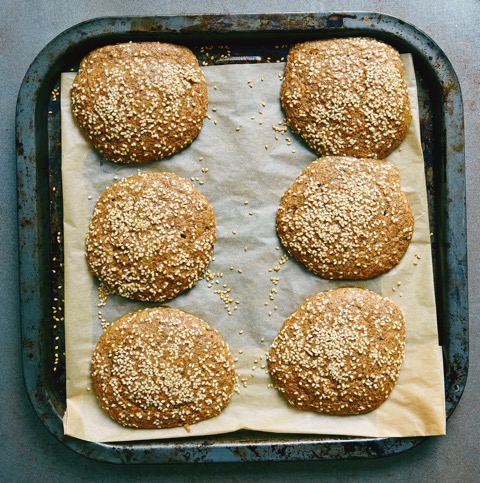 MAKES 6 BUNS
150g ground or
whole flaxseeds
1 teaspoon bicarbonate of soda
Just under a teaspoon sea salt
A pinch of black pepper
3 eggs, beaten
Tablespoon of Maple syrup
2 tablespoons lemon juice or apple cider
Vinegar
3 tablespoons butter or coconut oil, melted
3 tablespoons water
Teaspoon dried herbs (such as thyme) or bruised fennel/caraway seeds (optional)
1 tablespoon white, sesame seeds, for sprinkling (optional)
Method
1 Preheat the oven to fan 180°C/Gas Mark 6 and line a baking tray with baking parchment.
2 Mix the dry ingredients together in a bowl using a fork. Beat in the remaining ingredients (except the sesame seeds) and leave the batter to rest for 5 minutes to thicken up. If using whole flax seeds, mix with just the water and beaten egg first then allow to stand and thicken for 30 minutes before mixing with the rest of the ingredients.
3 Take 4–5 tablespoons of batter and shape into a bun with your hands. Place on the prepared baking tray and use wet hands to shape/smooth the top and to press down lightly so that the bun is 5mm–1cm thick. Repeat with the rest of the batter, sprinkling the tops with the sesame seeds (if using) and gently pressing them in.
4 Bake in the oven for 20–22 minutes until the buns spring back to touch.
5 Remove from the oven, transfer to a wire rack to cool completely, then slice in half and fill.
The sweet treat:
TAHINI DATE FRIDGE FUDGE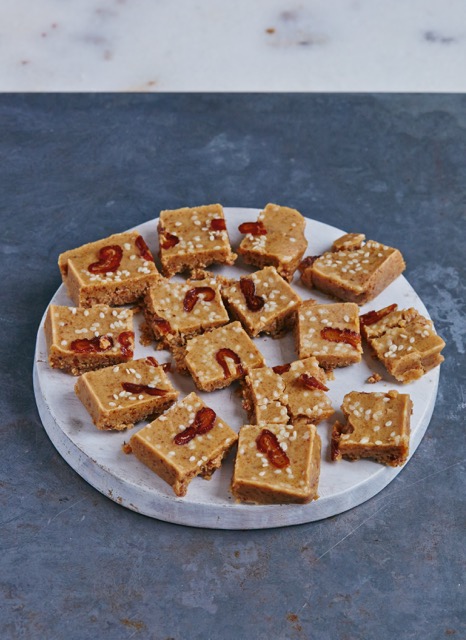 (MAKES ABOUT 18 FUDGE SQUARES)
85g (about.mugful) of pitted dates (chewy dried dates rather than the larger soft ones), or to taste 110g(about.mugful)
Light Tahini (make sure it doesn't contain emulsifiers – see intro above)
2 tablespoons of coconut oil, at room temperature, or extra-virgin olive oil
Sea salt flakes
1 tablespoon white sesame seeds or desiccated coconut, to decorate (optional)
Method
1 Line a small baking tin – about 11cmx 17cm– or similar-sized container (we use a glass lunchbox) with baking parchment.
2 Slice one of the dates finely and set aside to decorate the top of the fudge. Place the rest of the dates in a food processor with the tahini, coconut oil or EVOO and 1⁄8 teaspoon of salt  flakes and blend to a smooth, thick paste. Taste and add more salt if desired.
3 Transfer the mixture to the prepared tin and use a spatula to press the mixture down evenly.
4 Decorate the top with the date slices and a sprinkle of sesame seeds or desiccated coconut (if using), pour over any leftover oil from the food processor and press down gently.
5 Freeze or chill in the fridge until firm – about 15 minutes in the freezer and 30 minutes in the fridge. Slice into squares, then store in the fridge or freezer.
Eat chilled/frozen straight from the fridge/freezer.
TIPS You can upgrade to the more nutritious dark tahini which has a bitter flavour, if you like. This keeps really well in the fridge or freezer, so make double! It tastes delicious frozen too…
Get the Jasmine and Melissa Hemsley's new book Good + Simple, here for £12,00