Heather Thomas, founder of The Mindful Kitchen promotes environmental sustainability through transforming the ways we eat. Her new book includes hundreds of vegetarian and plant-based recipes that combine eating and mindfulness
The new wave of cooking is all about creating nourishing seasonal food that doesn't harm the earth, says Heather Thomas who founded The Mindful Kitchen in 2016, a community dedicated to transforming the ways that people eat.
At it seems at least some of those in power now agree.  This week, the United Nations Integovernmental Panel on Climate Change (IPCC) released an in-depth report on how high consumption of meat is linked to global warming. They say adopting a plant-based diet can in fact fight climate change.
Thomas' new book, The Mindful Kitchen, combines vegetarian and plant-based recipes with philosophical insights and mindfulness tips.
If you want to develop eco habits in the kitchen and reduce your waste, this may be just the book to help.
We chose three vegan recipes to get you started on the journey.
Vegan recipe #1: Savoury pickled plum and kale salad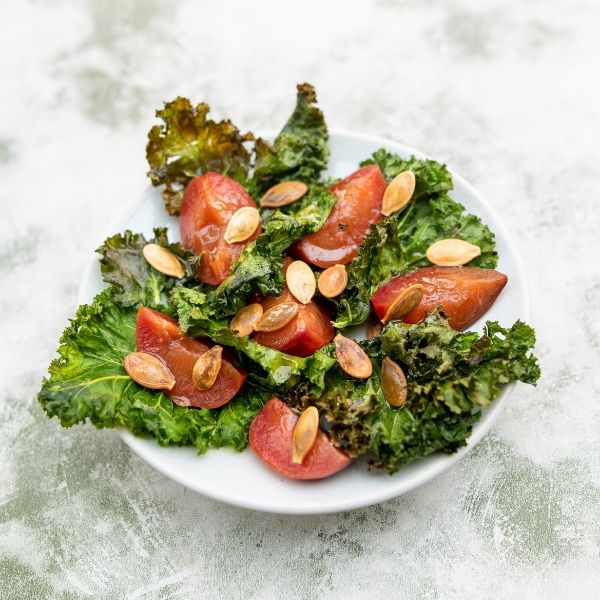 This recipe weaves in a few pickling skills and pairs hardy kale with the ripe plums of late summer for a tangy meal. I like to serve it as a main with a big spoonful of hummus, or a couple of slices of cheese or some tofu.
Serves: 4
Ingredients:
For the pickled plums:
100 ml/3 ½ fl oz water
100 ml/3 ½ fl oz red wine vinegar
100 g/3 ½ oz sugar or maple syrup
Pinch of salt
8 plums, pitted and quartered
For the salad:
12 large curly kale leaves, central woody stems removed
2 tablespoons extra virgin olive oil
Salt and pepper
Roasted pumpkin seeds, to garnish
For the dressing:
2 tablespoons pickling liquid
3 tablespoons extra virgin olive oil
1 tablespoon maple syrup
1 teaspoon fresh thyme leaves
Pinch of salt and pepper
Method:
1. Put the pickling ingredients, minus the plums, in a small saucepan and heat until the sugar has dissolved. Remove from the heat, add the plums, coat in the liquid and set aside for 30 minutes.
2. Preheat the oven to 200°C/fan 180°C/gas mark 6. Massage the kale leaves with olive oil for 10 minutes to break down the cellular structure, making the leaves more chewable. Put the kale on a baking sheet in a single layer, season, and place in the oven for 4 minutes, flip and bake for a further 3 minutes to crisp on both sides.
3. Make the dressing by combining 2 tablespoons of the pickling liquid with the other ingredients, whisk and season.
4. Pile the kale leaves, plums and dressing on serving plates and sprinkle with pumpkin seeds.
Vegan recipe #2: Roasted beetroot and pistachio dip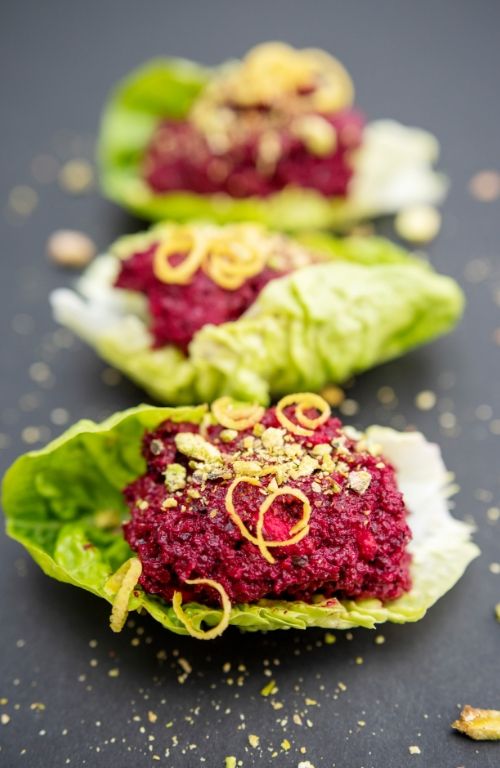 This dip brings a splash of regal reddish-purple to a picnic, and with it a reminder that your senses can trigger your instinctive ability to read the language of nature and reinforce your sense of self as a collaborator in the web of life.
Serves: 10-12
Ingredients:
6 beetroots, peeled and cut into bite-sized pieces
3 garlic cloves
2 tablespoons olive oil
100 g/3 ½ oz pistachio nuts (shelled weight)
Zest and juice of 1 lemon
2 tablespoons tahini
Handful of chopped mint leaves
Salt and pepper
1–2 tablespoons cold water
Method:
1. Preheat the oven to 200°C/fan 180°C/gas mark 6. Put the beetroots and garlic into a baking dish and drizzle with the olive oil. Cover and roast until tender, about 40 minutes. Remove from the oven and leave to cool.
2. Meanwhile, shell the pistachios and enjoy a few mindful moments to consider the purpose of colour in nature as you work. Why do you think pistachios and beetroot have such signature colours?
3. Put the cooled beetroot and garlic, including any oil and juices, into a food processor with the lemon juice, tahini, mint, most of the pistachios and a pinch of salt and pepper. Process and add a tablespoon or two of water to make it smoother if necessary. Place in a serving dish, or simply pile onto lettuce leaves, and add the remaining few chopped pistachios and the lemon zest for a contrasting colour sensation.
Plant-based recipe #3: Rhubarb-marinated tofu steaks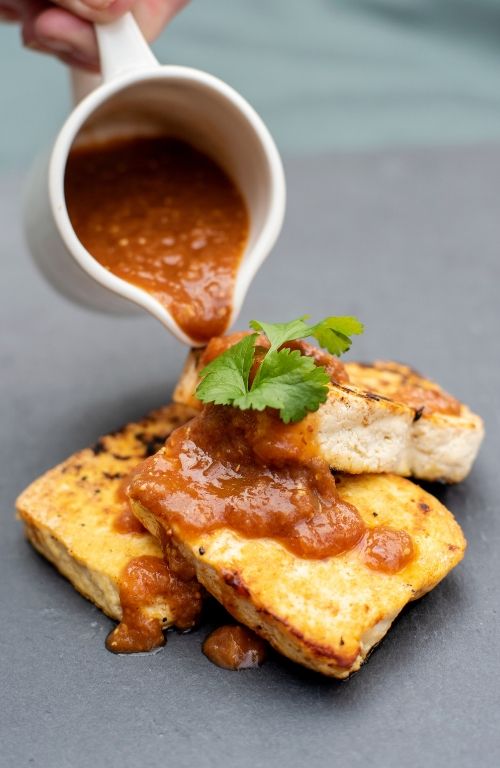 Here is a meatless barbecue recipe that highlights one of the most robust vegetables to be harvested in spring, rhubarb. It marries well with spices and soy sauce to make a suitably tangy marinade.
Serves: 4
Ingredients:
550 g/1 lb 4 oz firm tofu
For the marinade:
1 tablespoon olive oil

1 small onion, chopped

2 garlic cloves, minced

3 large rhubarb stalks, chopped

4 tablespoons tomato ketchup

2 tablespoons water

1 tablespoon apple molasses or maple syrup

2 teaspoons wholegrain mustard

1 tablespoon soy sauce

1 teaspoon cumin
Method:
1. Cut your tofu into 8 chunky slices, about 1.5 cm/⅝ inch thick. Set aside.
2. Warm the olive oil in a frying pan, add the onion and cook for 3 minutes over a medium heat until softened. Add the garlic and cook for 1 minute. Add the rhubarb along with the rest of the marinade ingredients. Bring the mixture to the boil then simmer for 15 minutes. After the rhubarb has softened, allow the mixture to cool slightly then blend to the consistency of a sauce and cool.
3. Coat the tofu steaks with the sauce and marinate for at least 30 minutes. The more marinating, the more flavour soaks into the steaks. Gently warm the steaks in the marinade until heated through.
4. Alternatively, heat a heavy frying pan or an unridged cast-iron griddle pan and grill the steaks for a minute or two on each side, gently warm the remaining sauce and pour it over the steaks.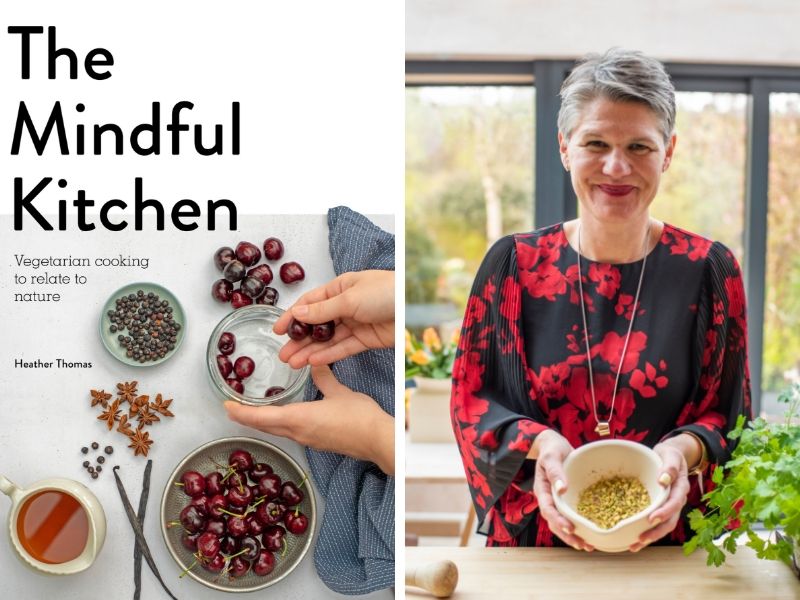 All recipes have been extracted from The Mindful Kitchen by Heather Thomas (2019, Leaping Hare Press, £20).
The Mindful Kitchen will be available to purchase in October. You can pre-order a copy of the book here.
Visit themindfulkitchen.org for more information about how to eat mindfully.
Vaguely relevant Healthista content:
5 healthy recipes to help balance your
3 healthy recipes using CBD oil – yes CBD oil
15 easy mushroom recipes for a tasty antioxidant boost
Healthista content you may like:
13 healthy eating tips from Chris Hemsworth's personal chef
6 healthy vegan recipes from the best new plant-based cookbooks
11 healthy recipes these peanut butter obsessed influencers love