Healthy, tasty snacks that are also under 100 calories – is that even possible? Yes, and the Healthista team have become experts in tracking them down – Marie Pan rounds up our favourites 
Often, snacking can be the downfall to one's weight loss progress. Whether it be mindless snacking (of lots of 'healthy' foods – there's over 600 calories in that tub of hummus) or not realising how many calories are in, say, one protein bar (and there can be up to 400 since you ask), snacking can lead to a steep increase in your daily total calories.
The trick is to snack smart. Many foods can be more calorie dense, so they have a greater number of calories in a given volume or weight. In simpler terms, this means that they can be high in calories but not at all filling.
Therefore, focusing on low-calorie but nutrient-dense and high fibre foods allows you to eat a larger amount of food while consuming fewer calories.
Snacks under 100 calories don't have to be just leaves and celery sticks though. And less calories certainly doesn't equate to less flavour.
In fact, along with the cheap and easy 100 calorie snacks in your kitchen, new health brands are finally getting the message and creating go-to snacks that are healthy, tasty and light in calories.
As a result, the Healthista team – snacking monsters that they are (something has to fuel all this great content we bring you daily) – have become a collective authority on the 100 calorie snack.
These are our current go-to favourites.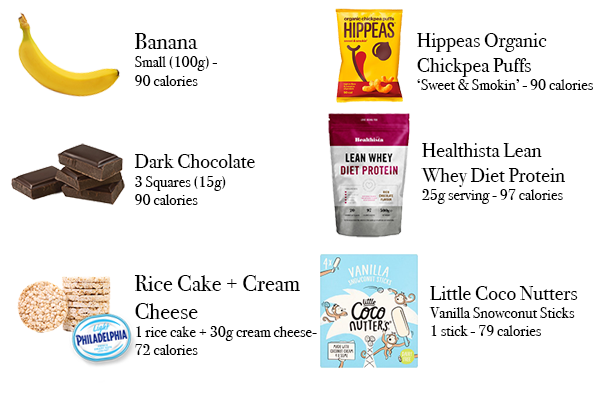 1. Banana (small) – 90 calories
Despite being a simple snack idea, a banana is a great source of natural sugars, fibre and potassium. The carbohydrates and sugar in bananas help boost your glycogen (glucose fuel stored in your muscles) stores and blood sugar levels and the potassium helps your muscles move. This is why a banana is a perfect pre-workout snack as it provides the energy you need to perform at your best. The optimum time for a pre-workout snack is 30 minutes to an hour before you exercise, as potassium is only stored for a limited amount of time in the body.
2. Dark Chocolate (3 squares, 15g) – 90 calories
Three squares of dark chocolate (at least 70 per cent and up) come in at 90 calories. It is superior to milk or white chocolate because, despite having similar amounts of calories, dark chocolate contains far less sugar and more fat content. The lower amount of sugar in dark chocolate means that you will have less frequent cravings for sweets, while the higher amount of vegetable fats increases your satiety – making you feel full for longer.
Dark chocolate is an acquired taste, but you can train your brain to enjoy eating it. Start by eating a chocolate that's slightly darker than you're used to and then slowly move up darkness levels, once you get used to each level. Our current favourite is Divine 70% dark chocolate with ginger and orange. .
3. One rice cake, 30g cream cheese spread – 72 calories
Rice cakes are a great alternative to toast, as they are usually fat free and low in sugars and calories. The number of calories per rice cake ranges from 35 calories to 80 calories, according to which brand you choose. Cream cheese is a great topping for rice cakes as it is relatively low in calories – and you can find 'light' versions which contain even less calories.
Enhance the flavour of this snack by opting for a cream cheese with garlic and herbs or caramelised onions.
4. Hippeas Organic Chickpea Puffs (1 pack) – 90 calories
It's hard to resist a pack of crisps when you're hit with those 4pm cravings. However, the calorie content in many packets of crisps now can be well over 200 calories and yet, they won't fill you up. Hippeas offers tasty alternatives, in the form of chickpea puffs. One pack contains around 90 calories (depending on what flavour you buy).
Hippeas chickpea puffs are also healthier than normal potato chips, because they're baked (rather than fried). On top of that, they're organic, vegan, gluten-free and packed with fibre – so you can be sure to snack on them guilt-free.
In the Healthista shop, we have a range of protein powders which are aimed towards aiding weight management, with an amazing taste, great amino acid profile and sweetened only with stevia.
The Lean Whey protein powders contain ingredients that are scientifically proven to reduce appetite and encourage fat loss. For example, chicory root inulin helps reduce fat around the middle, while glucomannan, a fibre from the konjac root, has few calories but expands in your stomach to  help you stay fuller for longer and curbs cravings as a result. We also have the same formulation in a dairy-free 'lean VEGAN diet' protein powders, for those on plant based diets.
6. The Coconut Collaborative, Little Coco Nutters 'Vanilla Snowconut Sticks' (1 stick) – 79 calories
Since we've been hit by such a heatwave this summer, these little sweet treats are perfect to help cool you down in the afternoon (or morning – we won't judge). These 'snowconut sticks' are gluten free, dairy free and vegan friendly. They are made with natural ingredients – that means no added sugars – but still manage to taste so creamy, because of the coconut cream in them. If you're not a fan of vanilla, don't worry. These come in mango and chocolate flavours too.
The Coconut Collaborative strive to deliver all-vegan products which are as green as possible. On their website, they state their reasons for 'ditching dairy': dairy milk requires four times more land than plant-based beverages; producing plant-based beverages uses 80% less water than dairy; producing plant-based beverages emits 60% less carbon dioxide than dairy.
Other products they offer include dairy-free yoghurts, dessert pots and fruit-filled kids' pouches.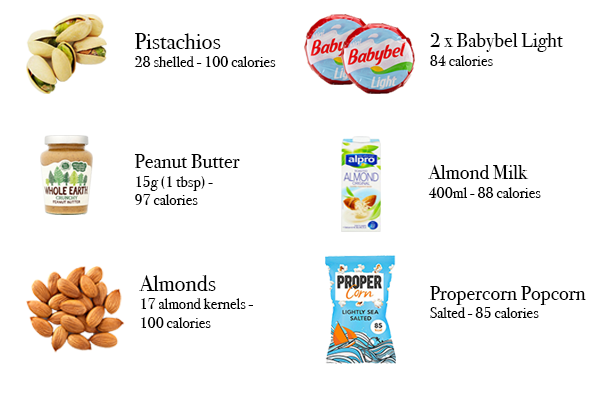 7. Pistachios (28 shelled) – 100 calories
Nuts are a handy go-to snack, which can help you curb those afternoon cravings. As well as being low in calories (compared to other nuts), pistachios contain a high level of vitamin B6 which helps the body produce hormones. These include serotonin which regulates mood and norepinephrine which helps your body deal with stress.
Pistachios are also high in protein (3.6g of protein in a 100 calorie serving), as protein comprises about 20% of their weight. Therefore, eating pistachios will help with satiety and make sure you feel full.
8. Peanut butter (1 tablespoon/15g) – 97 calories
Whether you like it smooth or chunky, peanut butter is a delicious snack under 100 calories which will help prevent you from snacking before your next meal.
Eating peanut butter may also help reduce the risk of developing diabetes. One study in the Journal of American Medical Association found that consuming one ounce of peanut or nut butter at least five days a week can lower the risk of developing diabetes by amost 30 per cent.
9. Almonds (17 almond kernels) – 100 calories
Loaded with protein, fibre and healthy fats, almonds are a tasty alternative snack to, say, crisps. They are also packed with calcium, which helps strengthen bones, so they're great for those who are avoiding or allergic to dairy.
Almonds are a good pick-me-up snack, especially in the middle of the afternoon, since it is a rich source of magnesium which boosts energy levels in your mind and body. So, next time you start feeling tired at 3pm just reach for a handful of almonds.
10. Two Babybel Light – 84 calories
Babybels – what a throwback to childhood days. They are made from 100 per cent natural cheese and a great source of calcium (us adults need strong bones too).
For under 100 calories, you can eat not one, but two of these bad boys. Babybel Lights have 50 per cent less fat than the originals, but that doesn't mean taste is compromised. They still have the same great taste, but the lower calorie content means you can easily fit them into your diet.
11. Almond Milk (400ml) – 88 calories
Almond milk contains far less calories than other types of milk (even skimmed milk) and has a refreshing and nutty flavour. 100ml of almond milk contains just 22 calories; so an 88 calorie glass of 400ml almond milk is a great way to fill you up.  The vitamin E in almond milk helps with hair growth and strong nails.
12. Propercorn Popcorn (1 pack) – 85 calories
Popcorn is a weight-loss friendly snack as it is high in fibre, low in calories and energy density. Foods that are lower in energy density provide fewer calories per gram of food. Therefore, you can have decent portions of these foods with a relatively low calorie content.
The high fibre content in popcorn helps in weight management, since it increases general satiety and decreases subsequent hunger. Other Propercorn popcorn flavours under 100 calories include 'sour cream and black pepper' (96 calories) and 'sundried tomato and chilli' (88 calories).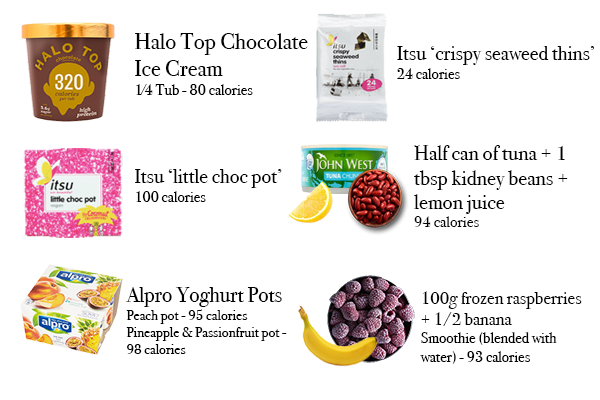 13. Halo Top Ice Cream (Chocolate, One quarter of a tub) – 80 calories
Since expanding across the pond, US ice cream sensation Halo Top has taken UK by storm. It's not surprising – the brand pushes to deliver high protein but low calorie ice cream. The entire tub of their chocolate ice cream comes up to only 320 calories, making one serving only 80 calories.
In addition, one serving offers 5g protein and 5.6g sugar, so it's low in sugars too. It just seems too good to be true. They even offer tubs totalling to 280 calories, in the flavours vanilla, oatmeal cookie and birthday cake. Halo Top succeeds in delivering creamy, indulgent ice cream that's good for you. For more of their flavours, nutritional information and stockists, see here.
If you're out in town and craving a small, sweet, chocolaty snack (that's vegan friendly too), look no further than Itsu's 'little choc pot' – which comes to 100 calories. In collaboration with The Coconut Collaborative, these mini pots of chocolate ganache are delicious, super-thick and creamy, but still low calorie. Made with coconut cream and dark chocolate, it's a perfect marriage of flavours.
These yoghurt pots give off the perfect summer vibe with their peach and pineapple/passionfruit flavours. So you can pretend you're on a beach off the Mediterranean coast while enjoying these low-calorie snacks.
They are soy-based with fruits blended in too, making them great for vegans and non-vegans alike. As well as being free from dairy, gluten and wheat, these yoghurt pots are a good source of calcium and vitamin D, which help maintain healthy bones.
Boasting the least amount of calories in this list of snacks, Itsu's 'crispy seaweed thins' come up to a mere 24 calories. These are naturally packed with vitamins including zinc, iron and vitamin B. They have a salty, almost oily flavour that is at once more-fish but satisfying. It literally unbelievable how few calories they contain.
17. Half can of tuna (145g can), one tablespoon kidney beans and lemon juice
We stole this one from nutritionist Rob Hobson. 'This is a high protein snack with a single serving containing around 17g,' says Hobson. 'Canned foods are cost effective and some can offer a really healthy snack or quick meal. Beans are the richest source of dietary fibre that is important for healthy digestion and has been shown to help maintain a healthy heart.'
18. Smoothie with 100g frozen raspberries, half a banana and water – 93 calories
When you go grocery shopping, it can be a challenge finding a smoothie that's less than 100 calories. Blending your own smoothie means you can add fruits into your diet while also being able to control the calorie content.
A simple smoothie containing 100g frozen raspberries, half a banana and water (add less/more water if you want a thicker/thinner consistency) adds up to 93 calories – which is perfect if you want a healthy but filling snack.
Since we've covered the benefits of bananas already at the top of the list, here are the ways in which raspberries can improve your health. As well as being high in fibre, raspberries are a good source of manganese, which helps keep your metabolic rate high and therefore burns fat. They also contain powerful antioxidants, which helps reduce the risk of infections and cancer.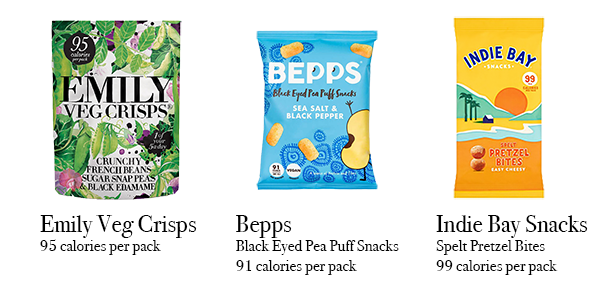 Sweet potatoes, carrots, french beans, peas… Emily Crisps use only the freshest vegetables to make tasty, crunchy crisps. So if you struggle to add vegetables into your diet, this is the snack for you.
These edamame crisps come up to only 95 calories per pack and gluten free. They're light, wonderfully crunchy and taste naturally sweet. The Healthista team can't get enough of them. They also have a range of fruits crisps, with flavours such as fig banana and red apple.
20. BEPPS black eyed pea puff snacks – 91 calories
Let me introduce BEPPS, our new obsession. These are the UK's first range of black eyed pea puffs and are naturally packed with calcium and vitamin A.
As well as being nutrient-dense, the puffs contain just 91 calories a pack and are free from GMO or MSG. Not only do they come in three tasty flavours (salt & pepper, cheese and sweet chilli), they are vegan friendly, gluten-free and a great source of protein and fibre. These will be hitting supermarkets at the end of August, so keep your eyes peeled.
Indie Bay Snacks have re-invented the classic pretzel with these round, spelt pretzel bites. As well as being low calorie (99 calories a pack), they're a great source of protein too as they contain 3.4g protein per 26g serving.
What makes their twist on ordinary pretzels so innovative, is their creative range of ingredients and flavours. These include barbecue flavoured spelt pretzel bites, sunflower pretzel bites with superseeds and cracked pepper flavoured quinoa pretzel bites. These are available to buy at Planet Organic for £1.19 a pack.

Healthista is giving you the chance to win an incredible spa detox break worth £1750 with spa specialists The Body Retreat at their gorgeous Somerset venue.
To enter, just take our 5-minute Gut Health survey
Related Healthista Content
20 healthy snacks to satisfy your crisp cravings
12 best low calorie foods to eat when you're REALLY hungry
7 low-sugar recipes that still taste like treats
Healthy snack hacks these 20 top influencers swear by
Like this article? Sign up to our newsletter to get more articles like this delivered straight to your inbox.