On the hunt for healthy alternatives, we round up the 20 best healthy snacks to feed your crisp habit without guilt PLUS your chance to win £100 worth of Healthy snacks
At Healthista we are obsessed with savoury snacks and even have an entire cupboard dedicated only to savoury snacks and tea. Seriously. So, we're well-placed to bring you our favourites. These tick the taste box but we've approved their calorie to satisfaction ratios. We highly recommend.
The star ingredient here is beetroot, which means a packet of these scoffed is one of your five a day. In fact they make up 98 per cent of the ingredients, making a high fibre snack with hardly any calories (200 per pack). They are slightly salted, and very much addictive. You can, however, seal the bag and save them for another time.
Suitable for: Gluten free and vegetarians.
Where to buy: Available from calsway.co.uk, £15.99 pack of 6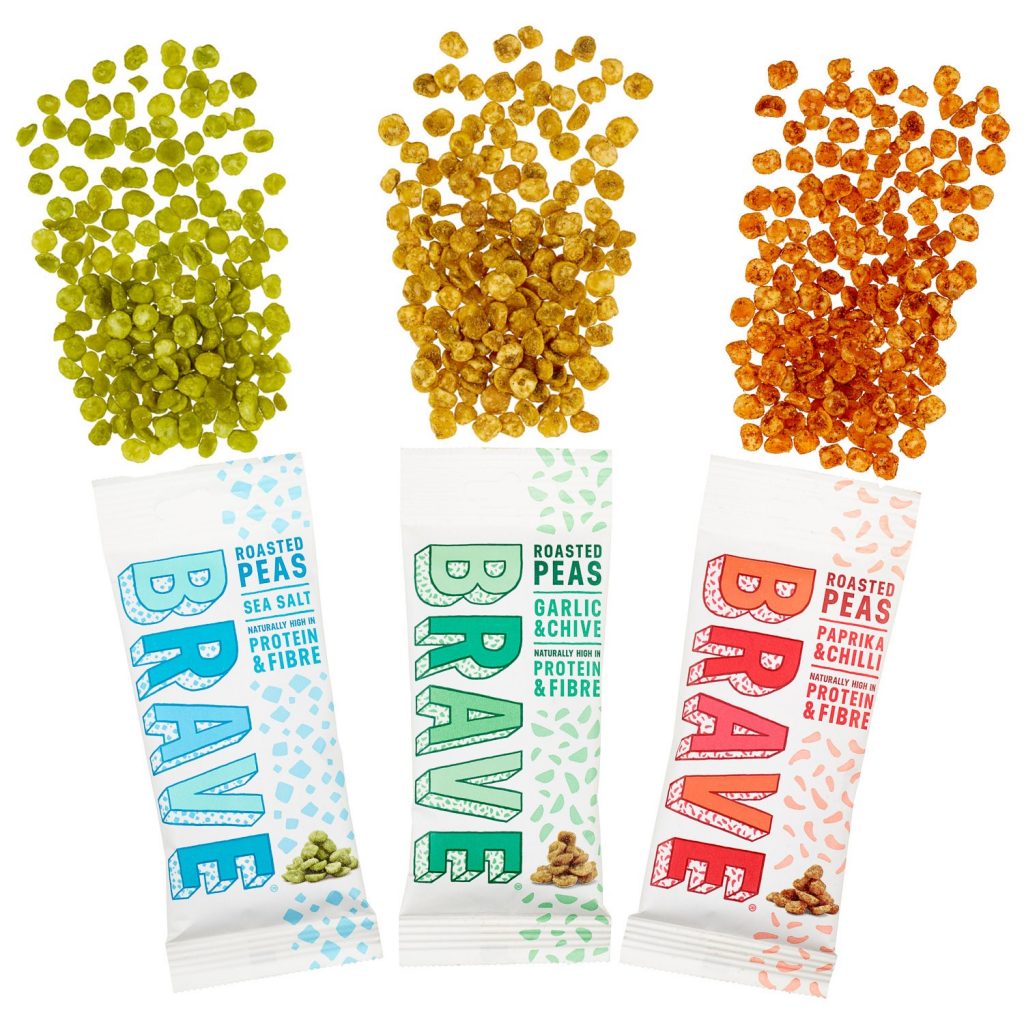 Peas are the new popcorn, but a whole lot healthier. BRAVE split peas come in three flavours, sea salt, paprika and garlic and chive – only the best. What's great about peas is their vitamins, high protein and fibre content. Can you believe they have more protein than cashew nuts? What's more, these brightly coloured plant based beauties are environmentally sustainable so we don't feel so bad about getting through a ridiculous amount of packets in the Healthista office. They are seriously so delicious, you will thank us.
Suitable for: Vegan
Where to buy: Available from selected retailers including Planet Organic, As Nature Intended, Revital and Sourced Market as well as independent shops, cafes and gyms across the UK, £1.19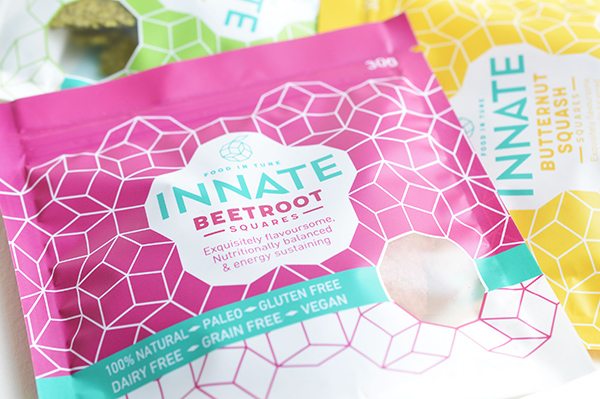 'Innate' meant creating foods which is in tune with our innate requirements as humans (vegetables and plenty of yummy snacks for our boxset marathons). The 100 per cent natural squares are nothing but air dried vegetables (either beetroot, spinach or butternut squash), coconut and almond, with a sprinkling of herbs and spices to keep the vegetable flavour present. They are a softer texture than normal vegetable crisps, making them more chewy. Their funky, small packaging reminds people to 'drop beets not bombs', and 'high in moral fibre' – cute. Our editor Anna is addicted to the beetroot ones, they're filling too.
Suitable for: Gluten free, grain free, paleo and vegan.
Where to buy: Available from Healthista Shop and Ocado, £1.99
Emily Veg Crisps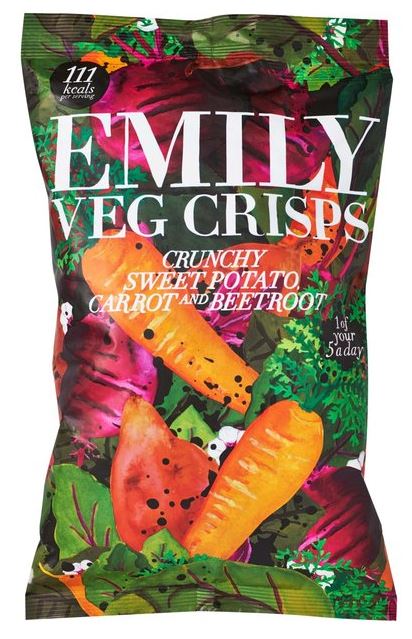 Such a simple idea, Emily Wong began experimenting with crunchy crisps from fruit and veg after travelling. She probably wasn't prepared for the popularity of the delicious crisps, especially as a packet count as one of your five a day. Cooked in a way that significantly reduces the absoption of oil, the nutrients and vitamins are preserved, so you still get the vibrant flavours of Crunchy Carrot, Beetroot and Sweet Potato. The other flavour, Crunchy French Bean, Sugar Snap Peas and Black Edamame, feels delicate whilst being full of fibre and protein. If you don't fall in love with the crisps, you'll fall in love with the beautiful packaging.
Suitable for: Vegan, gluten free
Where to buy: Available from Ocado and Waitrose, £2.89 for 80g sharing bag, or from Ocado, Waitrose and Holland & Barrett, £1.19 for 23g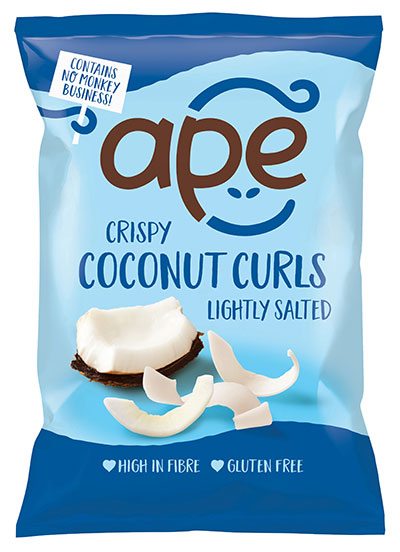 We were concerned coconut couldn't possibly get savoury. And for those with a sweet tooth, you'll love Ape's lightly salted Coconut Curls. They're a bit like sweet and savoury popcorn, with a hit of salt on the first bite which fades to leave a sweet aftertaste. We were surprised to find a packet of these (20g), contains only 106 calories, with no added sugar or 'monkey business', as they say. High in fibre, they'll definitely leave you feeling satisfied. They also come in slightly peppered and salted chocolate variants (yum!)
Suitable for: Gluten free, vegan
Where to buy: Available from Healthista Shop, 60g for £2.99, Boots, Ocado, Whole Foods, Planet Organic, Amazon and Holland & Barrett, amongst other leading retailers.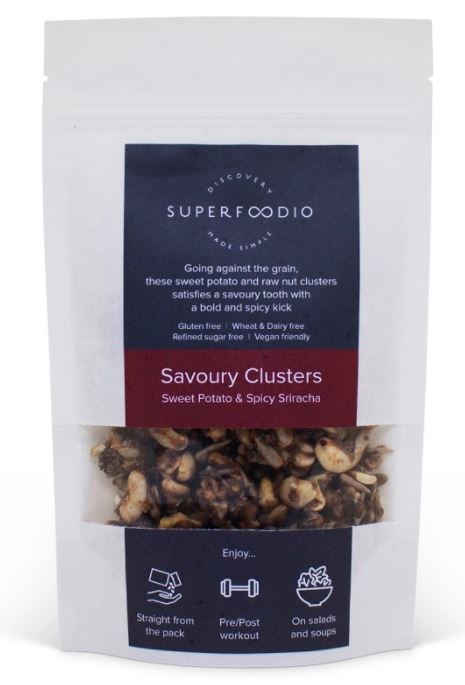 These packets, no bigger than the size of your hand, look super luxury. They are the type of snack we would eat mindfully, with interesting flavours such as spicy sriracha, black pepper and cardamom and smoked paprika. The clusters have a brilliant texture – a ball of sweet potato, cashew nuts, sunflower seeds, walnuts and chia seeds – making it also a wholesome and balanced option. Try them thrown on top of soups and salads for an energy boost.
Suitable for: Gluten free, vegan
Where to buy: Available from the Healthista Shop in either snack size, £2.99, or sharing size, £6.99.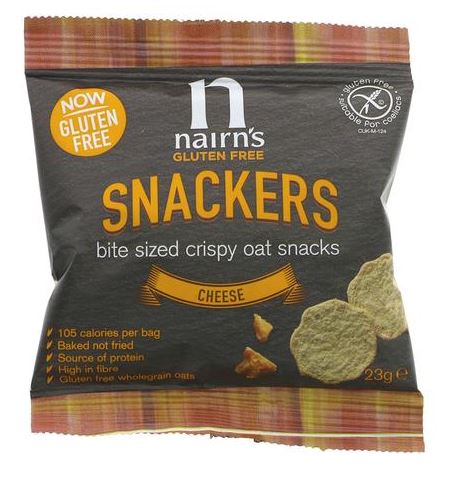 These are the perfect pick-me-up for crisp lovers. Made with wholegrain oats they are a simple healthy alternative, giving slow releasing energy to keep blood sugar levels balanced. The flavours, of Balsamic Salt & Vinegar, Paprika and our favourite, Cheese, make these taste anything but 'healthy'. It leaves that finger-licking residue – you know what I'm talking about. Despite this, they are free from artificial ingredients, and are low in fat and sugar. The small packets help keep you from overeating, because trust us you'll want to.
Suitable for: Gluten free
Where to buy: Available from the Healthista Shop £2.49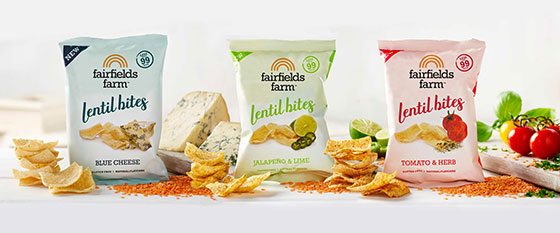 These were gone in a flash in the Healthista office. Not because they are fancy or trendy – they are simple and familiar, with flavours of Blue Cheese, Jalapeño Chilli & Lime and Tomato & Herb. Enjoying a plain ol' crisp has never been so guilt free, being low in fat and under 99 calories per bag – and no, the bag is not half air. Lentil flour is not only a healthier alternative, but offers slow-releasing energy which means you feel fuller for longer. The flavours aren't overpowering, and still remain all natural.
Suitable for: Gluten free
Where to buy: Available from Fairfields Farm, £13 for 18 20g bags, or Asda, Co-op and Holland and Barret for 75p.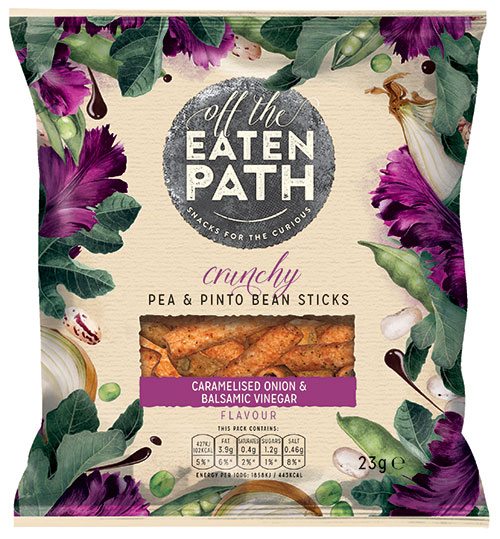 These are sure to get party guests talking. Besides from the box being beautiful, the vegetables in these crisps, green and yellow peas and black beans, make them a rainbow colour. Pop one in your mouth and the taste of sour cream and black pepper is quite overpowering, but it'll get your mouth watering for more. In fact, the Pea and Pinto Sticks in Caramelised Onion and Balsamic Vinegar, finger sized hollow tubes, are to die for – seriously.
Suitable for: Vegetarians 
Where to buy: Available from leading retailers including Sainsbury's, WHSmith and Ocado. £1 for individual packs and £2.25 for sharing packs.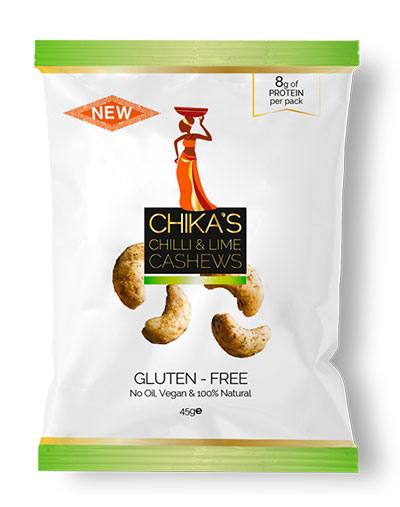 Oooo, we love a good pack of chunky nuts, and is a party a party without some? CHIKA's West African inspired snacks are a favourite of ours, made without artificial flavouring and baked for the best taste. Their new Chilli & Lime flavour surprised us – it certainly wasn't as spicy as we thought it would be, in fact, more on the sweet side. It would compliment drinks perfectly, especially on a summer's day, but as a grab-and-go packet, they are sure to satisfy being high in protein (8g per 45g packet!).
Suitable for: Vegan, gluten free
Where to buy: Available from major supermarkets and www.chikas.co.uk, £2.19 or Amazon 12 x 45g, £22.97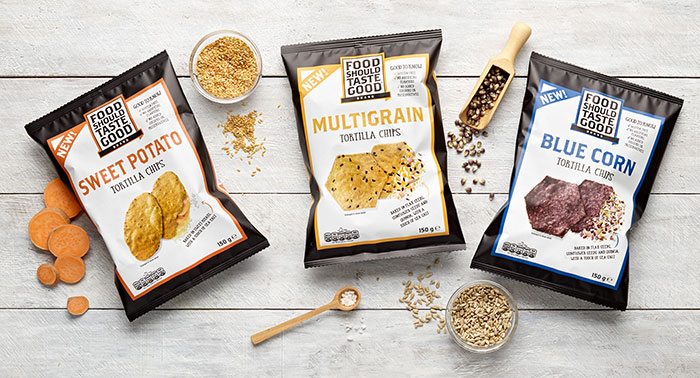 These are so good we are certain we will never go back to plain ol' tortilla chips. Ironically, the brand is called Food Should Taste Good – would life be worth living if not? The chips are baked in sunflower oil, containing a healthier unsaturated fat, and come in a range of three flavours; Blue Corn which is traditionally used in Mexican cooking. Dip in some guacamole and it's a party platter in seconds. The Sweet Potato flavour are a sweet and salty combo, and enjoyable with a glass of red. With the Multigrain, healthy snacking gets serious. Flax, sunflower, quinoa and sesame seeds have been added to the mix, which topped with salsa or hummus is a winner. More please!
Suitable for: Gluten free and vegetarian
Where to buy: Available from Tesco nationwide, £2.14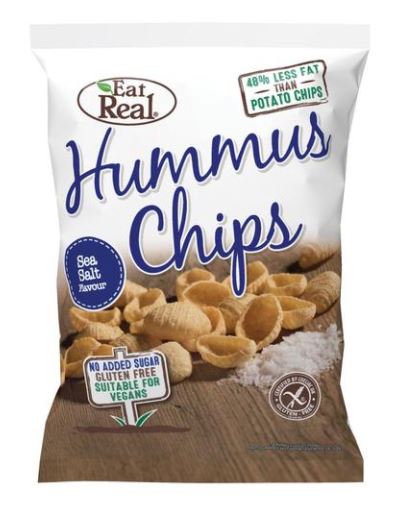 These are a real favourite amongst healthy foodies. Once you open the packet be warned – they seem to disappear. Think the shell shape and texture of Quavers but lighter, made from mainly chickpea flour. They don't, unfortunately, taste anything like hummus. Instead, a simple light salting (and oil) that keeps everyone happy. They have 48 per cent less fat than the ordinary crisp, and none of the 14 Declarable Allergies.
Suitable for: Gluten free, vegans, pretty much everyone.
Where to buy: Available from Healthista Shop, all main supermarkets and convenience stores. £0.69 for an individual or £1.49 for a sharing bag.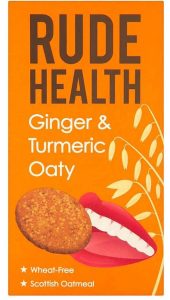 We're always looking for ways to get more of the powerful turmeric into our food at Healthista. The addition of the spice, and ginger, does wonders to jazz up Rude Health's oaties, made with the finest oats from Scottish farms. This makes them super high in fibre without a trace of nasty preservatives or additives. On their own, or even more delicious topped with dips, spreads, cheeses or avocado, we can't get enough of the snap.
Suitable for: Wheat free
Where to buy: Available from Healthista Shop, Waitrose, Ocado, in a selection of Independents and on the RH website. £2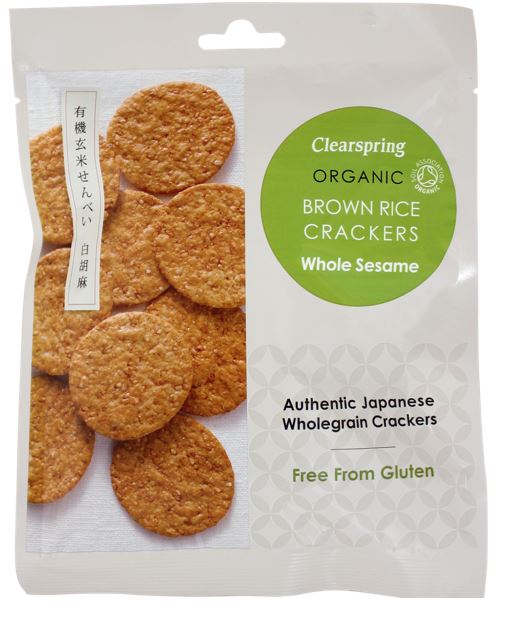 For those looking for a more subdued taste, these Authentic Japanese Wholegrain Crackers are just the thing. Either in whole sesame or black, the pungent taste of tamari comes through on every bite for a more unique savoury taste – by that we mean this is a more sophisticated choice. The sesame seeds are a mineral rich making them a popular ingredient for healthy bites across the world, and Clearspring claim them to be a good source of calcium (hello, vegans). Although the texture of this is a bang-on crunch, we find these crackers quite delicate.
Suitable for: Gluten free, vegan
Where to buy: Available from Healthista Shop and www.clearspring.co.uk, £1.99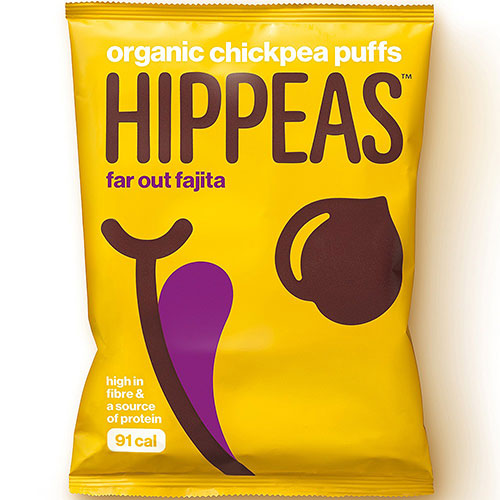 Hippeas not only call themselves a healthy savoury snack, but a source of protein. Made with organic chickpeas, it's a decent addition to your lunchbox in flavours of Cheese and Love, In Herbs We Trust, Sweet & Smokin' and our favourite, Far Out Fajita. Dense with texture and flavor, you can't eat them too quickly. The brand itself are all about making a difference to the world – the clue is in the name. They've partnered with brands such as Farm Africa to support chickpea farmers whilst spreading the love 'with flowers in the hair and crumbs in their beards'… we suggest checking their website out for more details.
Suitable for: Vegan, gluten free, dairy free
Where to buy: Hippeas Organic Far Out Fajita Chickpea Puffs, £1.09  on Healthista Shop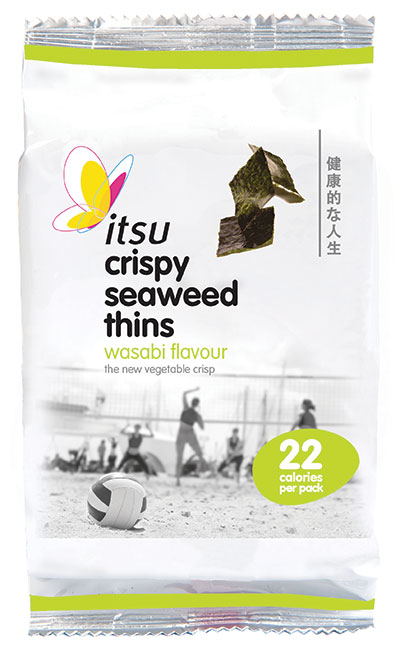 If editor Anna approves (sorry is obsessed with) of these, you know it's going to be good (she is a self-confessed crisp addict). This does the trick to satisfy the craving of a salty taste, rather than to fill a hole in the stomach. They take 'low calorie' to an impressive level at just 22 calories PER PACK. That's two calories per thin. Could you possibly go wrong? Made with seaweed harvested from the crystal clear waters of South Korea, the thins are naturally packed with nutrients such as zinc, iron, B vitamins and iodine. They're also surprisingly high in protein and fibre for such a delicate, uber-low calorie bite and yet they miracuously satisfy the need for salt and fat that often weakens crisp crisps addicts. Our favourite of the three flavours is Wasabi.
Suitable for: Everyone
Where to buy: Available from itsu, £1.99 for three packs or £1 for one or Ocado, 89p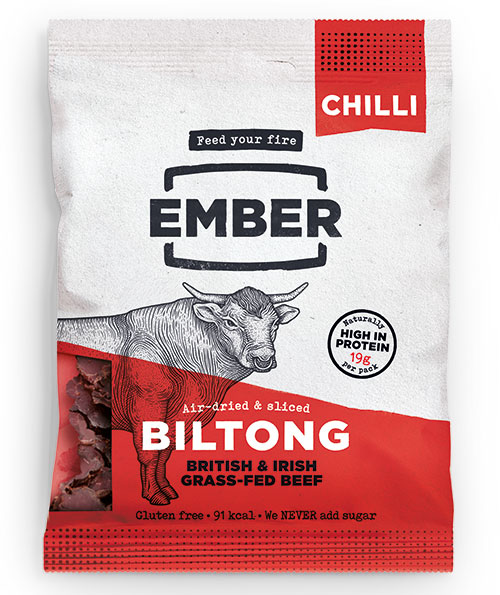 Pretty old school, right? This snack reminds us of trips to the pub, but this beef snack looks to soon be popular with fitness fanatics. Ember's biltong, which isn't too chewy, is naturally high in protein, so it's sure to refuel the body the right way after a workout or see off an afternoon energy slump. Brothers Harry and Jack came up with the idea to fuel their Iron Man training, desperate for a quick snack that wasn't full of sugar like a protein bar. The Chilli flavor is at just a right balance so you can still taste the flavorsome beef, as with the Original which isn't too salty. Rest assured, the company only uses 100 per cent British and grass-fed beef, and this high quality is evident.
Suitable for: Gluten free
Where to buy: Available from Amazon, £18.99 10 x 30g Bags (Original)
, or from embersnacks.com
WIN £100 WORTH OF HEALTHY SNACKS

Healthista has teamed up with itsu for a chance to win £100 worth of Asian-inspired healthy snacks 
CLICK HERE  FOR YOUR CHANCE TO WIN
MORE:
8 BEST raw snacks for healthy indulgence fortnight
10 healthy snacks for every diet need
10 best healthy snacks you'll forget are good for you