For Healthy Indulgence Fortnight, we've rounded up the best raw snacks to get you through the working day in a healthier kind of way
Recently dentists from The Faculty of Dental Surgery have spoken out about the dangers of consuming sugar throughout the working day. After all, biscuit tins and birthday cake culture can be found in pretty much every office across the UK.
Speaking to the BBC, Prof Nigel Hunt, dean of the faculty at the Royal College of Surgeons said this culture is detrimental to British health and that we should make a resolution to 'combat cake culture' throughout 2017.
And what better way to wage the war against cake than to swap it in for a delicious nutritious snack (without compromising on taste). Nutritionist Shona Wilkinson explains that eating raw snacks can make all the difference when it comes to maintaining the nutritional value of our food. 'Cooking food may diminish its nutritional value. For example, certain vitamins, such as vitamin C and folate, are destroyed by heat.'
Now there is more than one sweet-toothed writer here at Healthista HQ but rather than let the biscuit tin get the better of us we've hunted out some of the best raw snacks about – so that we can happily and healthily munch our way through the working day.
MORE: Healthista raw food shop
MORE: 7 best nut butter that will change your life
These are the snacks that made the cut.
We have raved about SAF Raw on more than one occasion. The range includes Chewy Protein Bites, Organic Pudding Bites, Organic Raw Choc Trail Mixes and Organic Coconut chips. We are huge fans of the bright and fun packaging of these products that seems to prove that vegan, raw foods are the coolest snacks right now. Saf Raw snacks are high in protein and fibre and we absolutely can't get enough of the chocolate and salted caramel pudding bites.
SAF Raw use only natural sugars such as coconut sugar, maple syrup and brown rice syrup and feature exciting raw superfood ingredients such as lucuma (the Chilean superfruit getting a name for its anti-inflammatory properties), baobab (and African superfood with vitamin C, fibre and antioxidant levels off the scale) hemp protein and goji berries. SAF products also have a positive impact on the environment too as they're produced within the UK at a facility in East London.
Tester says 
The bites crumble in your mouth and the salted caramel flavour is unbelievably spot on. Hints of banana and coconut also really come through in this snack – they are so sweet and tasty that I can't quite believe they're not bad for me.
Buy SAF Raw Salted Caramel Pudding Bites for £1.79 here.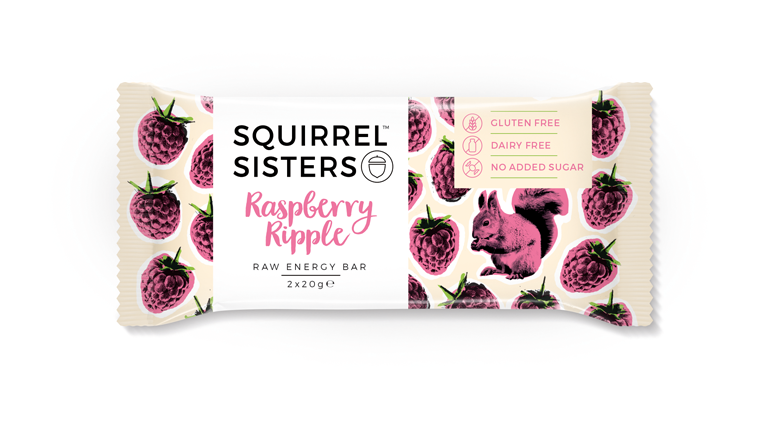 London-based sisters Sophie and Gracie Tyrell are the creative masterminds behind Healthista's favourite new snack bar. Using the nickname that they've had since childhood (squirrel rhymes with Tyrrel) the Squirrel Sisters have released a range of raw snack bars that we are LOVING in the Healthista offices. Each bar comes conveniently with two 20 gram serves that are each only 91 little calories, which makes it easier to only eat one (well, kind of) and leave the other for later. Okay maybe not, they are quite more-ish.
Tester says 
I love the fact these bars are as nutty as they are tangy and they aren't overpoweringly sweet-tasting like so many energy bars out there. My absolute favourite is the Raspberry Ripple which tastes exactly as it sounds – almost pudding-like. I don't normally like energy bars as they're so sweet but while this is slightly indulgent it's not overpoweringly sweet – I really like the nuttiness of the Squirrel Sisters bars.
Buy Squirrel Sisters Cacao Brownie Raw Energy Bar for £2.49 here.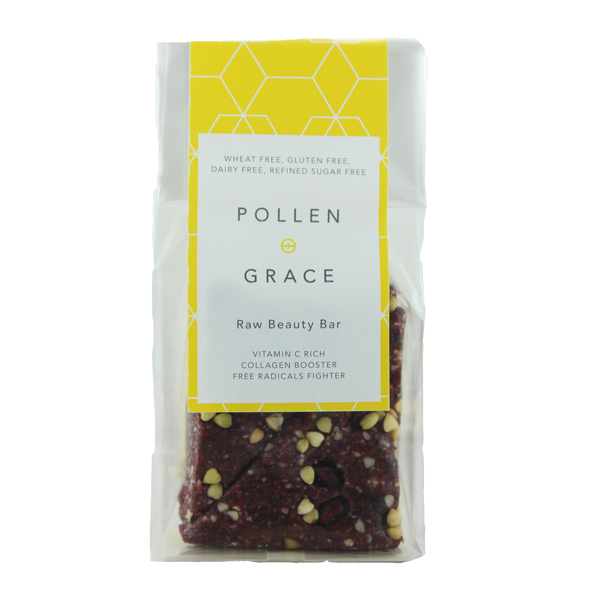 Founded by friends Stephanie Johnson, Kristina Komlosiova and Steph's mum Hazie in 2015, Pollen & Grace was born out of a frustration at a lack of lunchtime eating options in London that were tasty, healthy and convenient. Each product is handmade at the Pollen + Grace kitchen in Vauxhall, London before being delivered fresh to over 50 stores across London. Delivery is available Monday-Friday across zones 1-3, with sweet treats available nationwide.
Pollen & Grace prioritise nutrition, colourful food and adding ingredients that are good for mood, digestion, skin or energy levels and the Raw Beauty Bar's that we tried at Healthista HQ seemed to stay true to this theme. The bars are rich in vitamin C and supposedly help to boost collagen. Pollen & Grace describe the bars as being antioxidant packed but the first thing that struck us about the raw beauty bar was how gorgeous it was – we almost couldn't bring ourselves to eat it. Not only is the bar pretty to look at but according to Pollen & Grace, the ingredients will help you to look beautiful too. The bars are made from raw tahini and enriched with acai and acerola super fruits.
Tester says 
While the bars were sweet enough to hit the spot they also had a sour tang that instantly hits your tongue – you can really taste the berry. Sesame seeds add a delicious crunch and the taste of sesame runs throughout the whole snack. It tastes almost like a berry crumble. In one word – beautiful.
Buy Pollen & Grace Raw Beauty Bar for £3 here.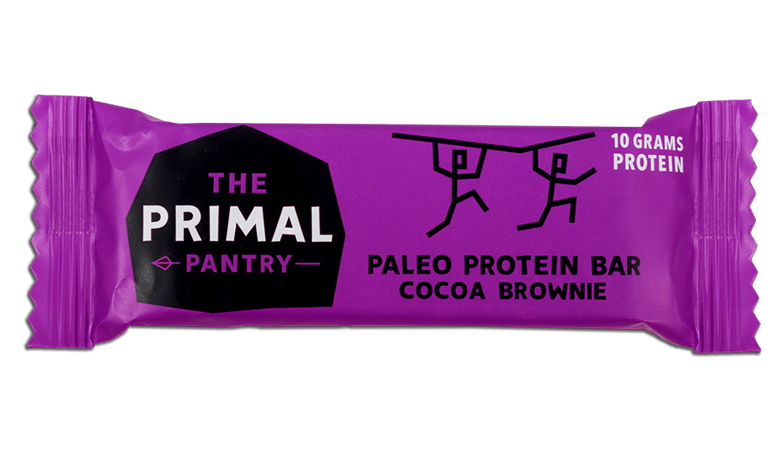 Primal Pantry are the creators of Britain's first paleo snack bar and this new Cocoa Brownie bar takes the brand to the next level. The bar is created to help fuel your workout with protein and achieve peak physical performance. Each bar contains 10g of protein which means it has a protein content of 19 percent. Plus the bar contains only 6 ingredients – dates, coconut nectar, hemp protein, cocoa powder, almonds and cacao nibs. The bar is vegan-friendly, gluten and dairy free. But most importantly, this cold pressed treat from The Primal Pantry was incredibly tasty.
Tester says 
I couldn't believe that this bar contained so few ingredients and zero sugar – it was the ultimate in pure indulgence. The bar was almost cakey in consistency and tasted so good I felt a little guilty eating it. The bar is moist and gooey making it really seem as though it were a brownie and the graininess of the bar adds a wonderful texture. If you're a chocolate fiend then this bar is the one for you.
Buy Primal Pantry Cocoa Brownie for £1.69 here.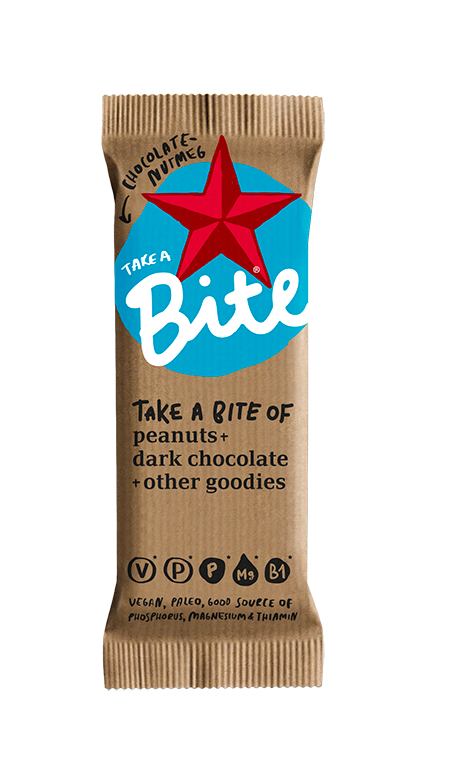 Bite is a 100% natural snack bar from Russia, which consists only of fruits, nuts, berries and spices. The product is made by a team of health-food enthusiasts who say they share the mission of making a healthy lifestyle easy, convenient and tasty. Take a Bite make sure that all of their ingredients can be easily read, understood and pronounced. They avoid chemical additives, colorings, flavorings or sugar. As a plus the company is dedicated to ensuring that their manufacturing process is ethical, and they take full responsibility for the influence it exerts on the environment.
Tester says 
I couldn't get enough of these bars. The bar is thick and soft, pulling apart easily in your hands. The taste of nutmeg gives the bar a sweet and spicy kick. Peanut adds a crunchy, nutty consistency and taste. The bar is grainy and filling and most importantly – super sweet.
Buy Take a Bite Chocolate and Nutmeg Fruit bar in store at Selfridges.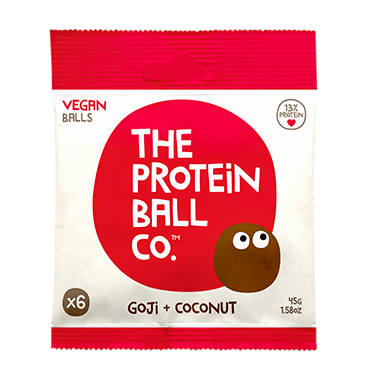 The Protein Ball Co was launched after founders Matt & Hayley struggled to find clean, healthy protein related grab-and-go snacks. They wanted to make a protein ball that was accessible to anyone wanting to add a little protein into their diets and not just bodybuilders or big time gym goers. The Protein Ball co. come in packs of 6 protein balls that are all gluten free, wheat free, soy free with no GMOs or added sugars. Handmade in the UK, the balls come in three different sources of protein – whey, egg white or a vegan version which is made from organic rice and organic pea.
Tester says 
These balls were another satisfying treat. Although there were 6 in a pack I found that they would last quite a long time. I could snack on one or two and pop them back in my handbag for later. The thing that really struck me about this snack though was the texture – so squishy and comforting. The balls are soft to bite into and not overwhelmingly sweet. The taste is coconutty with hints of goji running through but without bitterness. The goji also added a subtle crunch which made the texture of these balls even better.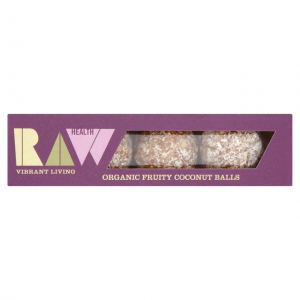 These organic energy balls from Raw Health are made with raw desiccated coconut, dates, raisin and sunflower seeds and are gluten free. Famous for their delicious organic chocolate, Raw Health does not disappoint with these energy balls. The balls come in packs of three but they're filling enough that you wouldn't need them all in one sitting. The taste of the coconut runs through and the balls are true to their name in that they're packed with fruity flavour.
Tester says 
Covered in desiccated coconut, the balls look as though they might taste incredibly sweet when in actual fact the flavour is citrusy and tangy. The taste of the coconut does run through and the balls are true to their name in that they're packed with fruity flavour. The balls are chewy and while they're quite small they are a surprisingly satisfying and a filling mid-afternoon snack. Pop them in your bag to enjoy later in the day or even for an energy boost post workout.
Buy Raw Health Organic Fruity Coconut Balls for £1.48 here. 
Best for a natural snack: Of the Earth Superfoods Organic Raw White Mulberries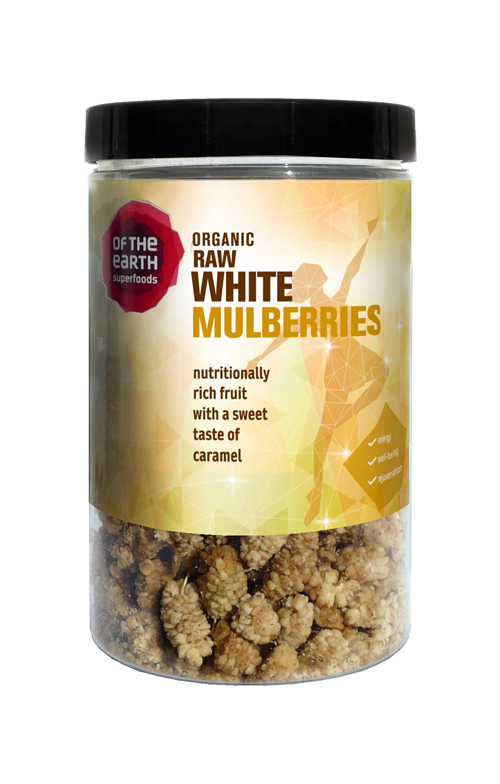 Of the Earth Superfoods describes mulberries as a nutrient powerhouse. They're rich in vitamins, minerals and antioxidants including resveratrol, which is powerful in fighting free radicals and inflammation. Mulberries are packed with iron, vitamin C, fibre and (vegans, listen up) they're a great source of plant protein. Mulberries can be snacked on straight from the jar but Of the Earth Superfoods suggest using them to make flapjacks or breakfast bars.
The mulberries are certified organic by the Soil Association, meaning no harmful chemicals, pesticides or processing aids were used at any stage of farming or production. And, for that extra bit of ethical care, the product is packed by hand in the UK in a factory running off solar powered energy.
Tester says 
If you're trying to get off sugar and need a healthy snack then I would definitely recommend these mulberries. They're sweet but aren't a big sugar hit, they taste almost like a raisin but with strong tastes of honey running through.
Read more
6 healthy snacks under 100 calories
9 best tasting vegan chocolate bars with ridiculously pure ingredients
Healthy fish and chips recipe for Good Friday (yes, that's a thing)
More healthy indulgence inspiration
Like this article? Sign up to our newsletter to get more articles like this delivered straight to your inbox.