Looking for a sweet guilt free treat? Then look no further. The Squirrel Sisters have released a range of raw snack bars and we LOVE them. 
London based sisters Sophie and Gracie Tyrrel are the creative masterminds behind Headthista's favourite  new snack bar. Using the nickname that they've had since childhood (squirrel rhymes with Tyrrel) the Squirrel Sisters have released a range of raw snack bars that we are LOVING in the Healthista offices.The girls describe themselves as people who enjoy spending lots of time out and about with their friends, eating too much at Christmas with the family, going on holidays and generally enjoying themselves. They wanted to create a snack bar that was both healthy and fun (our favourite combination too). And if fun was the aim then they were spot on – these bars created a big buzz in our office.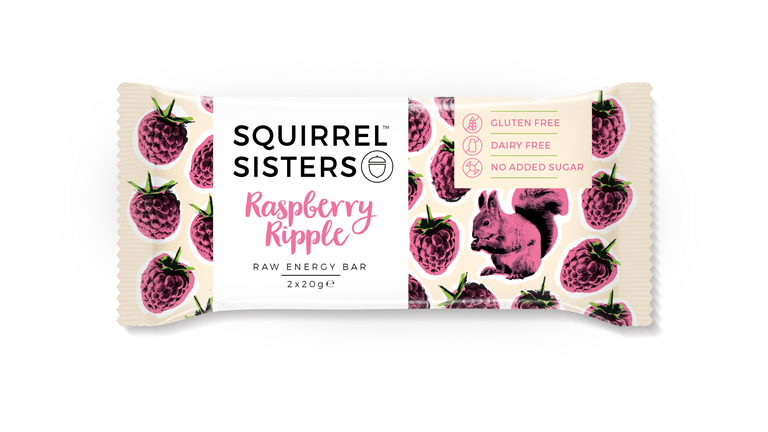 They tasted so good nobody here could quite believe they were healthy. The bars not only taste incredible (six boxes disappeared from our cupboard in the space of a few days) but they're also gluten free, dairy free and vegan. During a tasting in the office, we heard comments such as 'I don't normally like energy bars as they're so sweet but I really like these because they're more nutty.' Testers seemed to like the fact that these bars were as nutty as they were tangy and they weren't overpoweringly sweet-tasting like so many energy bars out there. Each bar comes conveniently with two 20 gram serves that are each only 91 little calories, which makes it easier to only eat one (well, kind of) and leave the other for later. Okay maybe not, they are quite more-ish.
With flavours like Raspberry Ripple, Cacao Orange, Coconut Cashew and Cacao Brownie, there is a taste to satisfy everyone's sweet tooth. Their ingredients lists are impressive in that they contain so few. For example, one of our favourites, Coconut Cashew, contained only dates, cashews, coconut, sultanas and sunflower seeds. That's it. We're impressed – can you tell?
MORE: 6 healthy snacks under 100 calories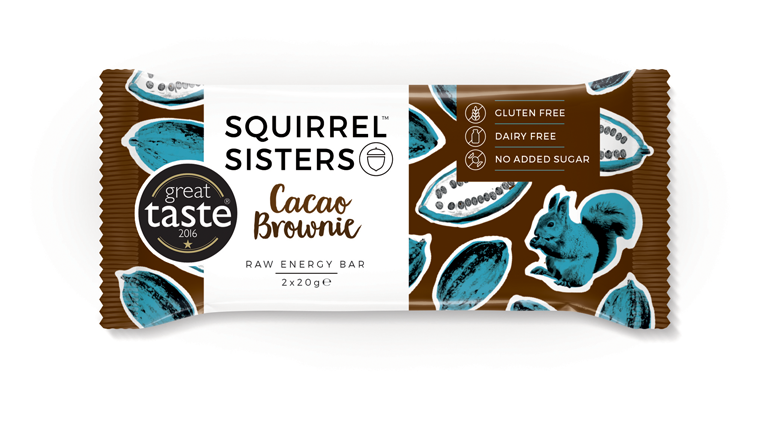 Oh and that boxing and packaging decorated with cute little squirrels and nuts makes them beautiful enough to decorate your Instagram with.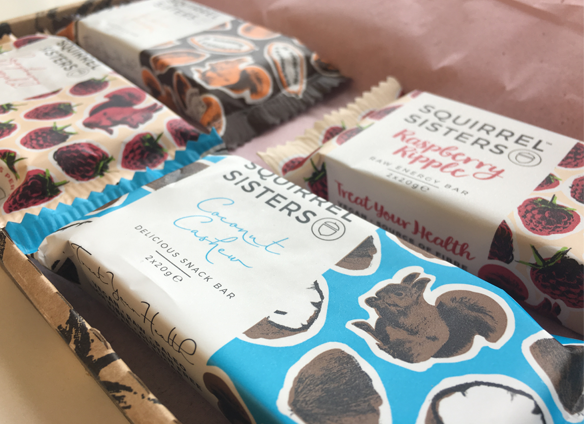 Buy these yummy snacks online or pick them up on the high street for £2.50 each Boots, Holland & Baratt, Wholefoods or Planet Organic.
And check out the Squirrel Sisters website for their blog, online shop and some more of their delicious recipes.
MORE: How CARBS can keep your brain healthy
MORE: 5 fat loss myths even smart women believe
MORE: Why Kaley Cuoco is our woman of the week
Like this article? Sign up to our newsletter to get more articles like this delivered straight to your inbox.