Ever wondered what a food expert has to have in her kitchen cupboard? Here are the healthy foods nutritionist May Simpkin can't be without 
To celebrate the opening of Healthista's new Shop featuring the very best in natural and organic food and supplements, we asked nutritionist May Simpkin to name five foods she will always have in her kitchen cupboard and how she uses them.
Biona organic almond butter smooth
'When it comes to almond butter, I always look to the ingredients to show it's a good quality and that it only contains nuts because then that way I know I'm getting some good sources of protein and fibre. My favourite way to eat this is mid-afternoon, on some slices of apple where I'm combining the protein and fibre with the natural sugar from the apple.'
Biona organic almond butter, £4.99, available at Healthista shop
Teapigs green tea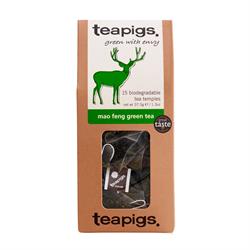 'We all know we need to stay hydrated but it can be difficult drinking water if it's not your favourite drink,which is why I opt for green tea. My favourite is this Teapigs green tea which is good quality and has plenty of antioxidants. Big tip here is don't use boiling water because it can mean you end up with a bitter tasting tea. If you can remember to take it off the boil just before it reaches boiling point and use it then or just let it cool and you'll have a much smoother, easier to drink tea.'
Teapigs green tea, £3.99, available at Healthista shop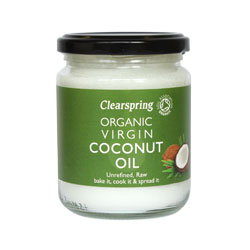 Clearspring organic virgin coconut oil
'One thing I always have in my cupboard is Clearspring Organic Virgin Coconut Oil. The reason that I like to use coconut oil for frying and sauteing is that it has a high smoke point which means that it won't change chemically when you heat it. It's a good alternative to vegetable oils and butter. It also works perfectly if you're baking, using it in granola, energy bars, cakes or biscuits.'
Clearspring organic virgin coconut oil, £4.19, available at Healthista shop
Meridian dark tahini
'One of the most versatile products I have in my cupboard is this Meridian dark tahini. I love to use tahini because it's nutritious and packed with sesame seeds so I know that I'm getting a good concentration of calcium. If you are avoiding dairy and butter this is a good alternative to use as a spread on toast or crackers. One of my favourite ways to use it is  in a salad dressing. Mix a tablespoon of tahini with some lemon  juice, salt and pepper and then you can water it down to the consistency that you want. It's perfect over roasted vegetables or simply over a green salad.'
Meridian organic dark Tahini, £2.99, available at Healthista shop 
Raw Halo pure dark Chocolate 
'Raw Halo raw pure dark chocolate is fabulous. When you're looking for a dark chocolate look for one that has at least 70 percent cocoa solids and then you know you're getting some good antioxidants. I personally will always have a piece of dark chocolate at the end of a meal when I'm craving something sweet just to finish the meal off. A couple of cubes is probably all you'll need, particularly if it's rich and dark.'
RAW HALO Pure Dark Bar, £2.99, available at Healthista shop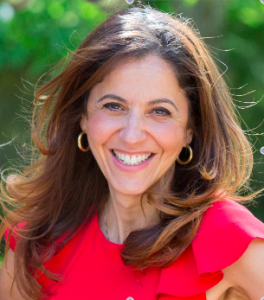 May Simpkin is a UK registered practitioner with a Masters Science degree in Personalised Nutrition. She is an experienced clinician, practicing functional medicine from an evidence base, providing the latest research into nutrition. She is bound by the code of ethics in clinical practice and has met the strict criteria required for BANT, the British Association for Applied Nutrition and Nutritional Therapy and the CNHC, Complementary and Natural Healthcare Council, which is the council recommended by the UK Department of Health for complementary and natural healthcare services. She is also Chair of the Continual Professional Committee at BANT. In addition, she is registered with IFM, The Institute for Functional Medicine and a member of the RSM, The Royal Society of Medicine.
For more information on how to lose weight, nutrient-rich recipes, and ideas visit www.maysimpkin.com or Follow May on Instagram: @maysimpkinnutrition or Twitter @MaySimpkin or Facebook 
MORE FROM MAY SIMPKIN:
Why ghee is the new health food of the moment
Fasting for weight loss – the nutritionist's guide
12 'healthy' foods that are not actually good for you
How food can help depression – the nutritionist's guide
Like this article? Sign up to our newsletter to get more articles like this delivered straight to your inbox.