Think a healthy dinner party menu has to be boring? Think again. This line-up from new Balance Diet cookbook created by gourmet food delivery service The Pure Package will wow your guests
Starter: TOMATO AND RED PEPPER SOUP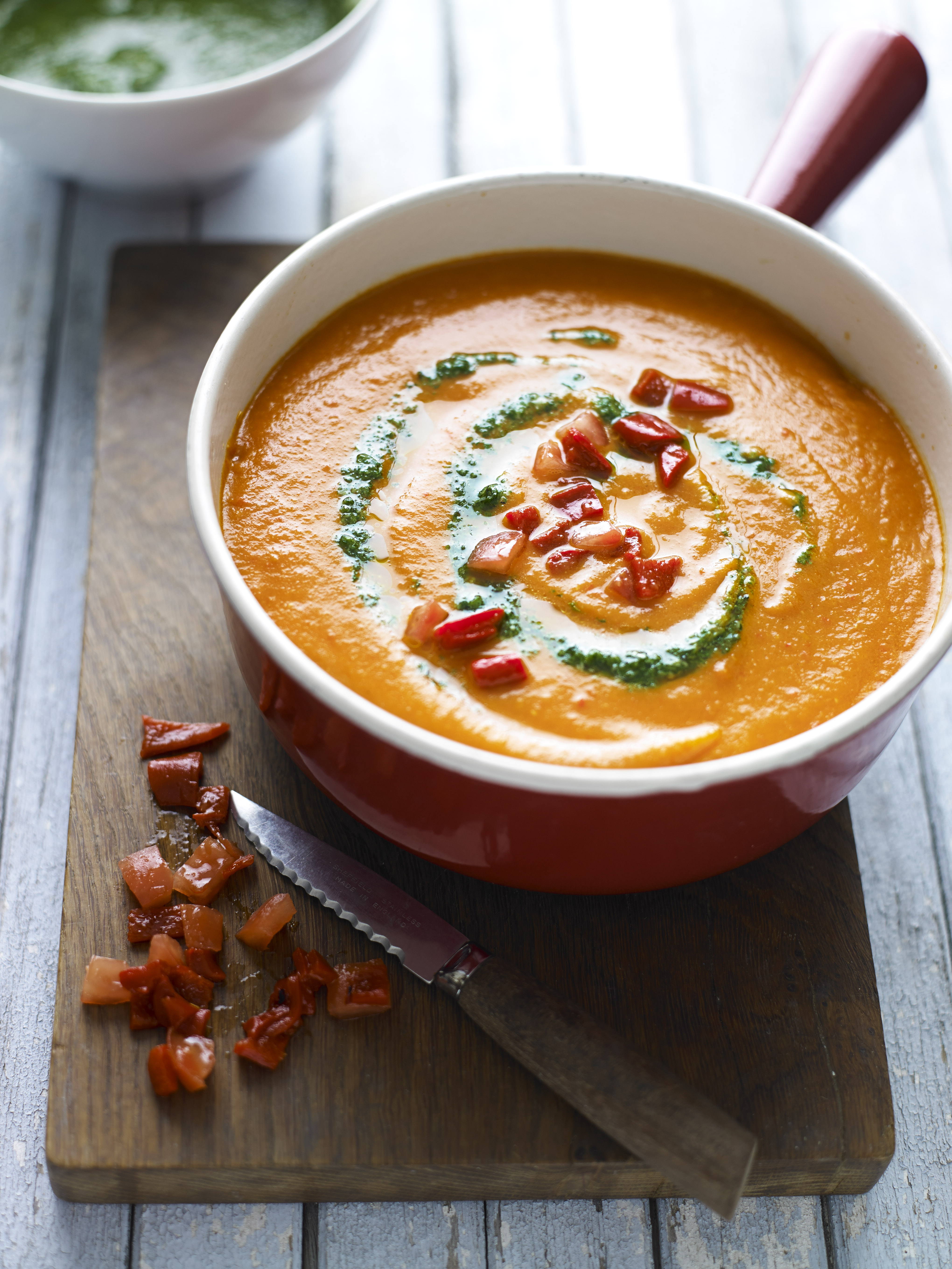 Charred peppers gives this tomato soup a smokiness that goes well with the hint of chilli. The vibrant colour will really make you feel like you're eating the rainbow – or at least part of it!
Serves: 2
Preparation time: 10 minutes
Cooking time: 30 minutes
Wheat free, Gluten free, Dairy free, Vegetarian
INGREDIENTS
1 tablespoon groundnut oil
1 small onion, very finely chopped
4 medium tomatoes, finely chopped
1 red pepper, deseeded and finely chopped
1 small garlic clove, peeled and finely chopped
½ red chilli, deseeded and finely chopped
Small handful basil leaves, roughly chopped
2 tablespoons tomato purée
1 tablespoon red wine vinegar
500ml vegetable stock
1 red pepper, stalks removed, deseeded and cut into thick slices
1 tomato
TO SERVE:
2 teaspoons Basil Pesto
Parmesan cheese, grated (optional)
METHOD: Heat the oil in a large saucepan over a medium heat. Add the onion and sweat for 3 minutes.
Add the tomatoes, pepper, garlic, chilli and basil, and stir to mix. Cover and leave to sweat for 5 minutes, stirring occasionally to prevent sticking.
Add the tomato purée, vinegar and vegetable stock. Bring to the boil, then reduce the heat and simmer for 20 minutes.
Meanwhile, prepare the additional pepper. Grill the slices under a hot grill, turning occasionally, until blackened. (Alternatively, hold the whole pepper over a gas flame, turning constantly, until completely charred.) Place the blackened slices in a plastic bag and hold closed, shaking, for a couple of minutes. When cool enough to handle, peel off the charred skin and dice the flesh.
Make a small cross incision at the base of the tomato, then drop into a bowl of boiled water. Leave for 1–2 minutes before removing with a slotted spoon. The skin should have started to peel, making it easy to slip the skin away from the flesh. Quarter the skinned tomato and squeeze it firmly over a bowl to release the seeds. Chop the tomato flesh and mix with the diced pepper. Set aside.
Blend the soup until smooth, using a hand-held blender or by transferring to a food processor.
Ladle the soup into warmed bowls, garnishing each serving with a teaspoon of pesto, Parmesan (if using) and some roasted pepper and tomato mix.
Main course: CAJUN CHICKEN WITH BLACK-EYED BEAN SALSA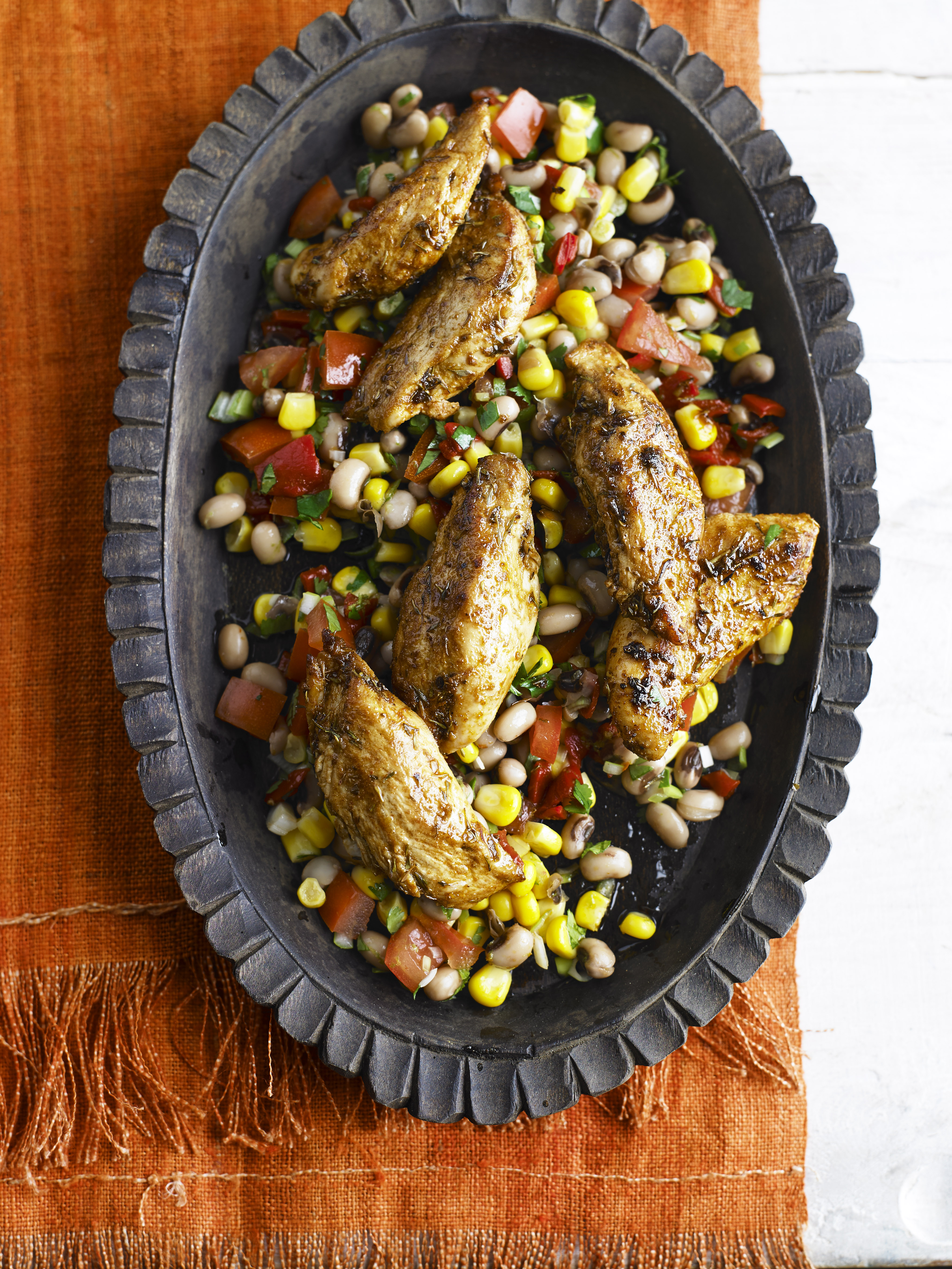 In this salad, chicken is marinated in aromatic spices, giving it a wonderful depth of flavour, offset by the smooth texture of the beans and the crunch of corn and peppers.
Serves: 2
Preparation time: 25 minutes
Cooking time: 10 minutes
Wheat Free, Gluten Free
INGREDIENTS
For the Cajun Spice mix
2 teaspoons olive oil
1/2 teaspoon paprika
1/4 teaspoon dried oregano
1/4 teaspoon cayenne pepper
1 garlic clove, finely chopped
2 small free-range chicken breasts, skin removed, cut into strips
200g tin black-eyed bean, drained
2 tomatoes, deseeded and cut into small dice
80g tin sweetcorn kernels, drained
2 spring onions, finely chopped
15g sun-dried tomatoes, diced
Zest and juice of 1 lime
Small handful fresh coriander, finely chopped
3 tablespoons half-fat soured cream
1 jalapeño pepper (from a jar), finely diced
Juice of 1 lime
2 teaspoons groundnut oil
METHOD: First, make the Cajun spice mix. In a large bowl, mix together the olive oil, paprika, oregano, cayenne pepper, thyme and garlic.
Place the chicken pieces in the bowl with the spices and mix thoroughly, so that the chicken is completely covered. Set aside to marinate for 10 minutes.
Next make the salsa. In a large bowl, mix the beans, tomatoes, sweetcorn, spring onions, sun-dried tomatoes, lime zest and juice, and coriander. Stir well and put to one side.
In a separate bowl, mix together the soured cream and jalapeño pepper. Add the lime juice and stir well.
Put the oil in a non-stick pan over a medium heat, then add the chicken. Leave to cook for 2-3 minutes without moving, then flip and cook on the other side for a further 2-3 minutes, or until cooked through.
Place the salsa mixture on a large serving plate, top with the warm chicken, and drizzle over the dressing.
Pudding: MANGO FOOL WITH LIME & TOASTED COCONUT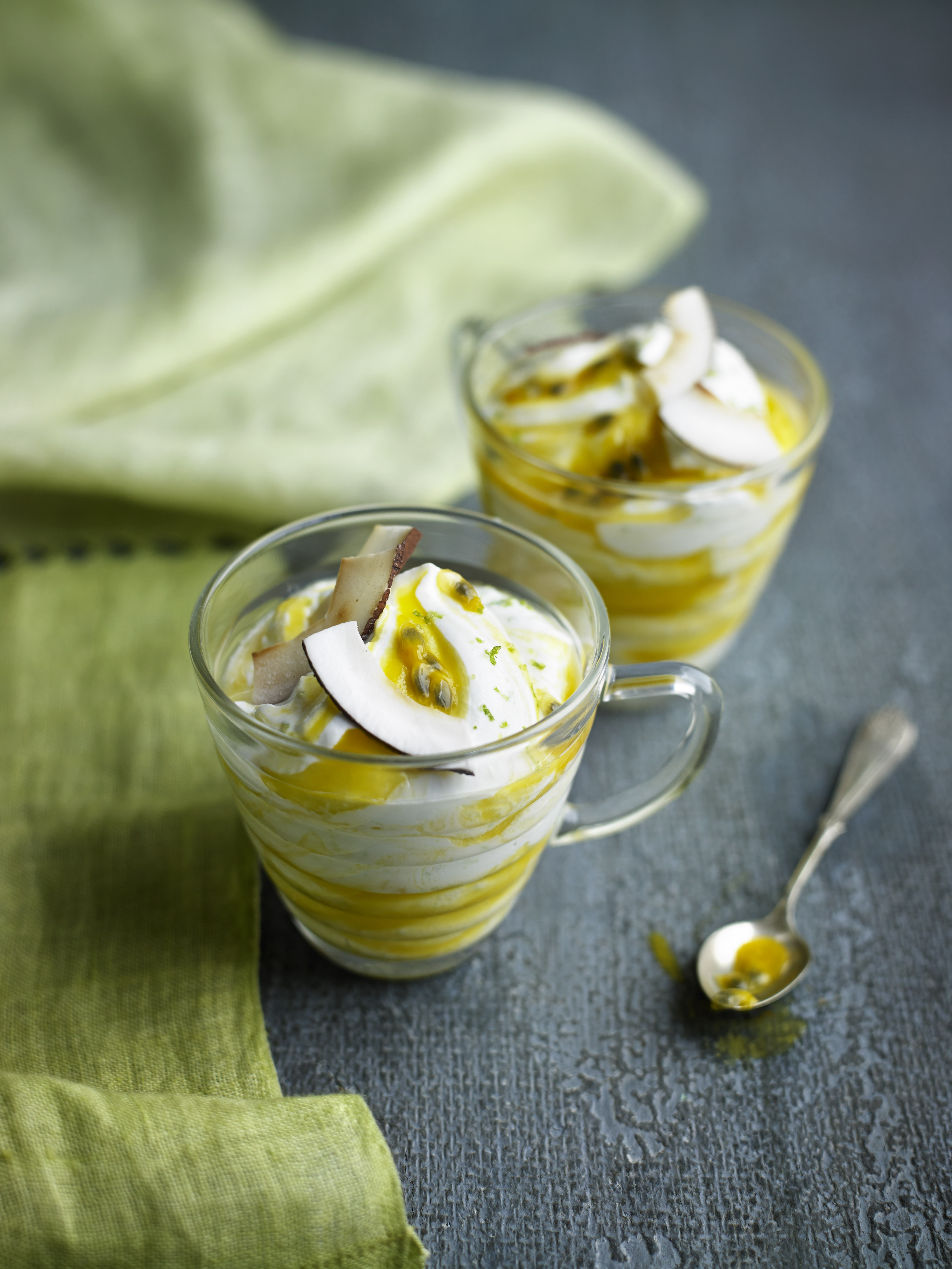 This is one of my all-time favourite desserts : fruit fool with a healthy and exotic twist. This is the perfect make-ahead dessert as it will sit happily in the fridge for a few hours.
Serves: 2
Preparation time: 15 minutes
Wheat free, Gluten free, Vegetarian
INGREDIENTS
1 tablespoon coconut flakes
1 very ripe mango
Zest and juice of 1/2 lime
100g low-fat Greek-style yoghurt
1 passion fruit, seeds removed
METHOD: Heat a small non-stick frying pan over a medium heat and dry roast the coconut flakes until just golden. Set aside.
Remove the flesh from the mangoes, place in a blender or food processor, and puree until smooth.
Stir the lime zest and juice and the yoghurt into the mango puree. (Do not mix in completely – you want to retain a swirled effect.)
Spoon the mix into 2 serving glasses. Top with the passion fruit seeds and toasted coconut flakes.
TIP: When preparing mango, the easiest way to remove the flesh is to slice through the fruit vertically as close to the stone as possible. Then, using a spoon, scrape against the inside of the skin so you catch every little bit.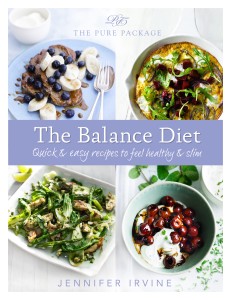 The Balance Diet : Quick & easy recipes to feel healthy & slim
Jennifer Irvine
Pure Package The Balance Diet
Like this article? Sign up to our newsletter to get more articles like this delivered straight to your inbox.