Model and nutrition enthusiast Karen Koramshai, shares an exclusive vegan recipe – smoked tofu and vegetable skewers with spicy peanut dipping sauce
Karen Koramshai is a model and chef and wellness expert.
Passionate about self-care too, Karen has launched her first website which is full of nourishing recipes and inspiring content to help others discover new ways to live tastier, healthier and happier lives.
Smoked tofu and vegetable skewers with spicy peanut dipping sauce – vegan recipe
These summery kebabs are so simple and quick to make but look really impressive as part of a summer buffet.
This vegan recipe can easily be adapted to suit your tastes.
Try using button mushrooms, asparagus, butternut squash or whatever else you fancy. If you have any leftovers the veggies are delicious the next day tossed into a salad.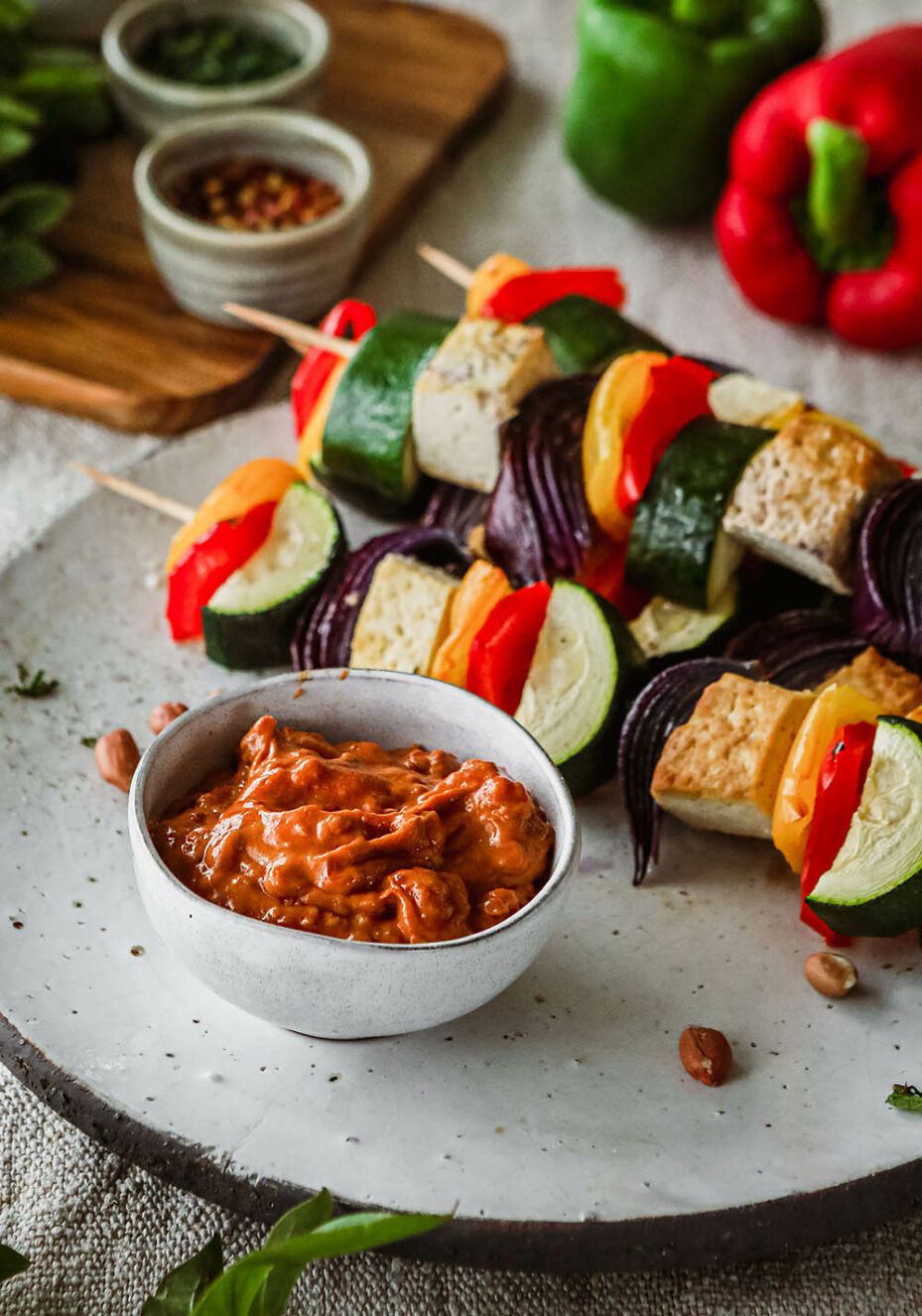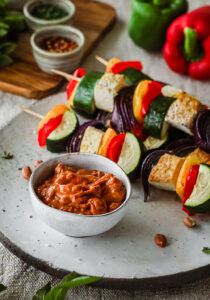 Makes 6
Ingredients:
2 courgettes
2 red peppers
2 yellow peppers
2 green peppers
2 red onions
100 grams smoked tofu
Dipping sauce:
80 grams organic smooth peanut butter
2 tablespoon rice vinegar
1 tablespoon tamari or soy sauce
1 teaspoon maple syrup
A few drops of toasted sesame oil
Method:
1. To make the dipping sauce whisk together all the ingredients until smooth and place in a dipping bowl on a serving platter and set to one side.
2. Cut the vegetables and tofu into roughly the same sized pieces (approx. 3cm) and thread onto the skewers alternating as you go until all the vegetables are used up.
3. Brush with olive oil, season well and cook on a preheated grill or in a hot oven (200°c).
4. If you are using an outdoor grill, turn the kebabs every couple of minutes to prevent them from burning. They should take no longer than 5 minutes, but all grills vary so keep an eye on them.
5. If using the oven cook for 10 minutes, turning half way through.
6. When the kebabs are cooked arrange on the serving platter and scatter over the coriander and lime wedges.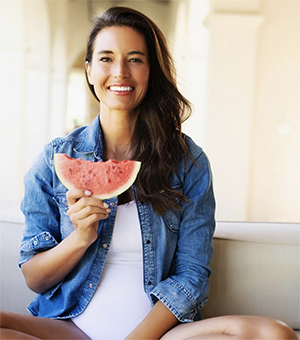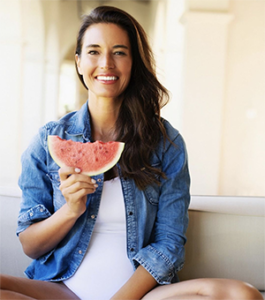 Karen Koramshai is a model, chef and wellness expert. Karen aims to live the most nourishing and balanced lifestyle, for her and her family.
Inspired by her childhood in Brazil and travelling through her career as a model and Commerical Director for magazines including ELLE Paris, Karen Koramshai learned to love local food, from cooking it to its nutritional and healing properties.
Along her travels, Karen has learnt to embrace new wellness practices and fitness methods and over the years beginning to create her own network of experts within the fields of health, wellbeing, fitness, travel and beauty.
More from Karen Koramshai:
Foodie Friday: chocolate & peanut butter protein balls
Model and chef Karen Koramshai shares 5 easy vegan snack recipes
Foodie Friday healthy lunch: Crushed pea, pesto and goat's cheese bruschetta
More Healthista Content:
7 ways to get smarter without opening a book
Warning signs of cancerous moles and what to do about them
How to protect yourself from coronavirus now that things are back to normal – an expert guide
'The skincare clinic that helped clear my cystic acne'
Like this article? Sign up to our newsletter to get more articles like this delivered straight to your inbox.