Battling cystic acne since she was a teen, Greta Dilyte, 27, tells Healthista her journey to clearing her acne-prone skin with Young LDN skincare clinic
I have suffered from acne since I was a teenager.
The doctors put it down to polycystic ovary syndrome, which I was diagnosed with aged 18. After having the cysts operated on aged 21, my skin cleared up and my confidence skyrocketed.
But a few years later, my inflamed, acne-prone skin returned.
Alone and uncomfortable
As a result of my skin being back to square one in 2019, my mental health started to suffer. Once again my confidence was zapped.
I found myself constantly staring at myself in the mirror, shying away from group photos and covering my face with my hair in selfies.
my mental health started to suffer, and once again my confidence was zapped
I felt alone in my struggle and uncomfortable in my skin which added a huge amount of pressure to my stressful and busy life.
My skincare regime, which mainly consisted of over-the-counter products, was always experimentative and inconsistent, which was extremely frustrating.
Admittedly, I was focusing too much on the short-term appearance of my skin rather than the long term. I desperately needed the help of a professional and advice on what products to use for my skin type.
Finding Young LDN
At my wits end, I started researching skincare clinics that specialised in treating acne and I came across Young LDN in Notting Hill.
So, I started my skin journey at Young LDN, which consisted of a combination of acid and enzyme peels, including the 'mandelic', which targets acne blemishes and marks whilst boosting complexion, and the 'alpha-beta', which uses a blend of acids to aid exfoliation, without harshness or irritation.
In addition, I had LED therapy, a non-invasive facial treatment. This uses different wavelengths of light to activate the skin cells needed to treat acne, calm inflammation, treat scars and reduce future breakouts.
Over the course of just one year, my skin cleared up massively and I finally felt at peace with my skin and appearance.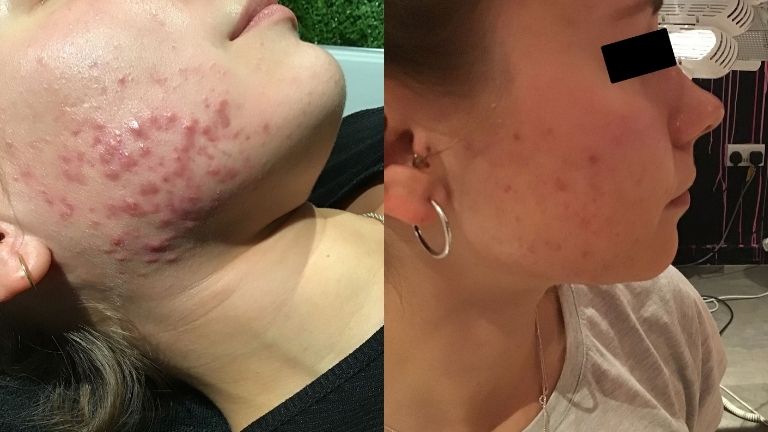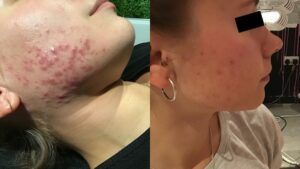 Changing my diet
I came to realise also that my diet played a major role in the condition of my skin. My Young LDN therapist advised me to cut down on coffee, eat less oily foods and more veggies, as well as drink plenty of water.
Being intolerant to dairy also meant that flareups would often show up on my skin. I was careful to only eat dairy in moderation. I also started taking Accumax, a supplement specifically for acne prone skin.
When lockdown hit and Young LDN shut their doors, I was concerned I would experience flareups due to not having regular treatments every six weeks.
advised me to cut down on coffee, eat less oily foods and more veggies, as well as drink plenty of water
Luckily though, my therapist checked in with me on a regular basis, assessing my skin virtually over Skype and advising me on an at-home skincare regime.
My skin journey was life changing. I no longer feel as if I need to avoid people or pictures and my very structured skincare regime helps me to practice self-care.
The skincare regime that got me through lockdown
To keep my cystic acne under control over lockdown, I followed this religious skincare regime (and still do!):
More Healthista Content:
5 foods proven to reduce stress and anxiety
7 best podcasts for a healthy mind and better mood
Eating disorders: 6 myths to be aware of
5 ways your exercise routine could be messing with your sleep
Why am I bloated? How hormones affect digestion plus what you can do about it
Like this article? Sign up to our newsletter to get more articles like this delivered straight to your inbox.