Model and health and nutrition enthusiast Karen Koramshai, shares an exclusive healthy lunch recipe – crushed pea, pesto and goat's cheese bruschetta
Karen Koramshai is a model and chef and wellness expert.
Passionate about self-care too, Karen has launched her first website which is full of nourishing recipes and inspiring content to help others discover new ways to live tastier, healthier and happier lives.
Crushed pea, pesto and goat's cheese bruschetta
This makes a lovely summer healthy lunch or even a first course as part of dinner. The humble pea is taken to the next level when paired with pesto and creamy goat's cheese especially if served on good quality sourdough which has been grilled and brushed with some extra virgin olive oil.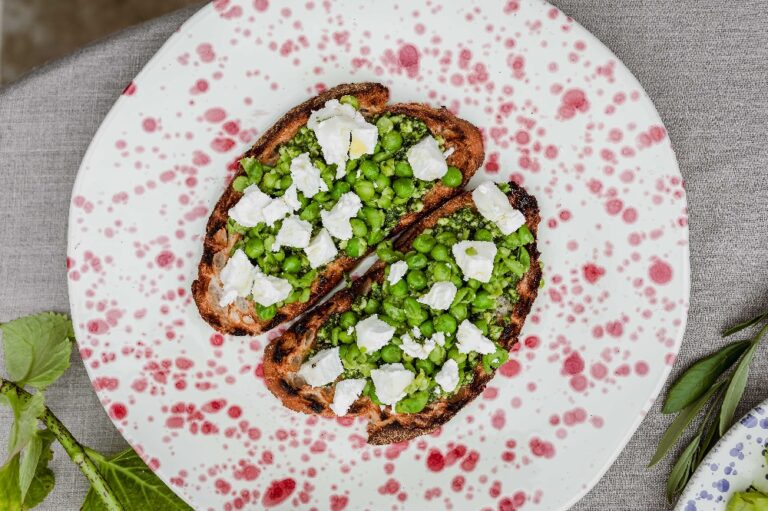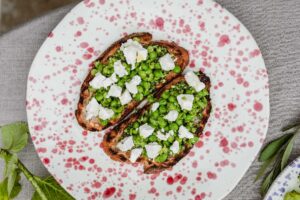 Serves 4
Ingredients:
4 slices of sourdough bread
250 grams frozen petit pois
60 grams best quality pesto
120 grams soft goat's cheese (I used Capricorn Somerset Goats Cheese)
2 tablespoons olive oil
Fresh pea shoots (optional)
Salt and pepper
Method:
1. Bring a pan of water to the boil and tip in the peas.
2. After just two minutes, drain and refresh in iced water – this will help keep their bright green colour.
3. Put the peas, 1 tablespoon olive oil and some salt and pepper in the bowl of a food processor and pulse until coarsely chopped. Set aside.
4. Lightly brush the sourdough slices with olive oil and grill on a ridged pan. If you don't have one of these, don't worry a toaster is fine.
5. When crisp and brown spread each slice with pesto and top with the crushed peas.
6. Crumble over the goat's cheese and if you have some pea shoots place these on top.
7. Drizzle with a little more olive oil, some flaky salt and serve.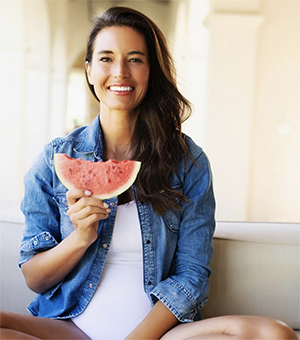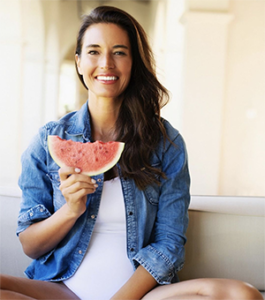 Karen Koramshai is a model, chef and wellness expert. Karen aims to live the most nourishing and balanced lifestyle, for her and her family.
Inspired by her childhood in Brazil and travelling through her career as a model and Commerical Director for magazines including ELLE Paris, Karen Koramshai learned to love local food, from cooking it to its nutritional and healing properties.
Along her travels, Karen has learnt to embrace new wellness practices and fitness methods and over the years beginning to create her own network of experts within the fields of health, wellbeing, fitness, travel and beauty.
More from Karen Koramshai:
Foodie Friday: chocolate & peanut butter protein balls
Model and chef Karen Koramshai shares 5 easy vegan snack recipes
More Healthista Content:
7 ways to get smarter without opening a book
Warning signs of cancerous moles and what to do about them
How to protect yourself from coronavirus now that things are back to normal – an expert guide
'The skincare clinic that helped clear my cystic acne'
Top London dentist reveals 8 simple ways to keep your teeth healthy
Like this article? Sign up to our newsletter to get more articles like this delivered straight to your inbox.