Model and health and nutrition enthusiast Karen Koramshai, shares 5 easy vegan snack recipes perfect for the summer
If you're looking to impress your friends with a delicious lunch, brunch or snack, you'll need some recipes that will keep everyone happy and excited about eating healthy now that summer has officially begun.
Karen Koramshai is a model and chef and wellness expert. Passionate about self-care too, Karen has launched her first website which is full of nourishing recipes and inspiring content to help others discover new ways to live tastier, healthier and happier lives.
From beautiful breakfast bowls to sweet treats
From beautiful breakfast bowls to sweet treats, smoothies, salads and snacks Karen Koramshai's recipes are easy to follow, scrumptious, healthy and are created to help energise, nourish and fuel your body.
Vegan Recipes #1 Walnut, Date and Coconut Protein Balls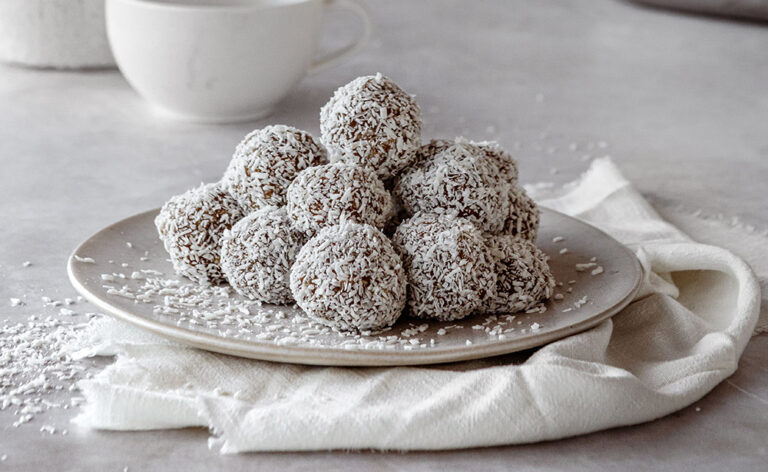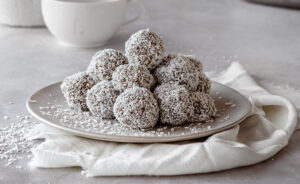 Serves 15-20
Dietaries: GF, VEGAN
Ingredients:
150g walnuts
270 g Soft Pitted Dates
30 ml Maple Syrup
100g Coconut Oil (melted)
200g Desiccated Coconut
Method:
1. Pulse the dates in a food processor until roughly chopped.
2. Add the walnuts, maple syrup and coconut oil.
3. Blend until it comes together. Decant into a bowl and put into the fridge to firm for one hour.
4. Roll into balls and coat in desiccated coconut.
Vegan Recipes #2 Beetroot and Mint Hummus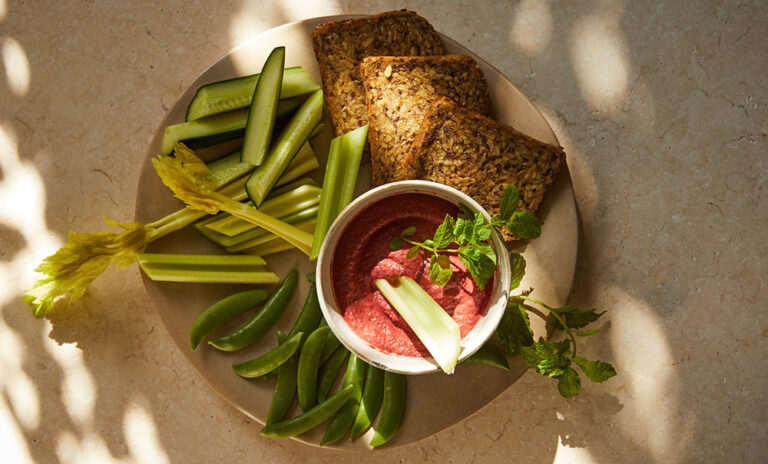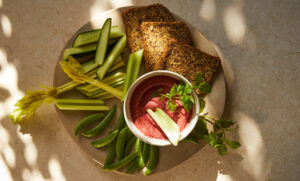 Serves 5-6
Dietaries: VEGAN
Ingredients:
1 pot / 200g Hummus
300g Beetroot – 'ready to eat'
2 Handfuls Fresh Mint Leaves
1 tsp / 6 g Horseradish – optional 1 tbsp / 15 g Agave Syrup
Method:
1. Place everything in a food processor or blender and blitz until smooth and fully combined.
2. Taste and add more mint if needed, also some salt and pepper.
3. Store in an airtight container for up to four days in the refrigerator.
Vegan Recipes #3 Smokey and garlic herb kale chips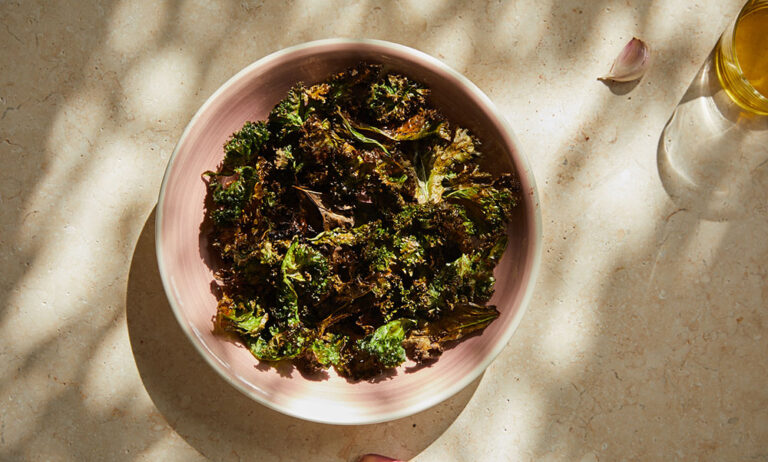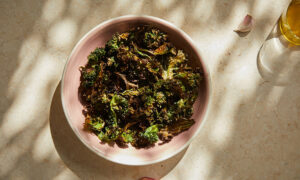 Makes 1 large bowel
Dietaries: GF, VEGAN
Ingredients:
10-12 Kale, on the stalk
2 tsp Garlic Powder
1 tsp Mixed Dried Herbs
1 tsp Smokey Paprika Avocado Oil or Walnut Oil
Method:
1. Preheat the oven to 180'C
2. Wash and pat dry the kale with kitchen paper then tear off large segments from around the stalk and place over two oven trays lined with parchment paper (keep the stalks in the fridge to put into a green smoothie – waste not want not!)
3. Then drizzle a little of your preferred oil over each tray, then sprinkle one tray with the mixed herbs and one tsp of garlic, and the other with smokey paprika and one tsp garlic.
4. Season both with salt and pepper and massage the kale with your hands ensuring each segment is coated in oil, then spread over the tray so they aren't crowded or overlapped to avoid them 'sweating'. We want crispy kale!
5. Bake for five to ten minutes, until they start to brown and crisp, keeping an eye on them so they don't burn.
Vegan Recipes #4 Superfood 'Crave-Busting' Cookies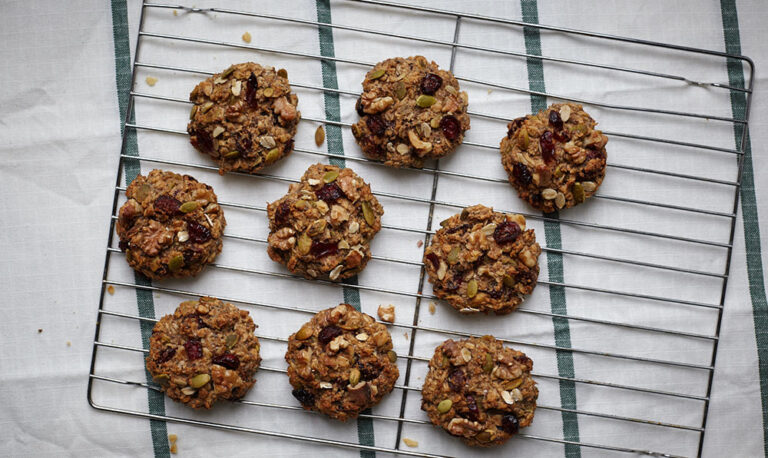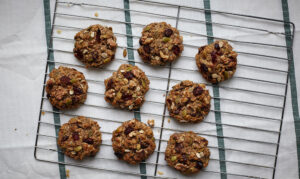 Makes 8-9 cookies
Dietaries: GF, VEGAN
Ingredients:
1 cup / 90g GF Jumbo Oats
1/2 cup / 45g GF Oat Flour (or grind oats in a blender)
1/2 cup / 45g Dried Cranberries
1/2 cup / 55g Walnuts, roughly chopped
1/4 cup / 30g Pumpkin Seeds
2 tbsp Ground Flaxseeds
1 tbsp Chia Seeds
1 tsp Cinnamon
1 tsp Baking Powder
Pinch salt
1 large Banana, riper the better
3 tbsp / 40g Coconut Oil, melted
3 tbsp / 40g Maple Syrup
2 tbsp / 25ml Almond Milk, unsweetened
Method:
1. Preheat oven to 200'C.
2. Combine the dry ingredients in a large mixing bowl and mix well.
3. In a separate bowl, mash the banana, then add the coconut oil, maple syrup and almond milk until well blended.
4. Combine the wet and dry ingredients together and then let mixture rest for minutes, giving time for chia and flax to bind everything together.
5. If your mixture has become too thick, stir in an additional one to two tablespoons of milk before scooping out onto your baking sheet.
6. Measure dough out into small circles and place on a baking sheet lined with parchment paper.
7. These cookies don't spread much while baking, so I like to gently press the dough with the palm of my hand to flatten a bit.
8. Bake for 15 to 20 minutes, or until cookies are lightly golden around the edges.
9. Leave to completely cool on rack before storing in an airtight container for two to three days.
Vegan Recipes #5 Beauty & The Beet Juice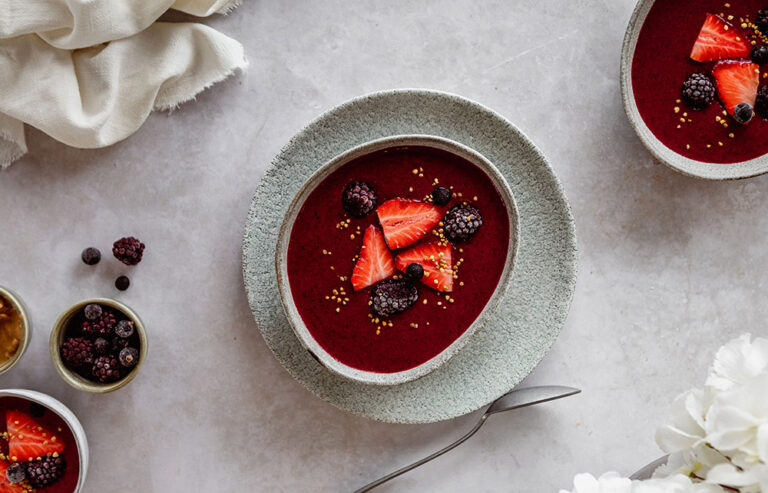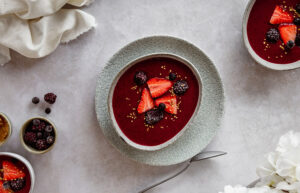 Serves 1
Dietaries: DF,GF,VEGAN
Ingredients:
1 Beetroot, medium – peeled and cubed
3 Carrots, large
1 Apple, red – quartered and cored
1 Lemon, peeled and quartered
1 Orange, peeled and quartered
1" piece Turmeric Root
Method:
1. Use either a cold press (masticating) machine or centrifugal juicer, making sure you rinse all of your ingredients.
2. Can be served either as a juice or in a bowel with some mixed berries scattered on top. Or you can use flax seeds or chai seeds as an alternative to the bee pollen.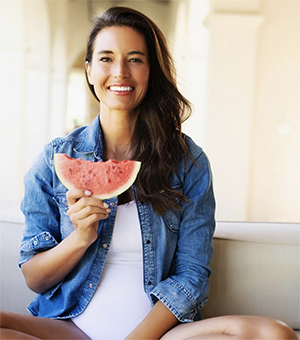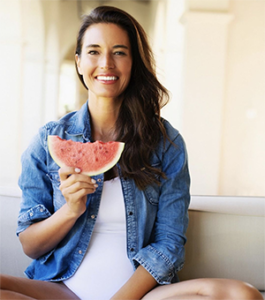 Karen Koramshai is a model, chef and wellness expert. Karen aims to live the most nourishing and balanced lifestyle, for her and her family.
Inspired by her childhood in Brazil and travelling through her career as a model and Commerical Director for magazines including ELLE Paris, Karen Koramshai learned to love local food, from cooking it to its nutritional and healing properties.
Along her travels, Karen has learnt to embrace new wellness practices and fitness methods and over the years beginning to create her own network of experts within the fields of health, wellbeing, fitness, travel and beauty.
More Healthista Content:
In what order should I apply my skincare products?
7 environmentally friendly product swaps you didn't know you needed
Conception: should I get an ovarian reserve test?
Hay fever driving you mad? 6 proven ways to reduce symptoms naturally
Like this article? Sign up to our newsletter to get more articles like this delivered straight to your inbox.