Want a personal trainer but can't afford the time or money? Healthista loves the new fitness app powered by AI that can give you your own tailored workout
Artificial Intelligence (or AI) is THE buzz word (or buzz acronym) in the tech world right now. Brainboxes in tech labs around the country have been developing computer systems that are able to perform tasks that usually require human-level intelligence – that's things like visual perception, speech recognition, decision-making and translating.
The reason we're hooked on Freeletics is the way that the brand has managed to integrate AI tech into its programme.
From Alexa robots pumping out beats while you do your cooking to promises that this intelligence will reframe the ways we farm food, these computerised systems are making our lives more fun, effective and sustainable.
We're especially excited at Healthista HQ to hear news of AI in the world of wellness and you can get in on the latest tech trend, simply by downloading an app on your phone.
The new Freeletics Bodyweight app is a free fitness app that's been running since 2013. With a whopping 21 million users in over 160 countries, it's one of the most popular fitness apps in Europe. The reason we're hooked on Freeletics is because most recently, the cutting edge fitness app has integrated  AI tech into its programme, making it stand out from the fitness app crowd. Freeletics is also the only app to use real-life case studies for the brands' adverts.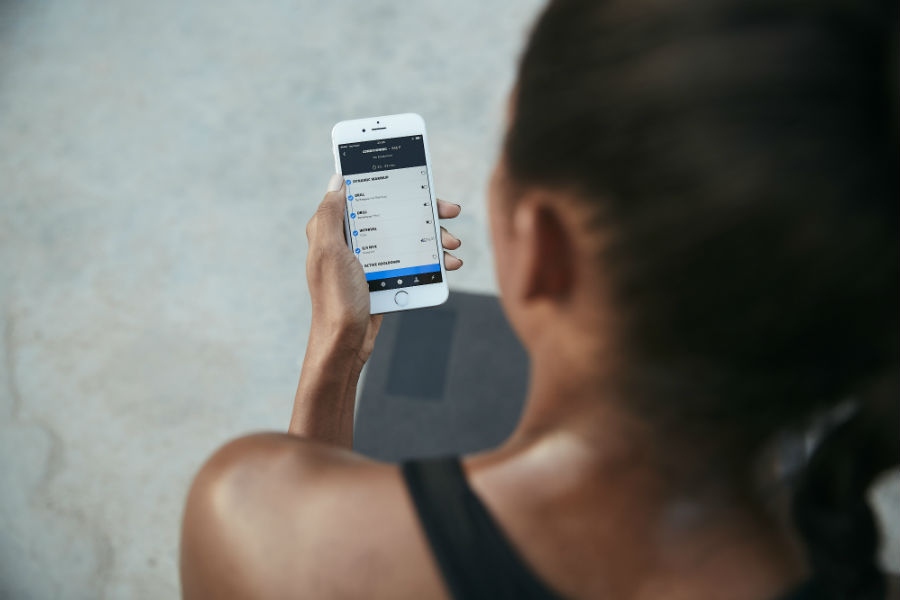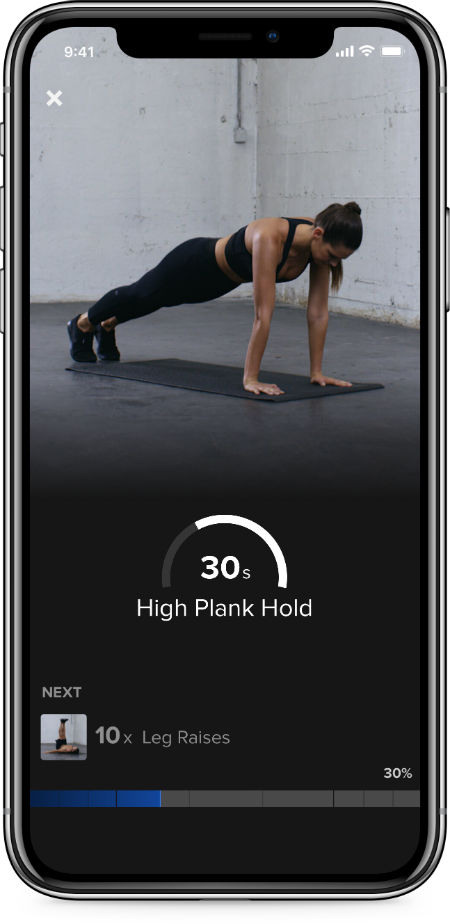 Freeletics market themselves as 'a personal trainer in your pocket'. The app runs bodyweight training programmes which help you reach your fitness goals (hello booty building) with no equipment, making it ideal for bedroom workouts or for those with little space.
There is also a Freeletics Running app to help you work on endurance and will compliment your strength training PLUS Freeletics also have their own nutrition app and a gym app for those that want to use weights – so it really does cover all your bases.
Thanks to Freeletics Bodyweight's nifty algorithm, the app uses an almost infinite number of training variations and workouts so that you won't get bored of your training. But that's just the start of it.
It uses computer intelligence to check on how you're performing, in the same way, a real-life PT would.
The heart of the Freeletics app is the Coach, which is where the AI comes in.
Unlike the rest of the app, the Coach requires a little investment from our end but in return, we get a digital trainer in our hand that creates bespoke week-by-week training plans.
Personal training without the personal trainer
Finally, a way to get some personal training without the personal trainer (and the PT prices). The Coach uses its intelligence to assess the workouts of its 21 million users and customises itself to an individual user's fitness level, preferences and goals. It analyses workout performance, tracks progress and adapts its training to continually challenge the user.
Basically, it uses computer intelligence to check on how you're performing in the same way a real-life PT would and uses this tech to switch up the training plan as you get better. It also means the app can recognise when you're in danger of injury and overtraining and change your workouts to make you go easier when necessary. The idea is that the artificial intelligence built into the app on your phone will not only create an individual workout plan but it also has your back when it comes to improving AND resting.
The most popular part of this app are Freeletics 'god workouts'. These are 29 different workouts each named after a greek god or goddess and each workout is based around a different fitness goal. For example, Triton is named after the merman messenger of the sea and is based solely on the upper body and Persephone (named after the queen of the underworld) is an intense and powerful full body HIIT workout full of burpees, lunges and leglevers. This part of the app is extremely popular amongst users (who Freeletics call 'free athletes') that compete at these workouts by sharing their scores on the in-app community. You'll be assigned these workouts every week and will see your speed and performance improve as weeks pass by.
'I dropped 20kg and went from dress size 14 to 6-8'
26-year-old brand and communication editor from the Scottish Highlands, Seana Forbes got great results with the Freeletics Training Coach 
'It's difficult for me to even remember what my life was like before I started training with Freeletics. I'm a totally different person now – inside and out. Although I was always pretty outgoing, I was never really confident and was often too scared to try new things because I worried about what other people thought of me. I was also really insecure about my weight and the way I looked and would often compare myself to others. Now I can honestly say that I'm the total opposite.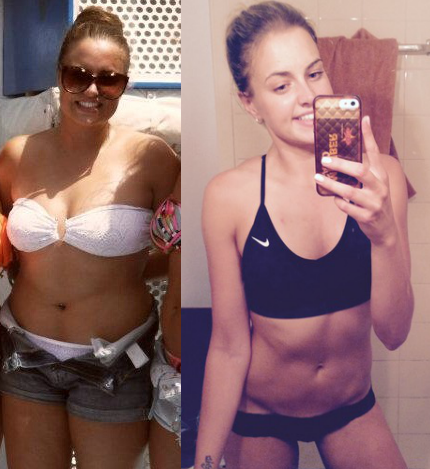 Whilst studying at Glasgow University, I put on a lot of weight. At the end of my studies, I did try to go on a health kick where I started going to the gym regularly and eating what I thought was healthier food. But looking back there were so many things I was doing wrong.
'I didn't know what was good for me and what wasn't and rarely cooked a meal myself using fresh ingredients or following a good quality recipe. I also once tried a "no carb" diet where I cut carbs almost completely and counted calories – some days consuming less than 1,000. This usually lasted two weeks before I went crazy and binged.
The adrenaline rush you get after a Freeletics workout is one of the best feelings and it's still what keeps me coming back for more.
Nothing worked until in April 2015 when I started to use Freeletics. I'd reached a point where I knew my unhappiness with my weight was holding me back in life and preventing me from doing the things I wanted to do. I saw the transformation videos on Youtube and also read some of the stories on the Freeletics blog and decided that I needed to at least try it out. I ended up losing 20kg and went from a dress size 14 to a size six or eight.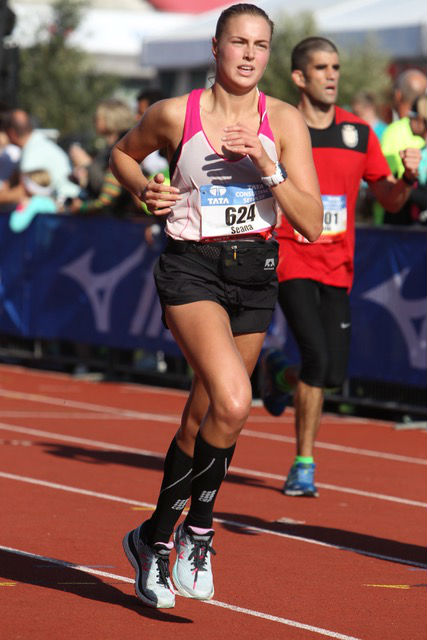 I won't lie, it was tough at first. I went from not watching what I ate to cutting out things like pizza and fries and chocolate cake, and avoided alcohol – all of which I used to consume on a daily basis. I began waking up an hour earlier so that I could train before work and even trained in the rain and snow some mornings. But as soon as I started seeing progress, the training became fun.
Getting started
During my transformation, I trained four times per week for about 30 minutes every day but now that my main focus is running, my training schedule makes it pretty hard to fit so many sessions in. Now I aim for around two Freeletics sessions per week and if I can find a spare 20 mins, I'll squeeze an extra one in here and there. That's the best thing about Freeletics workouts – they can be super fast but extremely effective.
'I remember my first 50 burpees though – I did five and thought I would die. But for some reason, this motivated me to keep going. The adrenaline rush you get after a Freeletics workout is one of the best feelings and it's still what keeps me coming back for more. Already after the first couple of weeks, my workout times in the app got faster and I could feel myself getting stronger and being able to do exercises I could never do before – this was really cool and pushed me to keep going.
The app was so easy to fit into my life. Of course, I had to wake up a little earlier to train before work, but it was so easy to get out of bed, roll out my training mat on my bedroom floor and do a quick workout before jumping in the shower and brushing my teeth. Sometimes I still even train on my lunch break. There's a grassy area next to my office where I sometimes go with colleagues. All you need is a spare set of training clothes and a mat and you can do Freeletics anywhere.
It's super cool when you hit a PB (personal best) on a workout you haven't done for a while or finally manage to do an exercise like toes to bars or pull-ups for the first time
The thing about these workouts that really stood out for me compared to things I've tried in the past was that Freeletics workouts train your entire body. I remember having muscle pain in places I didn't even know I had muscles, so I guess these had never been activated before. Whereas my previous hour long workout classes at the gym would leave me feeling slightly out of breath and a little sweaty, after a 10-20 minute Freeletics workout, I felt totally done, as though I had really pushed myself to give everything I had. This left me satisfied and also got me the results in the end.
A community feel
Freeletics really works for me. I love the feeling of being part of a team, especially in the beginning. If you like to train with other people, the offline Freeletics community is your best source of motivation. You can find training groups in most cities all over the world via Facebook or within the app, where you can train side-by-side with other Free Athletes. This was my biggest source of motivation at the beginning and I found a really cool group to train with on a regular basis. If you prefer to go it alone, like I did too some days, you can still be motivated by the online community. It's a bit like Facebook or Instagram, where other athletes can follow you and give you ClapClaps (similar to likes) or leave motivational comments on your workouts.
You feel accountable – as though others are relying on you and expecting you to be training somewhere. This was always a huge motivation for me, as I never wanted to let anyone down. Now, I love to see what others in the community are doing and I'm still inspired by their incredible stories and transformations.
Realising my potential
Freeletics training also led me to realize my passion for running and definitely helped me reach the level I'm at today. A year after my first workout I decided to take on a new challenge and I ran my first ever ½ marathon race. To my surprise, I came in second place.
This year of Freeletics training, especially HIIT bodyweight training, really improved my performance and it was at this point that I fell in love with running. Since then I've taken part in so many races, from 10km road races to 42km mountain trail runs in countries like Germany, Spain and Italy – and often even ending up on the podium. Recently, I came first place at a 30km trail run with 1,300 meters elevation gain at Lake Garda, Italy.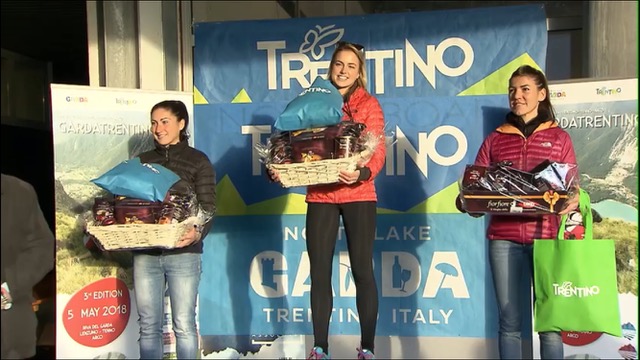 The app also inspires me because I can see my progress in my improving workout times and also technique exercises. It's super cool when you hit a PB (personal best) on a workout you haven't done for a while or finally manage to do an exercise like toes to bars or pull-ups for the first time.
And finally, I truly believe that this kind of workout strengthens your mind as well as your body. It's true what they say that your most powerful muscle is your mind, and Freeletics is the only training app, I find, that takes this into consideration.
While it's not something that it addresses in words, for me, it feels as though Freeletics knew what I was capable of and wanted to prove it to me.The workouts always seem impossible at the beginning, but every time you finish a workout it's proof that nothing is impossible if you set your mind to it. At first, I couldn't do a single pull-up. No matter how many times I tried, the strength was just not there, but the app continued to give me technique sessions and pushed me to keep practising and then one day I tried and I could do it. It's all about consistency and having something in front of you which tells you to practice over and over again. Without this, I would have got bored and frustrated and given up at the beginning. Once your willpower is in the game, your body will pretty much do anything you tell it to.'
Healthista tests the Freeletics app

Healthista writer Parisa Hashempour puts the Training Coach through its paces
First, input your basic details and then choose your fitness level on an adjustable sliding scale. Pick how many days you're likely to train and rank your top three motivations so that the Coach understands your goals.
I opted for muscle gain, stress relief and weight loss (in that order). And while I input my fitness level myself, the app then also made me take a straightforward one-off fitness test so that the intelligence could work out where I was at in relation to its 21 million other users. The app rated my performance and took note of my scores.
First, the fitness test
The fitness test included a dynamic warmup (think squats and jumping jacks) and was followed by plenty of burpees, situps and climbers – a sign of what's to come. Videos with bullet points and a visual demonstration showed me how to get the perfect form – ideal as this is something I often worry about when training without a PT. Every time you see a new exercise appear for the first time, the app actually tells you to sit through a demonstration on form, which is handy as I often get a little lazy with these and skip through to the main event (which is of course very silly and can result in injury).
Then, the workout
After testing your fitness, Freeletics devises a recommended workout plan. It suggested I work on strength and the first two days were aimed at beating the results I had achieved in the test. Then day three was based on lower back conditioning. A typical workout began with a dynamic warmup that included:
50 skipping jumps
50 jumping jacks
10 cossack squats
20 single hip raises (10 for each leg)
10 plank knees-to-elbow
10 diving pushup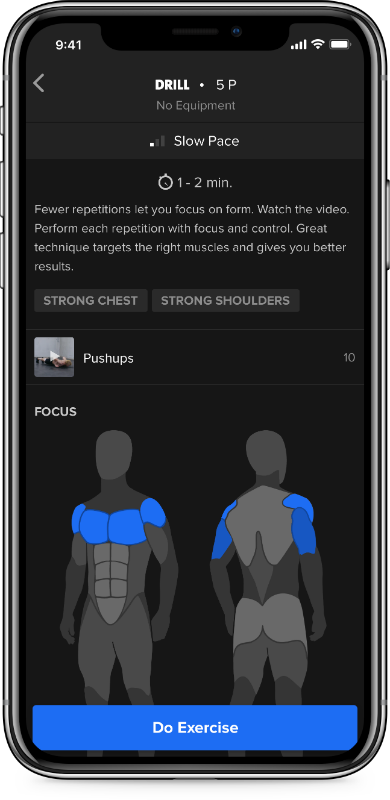 Once you've completed this, the main workout plan for the day could, for example, consist of two drills, a workout and a cool down. Drills are short technique sessions with low intensity to help you practice the correct form, and might, for example, include 30 crunches or 15 mountain climbers. Then the main workout would consist of five rounds and might look as follows.
Round one: 30 climbers, 10 pushups, 30 situps, 30 squats, 50 jumping jacks and a 30 second rest.
Round two: 20 climbers, 7 pushups, 20 situps, 20 squats, 50 jumping jacks and a 30 second rest.
Round three: 10 climbers, 5 pushups, 10 situps, 10 squats, 50 jumping jacks and a 30 second rest
Round four: 20 climbers,  7 pushups, 20 situps, 20 squats, 50 jumping jacks and a 30 second rest
Round five: 30 climbers, 10 pushups, 30 situps, 30 squats, 50 jumping jacks
All in all, with both drills and the warmup and cooldown, the workout took me around 40 minutes and I can honestly say I have never felt more exhausted. I was DRIPPING with sweat and as I swapped it for my usual morning fasted run pre-breakfast, I was ready to demolish my bodyweight in breakfast foods by the time I'd finished.
I was DRIPPING with sweat
'God workouts' are the signature exercise routines of the Freeletics app. They're time based (taking on average 15-25 minutes) but should be completed as quickly as possible. The more fit you are, the less time you will take. You must touch the screen to pass on to the next exercise once you have completed the given number of repetitions. As you continue working out, you'll see your performance and times improving day-to-day and week-to-week.
Competing with yourself
Despite the time element not being visible during some workouts, you're graded on how long it took you to complete and how difficult you found it (you tell it this at the end of the workout) and this way you will be able to see how much faster and easier you are running through the workouts each time you do them. Some workouts didn't have a clock on the interface and I found that this stopped me from constantly wanting to check the time and kept my head in the workout. Somehow it also stopped me from getting bored which is often a big problem for me.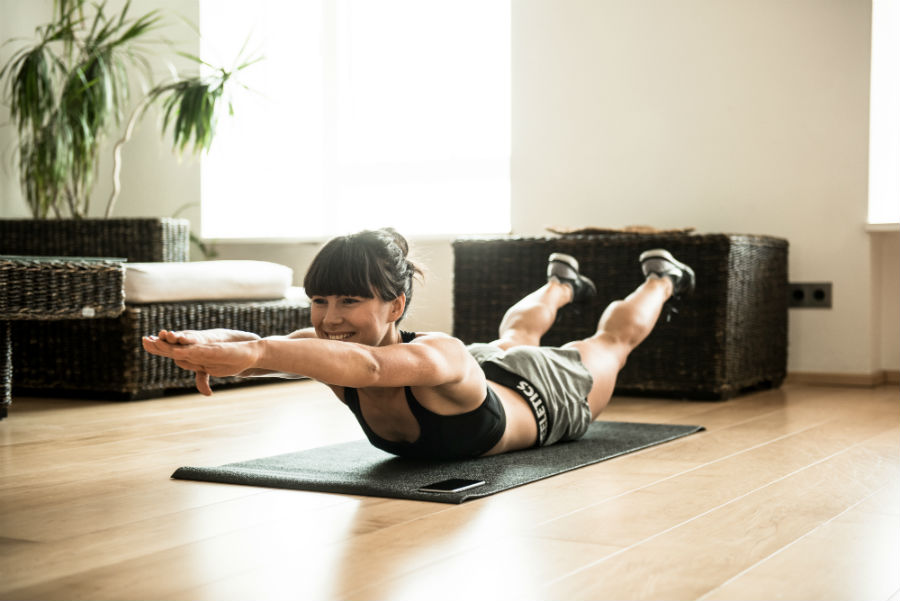 The fact that you are working each week to run through the exercises at a quicker pace also brought out the competitive side of me. I loved running through the 'god workouts' for this reason too. During these you not only aim to beat your personal best but compete against other users too. You can do this by sharing your scores in the community section of the app and seeing how you place next to other users. The Hermes workout was particularly fun as it really pushed me. It's the ultimate cardio workout filled with push ups and sprints, aimed to work your arms and legs to the max.
Even on days when I couldn't be bothered, I worked harder than I would on a time-based workout as I knew there was a score to beat. However, if you don't have 40 minutes to spare for your full Coach day, you can also choose a different, shorter workout from the list of 'god workouts.' The interface of Freeletics is super straightforward to use and perfect for a technophobe like me.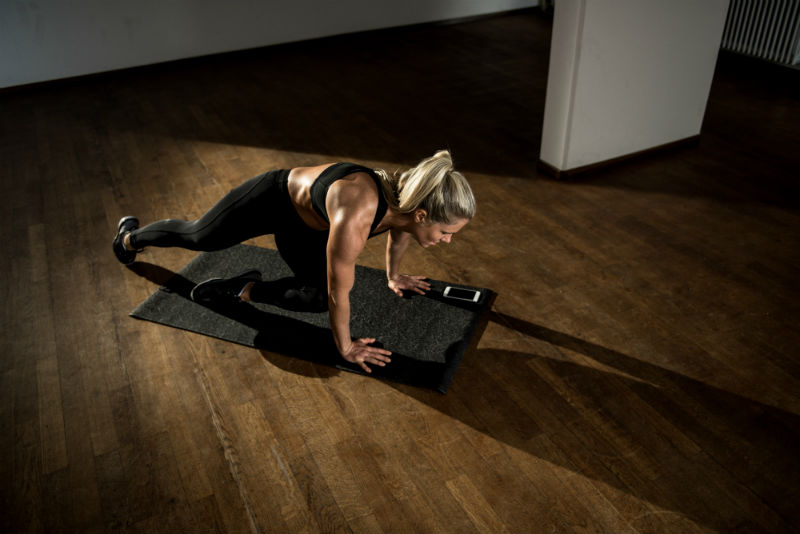 I can imagine that if I keep this workout routine up, I'd end up both seriously fit AND losing a serious amount of weight. The combination of bodyweight and high-intensity plyometric moves (aka HIIT) are big fat burners. Plus the style of training is extremely functional and shows that you really don't need a fancy gym and lots of space to tone up and workout. All in all, I am impressed with the Freeletics Coach experience and will be keeping it up three days a week to improve my overall fitness.
Freeletics at a glance
What is it?  A downloadable app that creates bespoke fitness training programmes to cater to your workout goals. It's basically like a PT in your pocket that you can take with you anywhere
What does it do? The app assigns you various HIIT workouts (an almost infinite amount of variations according to the brand) that can be done anytime, anywhere, without a gym or equipment – all you need is 2×2 metres of space. Workouts last on average between 10 and 35 minutes and are made up of bodyweight exercises only, think lunges, push-ups, climbers and squats.
Is it difficult? The technology built into the Coach aspect of this app means that it's great for beginners AND seasoned pros. Whether you've never squatted in your life or already do burpees for fun, the Coach will create a programme that is exactly what you need to achieve your goals.
Why we love it The hyper-personalised approach that this app has taken makes it unlike other workout apps on the market. Freeletics uses AI to monitor your workouts and performance so that it can tailor the next workouts specifically to your needs. It really is like working out with a personal trainer (only it can't tell you off for last night's chocolate binge).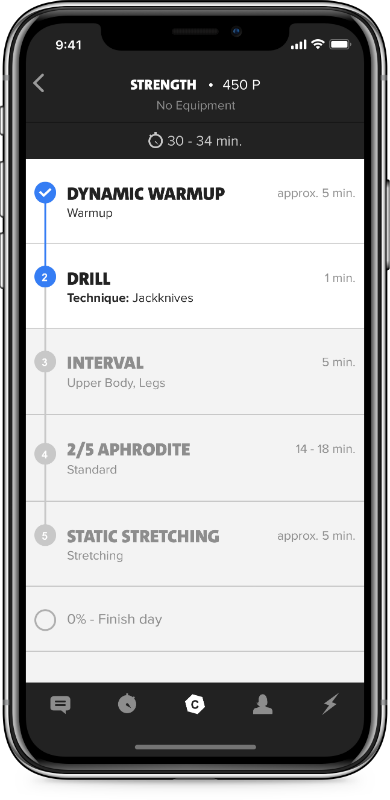 Not only are some workouts time based meaning that your workout is super speedy and can be done in 10-30 minutes.  Other workouts on the app also work on a rep basis. Basically in these workouts Freeletics asks you to perform a number of reps per exercise. This means that no matter your fitness level, the workout stays difficult and keeps you locked in.
Don't miss The community aspect. The 21 million Freeletics users are all part of the in-app social media-like network. They can connect with each other directly within the app to ask questions and train together both on and offline. You can find and follow friends or people who motivate you, see their progress and congratulate from on achievements (a bit like Instagram). Instead of 'likes' users give their friends 'ClapClaps' for their workouts and can leave encouraging comments.
The app also gives you an option to find your nearest real-life training spots where other users are training IRL. You can see which users train in your local community and the spots that they work out in. The future of dating apps maybe?
Anything else? Yup, the brand has even launched its own Freeletics Wear apparel line which is surprisingly on point. We love the No Excuses gym bag, the No Excuses Workout Mat and Hydro Flow Bottle (BPA free? Yes please).
Where can I get it?
The Freeletics Bodyweight, Running, Gym and Nutrition apps can be downloaded for free in the App Store and Google Play Store. The app is free to download and use but personal training starts at £12.99 for one month and goes up to £74.99 for the whole year. It starts from £1.44 a week with a yearly subscription, with £3.25 a week being the most expensive option with a monthly subscription.
Find out more information about Freeletics here.
Read more
Want to lose body fat? This gadget can help
This will cut your appetite without making you tired
Should I workout on an empty stomach to lose weight? Fitness fads exposed
Like this article? Sign up to our newsletter to get more articles like this delivered straight to your inbox.