In this week's celebrity trainer secrets dispatch, Wissam Khouzoui, PT to Game of Thrones (which starts again this Sunday…) and X-men star Sophie Turner reveals his top body rules
Are you as excited as we are about the return of Game of Thrones this weekend? Thought so. We can't wait for the return of some of our favourite characters from the moody but dreamy John Snow (Kit Harrington) to young and feisty Arya Stark (Maisie Williams). And one character we're really looking forward to catching up on is Sansa Stark (now Queen of the North), played by British beauty, Sophie Turner.
The 21-year-old star who is dating pop prince, Joe Jonas is absolutely exploding right now. And not just because of her role in everyone's favourite NSFW (that's not-safe-for-work to the uninitiated aka contains nudity) to fantasy drama but also for her role playing a young Jean Grey in the X-men series. Like all actresses, it takes some effort to get in shape for her action-packed roles. We turned to personal trainer Wissam Khouzoui who has worked with the actress to get her in tip top shape for film roles.
Khouzoui who works as a sports therapist and personal trainer explained that because of her busy schedule, a lot of the work he did with her was online. 'She was on a busy schedule so we had to keep it to three to five workouts a week. She often had to go on a last minute flight somewhere and relied a lot on online training.'
He talked us through the tips and tricks the celebs use, to help us all get in shape this summer.
Ramp it up with a full body workout
A full body workout is the best thing you can do because you're targeting every muscle group, you're not missing out on your back or your chest or legs. You're making sure that you're taxing every muscle group. A clean and press is a good example because you're utilising the lower body and upper body at the same time. So that would probably be my go-to exercise.
 A lot of the exercises we do in the gym aren't to help us improve in the gym but to help is in our daily lives
Full body workouts mean a lot of squats and deadlifts – exercises that require multiple muscle groups. So for example, if you're squatting, you're using your hamstrings, your glutes, your quads and your core. Plus that's when you burn the most amount of calories when you utilise the most amount of muscle in one movement.
A typical workout routine would probably be 45 seconds of squats, 45 seconds of deadlifts, 45 seconds of overhead presses and then 30 seconds of recovery and you repeat that round four to eight times depending on your goal.
Full body exercises are great because they're functional, which means movements you do naturally. A lot of the exercises we do in the gym aren't to help us improve in the gym but to help us in our daily lives whether its posture at work or energy levels throughout the day so you can stay focused. It helps you to find more of a balance in your daily life rather than just improving in the gym.
Lift and walk your way fit
I would recommend weight training over cardio. All my online clients always prefer weight sessions as they feel they're getting stronger, fitter and have more energy throughout the day. But again, it's really going to help you outside of the gym. Plus it will help increase your total daily energy expenditure (basically the number of calories you're burning on a daily basis). That can also be increased through your daily steps so doing things like walking more and gardening, taking the stairs instead of the lift, parking further from the supermarket so you're walking more.
Anything that keeps you active outside the gym will help you burn a lot of calories throughout the day. So it's not just the stuff you're doing in the gym but also the stuff you're doing outside of the gym. You're only in the gym for 45-60 minutes a day and that's only three or four percent of your day. That's not sufficient enough, you need to stay active throughout the day.
Remember your motivations
Everyone has a reason for working out. If it's fat loss then why do you want to lose fat? If it's to look good then why do you want to look good? There is always a deeper reason as to why people want certain things. it's really important to break it down and understand why you even started in the first place.
write down why you are doing this and what you're trying to achieve
For me personally, I enjoy training and exercising and its just part of my daily routine, just like brushing my teeth or taking a shower. I don't need motivation to do that because I already know the benefits of doing it but for someone that is starting out a good thing to do would be to write down why you are doing this and what you're trying to achieve. It shouldn't be a simple 'my goal is fat loss' that's too generic. It should say what your goal is and why that is your goal. Not just that you want to lose weight but that you are trying to feel better or look more confident.'
Keep an eye on your calories
It's not necessarily about what you eat but about how much you're eating. I don't believe there is a food that will help you burn fat, it's about sticking to your calorie intake. And don't guess your way, it's really important to have a plan. The easiest way to keep an eye on your calorie intake is to have a calorie tracker, I personally use My Fitness Pal. I get a lot of my clients to use that as well and it seems to work really well, it's a good database that has all your food groups, you just have to weigh your food. You can also scan the barcode if you decide to have a sandwich or a protein shake or protein bar.'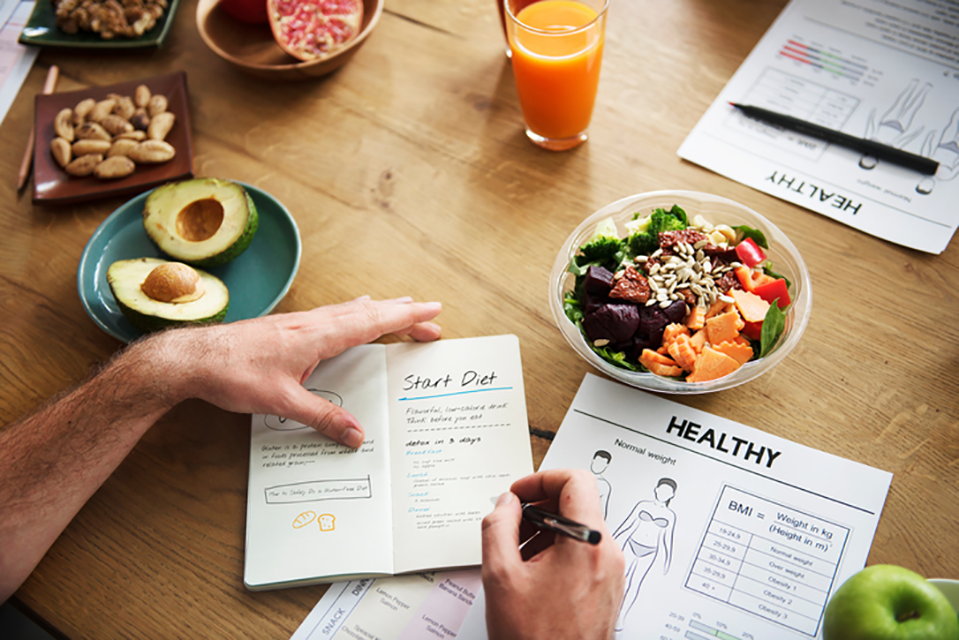 Be consistent
Consistency is crucial when it comes to dieting. If anyone is struggling with results I would say it's simply due to inconsistency. If you're consistent with your diet or exercise routine you will get results. There's a lot of misinformation out there. People look at certain individuals and say, I want to look like them so I'm going to eat and drink everything they've eaten and drank. Then they don't get the results they want so they look for something else.
everyone does have the occasional splurge and if that happens, it's not a big deal, just get back on track
I often see people on a cycle of looking for the next best thing or looking for shortcuts. The best thing to do is look for something that works for you, find it, stick to it and be consistent with it. Something I always tell my clients is that if you can't visualise yourself doing this two months from now, just stop right there and then and find something you can see yourself doing in two months time.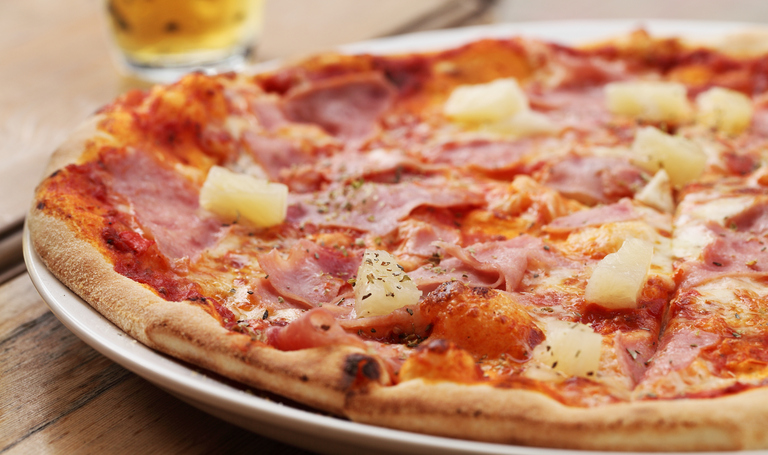 When it comes to food, everyone does have the occasional splurge and if that happens, it's not a big deal, just get back on track. You don't have to do a detox or anything, just get back on track and try and be consistent with it. Although I'm able to fit certain foods that I like into my diet and my calorie intake, I think my cheat meal would probably have to be a pizza – Hawaiian, the best one!'
Moderation is key
Moderation is so important. Find a balance with your family and friends, work and health. Everything you do in the gym is just a tool to improve your daily life, it's not a necessity. It's something you adapt or implement into your routine so it's part of your lifestyle. My philosophy is to not be too attached to it and not to dwell on it too much.
When it comes to your diet, the rule of moderation stands.  Eat to a point that you're no longer hungry but not to the point that you're completely full.  I have a lot of friends that eat until they can't move and other friends that starve themselves. They're two big extremes. If you can stick to a philosophy of eating in moderation throughout the day then your energy levels will be good, you're not going to be lethargic and you'll have all the energy you need for your workout and your day-to-day routine.
Read more
Celebrity trainer secrets: Baby Driver star Lily James' PT reveals the best exercise for weight loss
8 fitness trends your body will love this summer
Celebrity trainer secrets: The blockbuster PT that says calories DO matter
Legs and butt exercises to whip you into shape – the celebrity trainer's 10-minute workout
Like this article? Sign up to our newsletter to get more articles like this delivered straight to your inbox.