Looking for new healthy restaurants in London to hit this weekend? Healthista Eats blogger Charlotte Dormon has the inside info you need
London just keeps on getting better for healthy eating, and this summer has been a great one, with three new healthy hotspots opening around town and one of London's most glam hotels serving an exclusive  breakfast menu designed by blogger and healthy eating guru Madeleine Shaw.
Whether you fancy a kick-ass botanical-infused green juice, having your dinner in a tree house, or to feel like your having lunch from the beach in Hawaii, I'm certain there's something I've found that will make your day. 
Rawligion – Tottenham Court Road
What to expect: Organic botanically charged juices, Cold Drip coffee, and raw food feasting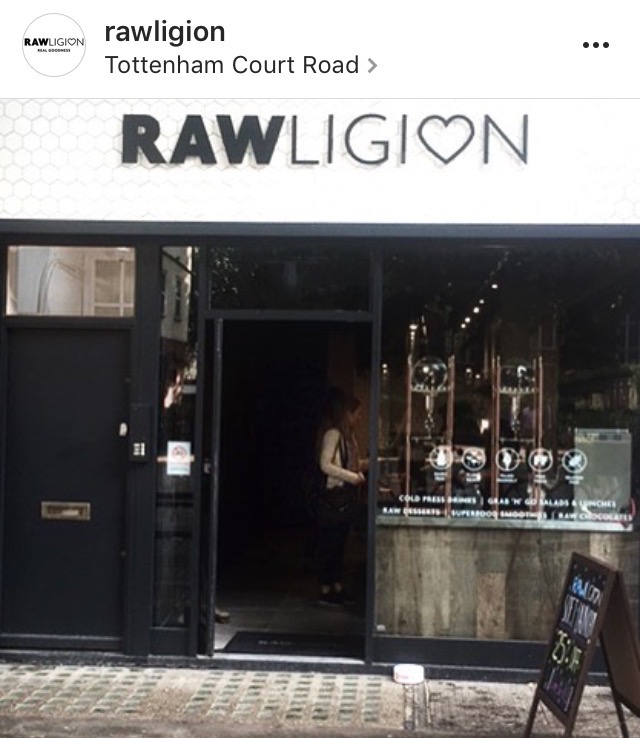 Just as I was getting a little bored of my regular juice bars that all seemed to be serving the same green veg drinks and never-ending piles of almond or cashew nut power balls, I was invited to try out Rawligion – an organic raw food cafe, coffee shop and juice bar that aims to give customers the ultimate nutritional boost through their bespoke raw organic food and drinks menu.   
Last week I headed down for lunch to meet with John, the founder, who was going to introduce me to their healthy venture and allow me to taste what they have on offer.
MORE: 10 best healthy restaurants in London to get you beach-body ready
Within moments of meeting, I was a fan of John. He told me the story of why he opened the business, which came about after he had numerous health problems that he managed to resolve by cleaning up his diet, going organic and enjoying plenty of juice and healing botanicals. His story was hugely fascinating and I loved the passion, energy and excitement he has for his new business. He was only too eager to prove to me that Rawligion is very different to the current healthy eating, vegan and raw food venues around town.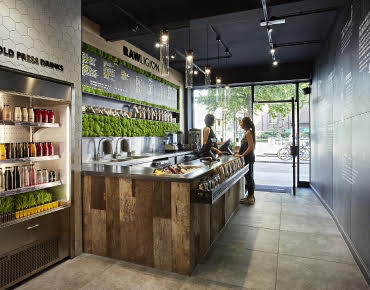 I started off with a tasting session at the juice bar. If, like me, you're never sure which is the right juice for you – or you fancy trying something different without having to fork out a fortune to do so – then John is your man.
At the Rawligion juice bar John has created a special sample selection consisting of glass bottles filled with all the different juices, nut mylks, cold drip coffee and raw cocoa drinks, so you can try a little taster cup of each one to know if you like it before you purchase.
John talked me through each of the drinks, their individual key ingredients and the unique health properties they would offer me.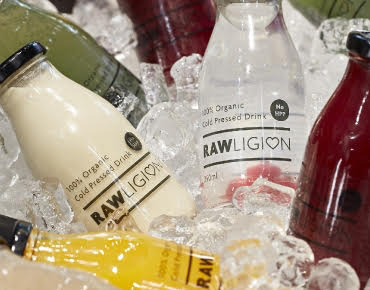 Rawligion doesn't just stock your average run-of-the-mill cold-pressed juice made with veg and fruit; John has upped his game by working with an expert herbalist who's created a bespoke herbal blend for each drink, using everything from Chinese, Ayurvedic and Western herbs and botanicals to medicinal mushrooms and probiotics.
MORE: TURMERIC: 5 ways it can make you gorgeous
The blends can do everything from helping the body to fight off infection to improving sexual performance and enhancing brain power. I think most overworked, frazzled city workers I know will gladly welcome help in all three areas!
Each juice is made with organic ingredients and tastes exceptionally good, even with the potent herbal concoctions they contain.
The nut mylks certainly give the competition a run for their money as far as quality and taste are concerned.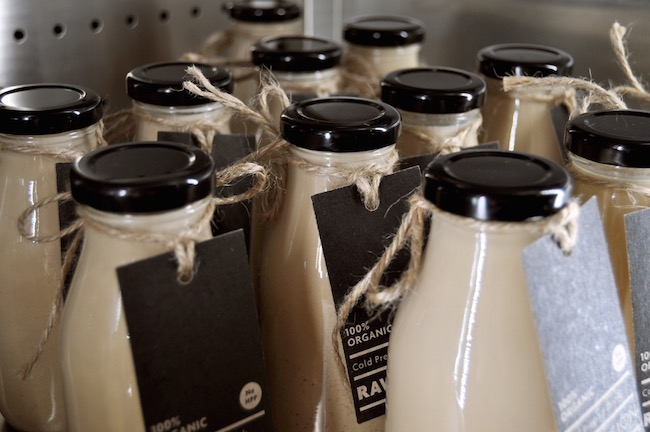 My favourite, the Brain Boosting mylk, made with walnuts, medicinal mushrooms, vanilla bean and a sweetened with a little Medjool date, is marvelous. With the medicinal mushrooms supporting neurological health, and the walnuts providing omega-3, this mylk has – according to John – worked wonders for helping people who suffer with poor concentration and brain fog.
As far as the food is concerned, you wouldn't come here to enjoy a sit-down meal. The food is designed to be taken away, so everything is already boxed up in the fridge and ready to go. 
There is a small seating area for those wanting to eat in, but the whole concept at Rawligion is to provide ultra-healthy food fast for super-busy people.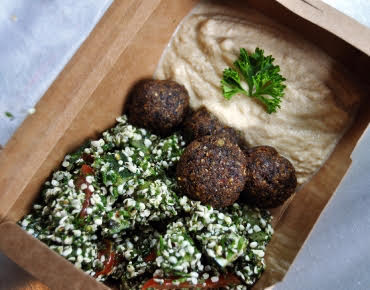 You can choose from an abundance of raw food dishes including courgetti Italian pasta, kelp noodles with protein pesto, raw falafel and salad and many others, with new ones set to come out later this year. All the dishes are vegan, gluten-free, organic and full of plant-based nutritional goodness. 
I tried the cauliflower sushi – a healthier grain-free sushi-like option for those looking to avoid the refined white rice found in typical high street chains.
The Lebanese box is a healthier take on the deep-fried falafel boxes we know and (mostly) love. The Rawligion falafels are made using a dehydrator, with a blend of seeds, tomatoes and Middle Eastern herbs and spices, and they come served with a side of tabbouleh and lemon tahini dip.
Raw cakes and treats are also available and seem to be increasingly popular with sugar-shunning office workers rushing in throughout the day to get a 'cleaner' sweet treat fix.
MORE: 8 best vegetarian restaurants in London
I am not one for saying no to pudding when invited to review a restaurant, so just to be sure – and as it was obviously critical for the Healthista readers to know exactly which one they should go for – I'd thought I'd try out two. I mean, it's pretty important at times like this to make sure readers get to know which puddings are the best…or that's my excuse for now, anyway.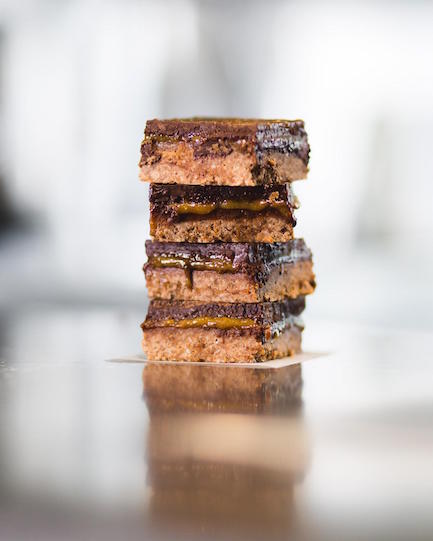 There are currently three options of pudding to go for, yet John tells me that they are working on many more. He has even employed a full-time chocolatier who specializes in making raw chocolate to come on board later this autumn – sounds good to me.

From the current menu, I tried the Caramel Shortcake and the Chi Lime pie. Both are as good as each other, depending on if you fancy chocolate or something a little zestier – and despite lacking the usual abundance of sugar, they tasted very good indeed.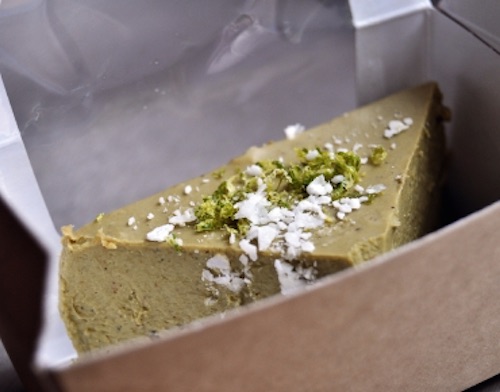 For those wanting to have a few days off dairy, wheat and grains and pep up their health on super-juices, I thoroughly recommend trying out Rawligion. It's certainly worth going in, meeting John and testing all the different juices and mylks to see if one takes your fancy. 
Squirrel – South Kensington

What to expect: Prawn Star Salad, Miami Rice and dinner in a tree house
When my friend – the very gorgeous nutritionist Zoe Stirling – told me she was opening up a new healthy eating restaurant with a big focus on having fun, I was both intrigued and delighted.
I just wanted to be able to go out and eat the food that I knew made me feel good, yet still have the 'fun' and more 'normal' dining out experience
In my past experience, eating out and eating healthily has often meant having a pretty 'un-fun' dining experience. This is one of the main reasons I got into writing blogs about eating out: I just wanted to be able to go out and eat the food that I knew made me feel good, yet still have the 'fun' and more 'normal' dining out experience that my friends and I would enjoy so much more at regular restaurants.     
Zoe, as a nutritionist, is also a big fan of healthy food. While helping her clients to optimise their health by eating well, she would hear many of them complaining that there was nothing available for a quick, tasty and nutritious bite to eat for lunch or dinner.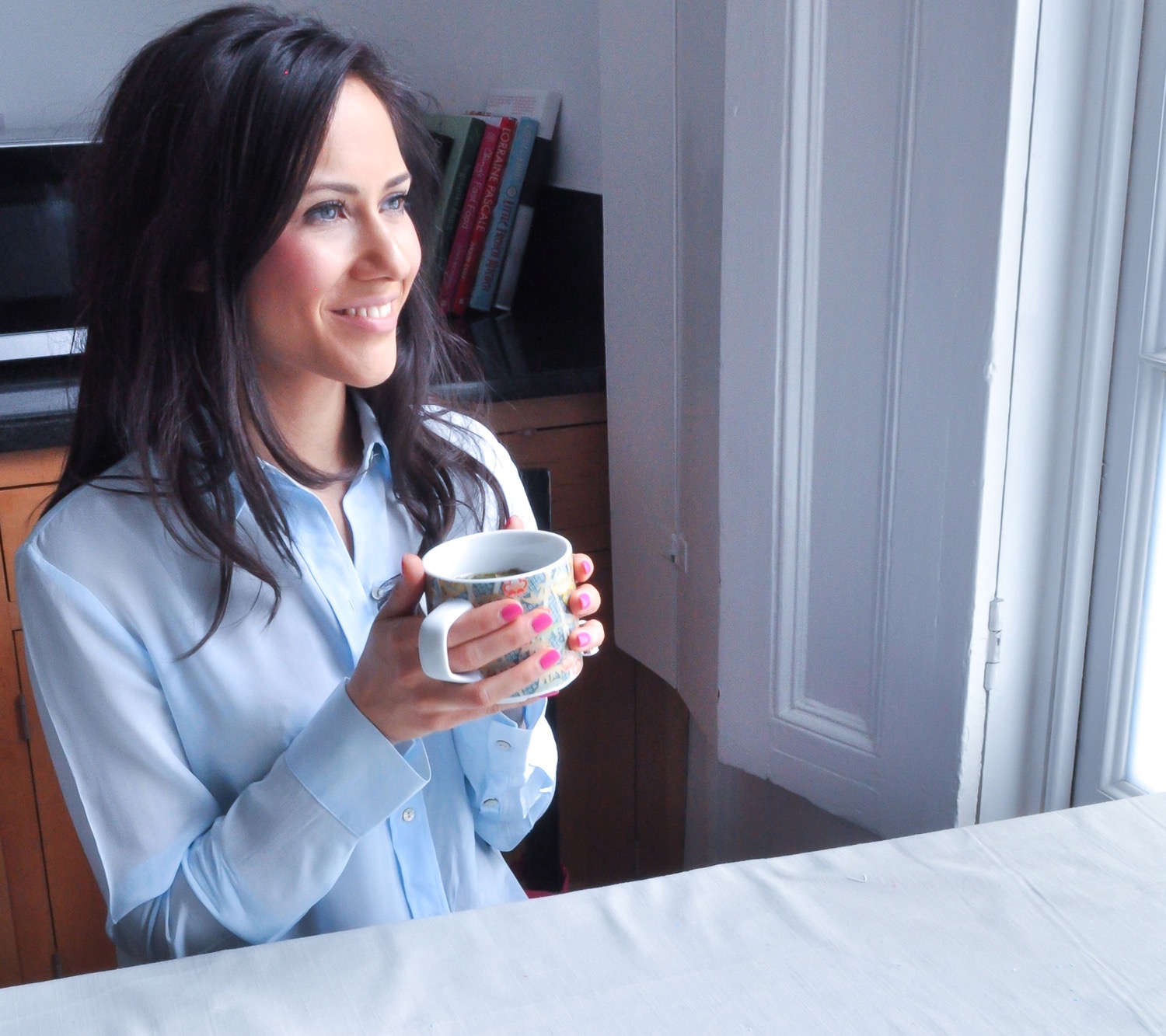 They complained that the high-street chains they visited for lunch would not have anything free from wheat, dairy or artificial additives, or that the food was high in salt and often laden with cheap oils and processed meat. I for one can certainly relate to this issue – I often find myself in a hurry on my lunch break scouring the shelves in hope of something healthy and tasty to eat. 
So after many months of hard work and determination, Squirrel was born and Zoe finally made her restaurant dream become a reality.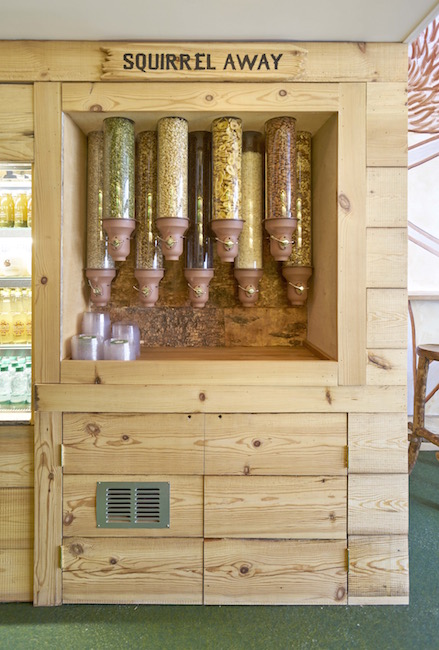 The other week I was lucky enough to be invited to sample the food menu and drinks at the opening evening.
Before the opening, I kept hearing snippets about all the cool stuff that she was planning and how she had travelled across to New York and met with anyone she could that would help her to get inspiration for the menu at Squirrel. And I was indeed totally blown away with what she and the rest of her team had created.
Having a little fun and not taking everything so seriously is something Zoe has managed to achieve here. The menu is just one of the areas in which you can have a bit of a giggle, such as when you order the Prawn Star Salad or Miami Rice.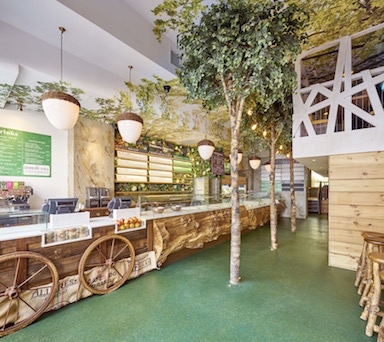 As per the name, the woodland squirrel theme runs throughout and shows off the fun personality of the brand.  Inside, there is a playful design with a tree-lined walkway and service counter carved from a big oak tree. It's a bit like going into a little forest with a food bar. The lights are housed in hanging acorns and you can sit and dine in a timber-clad tree house or around large picnic-style tables. 
Although it might seem on first impression that healthy eating is not taken seriously here, that's not the case at all. Every dish on the menu is freshly prepared to order, so any ingredients can be substituted to cater to all tastes and dietary requirements. And thanks to Zoe's nutrition background, she has made in-house training a priority, ensuring all of Squirrel's staff are trained in basic nutrition so they can advise customers which food or drink should be consumed to support their health goals: for example, which foods to eat for increased energy levels or recovery after a gym session.
To drink, there are matcha lattes, hot tonics and a selection of Pukka herbal teas and fair-trade Allpress coffees, as well as organic wine and beer in the evenings.
There are four to five bespoke house salads (most of which are gluten-free), three hot and hearty grain bowls, two seasonal veg options and wholesome soups and stews that change weekly.
To add to the playful nature of the brand, all the food is served in little acorn-shaped vessels and can be either taken away or enjoyed sitting up in the tree-house. You feel like you're a young kid having fun again – and as they say, feeling young at heart and connecting with your inner child is also good for your health.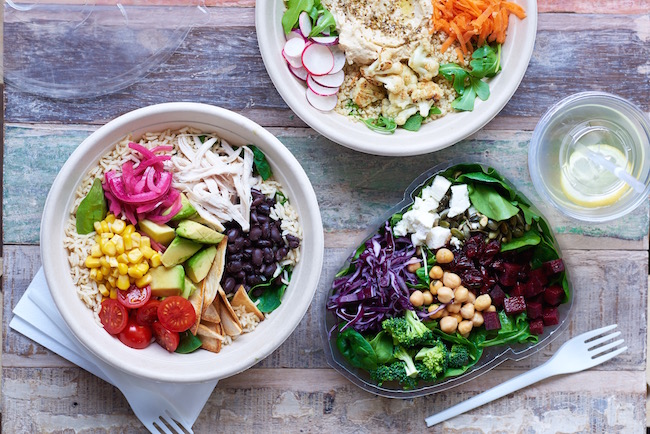 To drink, there are matcha lattes, hot tonics and a selection of Pukka herbal teas and fair-trade Allpress coffees, as well as organic wine and beer in the evenings.
One of my favourite features at Squirrel is the 'Drinking Well' where you can enjoy unlimited amounts of homemade seasonal fruit water infusions and sugar-free organic iced teas.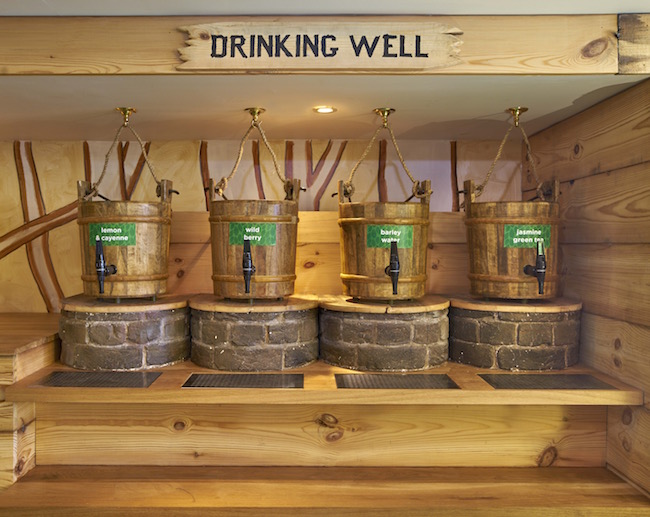 A bit like the unlimited drink options at places like Pizza Hut, DF Mexico or Nando's, but no Coke or Fanta in sight, just unlimited refreshment from healthy, no-sugar delicious drinks. And if that isn't enough to satisfy you, there's also a selection of cold pressed juices, kombucha and fresh coconuts to hydrate you back to health.
If you fancy tucking into a delicious salad at a restaurant that doesn't take itself too seriously, then get yourself over to Squirrel and climb up to the tree house.
What to expect: Healthy Hawaiian-style 'poke' lunch bowl, with sustainably sourced raw fish, super grains and creamy avocado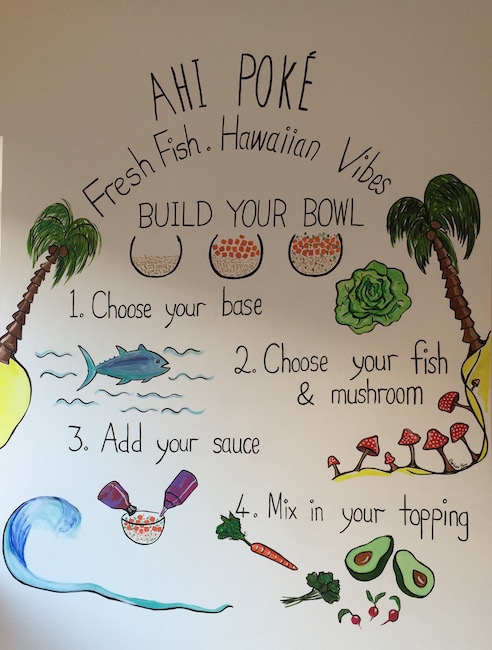 If you're already a fan of sashimi and ceviche, you're bound to like poke – the traditional Hawaiian-style raw fish dish that's making waves on London's healthy eating scene.
It serves the popular Hawaiian-style poke bowls to the masses while still embracing the ever-important values of nutrition, sustainability and 'clean eating'.
Personally, I'm not the biggest fan of eating raw fish – it doesn't match the enjoyment I get when it's served baked, seared or grilled. But many people love it, and certainly the health benefits of eating it fresh and raw appear to be worthwhile. Of course, going somewhere that serves up excellent quality is advised when going for raw fish.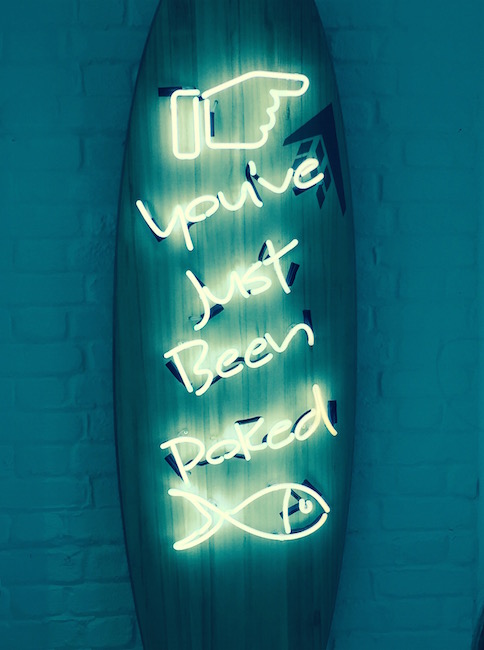 Ahi Poké is a small, casual-dining venue with a modern surf-style beach cafe look and feel. It serves the popular Hawaiian-style poke bowls to the masses while still embracing the ever-important values of nutrition, sustainability and 'clean eating'.    
Head chef Jeremy Coste has created a menu using sustainably sourced ingredients that draw on traditional poke flavours and methods, resulting in a flavoursome dish that requires no cooking. Every dish is freshly prepared to order. Most dishes are suitable for those avoiding gluten or dairy (or can be made suitable).  Signature bowls include Oahu (sticky rice, Ahi tuna, red onion, radish, coriander and sesame shoyu) and Heat Wave (quinoa, salmon, avocado, kimchee cucumber, red onion and sriracha mayo).
You can also build your own bowl by selecting a base (quinoa, sticky rice, or red kale); a protein (ahi tuna, the fish classically used in poke; mahi mahi or salmon, all sourced from socially responsible fisheries; or marinated mushrooms); a sauce (including sesame shoyu and sweet ponzu) and a selection of toppings – so you can have a little of what you fancy!
I popped in for a quick bite to eat after work to meet my friend Andrea. We tried the Heat Wave and Oahu bowls and found them fresh, filling and a nice collaboration of different flavours and textures.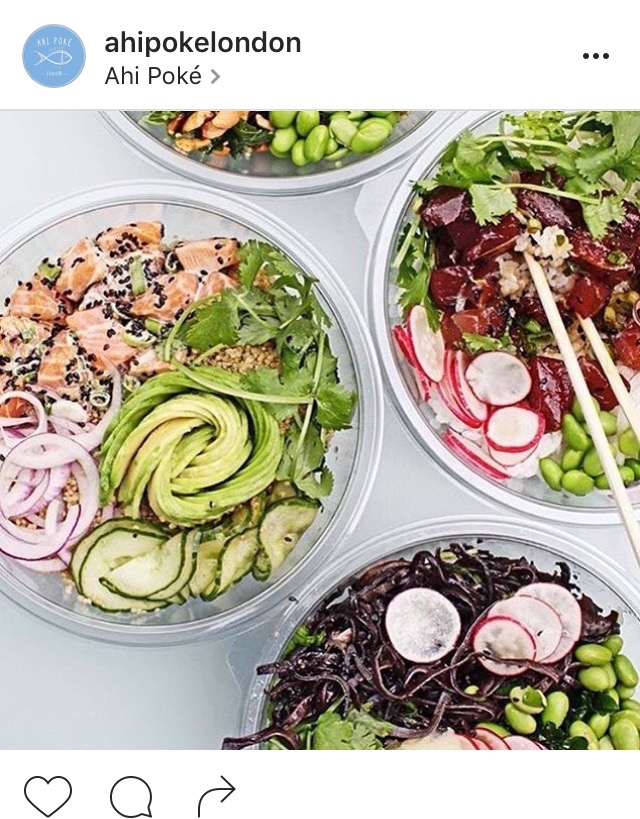 Ahi Poké shuts at 8pm and no bookings are taken as it's more of a grab-and-go venue than a sit-down restaurant. But for those looking for a casual place to grab a healthy bite to eat after a workout, something quick for a healthy lunch, or a takeout dinner on the way home from the office, it's a perfect option. 
What to expect: Five star healthy weekend brunch, sampling celebrity nutrition coach Madeleine Shaw's new menu
Anyone who embraces the world of wellness and healthy eating will most likely be aware of the delightful and talented nutrition coach Madeleine Shaw.
Maddy and her fantastic cookery books have inspired many young women to ditch fad diets and kick start a new healthier and happier lifestyle.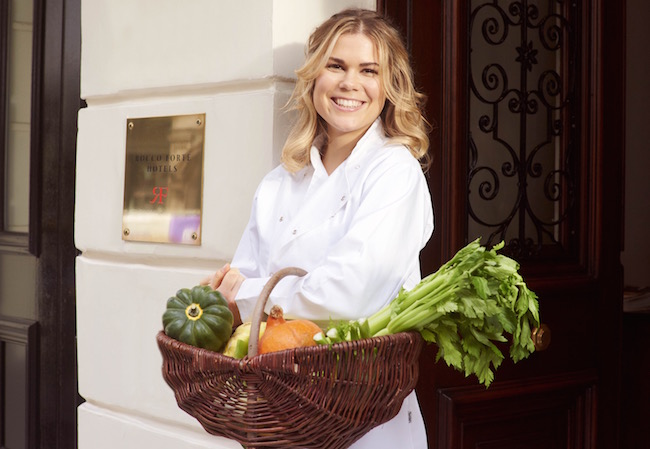 Her popular 'Get the Glow' recipes are not too restrictive or overly complicated, but instead are free of things your body doesn't like and packed with nutritional goodness in keep you glowing from the inside out.

Being a fan already, I was rather pleased to hear that one of London's oldest and most established five-star hotels, Brown's in Mayfair, had recently introduced a new delicious healthy-eating menu with breakfast, brunch, lunch and afternoon tea recipes designed exclusively for the hotel by Madeleine.
MORE: 10 best coffee shops in London (and they're healthy too!)
It was Healthista editor Anna Magee's birthday the other weekend and as a surprise, I organised a table for us to enjoy brunch with the service and luxuries of a five-star hotel, but with a food menu that would suit our healthy eating requirements perfectly. 
As predicted, the service was excellent, with the smartly dressed waiters making us feel as though we could have been Madonna and Beyoncé who had just come in and started choosing off the menu. It really helps you feel comfortable when the service you get is both friendly and accommodating.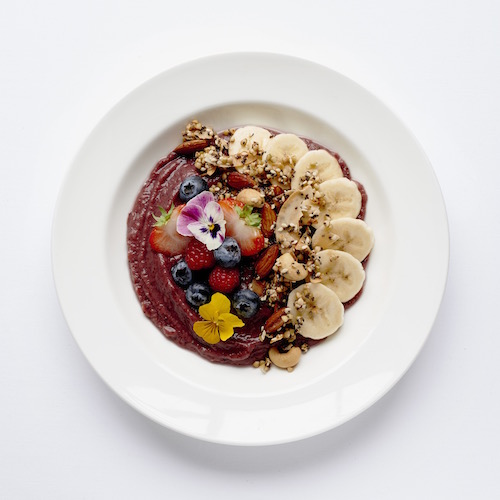 After we got over the initial excitement of the birthday and general chatter about our lives over the last few weeks, we got to the important part of the meeting and picked our food – starting with a cold-pressed juice and pot of green tea whilst we pondered over the options.
I was feeling pretty hungry and was also intrigued to try out a few things. I opted for the Acai Bowl that came served with toasted buckwheat granola, banana and fresh berries, followed by the Shakshuka – a hot dish made with baked eggs, kale and cumin served with crackers, Greek yoghurt, olives, labneh cheese and toasted pine nuts.
Anna went wild and had the 50 Shades of Green – a quinoa burger served with avocado, tahini dressing, pumpkin seed pesto, courgetti and miso kale salad.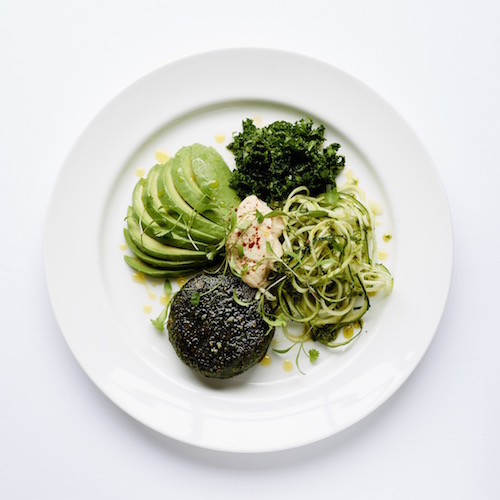 All the dishes are either gluten-free or can be made gluten-free when requested, and the burger and acai bowl were also suitable for vegans. 
We both loved all the dishes – the quality of the food was excellent and portions were much bigger than we expected. All of which proves that healthy eating does not have to mean sacrifice.
The 50 Shades of Green burger was one of the best vegan burgers I have tried and a dish I could quite happily eat over and over again. I'm not sure it was as ravishing as Mr Grey, but not far off.
The 50 Shades of Green burger was one of the best vegan burgers I have tried and a dish I could quite happily eat over and over again. I'm not sure it was as ravishing as Mr Grey, but not far off.
The Shakshuka is also one of my favourite brunch dishes – I often order it when I go to Greenberry cafe in Primrose Hill – but this was one of the best I have had in ages and I would say it's a must-have choice from the menu.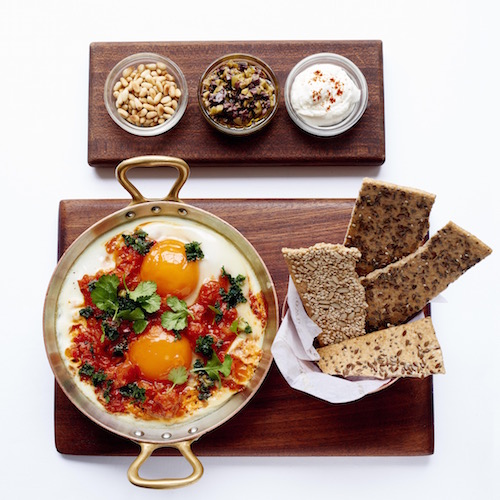 We both loved the food and the relaxed and friendly service. Often breakfast and brunch can be a pretty hectic affair in town and it can be hard to find somewhere central that's not too packed and noisy; Brown's is an excellent choice.
It's obviously perfect if you're a fan of Maddy too. And I would advise it as a great place to eat for anyone with a gluten or dairy intolerance/allergy. 
I'm looking forward to going back to try the afternoon tea and cocktail menu. Not long until my birthday now, so hopefully I shall be coming here to celebrate.
Like this article? Sign up to our newsletter to get more articles like this delivered straight to your inbox.