Healthista Eats Blogger Charlotte Dormon finds the 10 best health breakfasts in London to celebrate World Egg Day
Sometimes we are too busy to make it, or just can't face it – but scientific studies have shown us that making unhealthy choices in the morning can cause you to overeat and crave more sugar and carbs later in the day.
It is not just about eating breakfast, but what you are eating that makes a difference too.  According to Patrick Holford, nutritionist and author of The Optimum Nutrition Bible 'skipping breakfast, or having something high in sugar (such as a croissant) can play havoc with your blood sugar levels, mess up your metabolism and be a reason why you can't lose weight'.
With all this in mind, it's not surprising how fashionable it has become to eat your breakfast out.  As well as for pleasure and weekend enjoyment, the trend with health-conscious women is to schedule more morning meetings, rather than big long lunches, or spending evenings at the bar, has really taken off.
For a brilliant breakfast in London – here are my ten of the very best to visit right now:
ANDINA – Old Street/Shoreditch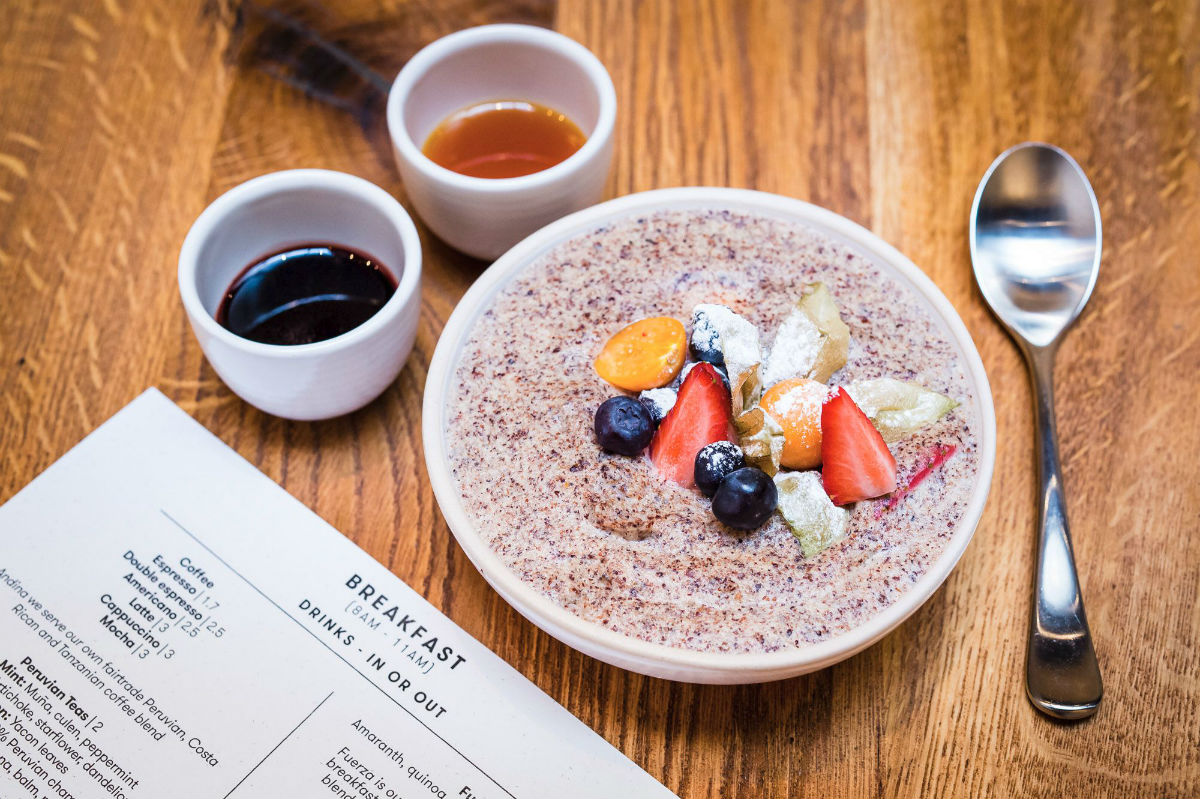 Andina is a rather fantastic Peruvian restaurant offering one of the most delicious and nutritious breakfast menus in the whole of London. It is ideal for people who are bored of the usual egg and bacon on toast option, as every dish is full of exciting flavours and bursting really healthy fresh ingredients.  South America is famed for its superfoods and if you are in need of some extra va va voom to take you up a gear, then this is the place to be.  Breakfasts are boosted with superior antioxidant and super-grain goodness from ingredients, like maca purple corn, cape gooseberry, amaranth, and quinoa. Andina is unique and does not in anyway attempt to serve your average run-of-the-mill breakfast dishes. Founded by chef Martin Morales (famous for his ever-popular Ceviche restaurant in Soho), has managed to create yet another effortlessly cool restaurant with an uplifting and joyful atmosphere. The food is authentic and nutritious and overall has proved to be an enjoyable experience every time I visit.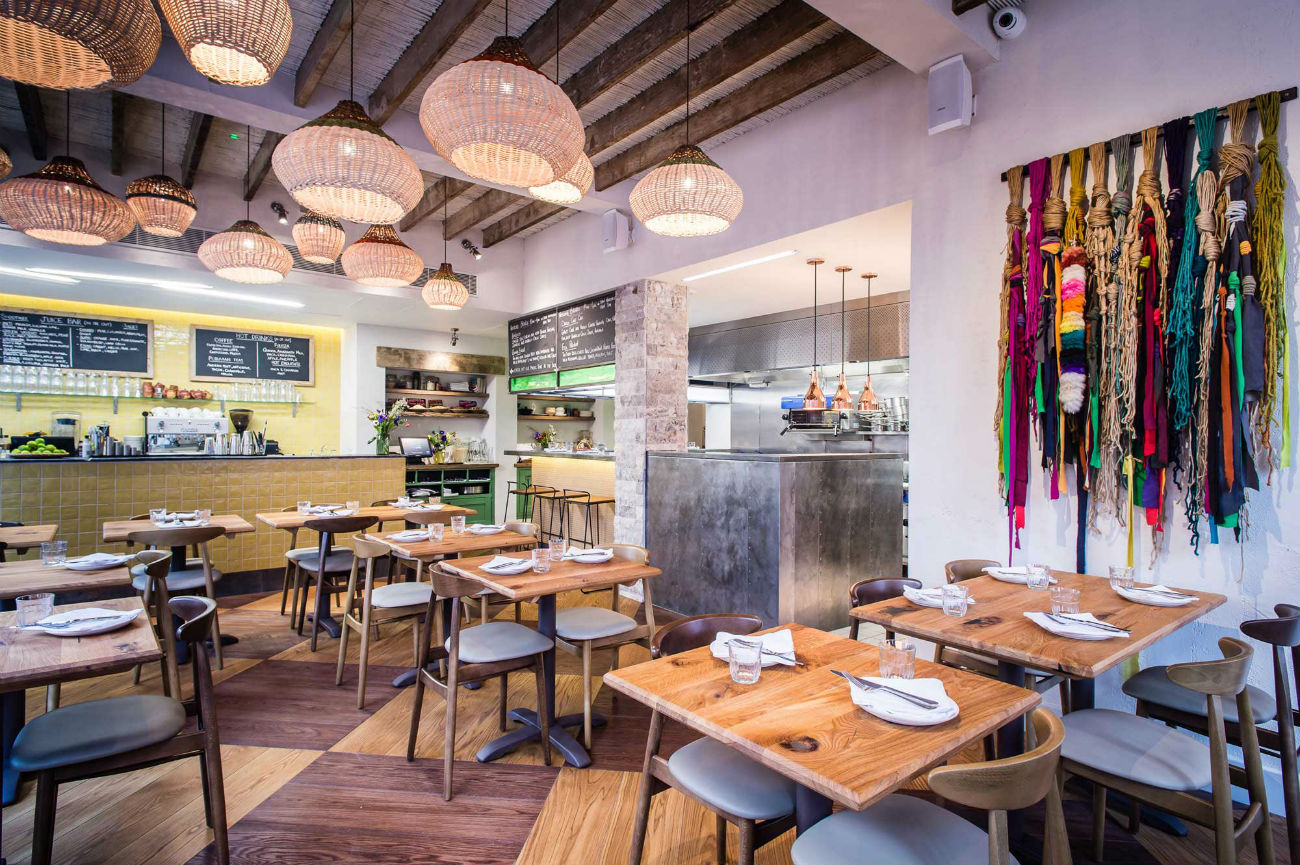 What to eat? There are plenty of great options to choose from, whether you are looking for something light and fruity, or more meaty and substantial. Chefs are very happy to accommodate and cater for those eating avoiding dairy or gluten-free. If you don't have time to sit in, there is also a separate juice, smoothie and coffee bar to get to takeaway.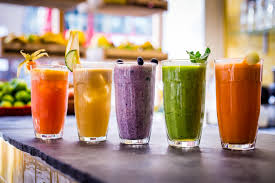 Juices – Geen Vayeho: avocado, pear juice, mint, spinach and lime. Picaflor: kale, kiwi, pineapple, coconut water, hemp protein.  Libertad: watermelon, banana, strawberries and orange juice. Food highlights include:  Quinoa Porridge:  amaranth, quinoa seasonal fruits and purple corn syrup (warming, creamy and outrageously tasty).  Benedicto: smoked trout, poached egg with quinoa pancake, asparagus and amarillo chilli sauce (a much more sexy and nutritious version of a traditional eggs benedict). Fuerza: amaranth, quinoa, apple, cinnamon, milk (soy or almond available) maca (a traditional Peruvian drink that is bursting with goodness. Served warm and sweetened with apple and cinnamon it is a flavour match made in heaven that keep you full with energy for hours).
Visit: Andina
GRANGER & CO – Clerkenwell & Notting Hill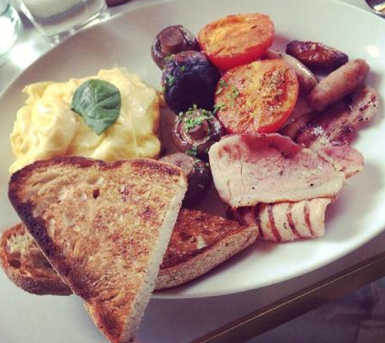 Light, airy, stylish and relaxed – a morning spent eating breakfast at Granger & Co is one you will find hard to forget. There is something quite special about this place and you can tell by the clientèle they attract, that it must be successful. Why is this place so darn good? Not only does it get high marks for its health credentials from me, but also Granger & Co is owned Bill Granger, who happens to be one Australia's most high profile chefs.
Aussies know how to do brunch (when I went to Sydney, I realised exactly what all my Aussie friends had been banging on about) and Bill is famed for his brunch after being christened by The New York Times as the 'egg master'. Before I mention more about the food, I must tell you that on my last visit, I was lucky enough to be sat right opposite the gorgeous actor Hugh Jackman.  I was excited enough already about my breakfast and then had the added bonus of a Hollywood actor – hope he comes again when you visit!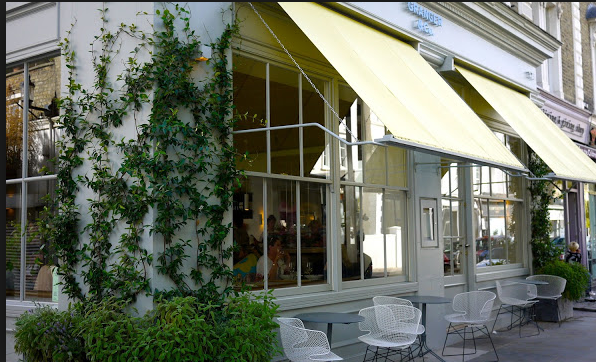 What to eat? Everything on the menu on is rather gorgeous with plenty of healthy options available. Last time I visited with my boyfriend and we tried the full Aussie breakfast: scrambled eggs, sourdough toast, grilled bacon, roast tomato, miso chestnut mushrooms and chipolatas. If you are gluten-free, then this is not a problem. They make their own special bread and adapt the dishes to suit you. Other sexy numbers include toasted rye, avocado, lime & coriander. As well as a selection of juices and smoothies with added nutrient-dense ingredients like chia, raw cocoa and young coconut.  Bircher muesli and fresh chopped fruit bowl, greek yoghurt & honey sprinkled with linseeds, sesame seeds & almonds.
Visit: Granger & Co
HONEY & CO – Fitzrovia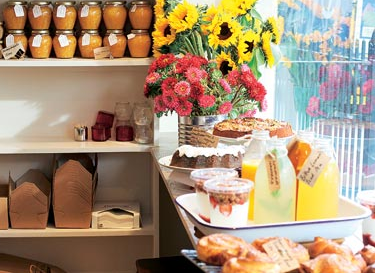 This cute little restaurant is a popular spot with London foodies for both its traditional and modern Middle Eastern cooking. Over the last few years fans have remained loyal as ever and the queues of people waiting outside each week are a sign that it all must be worth it. For me, as well as the food, one of the number one reasons to visit is the coffee.  Forget ordering your usual flat white or latte, and opt for the cooked cardamom black.
This Middle Eastern coffee (usually known as Turkish or Arabic coffee) is boiled with water in a special pot on the stove and served in decorative small glasses. It is not in anyway a good choice for non-coffee drinkers, or the faint hearted as caffeine levels are rather high (much like a double espresso) – but the taste uniquely sensational.  Sugar is usually added, but you can request for this to avoided, or kept to a minimum.  If you prefer to keep it herbal, there is a good tea and infusion selection, including fresh mint, and rose and cinnamon.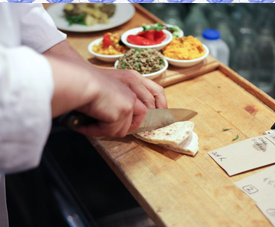 What to eat? I like the fact that there are so many savory options available on the menu – and if you are a fan of eggs in the morning, then you will welcome the Middle Eastern cooking style here with their addition of herbs, spices, meats and tasty condiments added to your breakfast.  If you are going along with someone, then I suggest choosing the Middle Eastern breakfast to share option. Rather than just having one big plate of food, you can tantalise your taste buds by sampling lots of little dishes, which I think can make it so much more interesting and a nice thing to do if you want to spend a little more time together.
For £12 per person, you get a selection of homemade freshly baked bread, fresh tomato and feta salad, olives, pickles, 2 dips, homemade jam, ashura cereal, yogurt & fresh fruit and a choice of eggs.  I like the Shakshuka (2 Legbar eggs baked in a tomato and herb sauce) as an option. If you are in the mood for something sweet, then there is a whole counter full of tempting homemade Middle Eastern pastries, gluten-free cakes, granola, fruits and yoghurts.
Visit: Honey & Co
LANTANA – Fitzrovia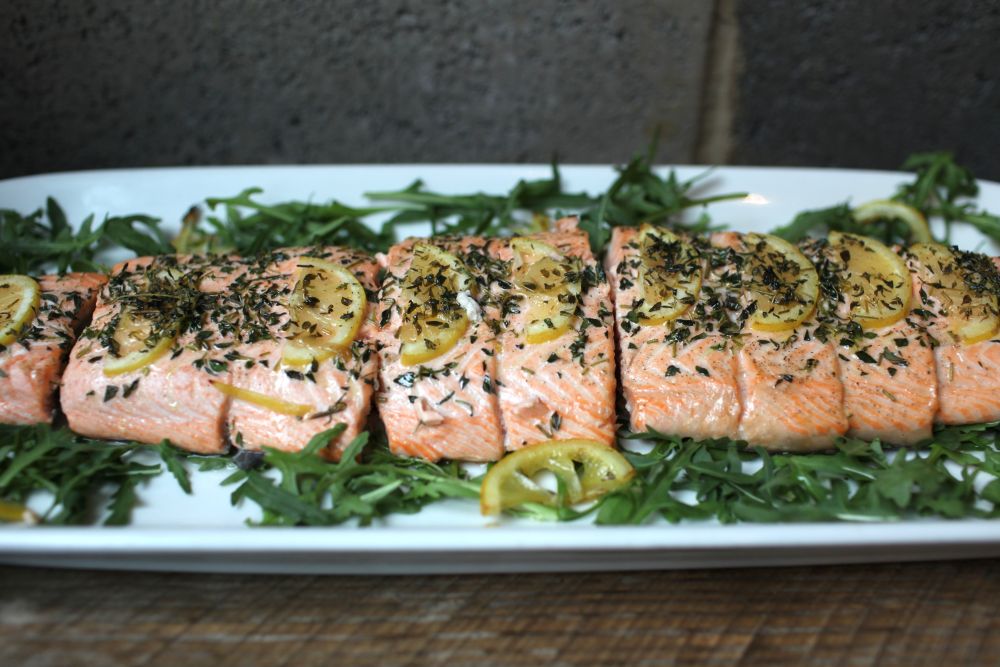 This lovely, rustic Aussie owned café is just the sort of great place you would find in a bustling trendy area of Sydney.  Serving excellent coffee and a mouthwatering breakfast menu, Lantana never fails to impress.  It has a really nice chilled atmosphere and is a great spot to have a meeting, or unwind and read the papers.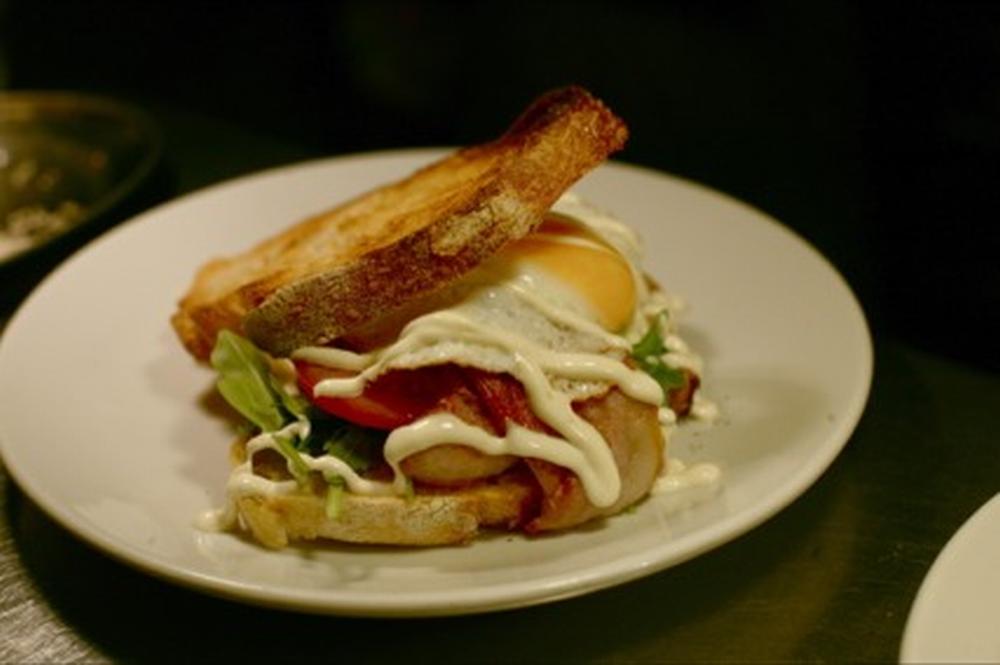 What to eat?  They offer gluten-free bread and some vegan options, but you may have to ask, as it is not easy to see by the menu.  After many mornings of munching over the years, I can recommend the following: Bacon sandwich with organic streaky bacon and Lantana homemade tomato relish on sourdough toast.  House cured salmon on organic dark rye toast with pickled beetroot, horseradish crème fraiche and chervil.  Corn fritters stacked with streaky bacon, fresh spinach and slow roast tomatoes served with avocado, chilli lime salsa and crème fraiche.  Feeling sweet? Try toasted banana bread with raspberries.
Visit: Lantana
RIDING HOUSE CAFE – near Oxford Circus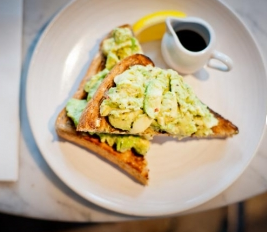 If you are spending the morning with someone you wish to impress, then this is the place to do it.  There are many places to eat breakfast in London, but Riding House ticks a lot of boxes for me.  It looks cool, smart and sophisticated, has a brilliant atmosphere (no matter how early in the morning), lots of space, comfy seats and a few more private seating areas available, which are good for a date, talking business, gossiping, or just so you can hear each other speak.
What to eat? I have been here a number of times for work meetings, and brekkie with friends, so have managed to eat my way, or at least sampled quite a few yummy and healthy eats.  For lighter options, there is the Bircher muesli, Riding House homemade granola (wheat-free) with nuts and seeds, served with yoghurt, berries and honey, or fresh seasonal fruit plate with a drizzle of yoghurt and honey.  For a more substantial protein-packed breakfast, the Eggs Hussard and Kedgeree are both fantastic.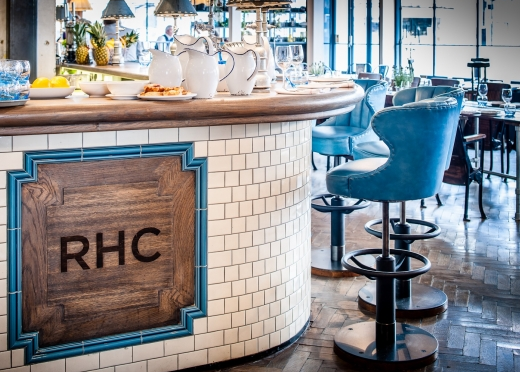 Gluten-free bread is available and soy milk in place of dairy. Riding House is great if you love a fresh juice or smoothie.  They have at least five or six options, one of my favorites are the ABC with beetroot, apple, carrot and ginger, and The Racer (a bit like a healthier version of a naughty chocolate milkshake) – a tasty combo of blended dark chocolate, espresso, banana and milk (soy available) to get you zooming through your day.  They also have a refreshingly good fruit and herbal tea selection, including spiced pear and rosebud & peony
Visit: Riding House Cafe
JACKSON & RYE – Chiswick & Soho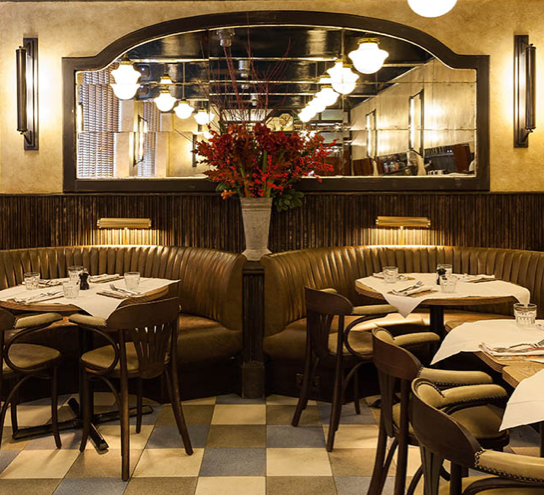 I felt like I had been transported to New York when I first entered Jackson & Rye.  It has that old-fashioned sexy-style with low lighting; dark wood, leather seats and smart interiors that you would come only have ever come across in well-heeled parts of the city.  It is a great place for all occasions, but specifically good for meetings, or to enjoy an indulgent breakfast with someone fun.  I have only ever been with people I work with on nutrition and health projects, and on both occasions my nutritionist guests were avoiding the carbs and pumping up the fat and protein.
What to eat? I loved the Prison Eggs – scrambled eggs, jalapeno peppers, borlotti beans and spring onion.  I asked for my eggs butter and milk free (not a problem) and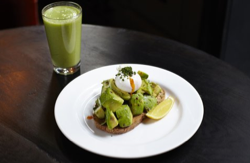 opted for a side of avocado and gluten-free toast.  This dish was ideal for me, as I love spice mixed with the blandness of eggs, and it goes very well with avocado and borlotti beans.  Other favorites have been: Health Nut – egg white omelette with goat's cheese and spinach. The Avocado Royal – oaked smoked salmon, poached eggs, hollandaise (I had mine without the sauce), watercress and grilled toast (gluten-free available).  If you are a vitamin kick, then have the Green smoothie – avocado, spinach, watercress, mint, cucumber and chia seeds.  There are plenty of interesting egg dishes to choose from and if you are taking someone with a big appetite, they will totally love it here.
Visit: Jackson & Rye
DEAN STREET TOWNHOUSE – Soho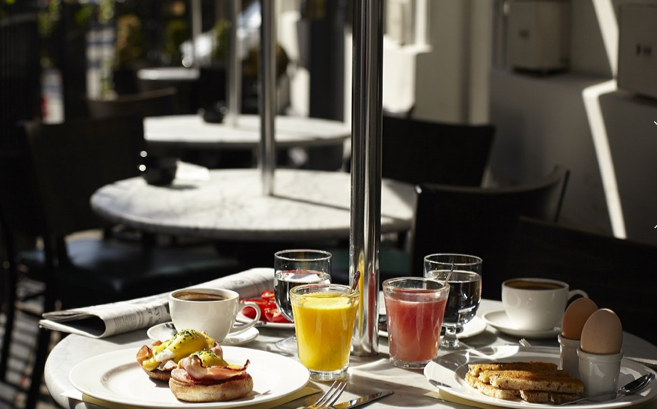 British and proud is how the Townhouse plays it with both the service and its food. Right in the heart of arty and media-cool Soho, the townhouse is a beautiful old Georgian building that has been transformed into a smart hotel with an outside patio area, bar, lounge and restaurant.  You will need to be looking good when you come to dine, as everyone is either successful, famous, looks famous, or just seems to carry off an air of cool and have dapper style.   This is luxurious British breakfast at its very best. Every table is laid immaculately with polished cutlery, bright white heavy cotton tablecloths and sparkling glasses.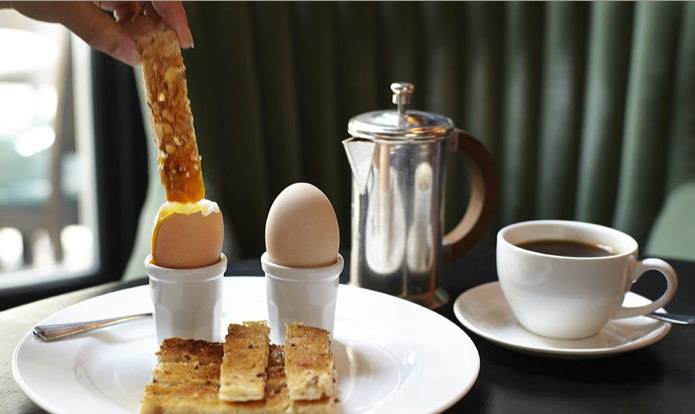 As well as beautiful interiors throughout – artists and art lovers will be able to admire the extensive collection of new and old paintings, photographs and intriguing sketches found hanging up upon almost every wall you can see –  Dean Street has prepared a good menu of food.  They cater well for the indulgent, the traditional and the skinny – yet all are good-sized portions and come presented beautifully.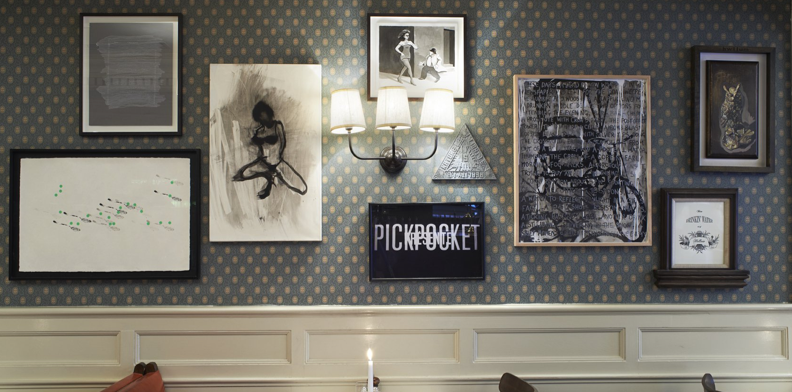 What to eat? I enjoyed the heritage beetroot hash with fried duck egg, and my guest had avocado on toast with poached egg and grilled Manx kippers with butter, which was completely delicious.  I have also had the egg white omelette with ham, mushroom, tomato and spinach quite a few times, but I always often ask for the whole egg, which they are happy to do if you like it that way.  If you are looking for a lighter fruity option, there is a choice of fruit salad, granola and fresh figs with Greek yoghurt and honey.  Dishes can be adapted to suit gluten-free diets and the kitchen are happy to can adapt and cater to suit your dietary needs.  The smoothies and fresh juices are also great. I have personally enjoyed the pineapple, mint & chilli – refreshing before a meal and good to wake up your digestion with some zing and a little kick of heat from the chilli.   I think Dean Street is a really good place for a business meeting, or somewhere with a bit of 'cool' to impress your date.
Visit: Dean Street Townhouse
GREENBERRY CAFE – Primrose Hill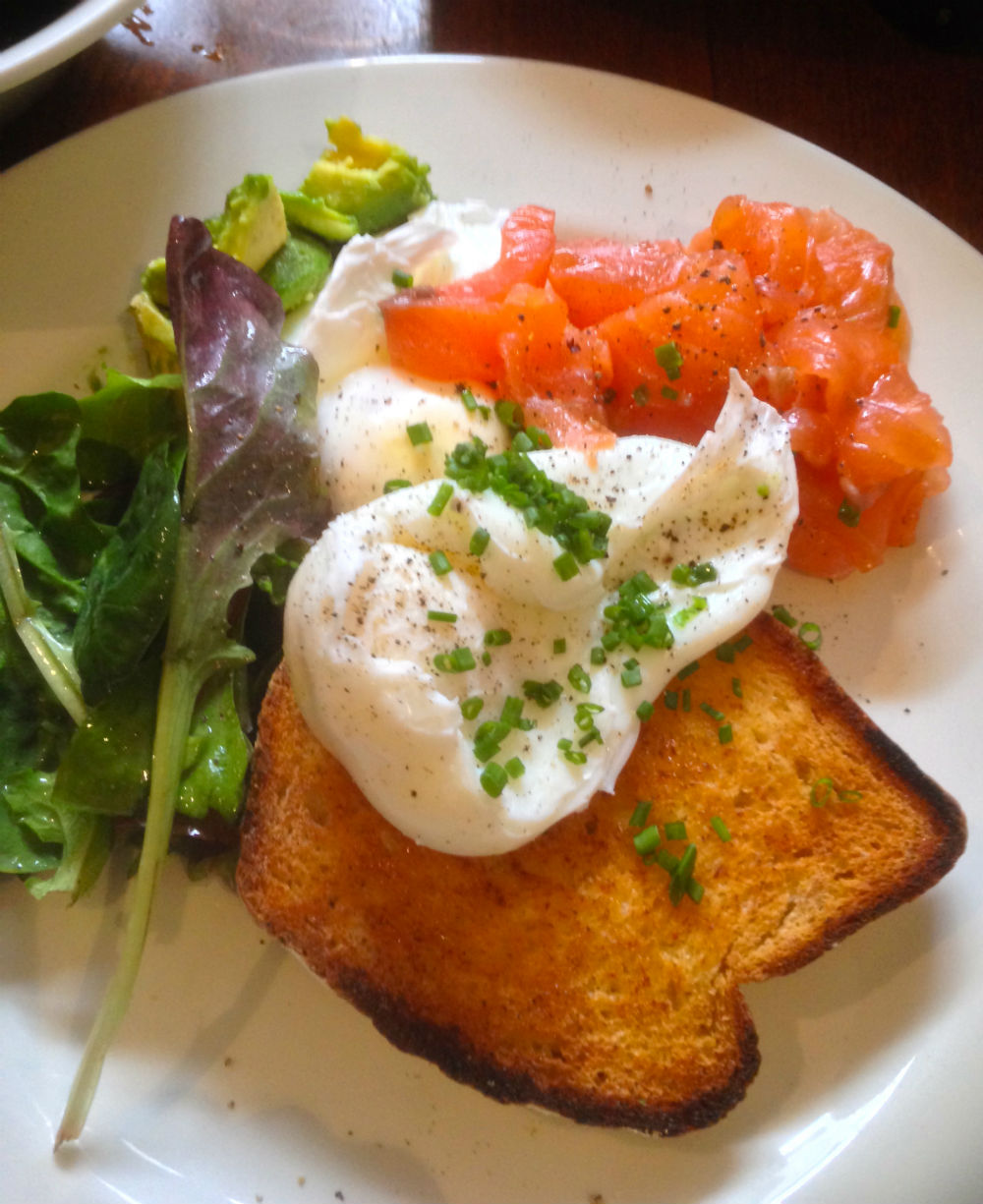 This cosy café set in the pretty area of Primrose Hill is an idyllic spot for a lazy weekend breakfast.  It is a good place to take children and dogs too (Regents Park & Primrose Hill are just moments away) providing a resting place to unwind and read the Sunday papers.
Greenberry has a substantial breakfast menu and all dishes offered look as good as the next.  I have found that ingredients used are of very high quality, always organic, free range and locally sourced where possible. Their gluten free bread is probably one of the best I have had anywhere in London.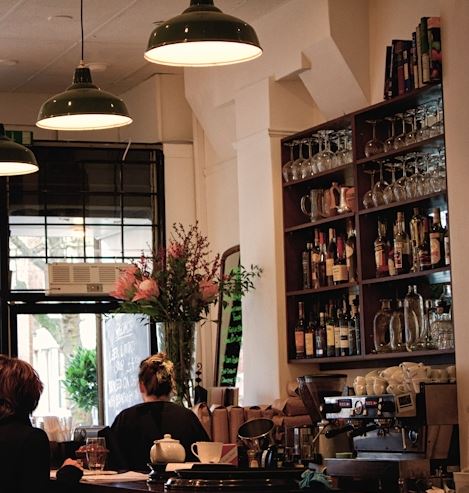 What to eat? I am quite a regular at this café and have frequented it many weekends with my boyfriend, and local friends who like to bring the kids out for breakfast. The food is good; portions are big, and nice to have the option of a stroll in the park to walk it off after.
My favourite weekend eats include: homemade granola with greek yoghurt, mixed berries and honey. Sweet potato fritters with poached egg & chorizo. Kedgeree with poached egg.  Scrambled eggs on toast with Stoke Newington smoked salmon (this salmon is superb and worth going if eggs and salmon are your thing) and all the sides, including the mushrooms and homemade baked beans are worth ordering.  If you are looking for a full English, the Greenberry cooked breakfast never fails to impress. It has managed to revive my grumpy boyfriend back to life from a few horrid Sunday hangovers.  The loose leaf tea selection is vast, with about 10 – 12 to choose from and if you are avoiding caffeine, then I can suggest the cinnamon, plum rooibos or strawberry-kiwi option.
Visit: Greenberry Cafe
THE BREAKFAST CLUB – Soho, London Bridge, Angel, Hoxton, Spitalfields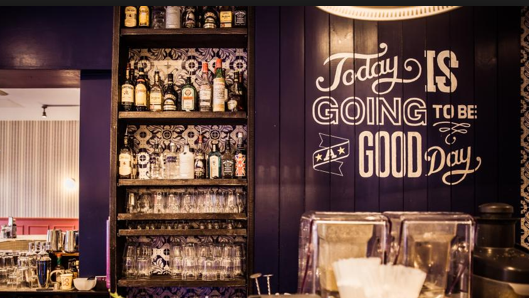 This place has become a breakfast legend like no other and a Mecca for those who love a morning feast. With loud music, fun buzzy staff and vibrant chatter – if you are young, hip and trendy, there is nowhere else you would rather be hanging out than here.  I remember going to Brighton many years ago and thinking how totally different it was from London, wandering around the lanes and having such a great choice of cool, vibrant cafes serving such wonderful breakfasts.  I think Breakfast Club captures that fun Brighton vibe and is a great place to enjoy.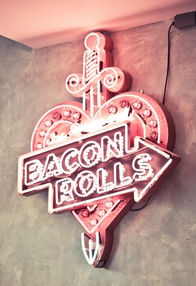 What to eat?  The menu is huge and has almost everything you would ever desire and dream of for breakfast (a lot of it is far more indulgent, so if you dive in deep for some feasting, prepare to book in your trainer, or workout plan after). I personally love spice with eggs, so am a fan of Huevos Al Benny – poached eggs, chorizo, roast peppers, avocado, fresh chillies, spicy hollandaise on toasted English muffin (I avoid the hollandaise and muffin and ask for the GF option). And the breakfast burrito – chorizo, scrambled egg, roasted peppers, Portobello mushroom, guacamole, cheddar and spicy pepper sauce (It comes in a burrito wrap, but GF is not available and cheese can be removed if requested).  They also have lighter options like Bircher muesli, and an ample-sized fresh smoothie and juice menu to choose from.
Visit: The Breakfast Club
 
     10.      DUCK & WAFFLE – Heron Tower, Liverpool Street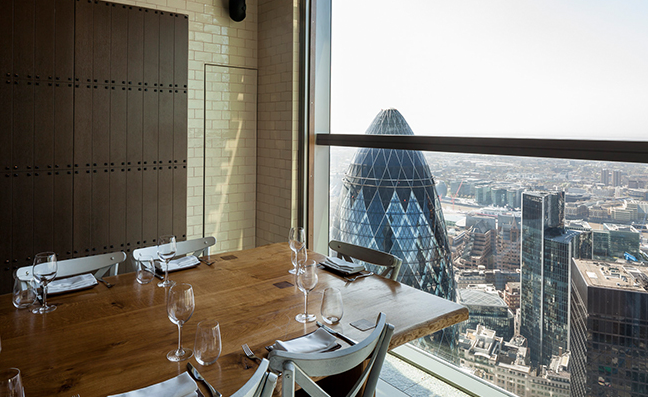 Located high up on the 40th floor of Heron Tower, Duck & Waffle serves breakfast with a view of London like no other. If heights, sights, good food and dining with bankers are all up your street – then you will absolutely love this whole experience.
What to eat? Good choices include the homemade granola with seasonal fruit compote. Full English breakfast (all eggs and meat used are organic). Colombian eggs organic eggs with toast, avocado and smoked salmon.Smoked finnan haddock – organic poached eggs, with hash brown and English mustard cream. Gluten free is catered for, as well as other dietary requirements.
Visit: Duck & Waffle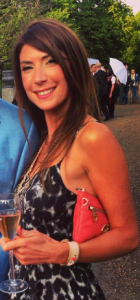 CHARLOTTE DORMON is our Healthista Eats blogger.  She's not a chef, or even that much of a cook.  If it's recipes you're looking for – you're in the wrong place.  But whether it's Sunday lunch or Friday night cocktails, she's the one friends and family turn to when they want to know how to eat out and be relatively healthy.  Each week she'll now be bringing you the same insider knowledge.  We'll drink – and eat – to that.
Follow Charlotte on Instagram @HealthyEatsLondon
Like this article? Sign up to our newsletter to get more articles like this delivered straight to your inbox.