Looking for the best vegetarian restaurants in London? We have have scouted out London's best places to eat meat-free 
Following a meat-free diet may not be for everyone. But for the benefit of your long-term health – and to protect our environment – just becoming aware of the amount of meat and animal produce you're consuming on a regular basis can be of huge benefit.
eating less meat could avoid 5.1 million deaths per year by 2015, decrease global warming emissions substantially, and save up to $1,000 billion
Research by Oxford University by a team lead by Marco Springmann from the Oxford Martin Programme on the Future of Food, has discovered that eating less meat could prevent up to 8.1 million deaths per year by 2050, decrease global warming emissions substantially, and save up to $1000 billion US.
The British population consumes an average of 84.2kg of meat per person per year. This is double the world average (41.9kg per person) and above dietary guidelines. As part of this meat consumption, the British eat over one billion factory-farmed chickens a year. If you have ever seen any footage or read articles about poultry factory farming, you will know that this is not an acceptable standard for animal welfare.
When it comes to the effect of our meat consumption on the environment, it's a serious matter. According to the recent Intergovernmental Panel on Climate Change (IPCC) document, agriculture and land clearing are both playing a primary role in the changes in the Earth's climate. Climate change is having an unpleasant knock-on effect on our environment – increasing acidity in the ocean, raising sea temperatures and wiping out some marine species. This issue is now so serious that the U.N has identified the livestock industry as one of the most significant contributors to today's most serious environmental problems. Going meat-free can bring health benefits too.
 those who follow a plant-based diet are less likely to suffer from obesity, coronary heart disease, high blood pressure, type II diabetes and bowel cancer.
Research from numerous studies suggests that those who follow a vegetarian, plant-based diet are less likely to suffer from obesity, coronary heart disease, high blood pressure and type II diabetes and bowel cancer. Consumption of bacon, ham, sausages, salami and other packaged meat such as pastrami has been associated with colon cancer and an increase in risk of type 2 diabetes.
There is no need to say 'No Thanks' to steak forever; just making small changes, like avoiding processed red meat, can make a big difference to your health.
MORE: The first totally free-from ice-cream parlour has opened in London
Five healthy reasons to eat less meat and more veg
Eating more fruit, vegetables and whole grains can cut your risk of coronary heart disease and strokes.
Replacing saturated fat-rich foods such as meat with foods that naturally contain polyunsaturated fats – such as nuts and seeds – may reduce the risk of heart disease by 19%.
Those who eat plant-based diets have a lower risk of bone loss and therefore osteoporosis.
Increasing your intake of vegetables and fruits high in antioxidants can help reduce the signs and effects of ageing.
Reducing overall meat consumption can also prevent long-term weight gain.
London offers some of the UK's most exciting vegetarian and vegan restaurants, giving us a great choice of places to eat out. Here are my personal favorites:
1. Manna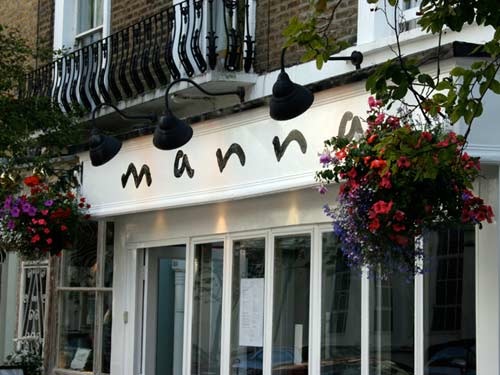 Where: Primrose Hill
Great for: Hearty Sunday lunch, amazing vegan puddings, organic and vegan wines, seriously 'wow' vegan cheese nachos, and great gluten-free options.
Manna is one of my all-time favourite vegetarian and vegan restaurants. The food is all organic and the portions huge (good for those with an appetite, like me). It's tucked away in a pretty part of Primrose Hill village – a great location if you want to escape for a chilled-out weekend lunch.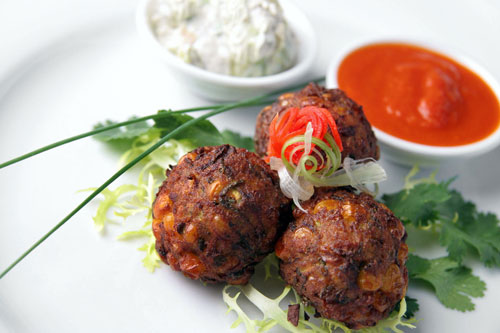 Manna's menu is a dining-out dream for vegans. Classic comfort eats are their specialty and my top choices are the Enchilada, Bangers and Mash with onion rings, and the Sunday Roast. These are also the dishes I encourage my non-vegetarian fiancé and friends to try out – they're always impressed and say they enjoyed them as much as the 'normal' versions. For dessert, you won't be missing out on anything just because you're dining out vegan. The homemade puddings, cakes and ice creams are divine, and you'd never guess they're all dairy-free.
2. Wild Food Café

Where: Covent Garden
Great for: Organic food, ridiculously good raw vegan chocolate puddings, healthy and nutritious snacks and meals, seasonal and sustainable foods, cleansing green juices, sumptuous veggie soups, and mega salads.
Wild Food Café is one of my regular hangouts, as I just can't get enough of the food. Set in a pretty part of Covent Garden just above the Neal's Yard store, Wild Food Café is a bright, fun place to eat really delicious vegetarian food that's bursting with goodness. The place gets super-busy at lunchtime in particular, and as Covent Garden is a 'destination' area in London, people come from far and wide to eat here. I know the owners of this place quite well, and know that they're deeply passionate about helping people feel good from eating food that is truly nourishing. Their menu is inspired by nature and they focus on using some of the most healing foods available – yes, raw chocolate is one of them. So, as well serving some of the best veggie, RAW and vegan dishes in town, this place will definitely get you feeling good.

3. Inspiral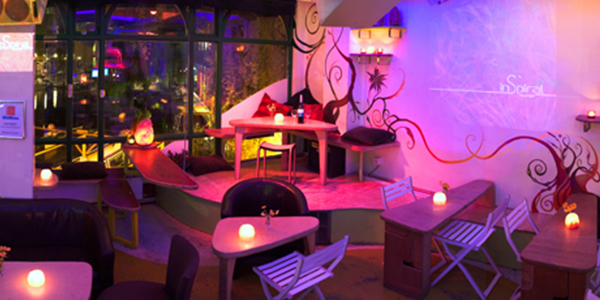 Where: Camden
Great for: The amazing veggie burger with homemade gluten-free bun, raw snacks, raw chocolates and other raw food options, gluten-free vegan cheese, and wickedly good ice cream. Live​ music nights are fun and full of the 'old school' Camden hippy crowd. Good location to visit Camden market and music venues.
Live​ music nights are fun and full of the 'old school' Camden hippy crowd
Inspiral is a Camden institution and is loved by locals and those who come from far and wide to enjoy the wholesome veggie food. Inspiral has improved its menu a great deal over the years and now offers a much wider choice of table-service meals that appeal to those with a more sophisticated palate, as well as a range of take-away options and delicious healthy snacks. I come here for a veggie burger fix. Inspiral's version is one of the best in London – far better than the veggie burger options at regular burger chains – and so good that even my skeptical fiancé is now a fan. It comes served with big chunky baked potato wedges and a choice of four salads (which are really fresh, healthy and tasty), homemade vegan mayonnaise and fruity onion relish.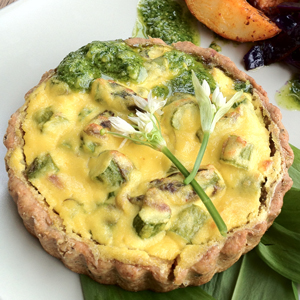 Inspiral also make its own buns (all are gluten-free, but really good) – another factor that makes it a healthier and far better option than most of the other places around. Inspiral also has a big selection of homemade vegan ice creams and plenty of raw puddings to tempt you. All the food is gluten-free and organic, and all condiments and ingredients used – be that salt, oils or sugar – are unrefined and of the highest quality. Try to get a table by the window at the back of the restaurant. It's nice to sit overlooking the canal so you can enjoy your meal while watching the eclectic world of Camden go by.
4. The Gate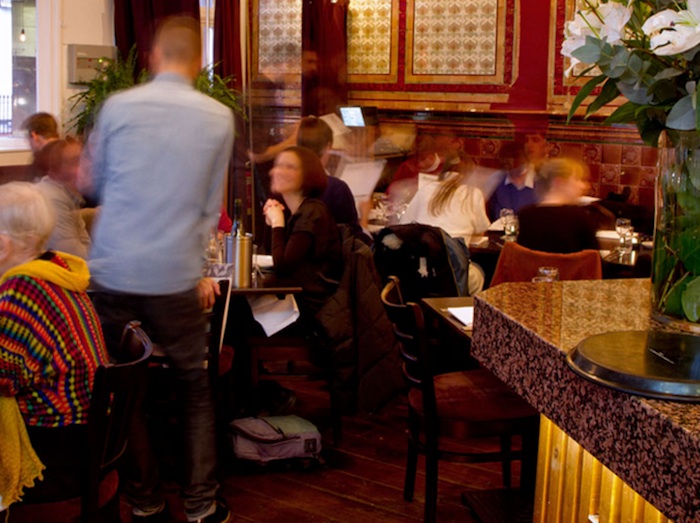 Where: Hammersmith & Islington
Great for: A more formal 'à la carte' dining experience, first dates with a vegetarian you are keen to impress, business meetings and celebrations.
The Gate is celebrated for its ability to deliver imaginative, well-presented and delicious veggie and vegan dishes, cementing its reputation as one of the most sought-after vegetarian restaurants in the UK. Chefs work with organic, sustainably sourced, seasonal ingredients, livening up flavours with vibrant Middle Eastern spices and punchy Italian herbs. The Miso Glazed Aubergine, the Pomegranate Salad and the Wild Mushroom Risotto Cake are some of my highlights.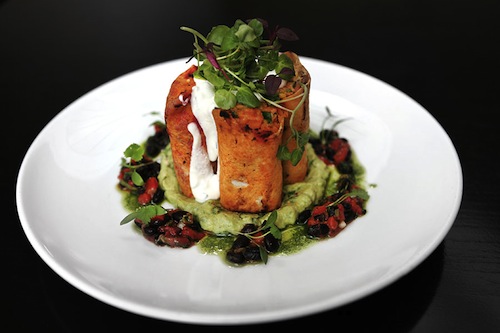 5. Ethos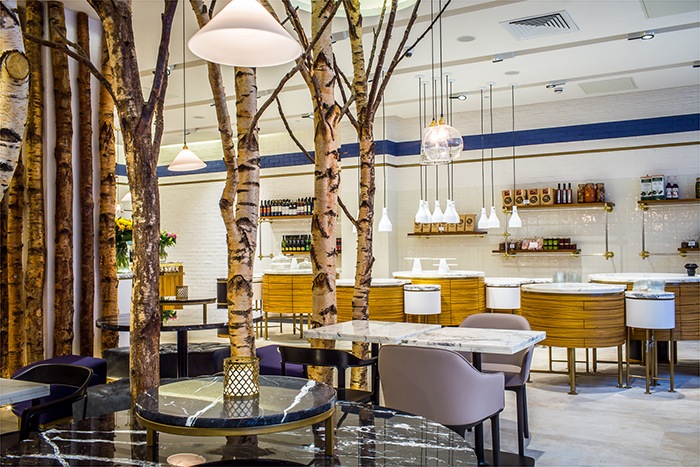 Where: Fitzrovia (Oxford Street)
Great for: A relaxed setting for your lunch break away from the hustle and bustle of Oxford Street, an excellent breakfast menu, quiet seating areas for business meetings. Good for gluten-free diets. Buffet-style dining for quick eats.
Ethos has filled a much-needed gap in the market for those looking for an attractive, stylish venue that also offers quick-eat lunch and dinner options. The buffet-style dining experience makes Ethos a particularly good option for a lunch stop or a business meeting: if you only have an hour out of the office, the last thing you want is to wait to be served, have your meal prepared and then be rushed to eat it. Here you simply pick your food and the portion size you want, and in a matter of moments you're back at your table ready to eat.
Good for gluten-free diets. Buffet-style dining for quick eats
I've also become quite a fan of Ethos as a breakfast venue. It's a peaceful and tranquil environment that's ideal for catching up on work while having a bit of brekkie, and is equally a great location to arrange a more formal breakfast meeting. And from experience, I can tell you the vegan and gluten-free homemade toasted banana bread is quite something.
MORE: 10 best coffee shops in London (and they're healthy too)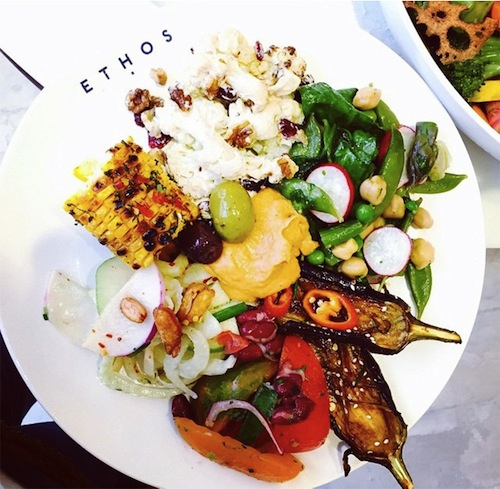 6. Tiny Leaf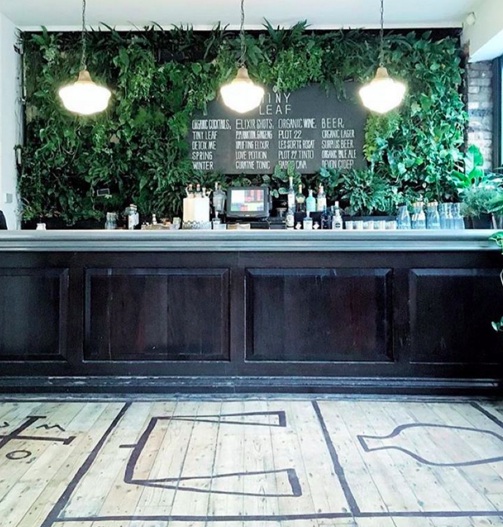 Where: Notting Hill
Great for: Wow cocktails, organic food, ethical eats, attractive setting, trendy and chic staff and clientele.
Tiny Leaf is London's first and only organic, zero-waste vegetarian restaurant. Tiny Leaf takes organic surplus food stock supplied by local organic supermarkets and farms, which their creative chefs then mastermind into an ever-changing food menu. The team's ultimate aim is to raise awareness of the food waste problem, inspire people to reduce the carbon footprint of their food by eating vegetarian and seasonally, and create a zero-waste and zero-impact restaurant. Typical veggie dishes include courgetti with hemp pesto, toasted almond and rye wafer with butter bean ragu, tomatoes and homemade paneer; along with desserts such as rhubarb, ginger and carrot crumble, and orange, polenta and chia seed syrup cake.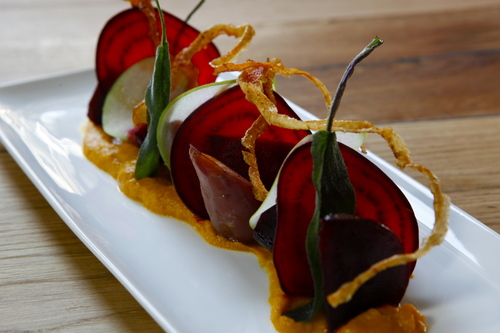 Tiny Leaf is a good spot when it comes to both alcoholic and non- alcoholic drinks. It has a juice bar serving cold-pressed juices, and a botanical cocktail bar with options including drinks created by 'phytotherapist' and botanist Michael Istead and cocktail artist Lee Shephard. These include the signature cocktail Tiny Leaf, made with organic vodka, apple, cucumber, mint, elderflower and ginger, and served in a plant pot with edible soil. As well as all the food and ingredients used, the alcohol and cocktail menus are also 100% organic.
7. Mildred's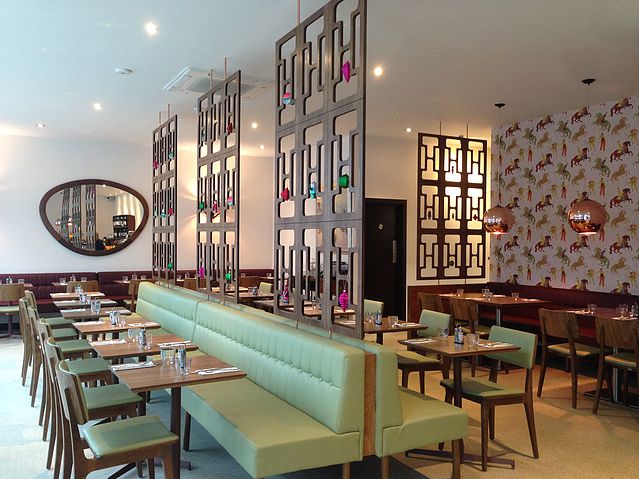 Where: Soho, Camden, Kings Cross
Great for: Groups of friends to enjoy a night out, fun atmosphere, gluten-free diets, good for vegan diets and a great cocktail list.
Mildred's is one of London's busiest restaurants. The first branch – in Soho – has been dishing up brilliant food for over 25 years. Due to demand and popularity, they have now opened up branches in Camden and Kings Cross too.
Mildred's has an uplifting, vibrant atmosphere that gives this place a bit of a 'party' feel – this is why I like coming here with friends who want to eat veggie or vegan but also want to have a fun night out. Atmosphere aside, the food is what keeps the meat-free fans coming back for more.
if you can't live without your chocolate fix, the vegan Chocolate & Peanut Butter Brownie is orgasmic
The Sri Lankan Sweet Potato and Cashew Nut Curry, Tofu Stir-fry and the Grilled Gyoza Dumplings are some of the most popular. And, like me, if you can't live without your chocolate fix, the vegan (also gluten-free) Chocolate & Peanut Butter Brownie is orgasmic. It comes served warm with a rich chocolate sauce and vanilla ice cream. It's level ten on the naughtiness factor – but hell, everyone needs to be a little bad and get high on sugar once in a while.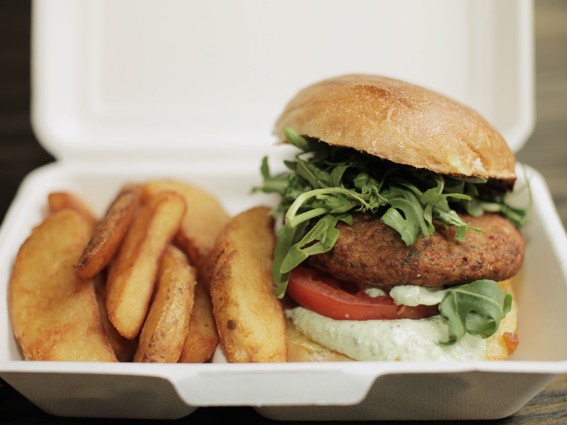 8. Sagar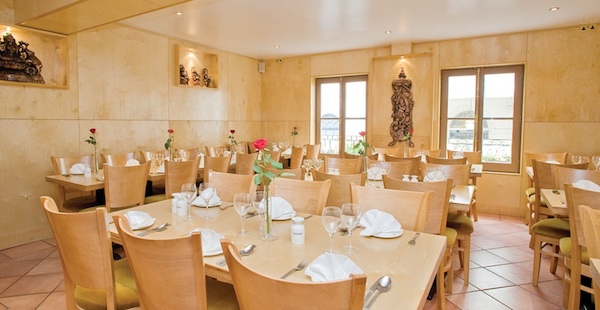 Where: Covent Garden, Hammersmith, Fitzrovia
Great for: Spicy food enthusiasts, vegans, gluten-free diets, affordable eats and catering for big groups.
Sagar South Indian restaurants are one of my top choices for great-value, great-tasting vegetarian and vegan food in London. If you like your food hot and spicy, then this place is also a 'must visit'. South Indian food is a good option in general for those avoiding meat, as it's predominantly vegetarian (a few South Indian restaurants also serve fish and seafood), with chefs often using healthy fibre and protein-rich pulses such as chickpeas, lentils and beans in curries instead of meat. At Sagar you can expect to try some of the best authentic Indian curries and traditional Indian style street foods.
you can expect to try some of the best authentic Indian curries and traditional Indian style street foods
For those following a gluten-free diet, South Indian food is also a great choice: it offers a bountiful choice of starters, mains and puddings that you can enjoy. Traditional South Indian cookery tends to use more rice, chickpea and lentil flours – which are naturally gluten-free – rather than wheat flour (poppadoms are an example of this). At Sagar, the Masala Dosa – a light and crispy pancake made from rice and lentil flour, filled with hot potato, onions and fragrant spices – is one of my all-time favourites. It is suitable for vegans, and completely gluten-free.
MORE: Best gluten-free pancakes in London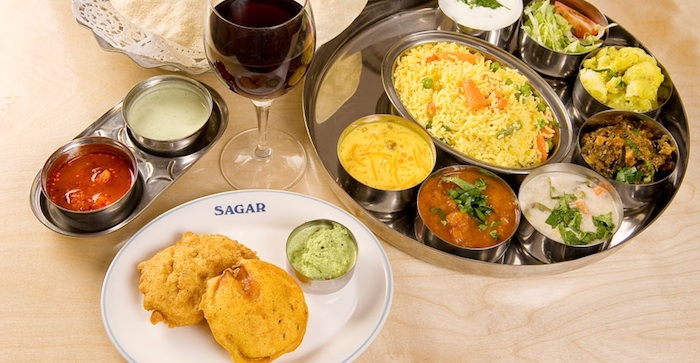 MORE: Healthista Eats by Charlotte Dormon.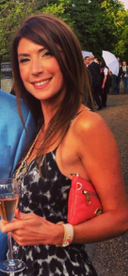 CHARLOTTE DORMON is our Healthista Eats blogger.  She's not a chef, or even that much of a cook.  If it's recipes you're looking for – you're in the wrong place.  But whether it's Sunday lunch or Friday night cocktails, she's the one friends and family turn to when they want to know how to eat out and be relatively healthy.  Each week she'll now be bringing you the same insider knowledge.  We'll drink – and eat – to that. Follow Charlotte on Instagram @HealthyEatsLondon
Like this article? Sign up to our newsletter to get more articles like this delivered straight to your inbox.