We have found the 10 best healthy restaurants in London tried and tested by Healthista's Charlotte Dormon which prove that you can still eat well whilst eating out

The summer has finally arrived. Long sleeves and layers are coming off and beach holidays and bikinis are around the corner.  Whether you're jetting off to hit the dance floor in Ibiza, or just shaping up for the summer party season, it's sure as hell that time to ditch the doughnuts (yes, that also means the gluten free ones) and get ready to look gorgeous.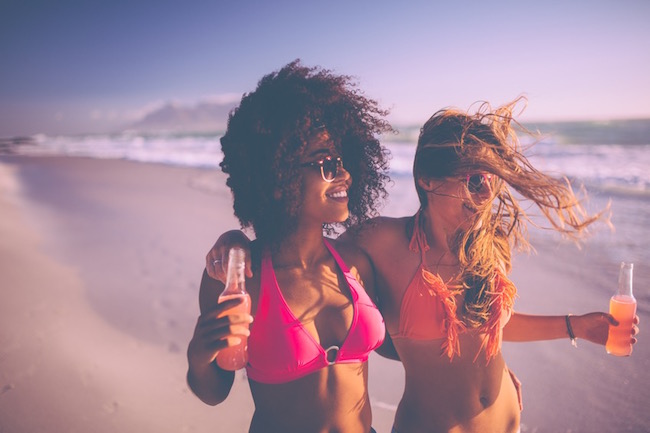 Any personal trainer worth their tight butt and ripped muscles will tell you that when it comes to losing the love handles and getting a lean bod, it's 80% diet and 20% training that's going to make the real difference. So if you're thinking you can just up the spin classes, double up on the downward dog and still carry on ordering Chinese takeaways and glugging the vino, think again!   
Eating nutritious and healthy foods will ensure your hard work in the gym really pays off.  By cutting out processed and sugary foods, you will burn fat far more effectively and find it much easier to lose weight (especially around the tummy) and get lean. 

Any personal trainer will tell you that when it comes to getting a lean bod, it's 80% diet and 20% training that's going to make the real difference.

Cleaning up your diet and replacing bad food with good isn't just going to shift the junk from the trunk. No, it does much more. Eating well also makes you look younger by making your skin clear and eyes bright. Boosting your intake of nutrient-rich foods, drinking plenty of water and cutting out processed and unnatural foods will also improve the appearance of your skin, hair and nails and help eliminate stubborn cellulite.

Beach bod friendly foods:
Herbal teas – drink plenty. Cut back on coffee and black tea as they can elevate blood sugar and stress hormones, and dehydrate the skin. Drink matcha green tea if you need the caffeine boost.

 

Matcha is also good for fat burning and contains a truck load of skin-boosting antioxidants.
Pulses – chickpeas, lentils, aduki beans, etc. Pulses contain fibre that will cleanse the gut and keep you fuller for longer. 
Healthy fats – especially oily fish, nuts and seeds. Healthy fats are good for skin, nails, hair, hormonal health, and the brain.
Whole grains – buckwheat, millet, oats, spelt and rye. They contain essential B vitamins to keep your brain happy, and they release their energy slowly to keep body and mind in balance.
Green vegetables – rich in vitamins C and K, and minerals including magnesium. They're also low in carbohydrates and high in fibre, so are an excellent food for your beach body.
So, Friday night takeaways might be off the menu for a few weeks. But the good news is you don't need give up on eating out. London now has plenty of healthy hotspots where you can eat and drink yourself gorgeous this summer.
In no particular order, here are my most recent Healthista Eats favorites.
Where: Fitzrovia & Carnaby Street
Beach body essentials:
Detox Kitchen is a mecca for health-conscious Londoners who love to eat clean and lean. All the food is free from any additives and contains no gluten, refined sugar or dairy. You'll be spoilt for choice with the selection of salads, and you can get your protein fix from baked salmon or chicken, salmon fishcakes, veggie cakes or baked tofu. The egg crepes filled with salmon and spinach are really filling, and ideal if you're avoiding carbs. Cakes are not usually advisable if you're looking to get lean, but if you can't resist the urge, treat yourself to a sugar, dairy and gluten-free cake or muffin. To drink, there are veggie juices and smoothies a-plenty, organic herbal teas and matcha lattes with almond milk.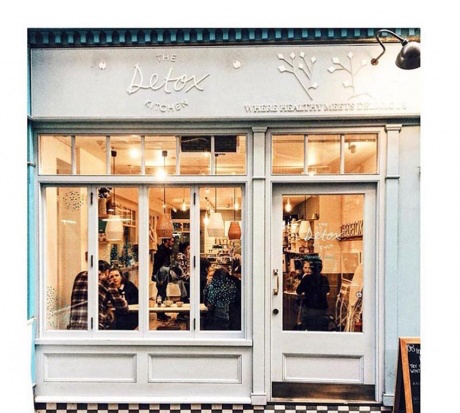 Added extras: Check out the fitness studio at the Fitzrovia branch.  You can grab your food and do a yoga class all within your lunch hour. Too busy to leave the office? Worry not. Detox Kitchen also can deliver its detox dishes straight to your door.

Where: Covent Garden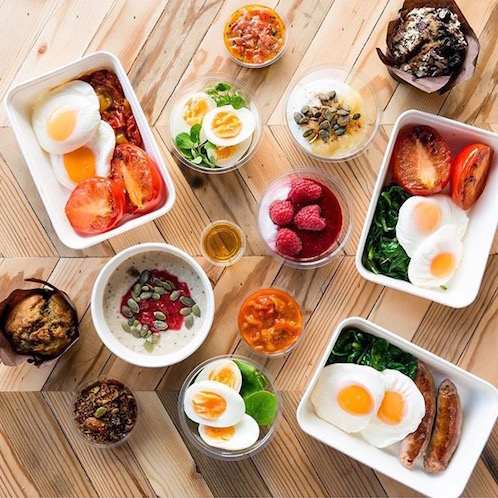 Beach body essentials: Another hip and healthy new opening for London that will keep you from falling off the diet wagon. Farmstand offers health-conscious customers a 'ready-to-go' hot and cold food buffet service, with a range of freshly cooked nutritious lunch and dinner options. Everything is made fresh on site and dishes are all created without any artificial additives, wheat, dairy, refined sugar or gluten. As quality is a priority, the team at Farmstand source all their ingredients from local British farmers and choose grass-fed, free range meat and organic fish where possible. It's a great place to come if you want filling food that won't make you feel bloated and sluggish, and is ideal for those in search of Paleo and grain-free 'fast-food' options. I love the poached salmon with dill, served with brown rice, broccoli and baked Jerusalem artichoke.   
Added extras: Hydrate yourself for free with unlimited availability of filtered sparkling and still water.
Where: Pimlico, Notting Hill, Marylebone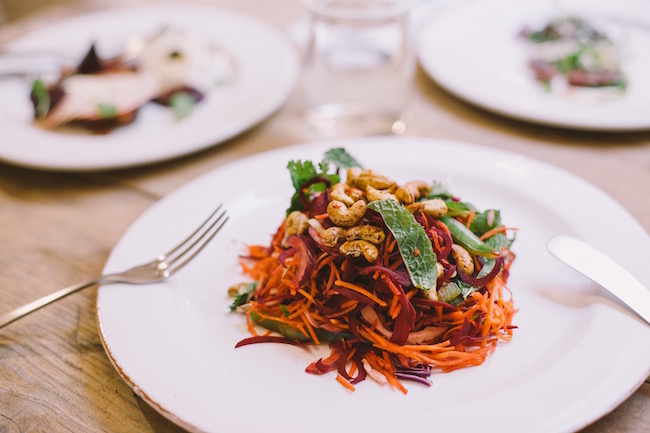 Beach body essentials: Daylesford is a top destination for London ladies needing a healthy lunch that will keep them looking fabulous. Everything on the menu is made using certified organic ingredients, most of which have come from Daylesford's own organic farm in Gloucestershire. I really love the food here and have never been disappointed by the quality, whether it's breakfast, brunch, lunch or dinner. The salads are absolutely superb and some of the best I have tried in London. I'm a fan of two in particular: the courgette spaghetti with raw tomato dressing, macadamia vegan cheese capers and raw tomato mayonnaise; and the raw green kale with crispy spiced chickpeas, mixed with toasted seeds and honey mustard dressing. If you prefer something warmer, the chicken bone broth with seasonal vegetables and fresh ginger is light and refreshing, and ideal if you are looking for a low fat, lean protein lunch option or a tasty starter.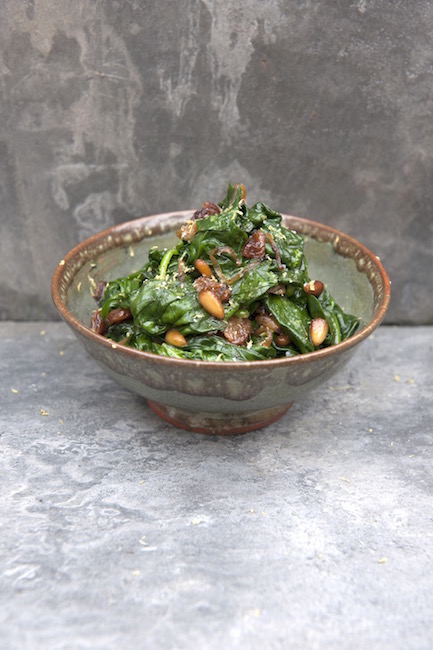 Added extras: Check out Daylesford Deli next to the restaurant, where you can purchase organic groceries including soups, gluten-free breakfast cereals, fresh fish and meat to take home. 
Where: Canary Wharf and Chelsea
Beach body essentials: This certified organic juice and salad bar pulls no punches when it comes to improving your health and wellness. Although it feels slightly 'clinical' inside, hanging out for a few days in here will get your body detoxed and fresh for the beach in no time! Start your day with a Power Acai Bowl or Chia Parfait, or go for a delicious salad such as the Quinoa Bliss, made with veggies, quinoa and falafel. The fridges are full of every type of wonder-juice you could want to perk up your day. Each one has been created to provide specific health benefits, from boosting your skin, to supporting detoxification, to meeting your post-workout nutritional needs.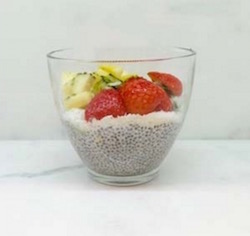 Added extras: Caffeine fiends will love the C-Press almond milk cold brew coffee. It's a delicious concoction of cold brew coffee and home-made almond milk, with coconut oil, vanilla, pink salt, and home-made date syrup. 
Where: Covent Garden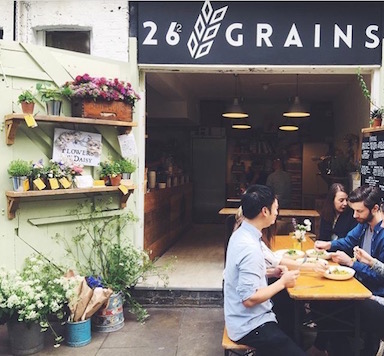 Beach body essentials: The grain-inspired food menu is based on traditional Scandinavian cooking traditions and spices. Despite the current craze for low-carb dieting, we need to remember that not all carbs are the enemy; it's just knowing the right ones to eat and the ones that are best avoided. 26 Grains only serves the good stuff – whole grains such as organic oats, buckwheat, quinoa and spelt. These grains are rich in fibre, B vitamins and essential minerals that benefit your health and nourish your body. The menu features a range of super-tasty breakfast, lunch and dinner dishes based on grains, spices, and fresh, healthy ingredients – with plenty of gluten-free options. 
Added extras: Try the turmeric latte. Turmeric is a super-spice with benefits for the skin and for healthy blood sugar balance.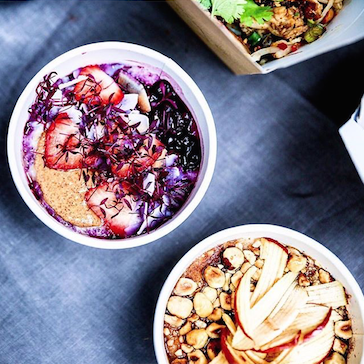 Where: Covent Garden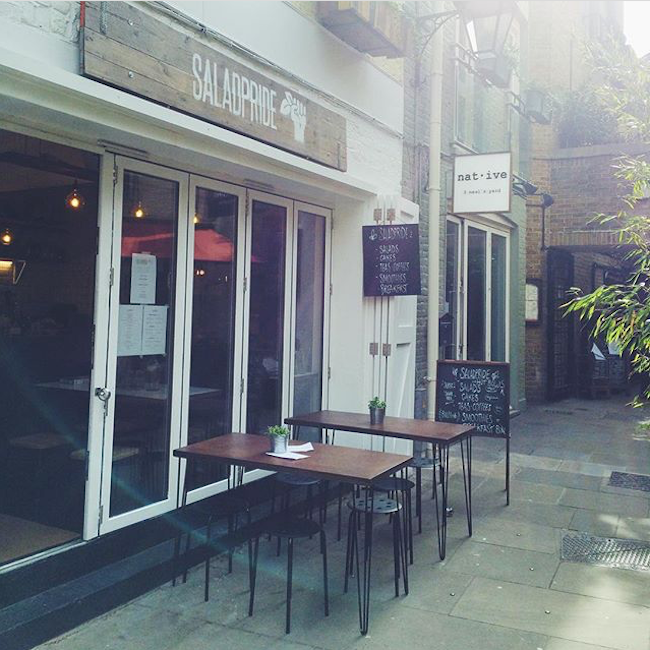 Beach body essentials: Really good salad bars with excellent quality ingredients are notoriously hard to come by, but at Salad Pride you are guaranteed to find something packed with nutritional goodness. All the vegetarian and vegan-friendly salads are freshly made to order. They taste exceptionally good and contain more than your average rocket and tomato combo. Expect to find organic pulses, punchy fresh herbs, seaweed, sprouted seeds and a various seasonal vegetables in the mix.  All the dressings are home-made using virgin olive oil and free of refined salt and sugar.  They also have a really tasty vegetable stew to enjoy on chilly days.
Added extras: Ask for a portion of the homemade gluten-free spiced seed crackers – they're really good.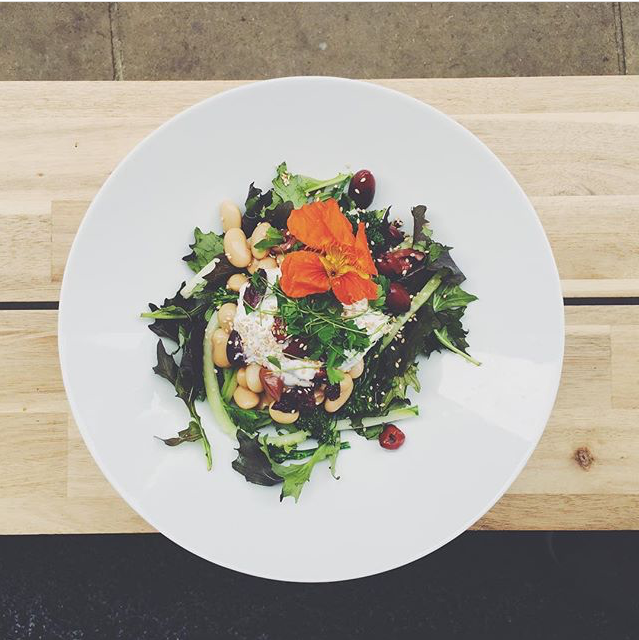 Where: Westbourne Grove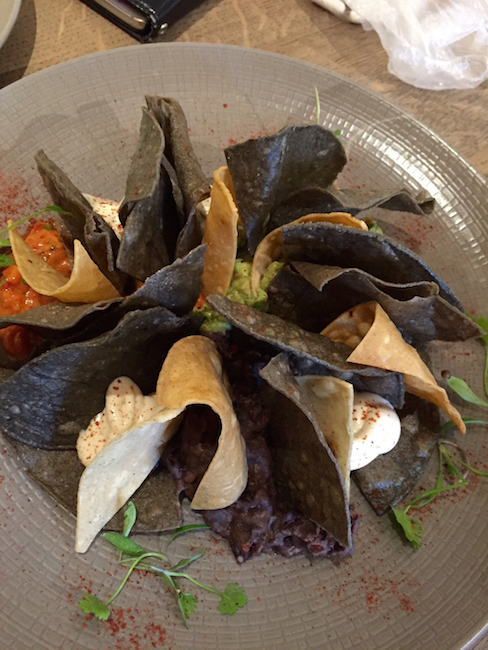 Beach bod essentials: This new ultra-chic all-day dining vegetarian and vegan food restaurant is one of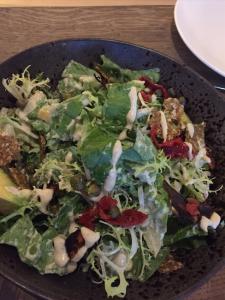 my new favourite places to go. Farmacy has the most fantastic menu of delicious healthy food choices, all made with the very best nutrient-packed ingredients. Unlike most of the healthy eateries around town, this place is pretty cool, with an upbeat and lively atmosphere – somewhere you could come on a date, or hang out in the evening with a group of friends. There's a sleek bar area where you can sit and drink fresh herbal teas, cold pressed juices, green tea mocktails and organic vodka martinis. To eat, I recommend the chef's clean curry with probiotic rice. It's brimming with organic vegetables, fresh spices and a creamy coconut sauce and leaves you feeling full, happy and satisfied. The Caesar salad is also surprisingly good: it contains no gluten or dairy, yet you wouldn't know the difference – the delicious creamy dressing is made from sunflower oil and avocado, topped with crunchy flax crackers. I'm also a big fan of the nachos. Despite being gluten and dairy-free, they taste just like the real thing, with a creamy style plant-based sour cream drizzled over crunchy corn tortillas, refried beans and creamy guacamole and salsa.

Added extras: Fantastic low-sugar and alcohol-free drink options for those off the booze.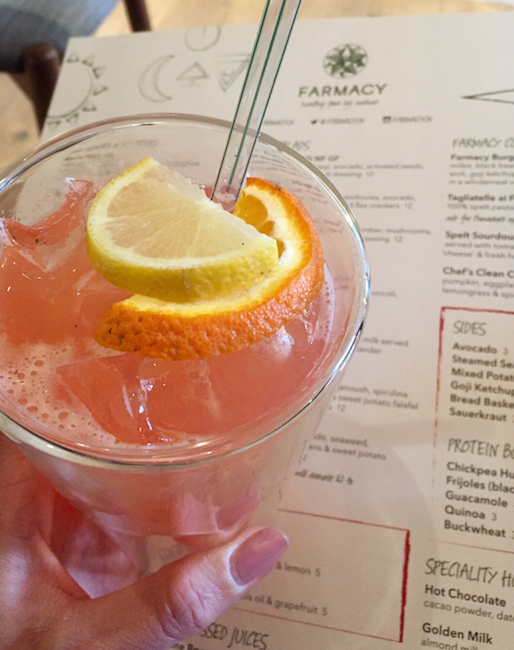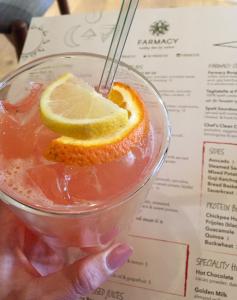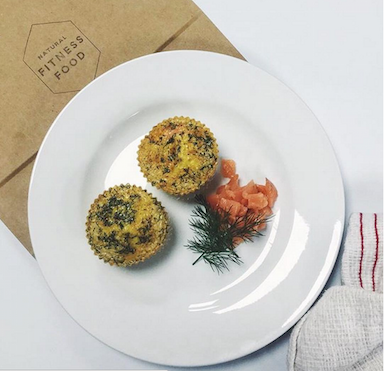 Where: Third Space gym, Soho
Beach bod essentials: Natural Fitness Food is located inside the Third Space Gym, but worry not, you don't have to be a member to come and enjoy the food. For a fast-food fix, this place is ideal, as the meals are all packaged up and ready to grab and go. Unlike other healthy eating venues around, the meals are specifically designed to provide nutritious and substantial fuel for pre- and post-workout. For meat eaters and Paleo diet fans, this place will be your heaven, as the majority of the meals are based around meat, eggs and veg and are free of grains and pulses. Protein-focused snack pots such as the grilled turkey pot and egg pot are filling and affordable if you are looking to eat less and often, or if you need an extra protein boost to go with your main. As the gym is open quite late (around 10pm), this is one of my favourite places to pick up a snack or ready-to-go healthy dinner after my evening Pilates session. The miso-marinated salmon with yellow courgette salad is one of my favorites. If you're an early bird, then drop in for breakfast: Natural Fitness Food has a great selection of grab and go options including protein pancakes, egg pots, chicken egg muffins and smoothies made from a choice of whey or plant-based proteins. 
Added extras: Good choice of good quality protein powders – try a new one to 'change things up'.
Where: Notting Hill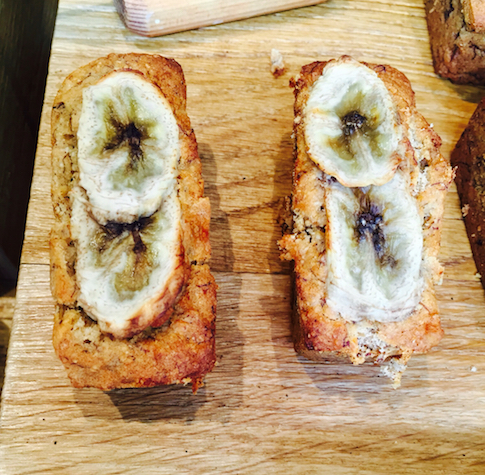 Beach bod essentials: Personal trainer to the stars James Duigan is the King of 'Clean & Lean'. So when he opens up a food café with his gorgeous wife, you expect good things. Australian PT James was one of the first personal trainers to make a big noise about the importance of what you eat in transforming your body. With clients such as Rosie Huntington Whitely, you are bound to listen to what he has to say. The café is very small, so don't turn up with an entourage of your mates expecting a three-course meal and big tables. It's more of a 'hang-out' place where you can enjoy a gorgeous smoothie loaded up with one of James's Bodyism protein powders, salads, protein wraps or an acai smoothie bowl loaded up with superfoods and almond butter. I'm a big fan of the smoothies here, and often drop by to pick one up if I'm in the area. The Berry Burn and Protein Excellence are two of the best. 
Added extras: Feeling frazzled?  Why not book in for a soothing sports massage or facial at the Bodyism treatment studio.
Where: Dover Street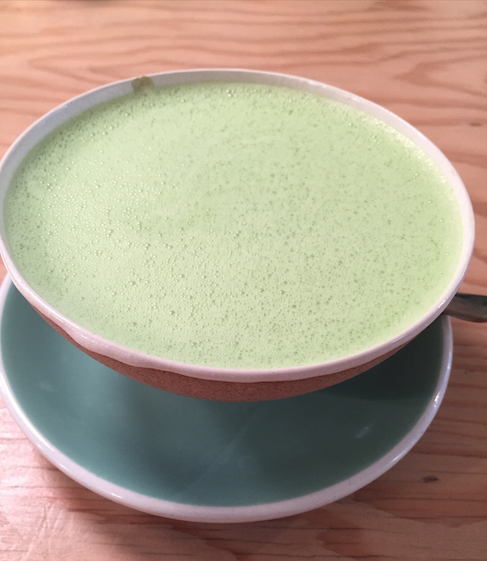 Beach bod essentials: If you love juice, then you must make a trip to Raw Press.  There are lots of juice bars around town now, but this one really does have a lot to offer in terms of great taste and the quality of its premium organic juices. To get beautiful glowing skin, try the Uprooted juice – a combination of carrot, orange, ginger, fennel, turmeric and argan oil. Another favourite of mine is the Deep Rooted – a blend of beetroot, fennel, apple, celeriac and Jerusalem artichoke – great to boost energy and freshen up your liver. The food is fantastic too. For breakfast, try the wheat-free granola with coconut yoghurt and fruit, or the spelt or gluten-free toasted homemade bread with lashings of almond butter. And for lunch, there's a choice of salads, soup, avocado on toast, or a delicious oven-baked hot sweet potato served with salads and topped with a dollop of creamy coconut yoghurt. They don't use any nasty or unnatural ingredients, and keep almost everything vegan, gluten-free and organic. As well the excellent food and cold-pressed juices, Raw Press is a good and rather stylish location if you need to stop for a while for food and catch up on work. There's a big central table where most of the guests can be found tapping away on their laptops, or penning creative ideas whilst enjoying their juice and raw cocoa brownies.
Added extras: The working space is quiet and peaceful, which is a rare thing to find in London, so take advantage if you need to escape from the city noise. The matcha latte with almond milk is also a delightful as an afternoon pick-me-up.
Like this article? Sign up to our newsletter to get more articles like this delivered straight to your inbox.