Don't get into a tangle on the treadmill, try one of our eight best wireless headphones for working out
I am a big believer in German philosopher, Friedrich Nietzsche's quote: 'without music, life would be a mistake. That also means for me at least, that without music, a workout would be a mistake too. In fact working out with music can improve athletic performance by up to 15 per cent, The Guardian reported. Now, I know that most gyms have a selection of the finest tunes playing in the background, but everyone has their own individual playlist that really gets them going to achieve those personal bests. There is an abundance of headphones and earphones that you can use to workout, but here's something that might make you think about trying wireless headphones.
MORE: 12 motivational songs to lift your mood
the beat dropped and along with it went my brand new iPhone 7, followed by my body
The day was a cold and wet Monday morning, the setting was the gym and what was lost was … my dignity. I was on the treadmill, minding my business, listening to Kelly Clarkson's 'Stronger', the beat dropped and along with it went my brand new iPhone 7, followed by my body. Yes – I fell off the treadmill. My headphones' wire had gotten caught in the treadmill's emergency stop, sending me flying backwards. Luckily the emergency stop actually worked or I might not be here to to tell this tale. No – I didn't get hurt really, (but my pride did). From that day onward I never went on the treadmill with my headphones on (which meant I hardly went on at all) until I tried wireless headphones.
To help you avoid such hazards, the Healthista team have searched high and low to bring you the best wireless headphones for your workout.
Best for outdoors:
Aftershokz Trekz Titanium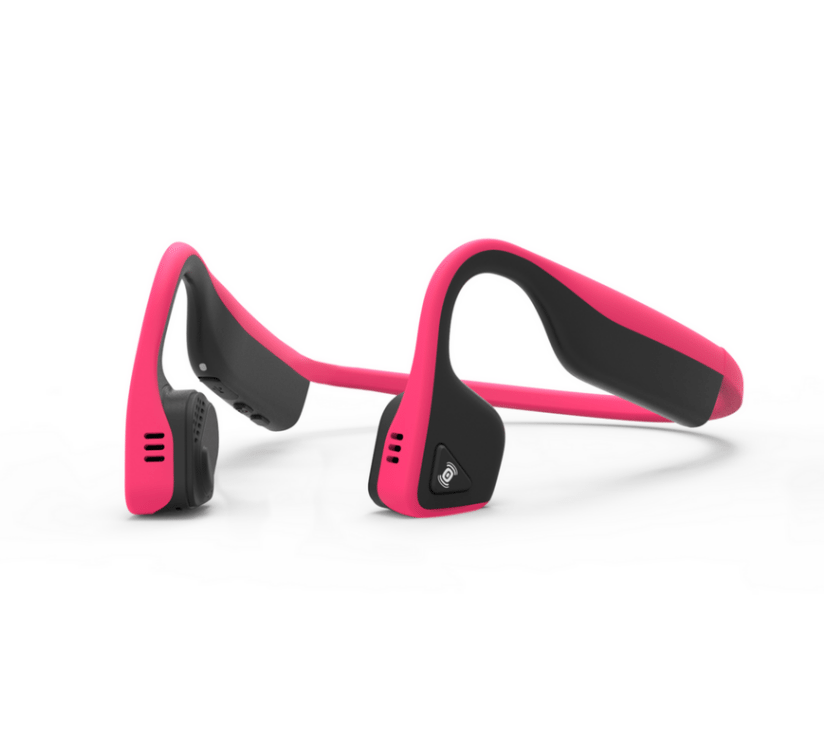 the only earphones fully approved for use in all road races in the UK
Price:
£109.99
The Claim:
What makes the Trekz Titanium wireless headphones so special is that they are lightweight, comfortable and also very safe when using them outside, as they allow you to hear the sounds of the outdoors without forfeiting volume and quality. This is done through something called Bone conduction technology, (the transfer of sound sound to the inner ear through the bones of the skull) an open ear design. These headphones were designed with athletes in mind, so they are sweatproof and so secure. Another selling point is that England Athletics have partnered with AfterShokz launching their RunTogether programme and these are the only earphones fully approved for use in all road races under the UK Athletics rules of competition.
Our Tester Says:
'I must say, I was slightly apprehensive about these headphones when I first saw them. The idea that they couldn't be inserted into my ear or cover my ears, made me very skeptical and I thought that they wouldn't be loud enough. When I tried them on for the first time, I was instantly proven wrong, the sound was so powerful and the quality was crystal clear. In fact the best way to describe it would be comparing it to virtual reality, as I could really feel the music around me. When I wore them out jogging, I loved how I could float between the zones of oblivion and reality easily and no matter how loud I turned up the music I could still hear the traffic. However, at the gym I didn't enjoy them as much – because I felt that the collision of other sounds from the gym was distracting. 
I think £109.99 is a fair price for these (and it's worth noting that if you are training for the marathon or any other runs these are fully approved). They stayed on the whole duration of my workout, even when I was doing vigorous movements and poised at awkward angles. Though, I must say that after wearing them for more than an hour, I did start to develop a dull headache (but then again I was one of those people that could never wear Alice bands as a child). These headphones have control buttons on the right-hand side that allow you to switch the device on, change the volume and pick up or end a call with. However I would have liked buttons that enabled me to switch the song. On the whole, I would definitely recommend these for outdoor workouts.' 
Best for fitting:
Snugs Wireless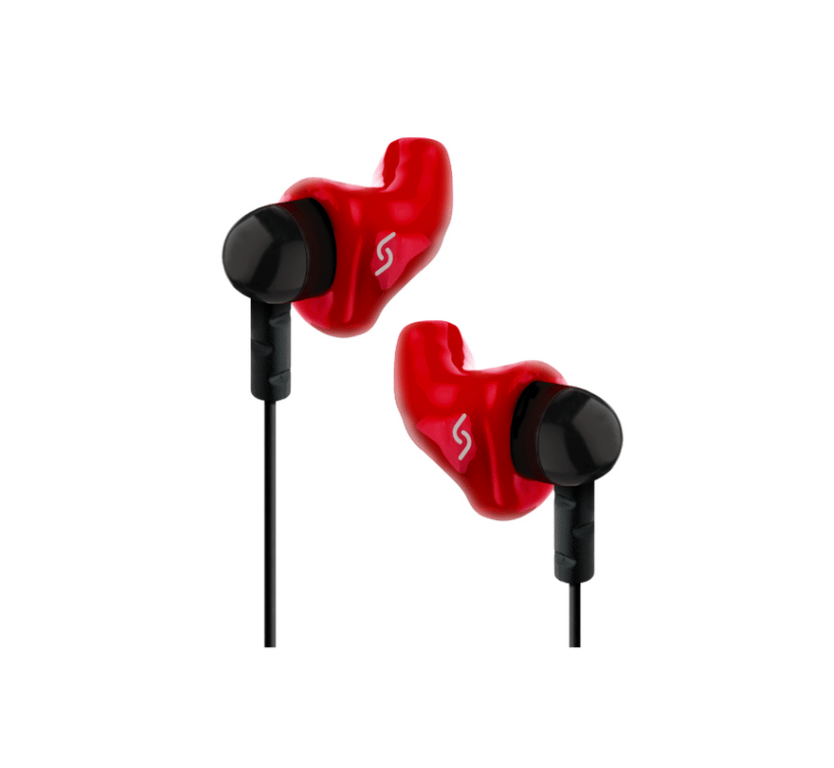 They did not move at all when I placed them in my ear and to take them off I had to yank them a bit.
Price:
£199.00 (£159.00 if you have already had your ear scanned with them before)
The Claim:
Custom moulded sound wear was once upon a time reserved for musicians and top DJs. Luckily, this technology is becoming much more affordable and the Snugs Wireless earphones are game-changer. Snugs earphones are created by taking a 3D scan or impression of your individual ear canal. Snugs then use 3D modelling and printing technology to create a pair of earphones based on your exact ear.  All you have to do is book an appointment with one of their UK-wide fitting centres to have your ear impression completed by their trained staff. If you are scanned within the M25 they use digital scanners, however, in the rest of the UK we use physical impressions. Both processes are said to be painless and quick. As they are custom fit for ear they provide unmatched comfort and the very best sound quality. The Snugs also act as hearing protection from loud external sounds, offering high levels of passive noise cancellation. They are great for an active lifestyle and the custom ear tips provide a secure fit, long-term comfort, and durable resistance to sweat and the weather.
Our Tester Says:
'I have really small ears, so I have never been very successful with in ear earbuds – they were always too big and they would pop out. The Snugs revolutionised these for me – Jack, a scanologist from Snugs came to my office and did a  digital scan fitting for me; where he basically did a scan of my ears for customised earphones molded to my ear. It took no longer than 15 minutes, it was pain free but a little ticklish.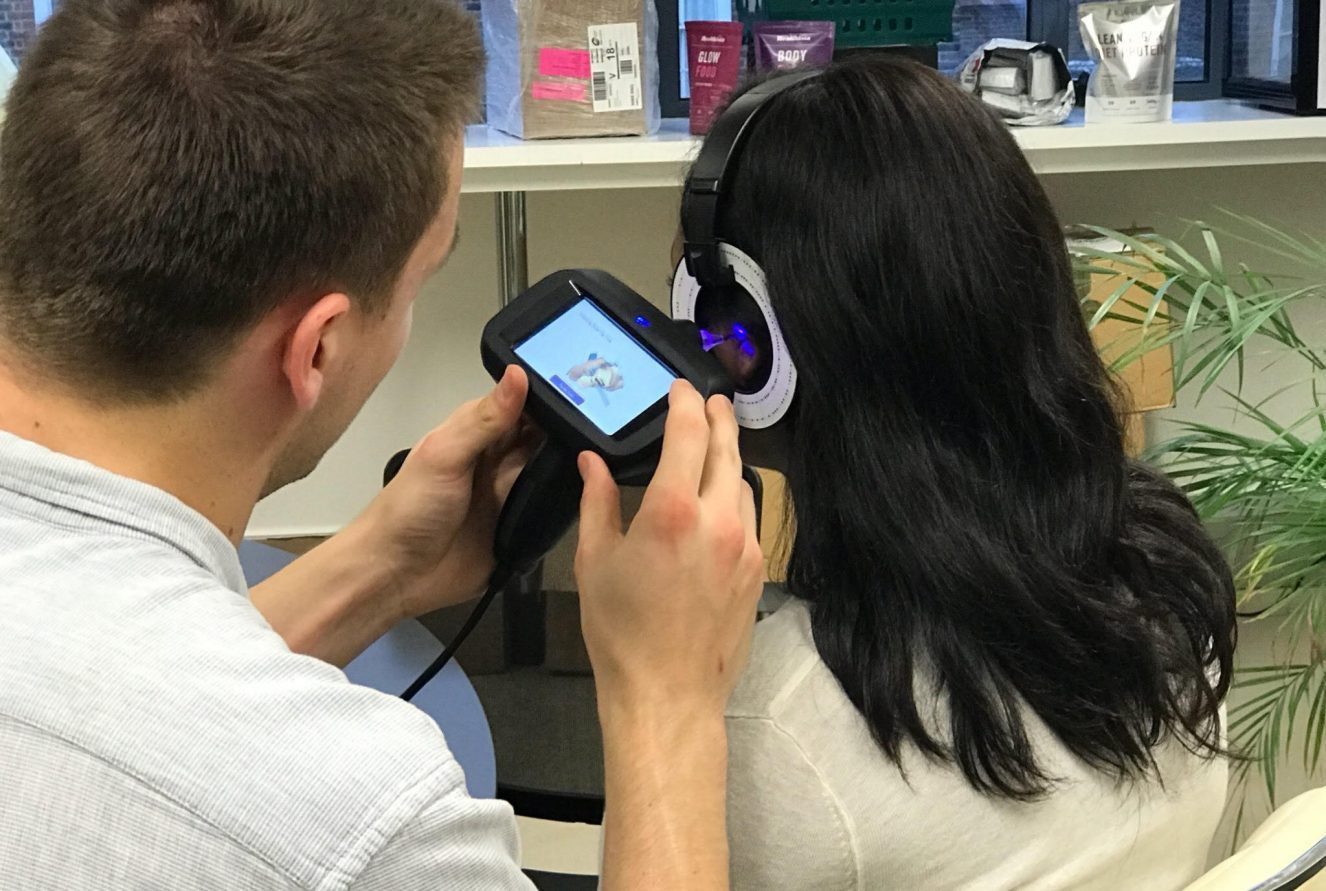 The earphones took exactly two weeks to arrive and I took them to the gym that same night. They did not move at all when I placed them in my ear and to take them off I had to yank them a bit. The sound quality was impeccable, I couldn't believe that such quality existed over Bluetooth. I really liked the fact that I could control my music and calls without pulling out my phone, however I did feel that the battery life could have been better than four hours. I think that £199.00 is not in most people's earphone budget, but I think they are a worthwhile investment if you really appreciate sound quality.' 
Best for low budget:
Intempo Melody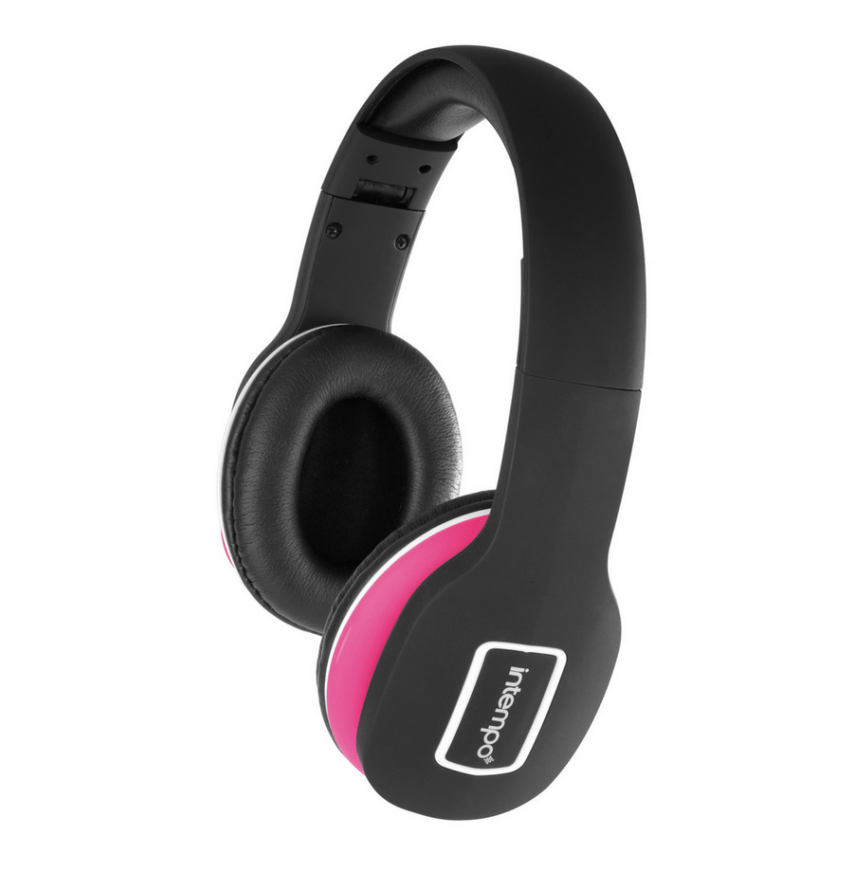 Throughout burpees, weights, and a downward dog or two, they did not budge.
Price:
£29.99
The claim:
The Intempo wireless headphones have a great look and sound and are ideal for listening to music on the go. The sit over the head like an Alice band and have cushioned padding around the ears that protect the speakers and allow you to workout comfortably. The side control buttons let you change the track with ease and control the volume. The folding design makes them easy to store away after use, perfect for putting in your handbag or gym bag.
Our Tester Says:
'The Intempo headphones are excellent for a workout. The fit is perfectly snug, with an adjustable band that sat over my head and the ear cups that were secure on my ear. Throughout burpees, weights, and a downward dog or two, they did not budge. It was an enjoyable experience to workout with the sound of music in my ears and no fuss. The headphones felt sturdy in my hand, which may put some off, but the ridged structure only made me more confident they were going to stay in place. Getting to grips with the four control buttons on the side of the ear cup, took some serious studying to get used to them. As when you have the headphones on, knowing which button is which can become a guessing game.   
The sound quality was really clear; I didn't experience any fuzziness or crackling. One small issue that I had was with the volume; I love really loud music and it just was not quite loud enough for me. I generally always had it on the highest level, and this was still too quiet when I needed a boom and blast during my HIIT workout. Also the battery life also is not outstanding, they last around 3 hours, and so depending on what you use them for this might not be enough. A red light flashes on the side of the headphones when they are about to die, which is very handy, but if you have them on you won't see this. The battery life and volume (not sound quality) could be better, but I am really impressed with the functionality when it comes to working out.'
Best for battery life:
JBL Reflect Mini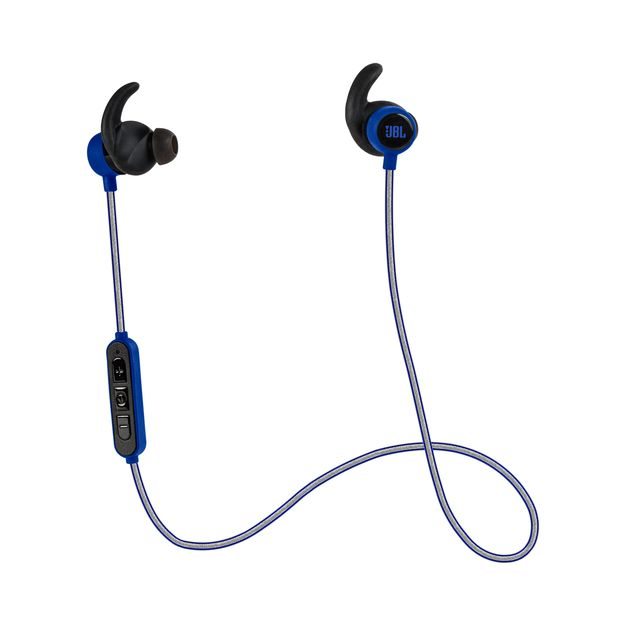 they claim that they last eight hours without charging and they actually do
Price:
£79.99
The Claim
The JBL Reflect Mini Bluetooth earphones are sweat proof and are awesome for working out. The design of the earbuds allow the buds to sit comfortably in your ear and unlike many other styles of earbuds these don't stick out from your ears. These earphones are lightweight, very compact and provide eight hours of playback time They have a built-in microphone, so you can easily answer calls, very conveniently with crystal clear sound.
Our Tester Says:
'These earphones were a dream to work out in, like they claim they are very lightweight and sometimes when I stopped the music I forgot that I had them on. They were really secure on my ear and whether I was doing burprees or upside down doing TRX training they stayed on. I liked the fact that they came with different earbud covers for different sized ears – I have small ears so the medium was a good fit for me. 
You can control your music really easily with navigation panel and answer and drop calls from the control panel without touching your phone.The sound quality was good but not amazing, particularly when you venture past the 75 per cent mark – but if you don't like loud music you will be fine. I was very impressed by the battery life, they claim that they last eight hours without charging and they actually do. In fact they lasted about five workouts for me without charging, which is awesome and for £79.99 I would say that they are a worthwhile workout investment.'
Best for weight training:
Sony MDR-XB80BS Extra Bass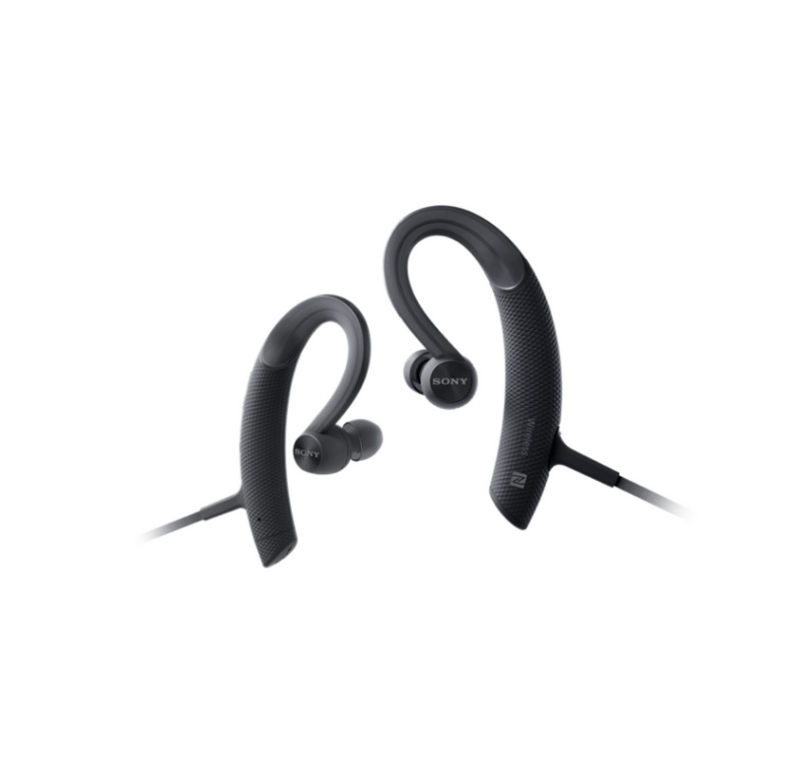 The design is a hook shape that sits just over your ear, so they are very sturdy on the ear.
Price:
£87.00
The Claim
The MDR-XB80BS earphones are designed to be sturdy and durable for those who lead and active life.The MDR-XB80BS earphones will stay connected to your device within a radius of up to 10 metres.  The ear piece controls allow you to take control of your music; there is also an integrated microphone which works with the remote for answering phone calls, hands-free. The MDR-XB80BS earphones are sweat resistant; they are also splash proof so they can be used for water sports like rowing and can be washed after your workout.
Our Tester Says:
'The general experience of wearing the headphones was positive for my training. My workouts involve mainly weights and my cardio is on the rowing machine usually. The design is a hook shape that sits just over your ear, so they are very sturdy on the ear – the only thing I would note is that if you do a lot of cardio you may find that they become heavy. So being able to move in different ways and some movements in intense bursts they seemed to fit their purpose. These are £87 and I understand why. The quality of sound was impeccable. It really made a difference to my workout. The sound was clean and the bass was of a high level and that is where I rate them the highest, in their sound. Even when the volume was past 75 per cent the sound was still very good and it didn't lose any quality.
My earphones didn't fall off in any workout, even when I was turning at an angle, they didn't fall off and were well fitted.The ability to control my music without touching my phone was a freedom. The control buttons on the earphone were the standard pause/play/skip. I am guilty of playing with my phone in between changing songs, so It was nice to not distract myself touching my phone. I would recommend these headphones to anyone whose workout is mainly focused on weight training.'
Best for Volume:
Urbanista Boston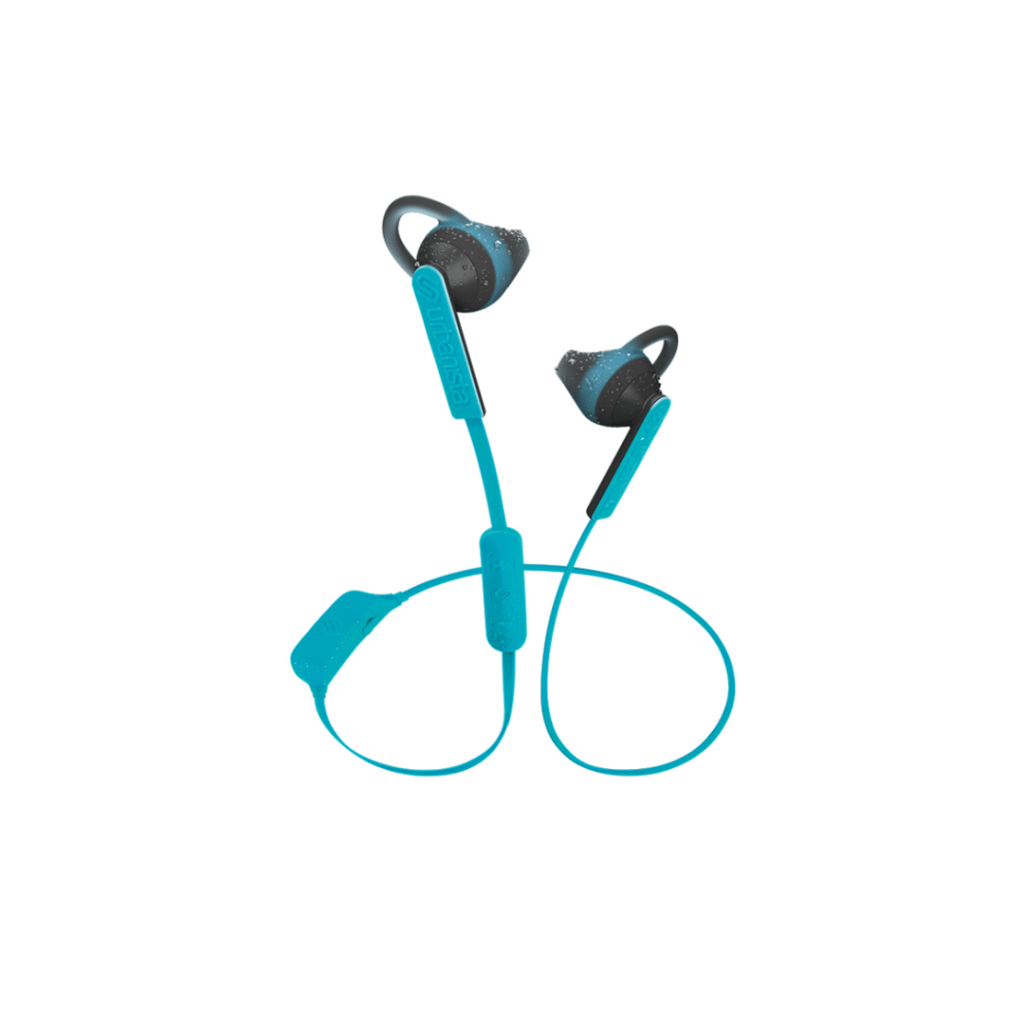 The quality of the sound was powerful, which is just what you need to keep you motivated whilst working out.
Price:
£41.48
The Claim:
The Urbanista Boston are sporty wireless earphones with a comfortable and secure fit. When connected to your phone or tablet you can use them for six hours and they have a built-in mic that allows you to take calls anywhere. These earphones are water resistant, so you can use them in all weather.
Our Tester Says:
'I was new to wireless headphones before I tried these; I was a little apprehensive as I thought the sound quality wouldn't be as good as wired ones – however I can happily I was proven wrong. These wireless headphones exceeded my expectations and I really enjoyed wearing them both for working out and for leisure. I train quite hard in the gym, doing several reps whilst weight training and a vigorous cardio routine, so I was surprised that they did not fall out once while I was working out. In fact I had to yank them out whenever anyone tried to talk to me as they were very secure. 
The quality of the sound was powerful, which is just what you need to keep you motivated whilst working out. However, if you aren't a fan of loud music like me, I would say that the sound quality was almost too loud. The lowest volume setting that the earphones allowed was three of the little bars on my iPhone, otherwise no sound would play. The control buttons on the earphones were fairly simple to use, it was easy to pause, play and skip the music as well as controlling the volume. All in all these are great, my only reservation was with the battery life, as it did not last too long.I would recommend these to anyone who has struggled with in-ear earphones in the past and I think that given the quality of the sound, £41.48 is a good price.'
Best for light exercise:
Monster iSport Achieve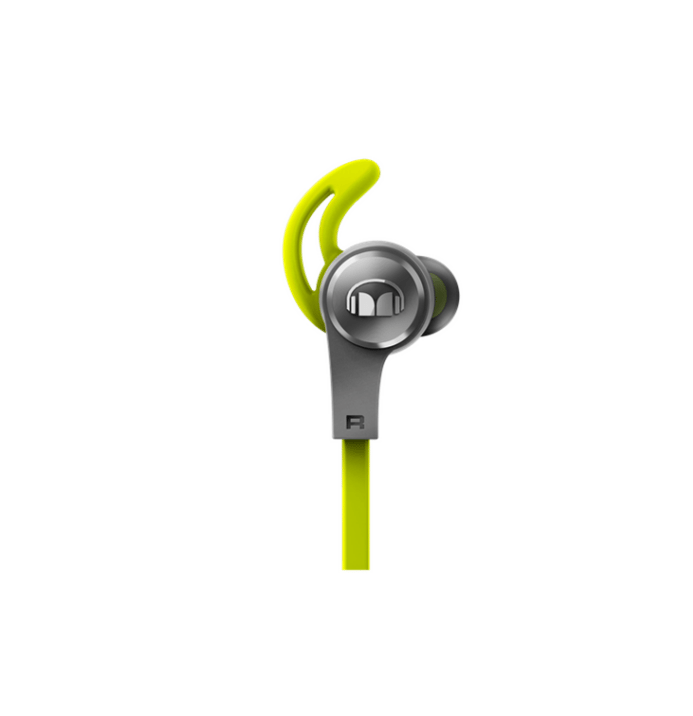 I do a lot of walking and general music play during downtime and keep going to these over my trusty Apple earphones.
Price:
£59.95
The Claim
Monster's iSport Achieve Bluetooth earphones  are designed for a dynamic workout. They use technology that is said to quicken the pulse and give you a more effective work out. The audio quality, high sound isolation, and comfortable and secure ear-hook design help you achieve the best workout possible, without the clutter of a wired connection.
Our Tester Says:
'These earphones are great for general use, giving me a brand new experience of no wires and free movement. They are a less obvious than some wireless earphones on the market, without large brackets going around the ear. But this might be its downfall, as they are not quite as secure as I would have liked. As for the sound quality, it's fantastic. The volume need only be put up to about 50 per cent in a moderately loud environment, and I like my music very loud. At 75 per cent volume, which you definitely need on the rickety Bakerloo Line, I think the sound is crisp and surround. The bass could do with a little improving. I loved working out without being attached to my phone! The — earphones do fall out sometimes, especially when in plank position! There is a simple button control system. The centre button is play/pause/on/off. The top button is increase volume/next song. And the bottom is decrease volume/back. I liked the positioning of the control too, as it is in the right place to be used as a microphone during phone calls (you can use these to take calls). 
The best thing about the — earphones is the battery life. I don't know the exact hours, but my commute is around 3-4 hours a day, and they will last up to 4 days or so. Even when I have accidentally left them on all day in my bag, it hasn't seemed to have affected the battery. When connected to your phone, there is an icon to show you how much juice is left in them, which is incredibly useful compared to the voice saying 'battery medium'. For a new music listening experience, the — earphones are a moderately priced item you'll become fond of in a couple of days. I do not think they can be advertised as useful for heavy sport or exercise, because the design just does not suffice but I do a lot of walking and general music play during downtime and keep going to these over my trusty Apple earphones (with wires) so if you aren't doing high impact cardio exercise then they are good.'
Best for HIIT:
Philips ActionFit SHQ 7900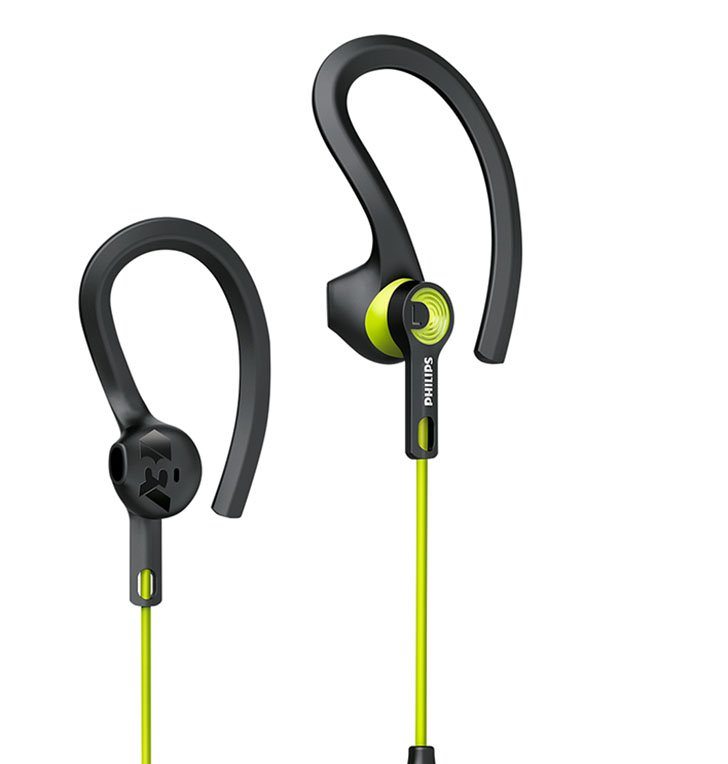 I wore these on the treadmill for 30mins, then 30 mins of weights and resistance and they were didn't fall off once.
Price:
£62.44
The Claim:
The Philips Actionfit Wireless Freedom sports headphones are secure fitting, waterproof and wire free. They come with a selection of different changeable ear caps offering you multiple wearing styles for optimal comfort. The C-shaped rubberised ear tips keep the ActionFit earphones tightly in your ears so you can focus on your workout, not on keeping them in. They
Our Tester Says:
'I am all about comfort and ease and the Philips Actionfit headphones really helped me achieve this. They come with 3 earbud styles so you have the flexibility to choose the best ones for your ears – two that you insert into your ear and one that hooks over the ear. My favourite earbud covers were the style that hook over the ear because it ensures that they never fall off. I wore these on the treadmill for 30mins, then 30 mins of weights and resistance and they were didn't fall off once. The sound quality was very strong even when I turned it up beyond 75 per cent  and I was surprised at the range of the Bluetooth connection – I left my phone on the shelf at the gym and walked to the other side of the gym and I was still connected (please bare in mind that my gym isn't huge).
The battery life is really good and they lasted me about two workouts of one hour and three commutes of one hour before I needed to think about charging them. The buttons on the left-hand side of the earphones were very easy to operate, you could pause/play the music and control the volume, but I would have loved to have had control over song selection using headphones. I think that at £62.44 you get a very good deal, because some headphones are a lot more expensive and don't have anywhere near the sound quality.'
Read More: 
REPORT: Why music changes your mood SO dramatically (and how to make it work for you)
Apple AirPods; the new earphones that stay in whether you're doing burpees or walking up walls (with no annoying wires)