Firstly, what is a liquid lipstick? Liquid lipsticks look like a lipgloss but dry into a matte finish with an even colour and comfortable texture – yes, it's the lip make-up Holy Grail and we have tested a load and found the very best 
From Kylie Jenner to J-Law it seems that liquid lipsticks are a total celebrity favourite right now. And why not? They're a cool alternative to your classic lipstick without resorting to a total throwback to early noughties lipgloss.
Liquid lipsticks contain the pigment of a lipstick and the glide and sheen of a gloss. The formula is opaque and buildable – making it easy to wear for light coverage or an overdone look.
Here at Healthista HQ we have been drooling over liquid lipsticks from all of our favourite makeup brands and that's why we knew we had to gather up our favourites to give them a try. We've tried and tested the best of the best and rounded up our favourites. So if you're looking for a new liquid lippy this Spring – look no further.
MORE: Glitter Lips: we try the party season trend that Bella Hadid, Naomi Campbell and Shay Mitchell have been showing off
Inspired by the colour nude which has absolutely taken over the beauty world in the past year (and looks like it won't be stopping anytime soon), Bare Minerals have brought out a brand new range of lip products including lipsticks and lip liner, all comprised of different shades of nude. The collection also includes a matte liquid lip colour that we couldn't wait to give a try. The matte liquid lip is made with a lightweight long-wearing formula and Bare Minerals describe the product as having a full coverage, cream-to-matte finish.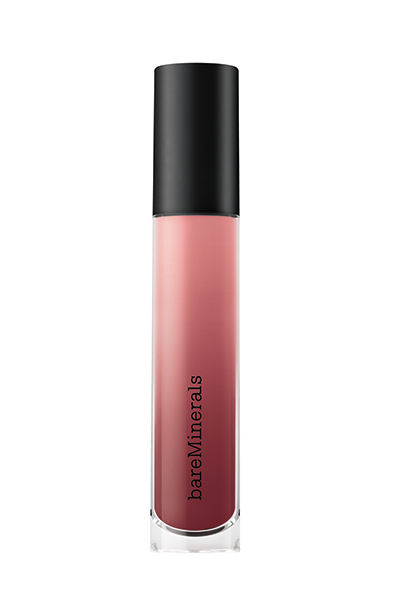 Healthista intern Anna Baron says: 
The first thing I noticed about this product was that the texture was incredibly smooth and easy to apply. The consistency isn't too heavy but it's not completely liquid either which made it very easy to work with. There's no taste or smell which is perfect for me as I prefer makeup that isn't perfumed. I love the look and feel of the product.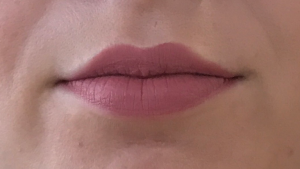 When I'm looking for an everyday lipstick I'm really looking for something that evens itself easily and pulls out the natural colour of my lips which is exactly what this lip stain does, it was almost a perfect match for my lip colour. The Bare Minerals Gen Nude liquid lip colour dries into a matte finish but it takes a while to dry. That being said, it stays put while it's drying so I didn't have to worry about smudging it. The colour I tried was called 'Swag' which despite the name is a lovely, subtle and versatile colour that I could wear with pretty much anything. I would most definitely buy this product and recommend it to others looking for an everyday lipstick.
Bare Minerals Gen Nude Matte lip colour is £17 from Boots and is available to buy here.
According to 3INA, this lip colour was designed for people that love the application of a lipgloss but the staying power of a lipstick. 3INA boast that this lip colour dries as an ultra opaque matte colour that won't budge. Waxes and gelling agents give this lipstick a creamy texture that allows easy application. 3INA say that their cream is highly pigmented to provide rich and vivid colours. 3INA suggested starting at the cupids bow and working outwards when applying this product. Plus, all 3INA products are both paraben and cruelty-free.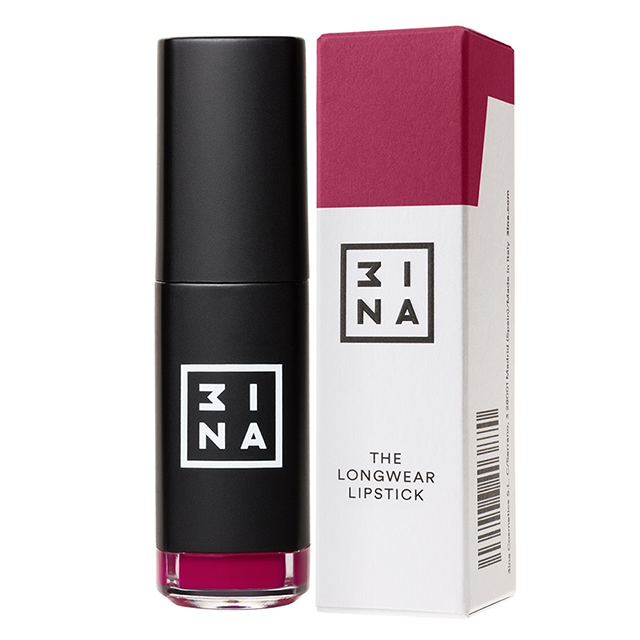 Healthista writer Vanessa Chalmers says: 
I wasn't too sure about this product at first, it looks like a lipstick which I don't really like. Its confusing and doesn't look like there is much product in here. It's quite watery when applying, but I actually liked this as it meant that the product felt comfortable on the lips and not sticky. It was useful to be able to build the colour because it's too easy for the whole application process to go wrong when you're applying a darker shade. This was also helped by the fact that the wand was small in size, which meant that I was less likely to mess up. The lipstick smelled a bit like chemicals but I did like the look of the colour on my lips. Be aware that it does darken in colour as you build your layers. The finish is matte but it takes about 15/20 mins for it to dry. Once it had it didn't budge much at all. Just needed a couple more applications over the next few hours just in the centre where it had come off a little when I'd had a drink.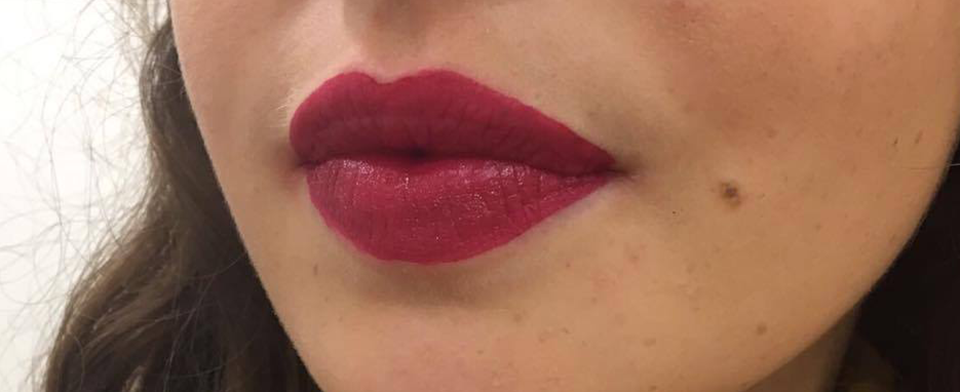 The finish is matte but it takes about 15-20 mins for it to dry. Once it had dried it didn't budge much at all. It just needed a couple more applications over the next few hours just in the centre where I had drunk water but really no application was needed again. It sort of blurred/smudged round the edges a little, which if you are wearing for a long time is useful so it doesn't come off all patchy. Then when I took it off at the end of the day it was really stubborn which shows how lasting it is. I would buy it because it is long lasting. But my lips did feel a little dry by the end of the day which I suppose is to be expected from a matte liquid lip colour.
The 3INA Longwear lipstick is available for £4.95 from 3INA here. 
NYX cosmetics (pronounced 'nicks' and named after the Greek Goddess of night) was started in 1999 by founder Toni Ko and was initially was makeup made only for professionals. Luckily for us, NYX spread to the mainstream. Showcased all over Instagram NYX, we love NYX for their very reasonable price tag. We tried the soft matte lip cream, a colour that is described by NYX as both durable, sweetly scented and moisturising. The colour has a matte finish and has just released twelve new shades.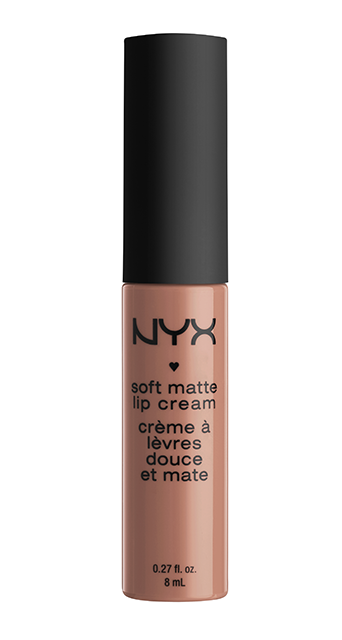 Healthista writer Parisa Hashempour says: 
I absolutely swear by this lip cream. I was introduced to it by a friend who raved about it's lasting power and I must admit, she was completely right. This lip cream glides smoothly onto your lips and has a sweet, perfumed taste. When you first slide on the cream it settles a bit like a gloss and looks shiny. But this doesn't last, the gloss sets matte and dry and completely attaches itself to your lips. The packaging is simple and the matte colour reflects the lipstick's matte finish; it's cute and fits easily inside any makeup bag. I can put this lipstick on first thing in the morning and it will still be perfectly in place by mid-afternoon. I also like how it fades, without leaving product on some parts of you lips and none on others.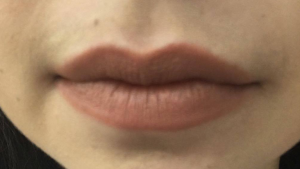 Although I love the finish of this lip cream, I would make sure you exfoliate your lips before using it. While NYX soft matte cream claims to moisturise I actually found that the cream left my lips feeling chapped and dry if I didn't prep them. The shade that I tried is called 'London'. It's a dark nude shade and I was really feeling it – I am obsessed with nude lip colour right now as you can pair it with absolutely anything. All in all, I'm a big fan of this product and can't wait to get my hands on a few more shades.
NYX soft matte lip cream is £8 from Cult beauty and is available to buy here.
NARS' new liquid lipstick aims to strike the balance between coverage and comfort. It's packed with NARS' Oil Infusion Complex which takes a high-coverage lipstick and makes it into a fluid gloss. The oil that NARS used supposedly allows for a smooth-glide effect, delivering a highly saturated colour. The applicator is called a doe-foot applicator and is slightly bent and flat, which is supposed to help ease of application. Bang on trend these products in this range are named after the iconic venues and new attitudes that emerged from the sexual revolution of the '70s.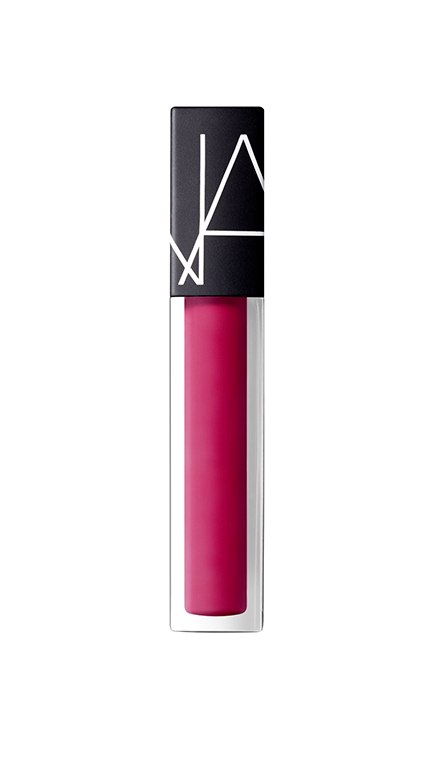 Healthista digital director, Yanar Alkayat says: 
This was a bold vibrant colour that will make any look or outfit pop. The texture was velvety but not wet so it spread across my lips easily without any excess. Once applied to lips it's almost like a dry formula. This lipstick tasted and smelled amazingly sweet, it's almost smelled edible.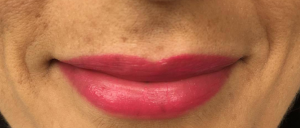 I love the bold stand out lines of Nars packaging. Can carry this proudly in my makeup and know friends will spot it and want to know more about it. The lip colour has a dry powder finish which is lovely if you like to blend colour into lips without a precision line. Because it's such a bold statement lip, I'd pair this liquid lipsticks with simple black mascara. I would definitely buy this product, but mostly because I love the colour rather than it being long lasting.
The Nars Velvet Lip Glide is £22 from John Lewis and is available to buy here.
Lipstick Queen's Famous Last Words liquid lip collection is a formula that they say was made to create a stay-put, statement matte lip. Lipstick Queen describes the formula as being 'Elastic Matte' which contains a special ingredient that supposedly enables pigments to breathe and bend rather than crack on the lips. The formula is lightweight and vitamin enriched – it glides on wet and then sets to a velvet matte finish, retaining moisture with the help of ingredients such as olive and jojoba. Lipstick Queen comes in six statement shades, we tried a bright bold red colour called 'Sayonara'.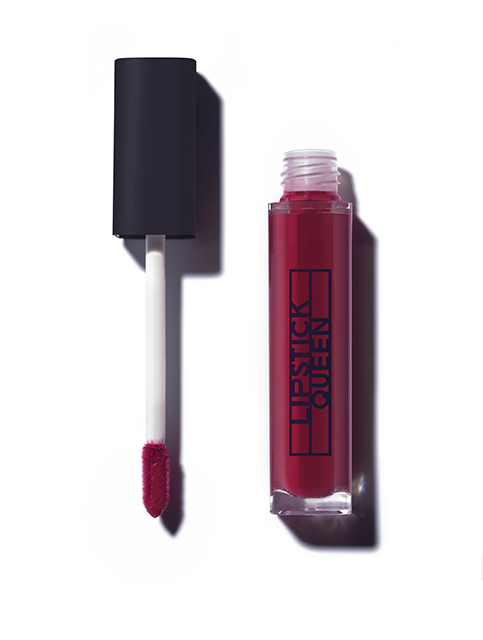 Healthista writer Parisa Hashempour says: 

The packaging for this lipstick is sleek and cool and I'd be more than happy to whip it out of my handbag in public toilets to reapply – but to be honest I don't know how often that would have to happen. This lipstick seemed to have good staying power. But the best thing about Lipstick Queen Famous Last Words was the fact that it dried incredibly fast. I often find myself waiting for an age until my liquid lipstick dries and worrying about it smudging in the process but this cream dried significantly within the first minute or so.  I absolutely loved the colour 'Sayonara' – although I don't often wear a red lip, this was a gorgeously bright, show-stopping red which I think looked great with my dark hair. The texture of this lipstick is a nice consistency, it's thick enough that it covers your lips in one glide but thin enough that it doesn't feel heavy. The lipstick doesn't taste of anything but when I smelled it, it had a faint sweet smell – a bit like chocolate almost. The finish was ultra matte. This is the perfect night out lipstick because it is a bright, matte red that feels as though it would stay in place. There was some transference onto my mug when I drank my coffee but for the most part, the lipstick stayed in place. I would definitely recommend this lipstick – this lipstick will have permanent residence in my makeup bag from now on. The only thing I would suggest would be to wear a lip pencil with this colour as the colour did seem to run a little around my bottom lip.
Lipstick Queen Famous Last Words is £22 from John Lewis and is available to buy here. 
Although this brand new lip collection from Revlon describes itself as matte, we loved it for its satin sheen. According to Revlon the high definition pigment and the moisturising formula has a soft finish. The technology is wax free which and is scented with creamy mango and whipped vanilla. Revlon's Ultra HD Matte Lipcolour comes in 12 different shades, we tried out Embrace.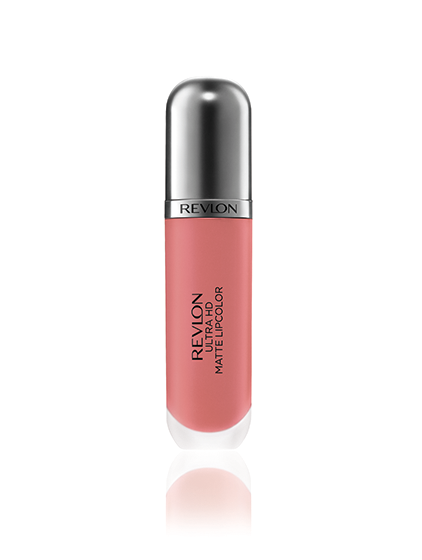 Healthista writer Vanessa Chalmers says: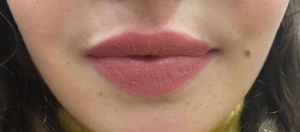 The container is a flat design which I like –  it looks upmarket. When I applied it, it didn't go on too thick, so I was able to build it up. This is great for getting the shape of the lips right, as too much product in one go can leave room for mistakes. The wand is expertly designed so it's flexible when applying. It doesn't dry matte like it says. More like a silky lipstick but I liked the texture. It didn't feel as though my lips were dried out and so I wasn't worried about it coming off all patchy. It also smells a lot like candy from my childhood which I liked. Because it didn't dry, it did leave marks on glass and mugs for a few hours. It didn't feel sticky, though. After a few hours, it rubbed off without leaving any obvious residue, which is probably down to the colour too (it's a neutral colour). The finish came off more like a satin lipstick. I would wear this every day because it doesn't need constant attention. If I wear dark colours that dry matte I'm always worried it has come off and I look like a hideous clown. All in all, I was a big fan of this product.
The Revlon Ultra HD matte lip colour is £8.99 from Superdrug and is available to buy here. 
Read more
Silicone sponges for foundation – yes or no? Watch this celebrity makeup artist's review
3 celebrity hair trends from this year's awards season
8 best products for curly hair