Whether you've got corkscrews, ringlets, spirals, or waves, we've narrowed down the best products for your hair so you can turn unruly curls into gorgeous curls
As someone who has spent 27 years fighting the constant war against frizz, finding the motivation to embrace my curls has been a battle. Anyone with curly hair understands the struggle of turning their hair from the frizzy, tangled mess of a feral cavewoman, (that my mum sometimes points out looks as though I've been dragged through a hedge backwards – awh, thanks mum), to the tumbling, springy locks of a wild woodland princess.
Curly haired Goddess is the goal, but I know what you're thinking, 'how do I achieve it?' That's why we at Healthista have done the hard work for you. Together we've tried and tested a horde of curly hair products that all claim to hydrate, control, and tame our volatile locks. But which ones actually do what they say? We've narrowed down 8 of the best products, and what type of curl they're best for.
MORE: Lavage – The hot new celeb hair trend for summer 2016
1. Best for anti-frizz
Bumble and Bumble Bb.Curl Anti-Humidity Gel-Oil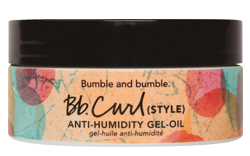 Best for: All curl types.
What is it? – It's a frizz-fighting gel made with a blend of Brazilian oils such as, Brazil nut oil, Babassu oil, and Pracaxi oil. Therefore it has the hold of a gel and the hydration of an oil – and unfurls wound-up curls to create glossy, elongated shapes.
The review: This very thick gel-oil looks like honey, it's slow moving, but thankfully it doesn't have the horrible stickiness that comes with most gel based products. It actually feels quite smooth on your fingers, and smells refreshingly tropical. It also doesn't make your hair hard or crunchy, which is a bonus.
Most of all, this product is the ultimate frizz control. I highly recommend it if you're going on holiday to a country that's high in humidity, or even if you're like me, and your hair gets bigger and bigger no matter where you are.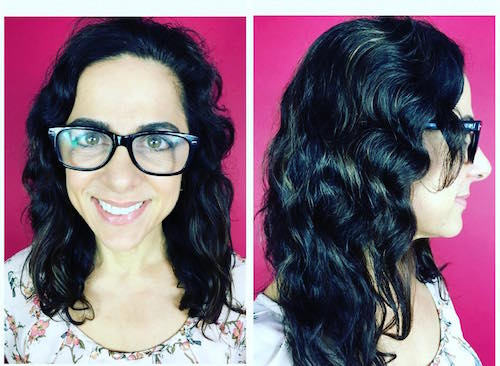 What type of curl does it create? Ringlets to corkscrews (in other words, it loosens up tight curls).
Directions: Use on clean, damp curls. Scrunch throughout hair. Air-dry or diffuse.
Free of: Alcohol, silicones, parabens, sulphates and phthalates.
Available on Amazon for £27.45
2. The ultimate hydration
MoroccanOil Curl Defining cream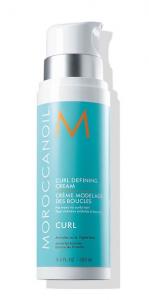 Best for: Wavy to curly hair.
What is it? It's a cream that contains argan oil and heat-activated technology that fights frizz whilst keeping hair hydrated.
The review: If you like the look of your curls once they've dried after a swim in the sea, you'll love this product. It creates voluptuous, big, natural looking curls with no frizz and plenty of bounce. They're less defined and totally dry, which is a curl look I like (not a fan of wet-looking curls) and it makes hair feel super soft to the touch. I would use it, diffuse the hair gently and then comb through with an afro comb and then add a tiny bit more product.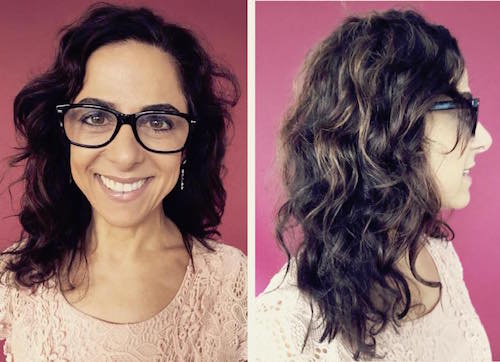 What type of curl does it create? Bouncy, natural curls.
Directions: Apply 1 – 2 pumps to towel-dried hair. Distribute product throughout hair and diffuse to activate defined curls. For a more relaxed curl, let hair dry naturally.
Available on Amazon for £18.90
3. The ringlet rangler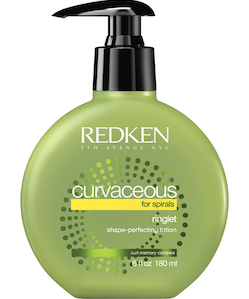 Best for: All curl types.
What is it? It's an anti-frizz lotion that's designed to control curls with a soft and shiny touchable finish. It provides definition, and weightless control.
The review: I wouldn't call myself a product junkie, but I love to add extra products in my hair after washing for shape, style, and moisture. And wow does this product give shape. It's also fun to experiment with, and you only need to apply a small amount as it's quite liquidy and spreads like a conditioner. It comes in a cute rounded bottle with a squeezy pump so it's super easy to use. I would definitely recommend this product if you're looking to create ringlet curls, or just want a bit more shape to your hair.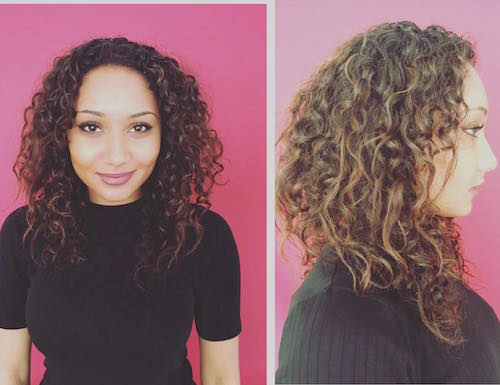 What type of curl does it create? Spirals to ringlets (it tightens up loose curls).
Directions: Apply to towel-dried hair. Diffuse or air dry. Can be used on dry hair to tame frizz.
4. Waterproof curls
Living Proof Curl defining styling cream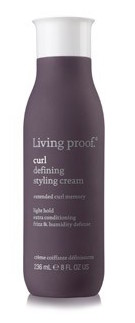 Best for: All curl types.
What is is? It's a colour safe styling cream that has extra conditioning and a light hold to define and control particularly unruly hair. They combine curl memory technology with long-wear, flexible resins to give waterproof curls that keep their shape for longer.
The review: If you're someone who's not a fan of the stiff curl, this might not be for you. But if you're in need of a strong holding curl, this product definitely does the job. Although the product claims to give soft curls, it was not the case for me as I ended up with a crunchy, almost wet look.
The cream itself is quite thick, and it weighed down my hair quite a lot, which is perfect if you have flyaway hair. However, I have very fine hair, and maybe this product is best suited for thicker and coarser curls. I would recommend it to someone who's looking for a good hold. Even when they got wet in the rain they still kept their curl, and didn't frizz, which is always a bonus.
MORE: Tape in hair extensions – our writer tests the newest and most affordable hair extensions loved by Khloe Kardashian
What type of curl does it create? Natural or coily curls.
Directions: Apply to wet hair, evenly distributing from roots to ends. Start with a quarter-size amount. Add more as needed.
Free of: No silicone. Colour safe.
Available on Amazon for £26.38
5.The curl reviver
Kérastase Discipline Oleo-Curl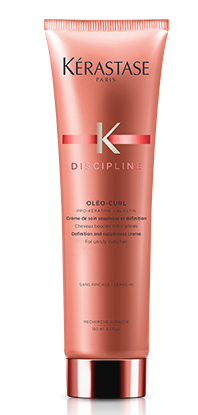 Best for: All curl types.
What is it? It's an anti-frizz cream to enhance definition and suppleness. Enriched with Xylose, an ingredient recognized for its thermos-properties when used with heat styling appliances.
The review: My goodness, I loved this product. It literally erased all the frizz from my curls and left me with these big, sexy waves that felt soft to the touch and really smooth. To be honest, the whole Karastase Discipline Oleo-Curl range is a real dream – especially the curl cleanser which contains no sulphates and and really calms the hair down. I took it on holidays with me and using it for two weeks straight totally transformed my curls. 
What type of curl does it create? Smoother, less frizzy curls.
Directions: Apply a chestnut sized amount onto washed and towel-dried hair. Massage through lengths and ends. Style using a hairdryer or heated styling appliance.
Available on Amazon for £21.83
6. The best for shine

Best for: Dry, fine curls.
What is it? It's a non-foaming cream that cleanses the scalp and hair without upsetting the natural moisture balance. Gentle enough for everyday use. It's blended with argan, virgin coconut oil, honey, aloe vera, linseed and pomegranate extracts.
The review: This product is a little different to what most people are used to, but the results are brilliant. First of all, it acts as a replacement for your shampoo, so instead of using a shampoo, you use the curl cleanser. I admit, it does take a little getting used to as it doesn't foam up when used. In fact, it's very liquidy and runny, I almost had to pour it out directly onto my head because it was like trying to cup water in my hands that was constantly trying to trickle through my fingers. You also end up needing to use a lot of the product for one wash as it's so runny.
The point of it being a cleanser, and not a shampoo, is that is doesn't strip the hair of its natural moisture like a foamy shampoo would, and therefore your hair is left feeling much more hydrated. Another thing that's quite unique about it is that it doesn't have a strong smell, I detected hints of citrus, which made it feel kind of refreshing to use.
You will NOT feel like one of those women in the Herbal Essence advert where they're having a lovely time massaging their shampoo in with ease. It'll feel a bit messy, you'll probably use the bottle twice as fast as you normally would. However, after seeing the difference the curl cleanser made to my hair I'm confident that I will never go back to using shampoo.
It left my hair feeling so much more hydrated and moisturized, and as a result it was twice as shiny and twice as soft as it's ever felt before. I would recommend the Bucleme Curl Cleanser to anyone who suffers with dry, thirsty hair.
What type of curl does it create? Shiny, hydrated waves.
Directions: Apply a generous amount and massage throughout the scalp. Apply more through the lengths, and loosely detangle. Rinse well.
Free of: No chemical nasties. No sulphates. No silicones. No parabens.
Available on Boucleme.co.uk for £15.00
7. Embrace the afro
ORS Curls Unleashed – Leave-in Conditioner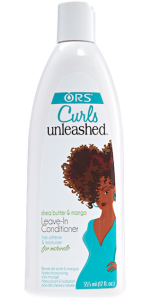 Best for: Afro curls.
What is it? It's a leave-in conditioner made with vitamin E, shea butter, coconut oil, and olive oil that aims to moisturize, detangle, and define your curls.
The review: The budget buy ORC Curls Unleashed does not dazzle you with its fancy packaging, but don't be fooled, this range really is a diamond-in-the-rough. It was a struggle to pick just one as our favorite, as all of them were star products in our eyes.
The majority of people with afro curly hair love to have some sort of cream or gel to lock in the moisture, and sometimes it doesn't always come with a pleasant smell, but this one smells incredible. The banana one smells like real banana, the cucumber one smells like real cucumber, and, you guessed it, the mango one smells like you just chopped up a real mango and smushed it into your hair.
The smell aside, this conditioner does not leave your hair feeling sticky or stiff, and it actually drys feeling soft and shiny. I would recommend the ORS Curls Unleashed whole range to anyone with afro hair, or anyone who's looking to add a lot of volume to their curls.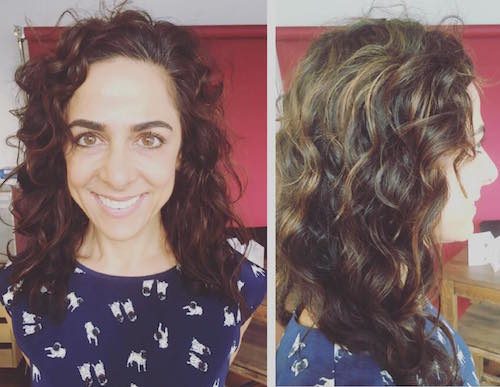 What type of curl does it create? Big bold volume.
Directions: Apply to damp hair. Don't rinse.
8. Soft beach waves
SheaMoisture Fruit Infused Coconut Water Weightless Shampoo – Available for £10.99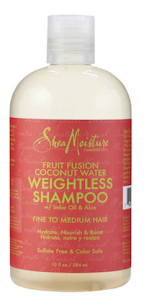 SheaMoisture Fruit Fushion Coconut Water Weightless Creme Rinse – Available for £10.99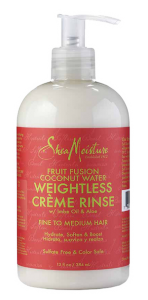 Best for: Fine, wavy curls.
What is it? They're a Sulfate-free and colour safe shampoo and crème rinse that gently cleanse and hydrate lifeless hair. Made with organic shea butter, coconut water, dragon fruit, lychee berry, and green apple extracts, they're designed to deeply nourish and control frizz.
The review: The shampoo is light with an oily texture to it, and the crème rinse is rich and creamy. Both smell gloriously fruity, with a hint of coconut. They left my hair feeling soft, and wavy, no tight curls, but I wouldn't recommend using these products if you have thick coarse hair as I don't think they will be strong enough. They're definitely best for people with light and fine hair who are looking for a weightless effect.
MORE: What dermatologists eat for great skin
What type of curl does it create? Beach waves.
Directions: Apply the shampoo to wet hair and gently massage into a rich lather. Rinse thoroughly. Then apply the crème rinse and gently comb through hair from roots to ends. Leave in for two minutes. Rinse.
Free of: Sulfates, Parabens, Phthalates, Propylene Glycol, Mineral Oil.