We asked celeb makeup artist Louise Dartford to review silicone sponges, the latest beauty trend spreading across the net
Move over Beauty Blender, there's a new sponge on the block. It's one of the latest trends in makeup right now and is a closer resemblance to a chicken fillet than a sponge – that's right, it's the new silicone sponges.
These new sponges are reminiscent of the beauty blender in shape, although they are flat, they keep the same pear shape that helps make application under the eyes and around the nose much easier. And although the silicone blender we tried out was a plain, clear transparent sponge, the new beauty tool comes in all sorts of fun colours, shapes and sizes.
But we wanted to know what a professional thought of this new gadget. So we turned to celebrity makeup artist Louise Dartford for her thoughts.
So we had Dartford's opinion – but what do us mere non-MUA mortals think of the silicone sponge?
The first thing we noticed about this sponge was that the silicone material meant that it didn't soak up product in the same way that beauty blenders do – this meant that we could save more of our precious foundation (once we figured out that we had to pump out less product than we are used to). We also found that it took a little longer for the product to soak
 The new sponges are all over Instagram
We also found that it took a little longer for the product to soak into our skin than if we were using another method of application. If you're using the silicone sponge it might be an idea to apply slightly less product than you would usually as otherwise you're left with lots of product on your face, which takes a long time to dry. The smooth surface of the sponge made blending difficult. It wasn't as easy to blend onto the skin as it is with a brush or beauty blending sponge and although it was good for application, we eventually found ourselves using our hands to rub in. The smooth surface of the sponge made blending difficult.
One thing we were particularly pleased about was the fact that Dartford was right, this sponge was incredibly easy to keep clean.
But see what you think yourself – below we try out the new silicone sponge for ourselves.
Click on the the link here to buy: The Silicone Make Up Sponge – Silicone Applicator Blender (Leaf Design)
 £8.95 from Amazon.co.uk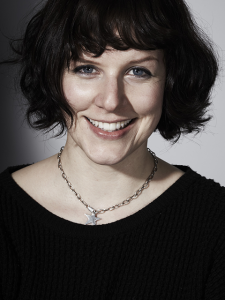 Louise Dartford is a make-up artist working in beauty, fashion and music. Her work has featured in publications such as Stylist, Nylon, Volt and Twenty-6 Magazine and she works regularly with music artists such as Tinie Tempah and Birdy. A keen interest in natural beauty products led Louise to experiment with them in her professional kit, and about eight years ago she started the journey of converting her kit into a cleaner, greener version. She has since been championing organic and natural brands; proving through her session work that they can live up to their conventional counterparts. She also shares her beauty knowledge through her writing, and has contributed features and quotes to magazines such as InStyle, The Ecologist, Natural Health and SIX.
Read more
3 new year makeup trends to try now
Ruth Negga's makeup artist reveals how to get her red carpet look – EXCLUSIVE