Tired of the treadmill? Injured so you can't run? Healthista editor Anna Magee rounds up the best reasons to switch to an elliptical or cross-trainer
It burns as many calories but it's low impact.
It's tempting to imagine that because running on the treadmill feels harder than other cardio machines, it probably is. But cross-trainers are the steady achievers of the cardiovascular exercise machine world. One study at the University of Wisconsin La Crosse pitched other cardio machines against elliptical training, comparing exercising on the NordicTrack Elliptical machine to working out on a treadmill, stepper and stationary bike.
Cross-trainers are the steady achievers of the cardiovascular exercise machine world.
For the study, 16 volunteers between 27 and 54 worked out for 20 minutes at an intensity they chose and researchers measured their oxygen consumption (calories burned), heart rate and levels of perceived exertion. It found that not only were heart rate and oxygen consumption values virtually identical for running on the treadmill as for the elliptical trainer but the impact on the body for the elliptical was more like walking. Plus, it felt easier. That means you get the burn from running but the injury potential and general feel of walking. That is what we call a result.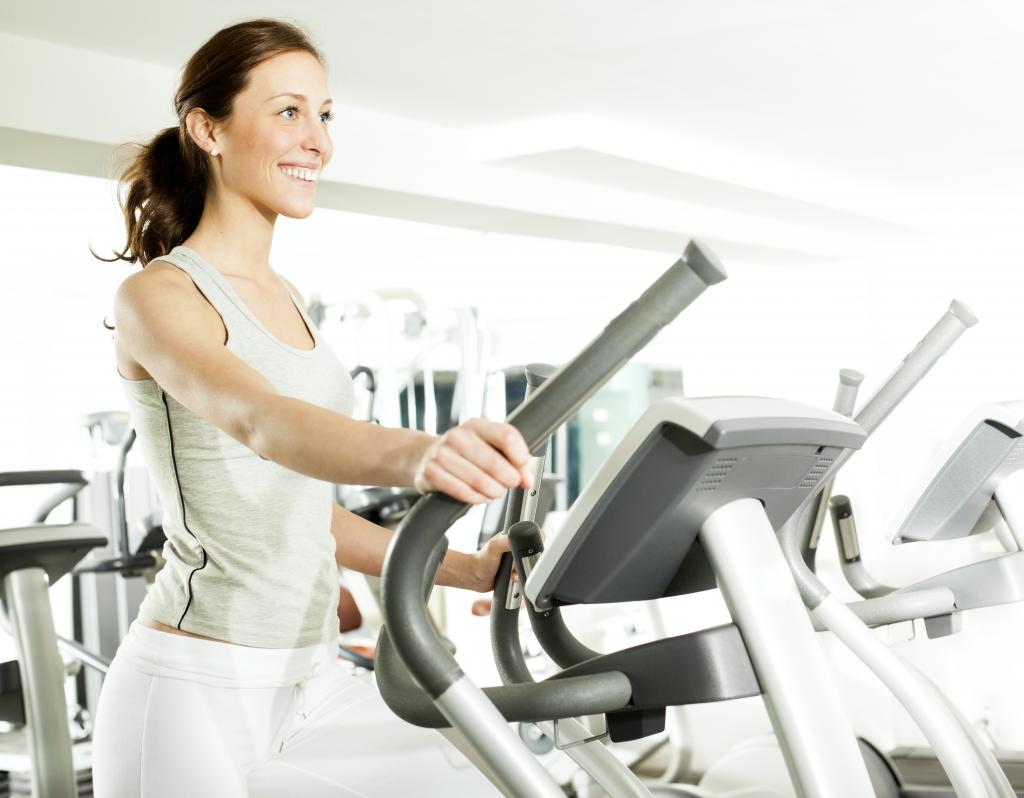 It's easier on your joints.
Whichever way you do it, jogging is a high impact sport. As a result, it can cause problems for joints because the body becomes airborne and has to land at a force that is equal to 24 times your body weight – we know, intense right? – and all that weight has to be absorbed by your joints. Ouch. The force is initially picked up by the foot but then it's transferred to the ankle, knee, hip or back. No wonder running injuries are ubiquitous.  For anyone with knee or ankle issues using the elliptical trainer that means you don't have to sacrifice calorie burn because of your injuries, as the study above shows.
MORE: 9 best gym leggings for real women
MORE: The home workout that brings the gym to you 
It works as well as steppers and treadmills
The elliptical trainer kind of looks easy so most of us assume it's not very effective. But science proves otherwise. A fascinating study published in the Journal of Sports Medicine and Physical Fitness  investigated improvements to metabolism and cardiovascular fitness in a 12 week period, comparing elliptical trainers to treadmills and stair-climbers.  22 moderately active women were assigned to run on a treadmill, use the elliptical or climb the stepper for 40 minutes, three times a week. After 12 weeks researchers measured their metabolism and cardiovascular fitness and while all improved, the benefits were virtually the same from all three machines.
To get a killer workout in a short time, do High Intensity Interval Training of HIIT on the elliptical. Choose a stride length and speed that really, really challenges you and do it for 45 seconds, then slow right down to a cushy speed for 45 seconds and repeat that continuously for 10-15 minutes. Studies have shown that HIIT training is as effective and in some cases even more effective for fat burning than long bouts of slow, sustained exercise (which most of us haven't got the time for).
To get a killer workout in a short time, do High Intensity Interval Training of HIIT on the elliptical.
It's more of a full body workout (booty included)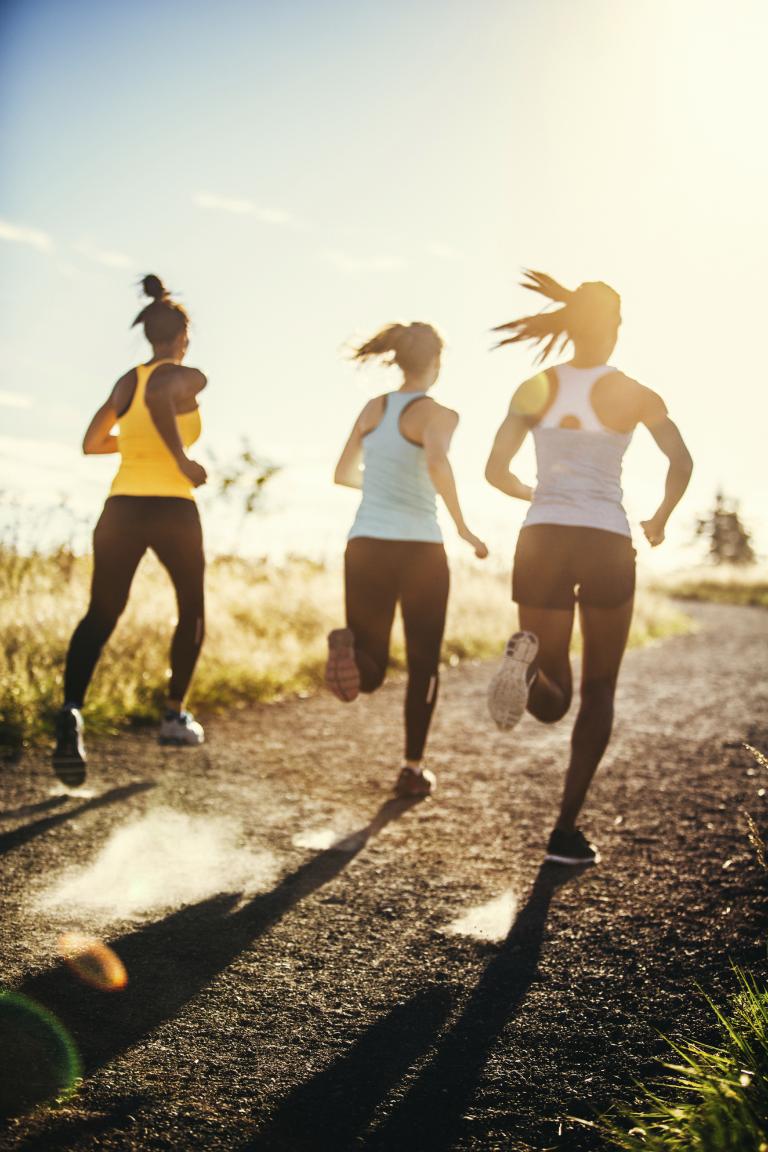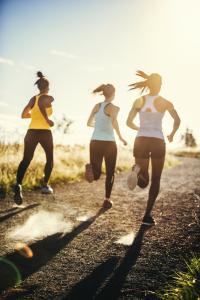 One study conducted in 2012 and published in the Journal of Clinical Biomechanics compared the muscles used in walking to those used during a workout on a cross trainer.  The walking produced plenty of what experts call 'frontal motion'; that's arms side to side, feet moving forward and back. But the cross trainer exercise worked the lower back or lumber spine more with twisting and rotating motions. This helps strengthen the essential muscles around the core area that need to be strong to help avoid back pain. Plus, the same study found activation of the gluteal muscles (that's booty to you and me) were consistently higher on the elliptical trainer than they were in the walkers.
It's great if you're tired
Firstly, elliptical trainers feel like they're easier, even though they're not (studies have shown people think they're working less hard than they are on cross-trainers!) which is good news when you're knackered but still want to squeeze in a workout. But the best bit is that they might actually boost energy. One study published in 2011 tested the effects of elliptical exercise in the fatigue levels of people with Multiple Sclerosis. Patients completed 15 elliptical training sessions lasting 30 minutes each and then filled in a questionnaire about their energy levels. Their fatigue improved dramatically after the cross-trainer workouts and while this study was in MS patients there's no reason the same effects won't be seen on those of us without it. Indeed, any exercise that leaves you energised and not knackered is etched in our good books forever.
MORE: Best gyms in London – Healthista's Vicky Hadley brings you a new Gym Hopper column kicking off with a review of Virgin Active
MORE: 5 best weight loss retreats that work 
Which one to choose?
If you're looking for an elliptical trainer for home use, NordicTrack Ellipticals have some serious science and tech behind them and offer great value.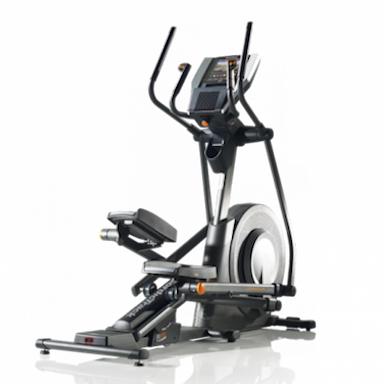 Their 'top-shelf' elliptical Club series offers a natural-feeling stride motion and incline and stride adjustments to make it tougher. They start at just £499.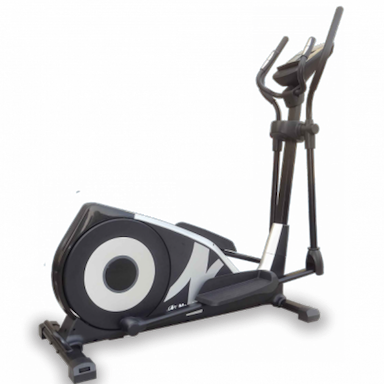 A less expensive alternative is the Classic series, which starts at £399 and offers you built-in workouts for ease and stride length adjustment (but no incline changes).
We also love that Nordic Track's ellipticals all offer the use of an advanced technology called iFit that offers automatic tracking, community involvement, workouts powered by Google maps and specialised training programmes from famous trainers such as Jillian Michaels – the legendary fitness impresario and Healthista favourite DVD fitness guru – for only £69 a year.
MORE: 5 best Jillian Michaels workout DVDs
Like this article? Sign up to our newsletter to get more articles like this delivered straight to your inbox.