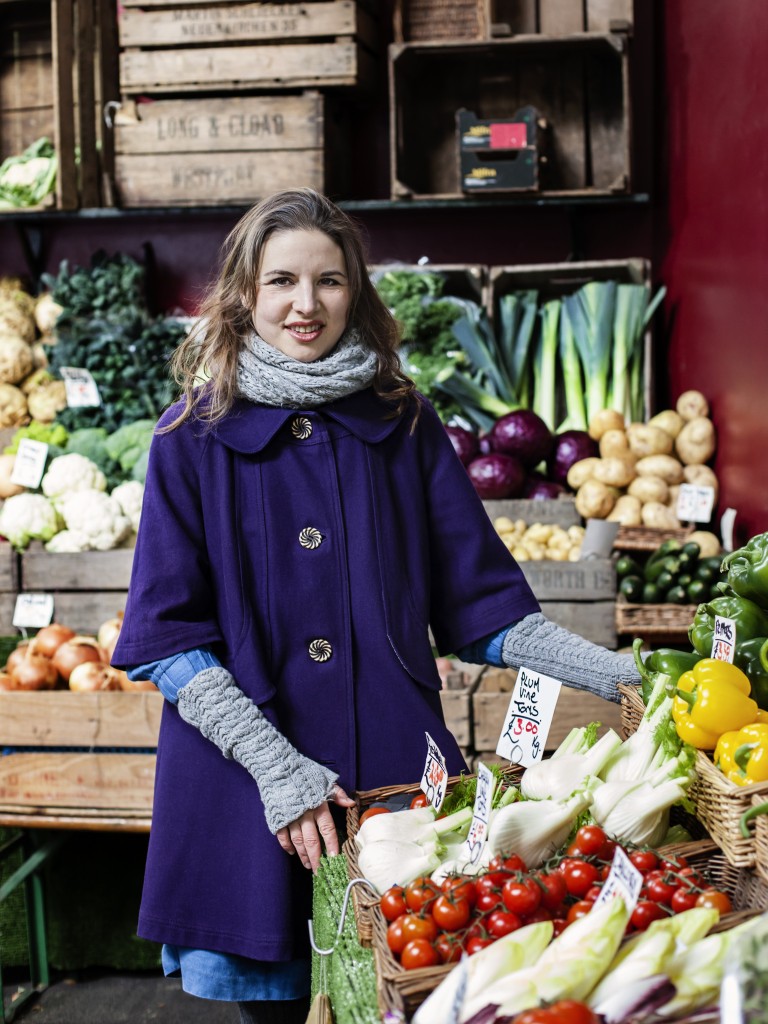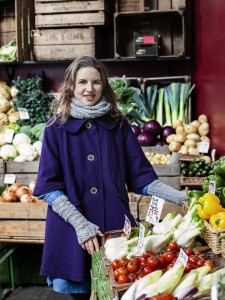 Rachel de Thample has worked in the kitchens of Maro Pierre white, Heston Blumenthal and Peter Gordon and now has written a book Five containing easy recipes that make getting your five a day easy. If you're bored with broccoli and butter, this is for you
RECIPE #1… BIG FAT GREEK SALAD WITH JASSY'S FRIED FETA
Jassy Davis is a genius food writer, blogger, author and now a colleague of mine. Of the many wonderful dishes of hers I've tried, her fried feta is one of my favourites – simple, quick and utterly delicious. It's certainly the icing on this wonderfully healthy salad.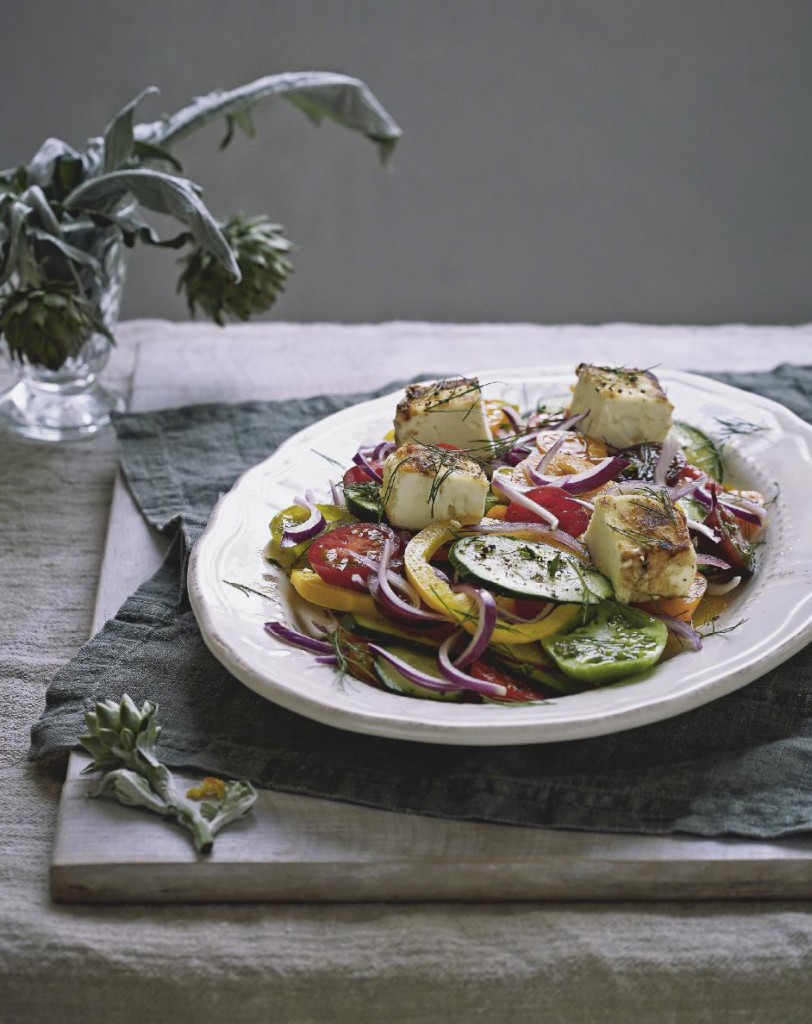 Includes 5 of your 5 a day
prep 15 mins
cook 10 mins
serves 4
INGREDIENTS
1 red onion, thinly sliced
1kg tomatoes (try a mix of colours if available)
1 tsp fresh oregano or thyme leaves
2 tbsp red wine vinegar
a little olive oil
1 cucumber, thinly sliced
2 peppers (a mix of colours), cut into rounds (seeds and stem discarded)
4 tbsp pitted olives or 2 tbsp capers (or a combo)
300–400g feta
2 tbsp plain white flour (gluten-free flour also works)
a gloss of runny honey
zest of 1 lemon
a large handful of fresh herbs (dill, mint, basil, parsley, coriander, chervil, chives)
sea salt and freshly ground black pepper
METHOD
Place the thinly sliced onions in a bowl and pour boiling water over them. Leave to soak and soften while you make up the rest of the salad.
Slice the tomatoes (or halve if they're cherry tomatoes). Sprinkle with the oregano or thyme and a pinch of salt and pepper. Splash the vinegar over. Arrange on your plates or a serving platter and add a drizzle of olive oil.
Scatter the cucumber and pepper slices over the top. Drain the onions and add them to the salad along with the mixed leaves. Gently fold through the tomatoes and dot the olives and/or capers on top.
Cut the feta into 4 large chunks. Soak the cheese in water for a minute, then dust with the flour, coating well on all sides. Heat a large frying pan and add a gloss of oil. Add the feta and fry until golden on all sides.
Top the salad with the feta. Add a very faint gloss of honey and follow with a drizzle of olive oil. Dust with a pinch of salt and pepper and scatter over the lemon zest. Finish with the herbs.
RECIPE #2… SOUK SALAD WITH SPICED AUBERGINES AND PISTACHIO YOGHURT
This makes an impressive party piece. Equally, it's a stunning packed lunch to tote into work to make your colleagues weep (pack the dressing in a lidded jam jar and dress just before serving). All the herbs, veg and spice packed into this pretty salad are hugely energising.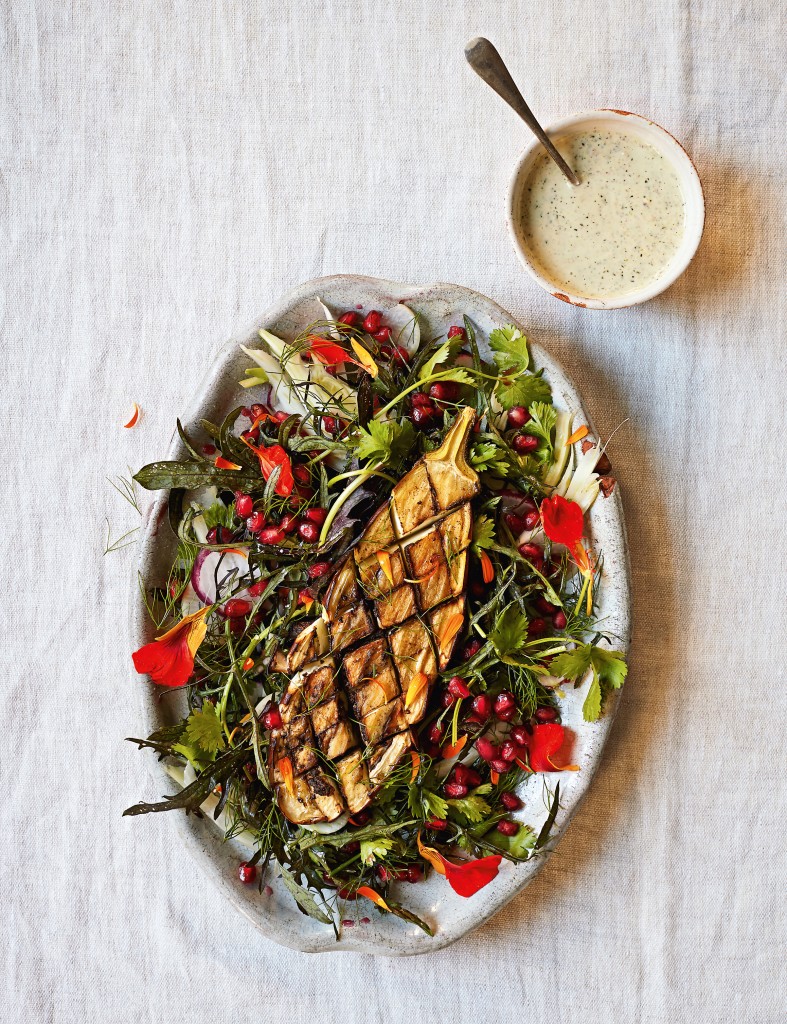 Includes 4 of your 5 a day
prep 15 mins
cook 45 mins
serves 4
INGREDIENTS
4 handfuls of mixed salad leaves
2 handfuls of fresh herbs (use 2–3: mint, parsley, dill, coriander, chives, basil, tarragon, sorrel)
2 large handfuls of mixed seasonal veg
a gloss of olive oil
2 pomegranantes
a handful of edible flowers (optional)
sea salt and ground pepper
FOR THE SPICED AUBERGINES
2 aubergines
1 garlic clove, chopped
a good gloss of olive oil
1 tbsp cumin seeds
1 tsp sweet paprika
1 tsp ground cloves
1 tsp ground cinnamon
a pinch of chilli powder
FOR THE PISTACHIO YOGHURT
6 tbsp shelled pistachios
a large handful of fresh mint
250g natural yoghurt
1–2 tsp olive oil
METHOD
Preheat the oven to 220°C/Gas 7. Place a baking tray on the top shelf to heat up.
First, make the aubergines. Halve the aubergines lengthways. Make 1cm deep cuts on the diagonal, about 2cm apart. Repeat in the opposite direction, creating a criss-cross pattern. Rub the chopped garlic over the top. Dust with salt and pepper. Gloss with a generous drizzle of olive oil. Roast on the heated tray for 40 minutes until tender.
Mix up the aubergine spices. Dust over the cooked aubergine. Roast for another 5 minutes.
For the pistachio yoghurt, whizz the pistachios with the mint and yoghurt in a blender or food processor until smooth. Alternatively, grind the pistachios in a pestle and mortar, add the mint, pound it to a paste and whisk into the yoghurt. Season, to taste. Trickle in a little olive oil, as needed.
Clean your salad leaves. Mix in a large bowl with your herbs and seasonal veg. Sprinkle over a pinch of salt and pepper, gloss with a drop of olive oil and mix well.
Roll the pomegranates on a firm surface to loosen the seeds. Place a sieve over a bowl. Cut the pomegranates over the sieve so the juices are caught in the bowl. Pluck the seeds from the pomegranates: I do this by inverting the pomegranate halves; gently tease any stuck seeds out with your fingers. Remove any white pith from your pile of seeds.
Drizzle the pomegranate juice over the salad. Divide between plates. Dollop with some pistachio yoghurt. Plonk a spiced aubergine half on each salad. Finish with the pomegranate seeds and the edible flowers, if using. Serve the remaining yoghurt on the side
My favourite mix is thinly sliced radishes (toss the leaves in with the salad leaves), thinly sliced cucumber rounds, tender purple sprouting broccoli florets, thinly sliced red onions (gently softened by placing them in a sieve and pouring boiling water over) and shavings of fennel (add the fronds to the herb mix).
RECIPE #3… HONEYED PARSNIP QUINOA WITH CHILLI, CARDAMOM AND ORANGE
I love marrying hearty winter food with exotic, warm flavours. It works so well here. As with pretty much every dish in the book, there are lots of twists and turns you can add to make it your own.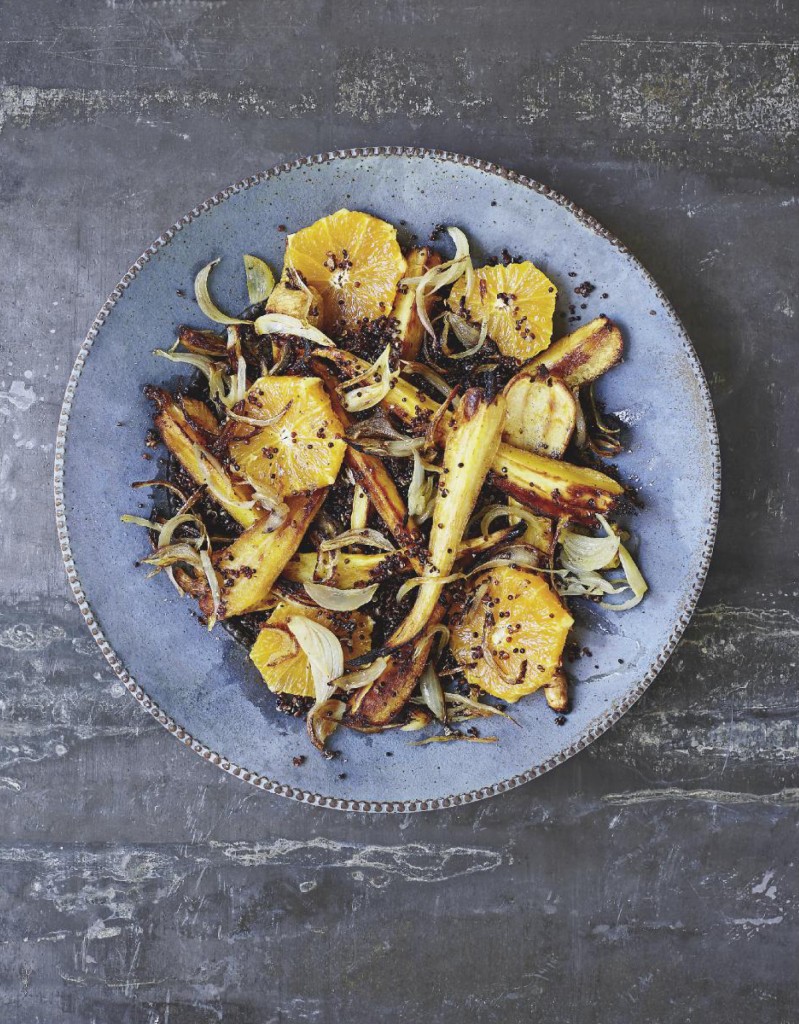 Includes 4 of your 5 a day
prep 10 mins
cook 30 mins
serves 4
INGREDIENTS
1kg parsnips, peeled and cut into 4cm long batons
1 large onion, thinly sliced
a pinch of chilli powder
a few glosses of olive or rapeseed oil, plus 4 tbsp for the dressing
200g quinoa
500ml water
3 oranges
1 tbsp runny honey
4 cardamom pods, seeds finely ground
a large handful of fresh parsley, finely chopped
a large handful almonds, toasted
sea salt and freshly ground black pepper
METHOD
Preheat the oven to 220°C/Gas 7. Place a large roasting or baking tray on the top shelf of the oven to warm up.
Toss the parsnips and onion in a bowl with a little salt, pepper and chilli powder. Gloss with just enough oil to lightly coat. Tumble onto the warmed tray and roast for about 25–30 minutes, or until golden and tender.
Meanwhile, rinse your quinoa in a fine mesh sieve. Heat a lidded pan and toast the rinsed grains for a moment. Swirl in a pinch of salt and a drop of oil. Pour in the water, pop a lid on, lower the heat and let it cook for 20 minutes, or until all the water is fully absorbed. Remove from the heat, lid still on, and leave to steam for a further 5 minutes. Drain any excess water.
Halve one of the oranges. Squeeze out 8 tablespoons of juice into a clean, lidded jam jar. Mix with the 4 tablespoons of olive oil, a pinch of salt, the honey and ground cardamom. Shake or whisk until fully emulsified. Taste and adjust the seasoning and the orange/oil/honey ratio to your liking.
Once the parsnips are nearly done, pour a little dressing over them, just enough to lightly coat, and pop them back in the oven for a couple of minutes, allowing the dressing to turn to a sticky glaze.
Cut the remaining oranges into 1cm-thick rounds – whip the peel off the rounds. Mix them through the quinoa, along with the chopped parsley and the remaining dressing. Tuck the roasted parsnips in to the mix, once cooked. Scatter the toasted almonds over the top. Serve warm or cold.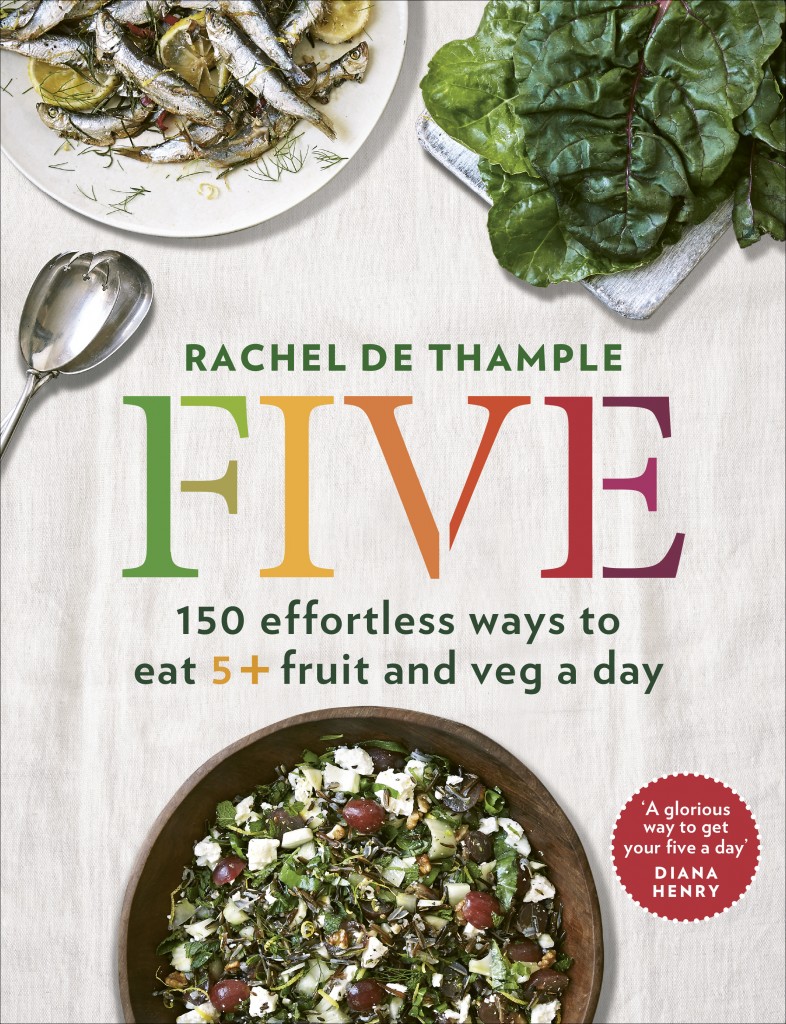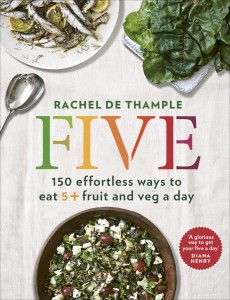 For more 5-a-day fruit and veg recipes, you can purchase Rachel de Thample's Five: 150 effortless ways to eat 5+ fruit and veg a day
from Amazon for £13.48.
Like this article? Sign up to our newsletter to get more articles like this delivered straight to your inbox.