Healthy food does not have to be boring, we've got healthy recipes from Britain's hottest wellbeing blogger Madeleine Shaw, including cauliflower pizza, red velvet cupcakes and squash curry 
Start experimenting in the kitchen with these three recipes from Madeleine Shaw's new book Get The Glow: Delicious and Easy Recipes That Will Nourish You from the Inside Out. Impress guests with a delicious squash curry, satiate your naughty craving with a cauliflower pizza or treat yourself to some red velvet cupcakes with coconut whipped cream.
SQUASH CURRY AND GINGER LIME RICE 
I love squash. It's tasty, filling and absorbs other flavours amazingly. Meanwhile, spinach provides an abundance of iron and a bit of colour for those who like to make their dishes look pretty. I certainly do.
Serves 3–4: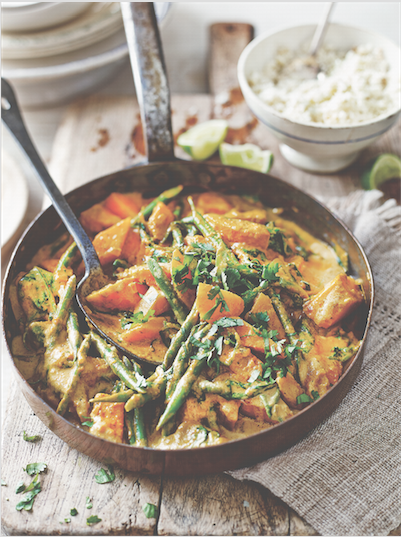 50g fresh coriander, leaves cut from the stalks and finely chopped
2 tbsp red curry paste
1 x 400ml can coconut milk
1 tbsp tomato pureé
½ tsp turmeric
1 tbsp coconut oil
1 white onion, finely chopped
pinch salt
400g butternut squash or pumpkin, peeled and cubed
150g green beans, ends cut off
50g spinach
juice of 1 lime
ginger and lime rice
1 cauliflower, outer leaves discarded and roughly chopped
1 tbsp coconut oil
zest and juice of 1 lime
1 tbsp fresh grated ginger
2 tbsp chopped fresh coriander
3 tbsp water
In a food processor or blender blend the coriander stalks, red curry paste, coconut milk, tomato purée and turmeric.
Heat the coconut oil in a pan over a medium heat for 1 minute. Put the onions into the pan. Sauté them for 5 minutes with a pinch of salt. Add the squash and stir-fry for 1 minute, then pour in the blended mix, bring to a simmer and let this cook for 10 minutes. Add the green beans and spinach and cook for another 20 minutes until the pumpkin is cooked through.
Meanwhile, make the Ginger and Lime Rice. Put the roughly chopped cauliflower into a food processor and process for a few minutes until you get a rice-like consistency.
Heat the coconut oil in a large frying pan, and throw in the lime zest with the ginger and coriander. Stir for 30 seconds, then add the cauliflower, 3 tablespoons water and the juice of the lime. Cook for 5 minutes, until cooked through.
Scatter the coriander leaves over the curry with a squeeze of fresh lime juice, and serve with the 'rice'.
CAULIFLOWER PIZZA FOUR WAYS
Quite simply: the best invention ever. Gluten-free, fun to make, delicious. I like to mix up my toppings, so I've given you a few ways to enjoy your pizza feast. The base is always the same, and the garnishes are up to you.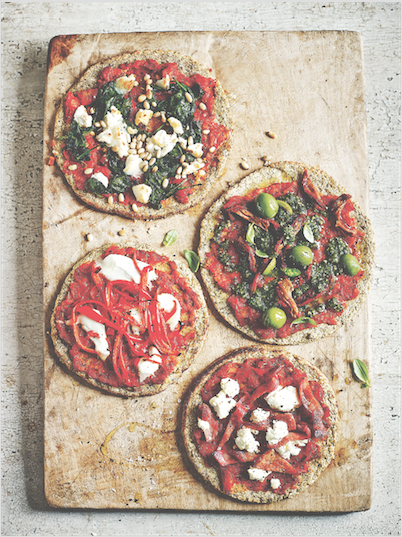 Makes 2 pizza bases with tomato sauce.
Basic base:
1 small cauliflower, stalk removed and roughly chopped
2 egg whites, whisked
1 tbsp oregano
6 tbsp quinoa flour (or other gluten-free flour alternative)
1 tsp coconut oil, melted
1 tbsp coconut oil
1 white onion, very finely chopped
1 tsp dried rosemary
1 x 400g can tomatoes
salt
Preheat the oven to 180°C/350°F/Gas mark 4.
Put the cauliflower into the food processor and pulse until you have a fine texture (smaller than rice, but not quite flour). Add the egg whites, a large pinch of salt, the oregano and the flour, and blitz until a dough forms.
Grab a baking sheet, line it with baking paper and put half of the dough on it. Place another square of baking paper over the top, then roll or press out the pizza base with a rolling pin or spoon, until you have a circle about 1cm thick. Repeat with the other half of the dough on a separate baking sheet.
Brush the melted coconut oil over the pizza bases. Put them both in the oven and cook for 20 minutes.
Meanwhile, heat 1 tbsp coconut oil in a saucepan over a medium heat for 1 minute, then add the onion, rosemary and a pinch of salt and sauté for 5 minutes.
Add the tomatoes and cook for another 10 minutes at a medium simmer until the sauce is slightly reduced.
Pour the tomato mix on top of the base, and get ready to add your choice of toppings . . .
TOPPING OPTION #1: Bacon and Ricotta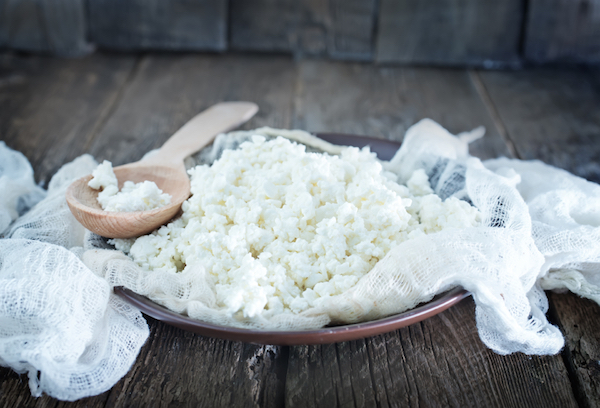 200g ricotta, cut into bite-size chunks
6 bacon rashers, cut into bite-size chunks
Put the cheese and bacon on after the tomato sauce, and cook at 180°C/350°F/Gas mark 4 for 8–10 minutes.
TOPPING OPTION #2: Pesto, Sundried Tomato and Green Olives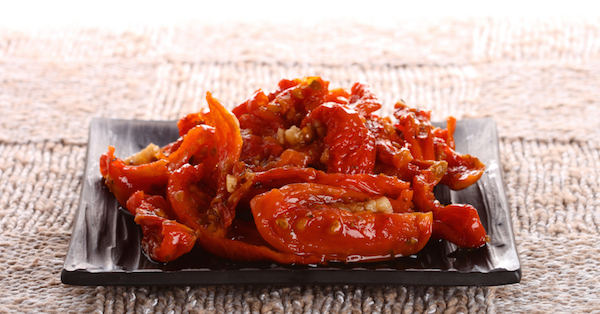 3 tbsp Homemade Pesto (see page xx)
50g sundried tomatoes
50g green olives
Cook the pizza with the tomato sauce on it for 8–10 minutes at 180°C/350°F/Gas mark 4. Sprinkle on the toppings after the pizza is cooked.
TOPPING OPTION #3: Cheese and Pepper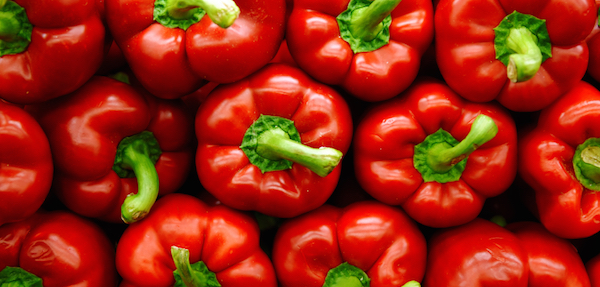 ½ red pepper, sliced into 1cm strips
100g mozzarella, thinly sliced
1 red chilli, deseeded and finely chopped
Put all the ingredients on after the tomato sauce, and cook at 180°C/350°F/Gas mark 4 for 8–10 minutes.
TOPPING OPTION #4: Goat's Cheese, Spinach and Pine Nuts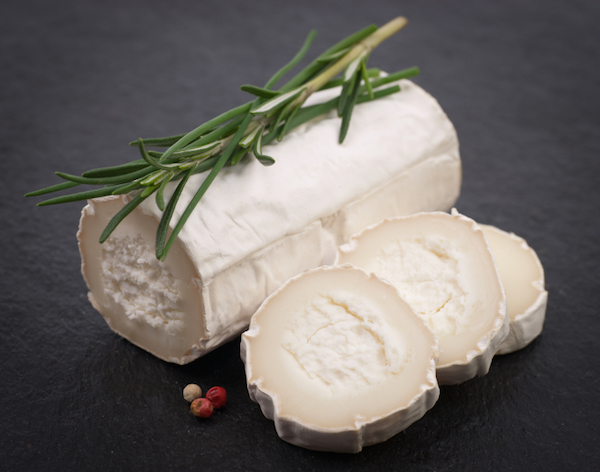 100g goat's cheese
100g spinach leaves
50g pine nuts
Boil some water and soak the spinach in it for a minute, then drain. Put all the ingredients on after the tomato sauce, and cook at 180°C/350°F/Gas mark 4 for 8–10 minutes.
RED VELVET CUPCAKES WITH COCONUT WHIPPED CREAM
This is essentially the dream cupcake without the usual associated guilt. Beetroot acts as the food dye, so there's no need to worry about preservatives. Then there is the gluten-free buckwheat flour acting as the base. The outcome is quite lovely.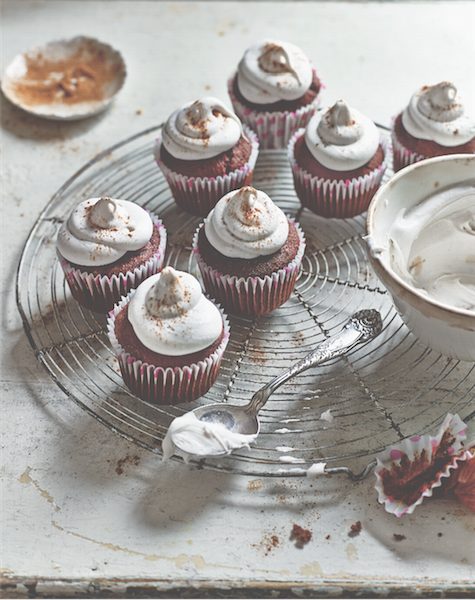 Makes 18 cupcakes:
250g buckwheat flour (or other gluten-free flour)
3 tbsp raw cacao powder
1 tsp cinnamon
2 tsp baking powder
½ tsp bicarbonate of soda
200g butter
250g coconut sugar or honey
2 small beetroots, finely grated
1 tsp vanilla extract
2 large eggs
150ml coconut milk (or any other milk)
Preheat the oven to 160°C/325°F/Gas mark 3.
Line two cupcake tins with 18 paper cases. In a bowl combine the flour, cacao, cinnamon, baking powder and bicarbonate of soda. Use the food processor to cream the butter and coconut sugar or honey for a few minutes, until light and fluffy, then add the beetroot and vanilla. Pour the contents of the food processor into the dry ingredients. Add the eggs one by one, and finally the milk, stirring vigorously.
Bake for 18 minutes, then let the cupcakes cool before topping them with Coconut Whipped Cream (see below).
1 x 400ml can coconut milk
½ tsp cinnamon
To make the coconut cream, place the unopened, upside-down can of coconut milk in the fridge, and leave it overnight. (You may want to do this the day before you make the cake.) Place a bowl in the fridge next to it.
Open the can and drain out the coconut milk that has separated from the cream. Place the milk in a glass (this can be used to make smoothies, or drunk while you make the whipped cream.
Scoop the cream out of the can and put it into the chilled bowl, then whip it with a handheld electric mixer until it fluffs up. Add the cinnamon, and whip again.
Feel free to add honey, raw cacao or vanilla to add some more flavour and sweetness.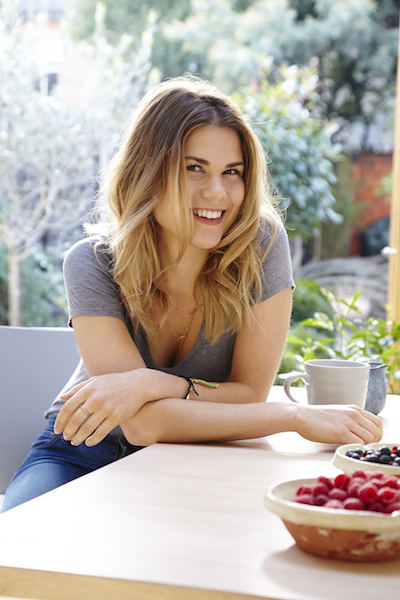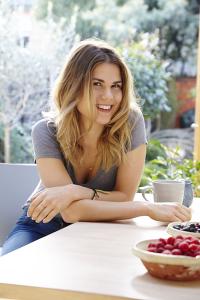 Madeleine Shaw is a food blogger and author of Get The Glow: Delicious and Easy Recipes That Will Nourish You from the Inside Out
 (Published by Orion).
Follow Madeleine on Twitter and Instagram for more recipes and tips.
Like this article? Sign up to our newsletter to get more articles like this delivered straight to your inbox.