Autumn is here, so we have rounded up the best sportswear for this season. From leggings to jackets – here's what you'll need and not just want
Pumpkin-spices lattes, burgundy, crunchy leaves, jumpers, scarfs, wellies…rain – what does all of this mean? Autumn is here. A perfect excuse to treat yourself to a new gym workout of course.
With the weather on the cooler side these days, you'll be needing some warmer gear to ensure you are comfortable during your walk to the gym, your evening jog or your weekly boot camp class.
From THE trainers of this season to comfy hoodies and must-have jackets, this sports wear round up will have you spending your entire day online shopping. Sorry not sorry…
The gym bag that holds our vote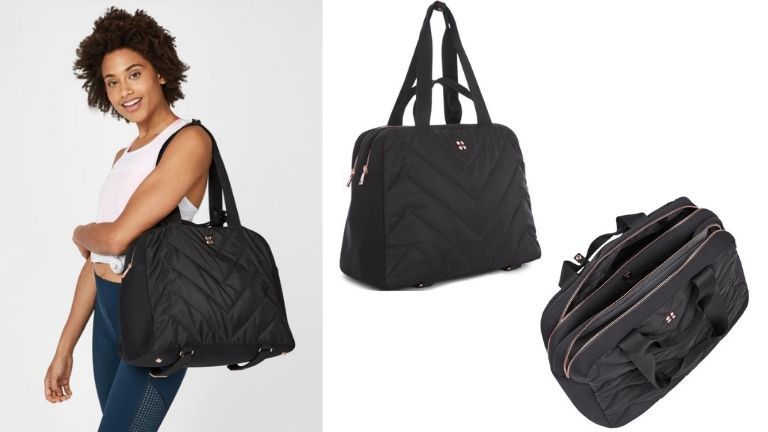 OK so first things first, before we talk about our top pick fitness kit pieces (that will totally have you running to the shops by the way), we need something to transport it all in right?
Behold this gorgeous trendy gym bag by Sweat Betty. This bag is ideal as a gym bag (and probably an overnight bag too).
But back to fitness, the bag features durable quilted woven fabric, with inner pockets including separate pockets for wet or sweaty kit, trainers and valuables. The zip up fastening top ensures your valuables are extra secure.
Oh and this bag is super light, and we all know there's nothing worse than a gym bag that's heavy before you've even put anything in it.
You can model it over the shoulder or carry it down by your side. Plus there's a yoga mat strap for you to carry around your yoga mat with ease. And if you are one who takes your laptop everywhere, this bag is big enough to fit a laptop too.
Our fave trainers for this season
There are so many trainers and runners out there that choosing a pair can be overwhelming. But not to worry we are here to help, with these two runner that are top of the range and that you are guaranteed to LOVE.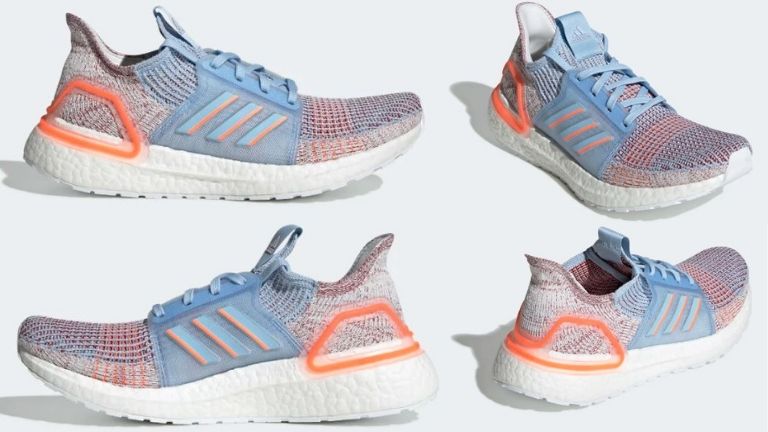 These Adidas Ultraboost 19 running shoes aren't only amazing to look at, they are also pretty impressive technology-wise.
They include key performance technologies, providing you with an engineered fit that expands and supports as you as you run.
On top of the knitted exterior is a second-skin that is built with motion-weave technology for added support, and they also have dual-density cushioning that will give you a confident and energy-filled run.
Plus, within then shoe is a torsion spring, embedded in the mid-sole to provide support during landing and propulsion at toe-off, say the makers.
Buying these Ultraboost trainers will turn you into one of those 'do you want to go for a run' friends that you've often wished you were.
Two members of the Healthista team have Ultraboost 19 trainers, but our fave new colour is the glow blue with hi-res coral as seen in the picture above, we think these will compliment your autumn wardrobe perfectly.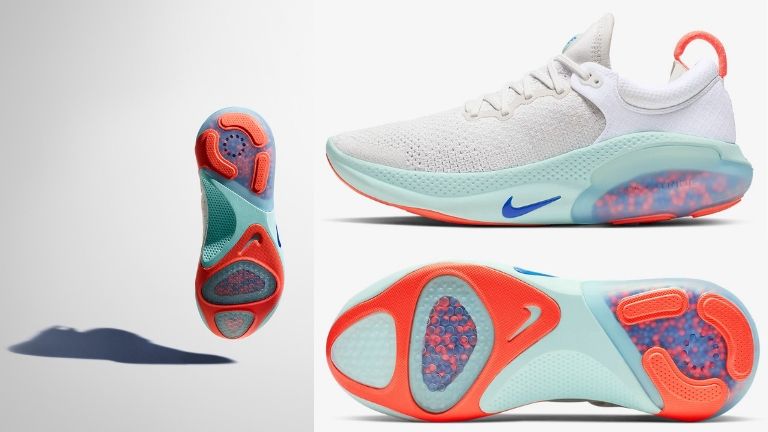 The Nike Joyride Run Flyknit is designed to help make running feel easier. Well as easy as running can be…
Look closely at the picture and you will see tiny foam beads underfoot, these contour and mould to your foot as you run to provide cushioning.  They compress and adapt to your every step for impact absorption and a stable feel, which helps lessen the chances of injuries caused by running.
The Nike Joyride Run Flyknit feels snug and secure, and has a super-lightweight, breathable material that hugs your foot and keeps it in place whilst you run.
Oh and there's one of those ultra helpful heel pull tabs that makes putting your trainers on when you are in a rush SO much easier.
If you prefer a slightly looser fit, Nike recommends ordering a half-size up. The shoe won't feel as tight over time though, as the Flyknit upper relaxes slightly and as the beads contour to your foot.
Our top pick sports bras
Now you may just see a bit of an autumnal colour theme start to appear throughout this round up. Autumn is all about burgundy, rusty and orange colours, so be sure that practically all of the chosen pieces are autumnal one way or another.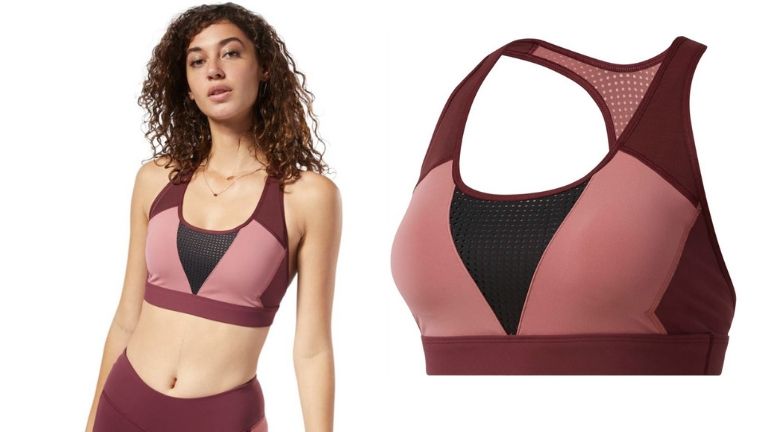 Layered under your sports top or paired on its own with leggings, this Reebok sports bra brings a bold style to your workout.
The sweat-wicking material and power mesh details keep you cool as your workout session heats up. Although this bra provides a 'fitted fit' there are angled side seams to avoid chaffing plus a wide under-bust band for stability and support.
Oh and doesn't the colour just scream autumn? We think so to.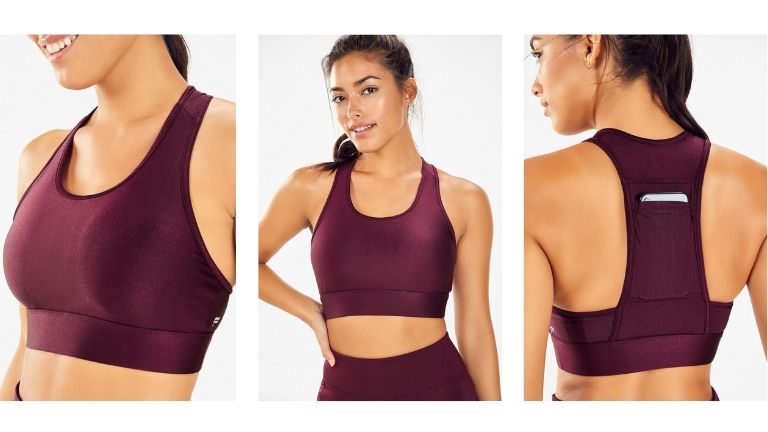 An autumnal colour with a bit of shine. Fabletics classic Mila bra has a highly flattering, deep-V neckline and back mesh pocket, complete with a secure flap to keep your stuff safe.
A sports bra with a pocket – what a game changer. The bra also comes with removable pads and will look pretty FAB with any colour leggings you choose to wear it with. But the biggest bonus? It's seriously affordable.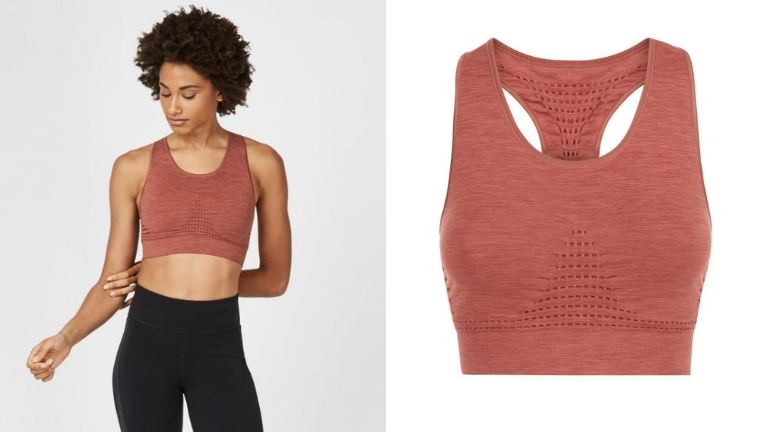 Another autumnal sports bra – see what I mean by the colour theme?
This Sweaty Betty essential sports bra is designed with a supportive underband, front waffle detail and seamless thick shoulder straps to make sure it stays in place whilst you workout.
This compression design keeps your boobs in place for any type of exercise from spin and boxing to weight lifting.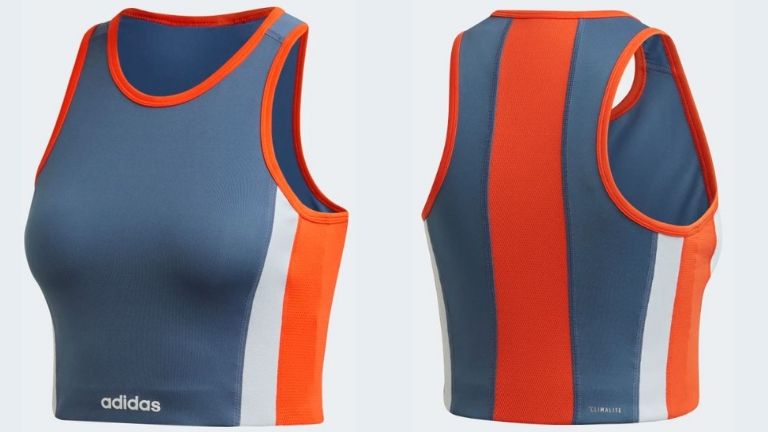 This crop top, sports bra is made to dry fast with sweat-wicking material to keep you dry during even the sweatiest of workouts.
Plus, it's Adidas so you are guaranteed a stylish look that means you can easily transition from your training session to running errands in town.
Built to stretch, it's made of sleek polyester with airy details on the sides for added ventilation. And of course there's some orange in the design, making it another perfect autumnal choice.
Oh and you can get the leggings to match, £37.95.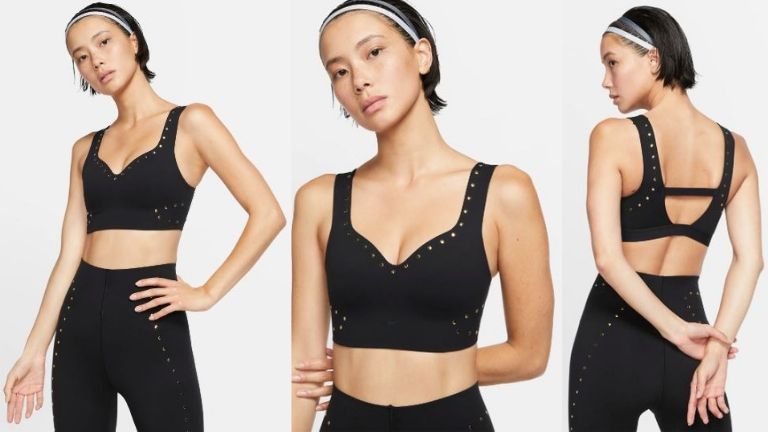 Don't scream at the price. I did at first, but hear me out. If you are someone who likes to go slightly sexy at Halloween instead of scary, then you could totally wear this as part of your sexy costume. So if you look at it that way you are getting a good deal after all…
Flashing a sleek and studded design the Nike Sports Bra features Motion Adapt technology and is engineered for those who want high-impact support.
And if you want to further splash the cash you can get the leggings to match, £119.95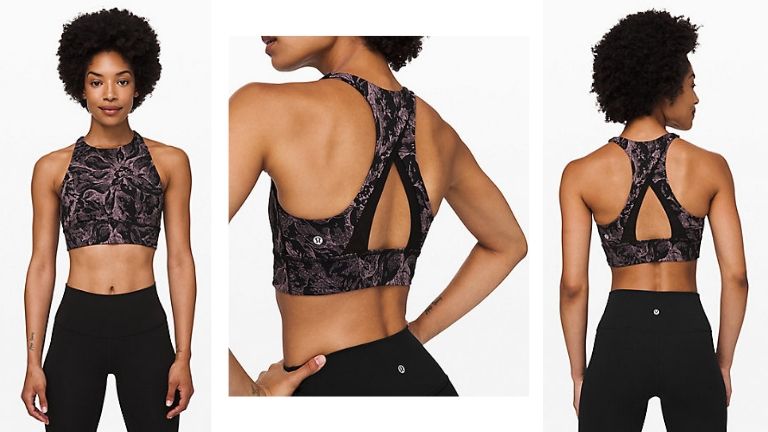 Ah Lululemon – we just love you.
Business in the front, party in the back or a party all over looking at the cool design. This bra gives you the coverage and ventilation you need during hot, dynamic sweat sessions.
It's also sweat-wicking, stretchy, and engineered not to shrink – all boxes ticked.
This season's on-trend leggings
Now it's colder out there, shorts are simply out of the question,  but soft, comfortable leggings are now top of the wash pile…and top of the wish list.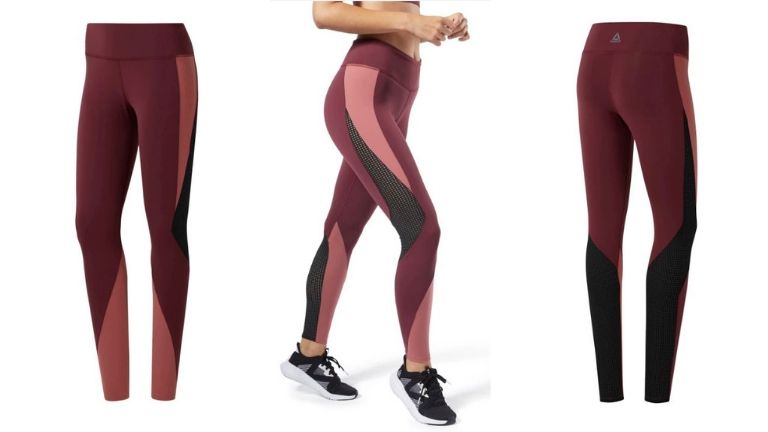 You may recognise this colour and design? Well if you scroll back up you will see it in our top sports bra picks. We just don't know if we prefer the sports bra or the leggings so why not get the whole set?
Whether you're heading to a daily workout class or out for a casual afternoon in town, these leggings have a sleek shape that is versatile enough to become your favorite go-to leggings.
The durable, sweat-wicking fabric helps you stay cool and dry, and the curved, flatlock seams offer chafe-reducing comfort. They also have a wide, mid-rise waist band helps shape and hold you in.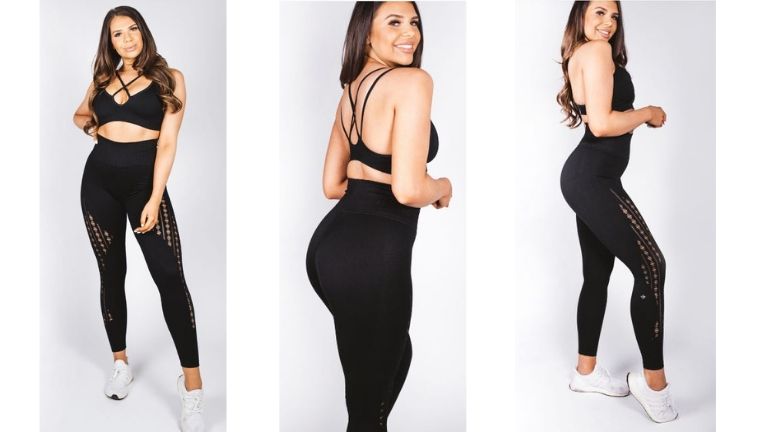 You'll be sure to notice I have moved away from the autumnal red and orange theme for a moment, and you will see that these leggings can be worn all year round without raising any eyebrows – they are super stylish.
If you're a fan of high-waisted leggings then these are perfect for you as they are definitely high-waisted. The open mesh detailing not only flatters but it also makes these leggings breathable by adding ventilation – the open mesh is what makes these leggings stand out. We are fans.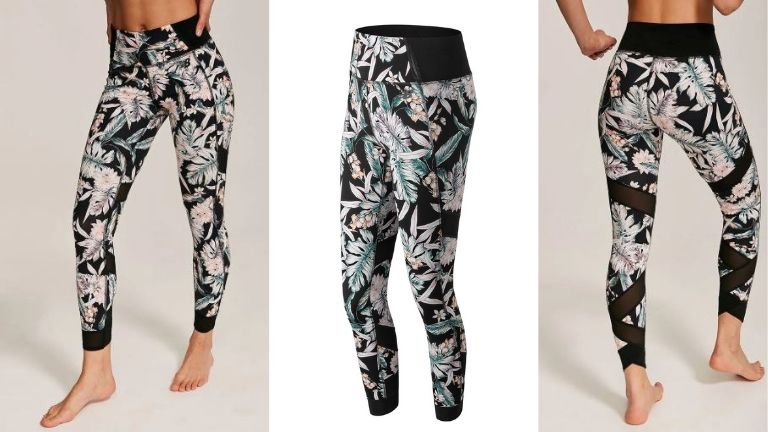 You can always rely on New Balance for a design that's pretty but stylish all at once.
The Printed Evolve Tights are designed for superior breathability. The mesh panels on the calf and on the back of the waistband mean fresh airflow will help you to stay dry and ventilated throughout your workout.
Oh and the subtle drop-in waist pocket adds a convenience factor.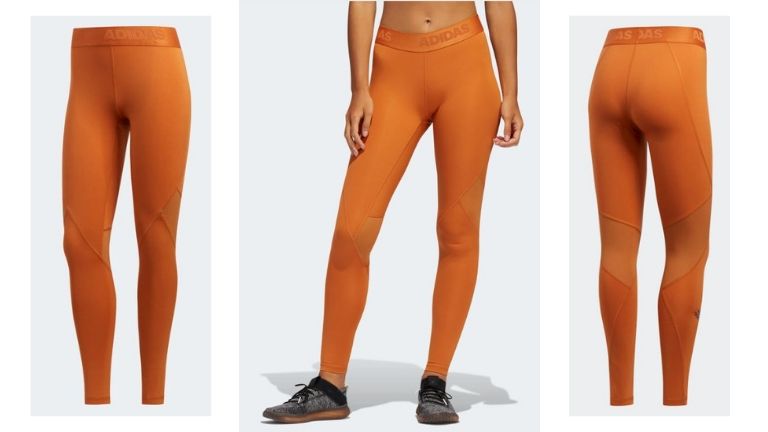 OK so these leggings definitely win the most on season colour, but you are guaranteed to look nicer than that delicious pumpkin spiced latte you're holding.
Fitted, compression and made to manage heat and moisture, these bright leggings are made of stretchy knit, with mesh inserts at the calves to move heat and moisture away from you during your workout.
The compression fit delivers a supportive feel, and the anti-odour fabric is a high bonus.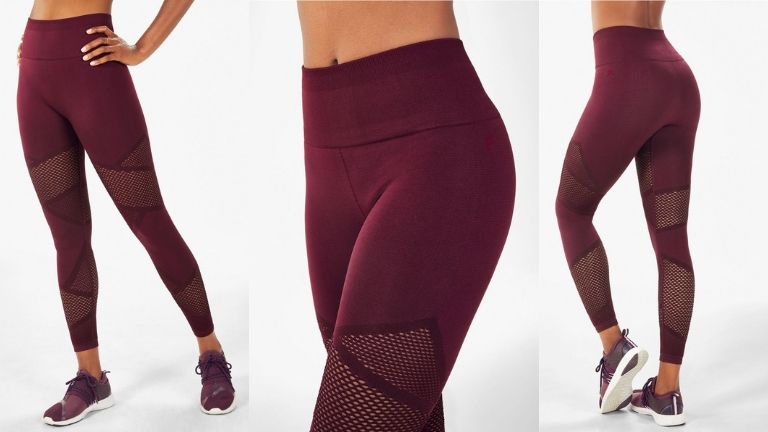 Fashionable, functional and sexy. Fabletics have stolen the autumnal show with these move-easy seamless 7/8 leggings, that featutre a supportive ribbed waistband and ultra-cooling mesh panels.
Plus, these leggings are chafe-resistant and sweat proof – what else could you possibly need?
Designed to be flexible, breathable and lightweight, these leggings are as lounge-worthy as they are perfect for a workout. They are a must-have.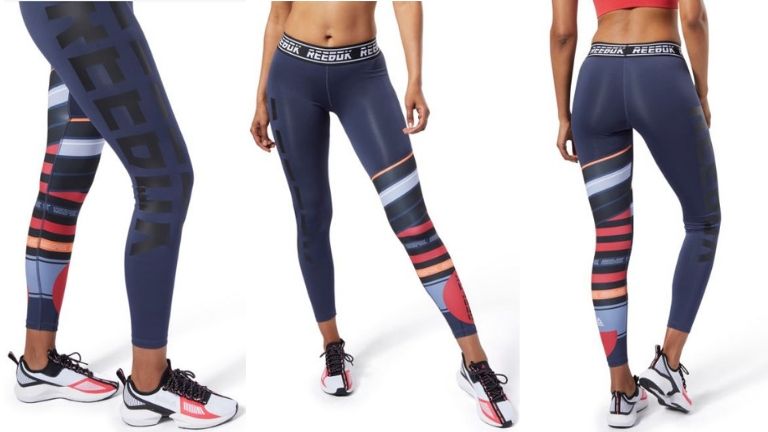 You are bound to steal the show in Reebok's Meet You There Engineered Tights, I mean just look at those colours and that funk design.
The leggings feature Speedwick fabric to which makes them sweat-proof. They also provide a stretchy and supportive fit that helps power you through even the toughest workouts.
Other seasonal must-haves
Unfortunately (for some) the weather turning colder means winter wardrobes are no longer in hiding. Jumpers, jackets, tracksuits – they are all back on the scene, and these are the pieces your wardrobe will be crying out for this autumn.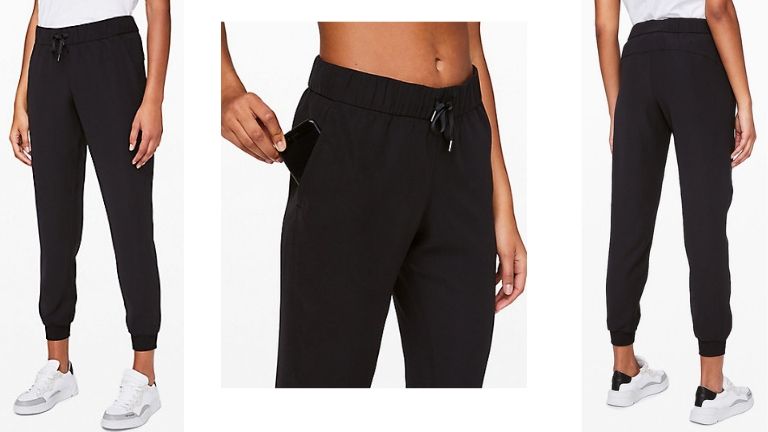 Oftentimes, leggings just don't cut it when the weather is on the chillier side. That's why these Lululemon joggers are a must have to keep in your gym bag.
Fashioning a relaxed-fitting style, the fabric feels smooth against your skin and will keep you warmer on a colder autumn evening.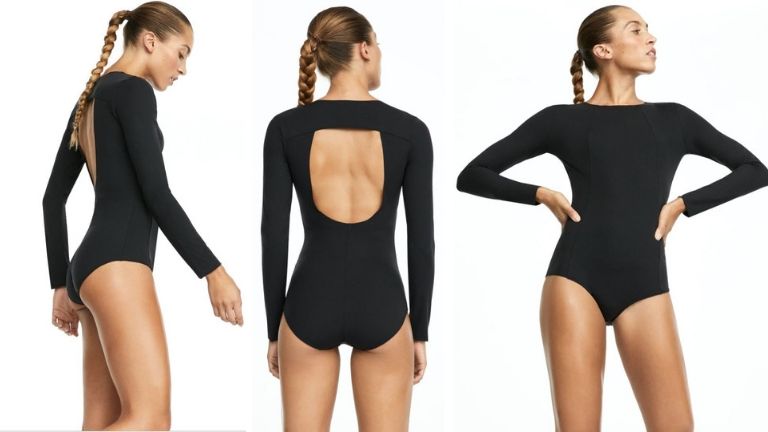 Again, this piece is for when the weather gets decidedly frosty. The ultra light fabric will provide you with some extra warmth if you are jogging outside.
The body suit isn't too bulky either, other tops and even a jumper can be worn comfortably over the top.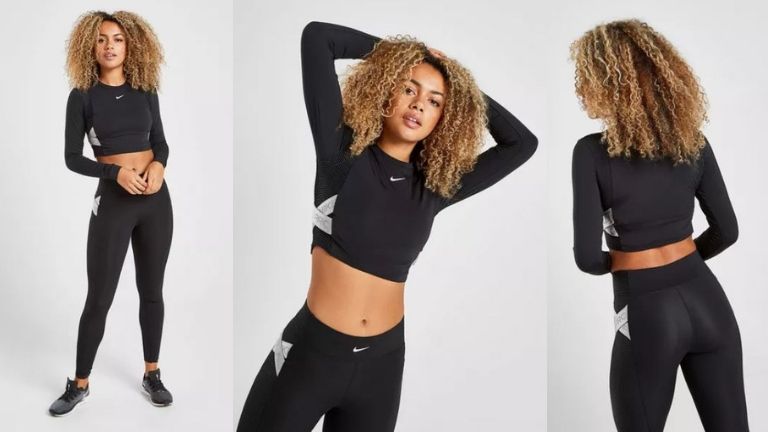 Sometimes long-sleeves are necessary and needed. For extra support or to keep you warmer or whatever the workout, keep comfy in this women's Training AeroAdapt Long Sleeve Top from Nike Pro.
Made from smooth and stretchy poly fabric, this tight-fit top uses Nike's AeroAdapt technology to keep you at the perfect temperature. The sweat-wicking fabric guarantees cool, dry comfort.
And it looks pretty cool too right? The crew neckline, the long sleeves and the cropped hem, with cross-over taping at the sides, this workout top means business.
Jumpers and jackets are autumn necessities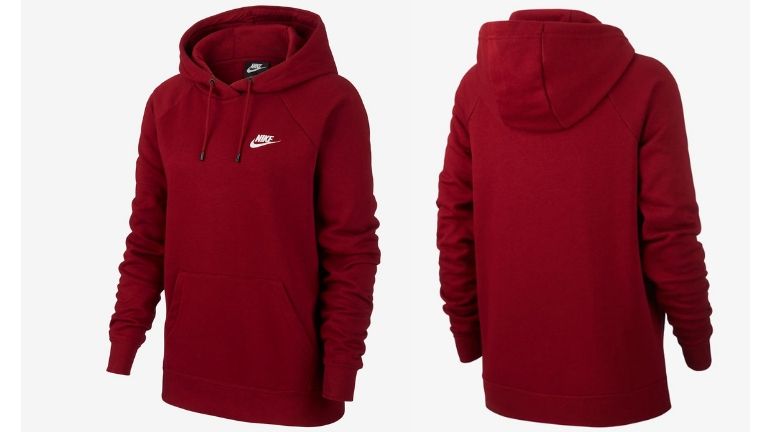 One of the best things about colder weather is the excuse to splash the cash on a warm and cosy jumper like this Nike Essential Women's Fleece Pullover Hoodie.
This go-to sweatshirt for all-day comfort is made from soft fleece and it features an adjustable hood and a kangaroo pocket to keep those chilly hands if you have forgotten your gloves.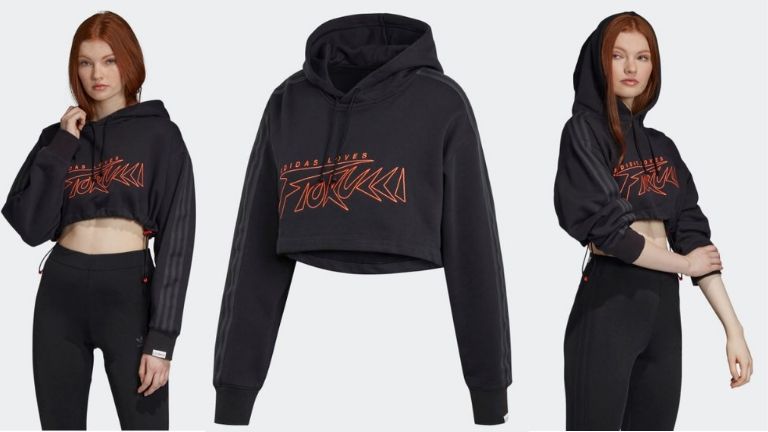 More of a cropped style, this Adidas jumper offer a loose fit that is over-sized to provide a more modern look, the long sleeves and ribbed cuffs also add to the cool and edgy style.
Fiorucci has been an unstoppable force in pop culture since the '60s and in collaboration with Adidas Originals, the famed Italian fashion house brings its renowned edge to familiar sport styles with a gritty embroidered logo that flashes across the chest.
Too cool for school.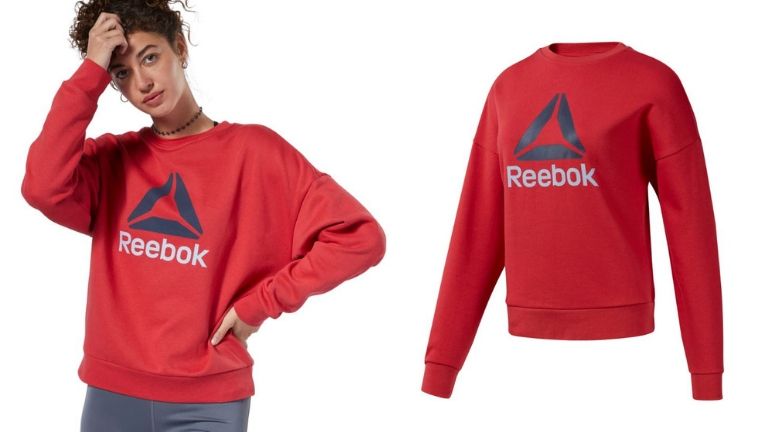 Is this another item of red clothing you see? Yes, yes it is. Throw this women's sweatshirt over your gym clothes and get to work.
Made of soft fleece, this loose-fit jumper is perfect to throw on, on your way to the gym and after your workout.
A relaxed shape for unrestricted movement, s ribbed crew-neck, cuffs and hem and the classic Reebok graphic – this jumper has autumn written all over it.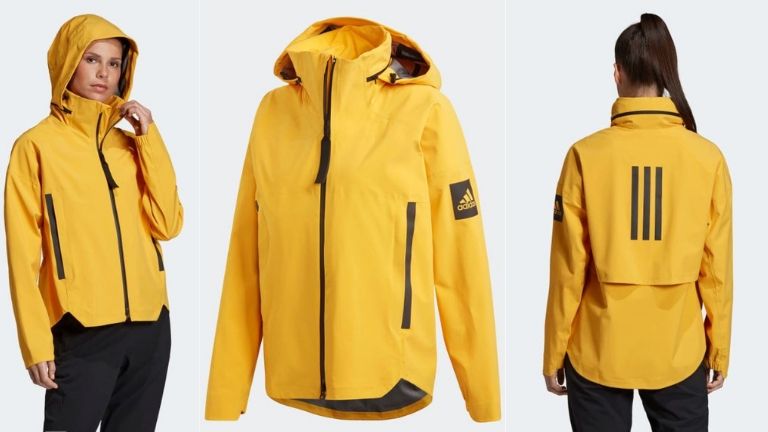 With the cold also comes the rain, so you'll be needing something slightly more waterproof than a jumper.
Yellow or mustard? Who cares – we love it. The seams are sealed for a full waterproof jacket but with three-layer fabric that enables breathability without trapping in heat.
The jacket also has a protective high collar that can help to shut out the rain and wind. There is also an internal zip pocket with a headphones channel for ultimate convenience.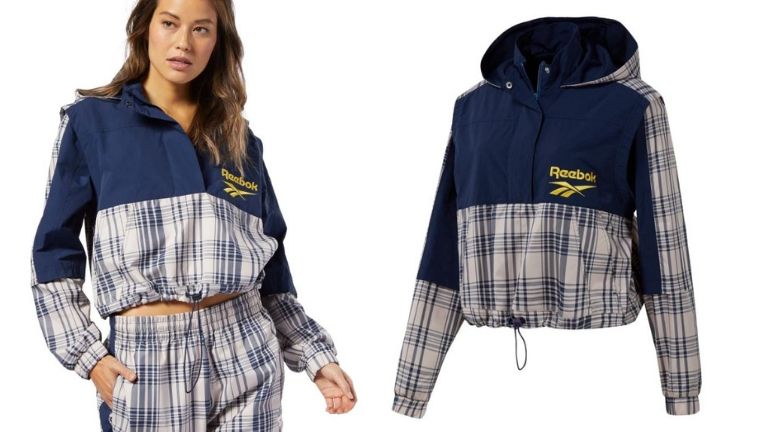 This jacket will keep you dry and make your friends totally jealous of your cool style. This plaid jacket inspired by 90's and 2000's motor sports – I don't know much about this either but it sounds cool right?
Hit the streets in race track style. This  jacket features a tall collar that adds to its retro vibe. It's made of a classic twill for a sturdy feel and a half-zip makes it easy to slip on and off in changeable weather.
Relevant Healthista Content:
18 best plus size workout clothes
5 kettlebell workouts that take only 20 minutes and burn enough to change your body
Healthista Content You May Also Like:
11 new trainers we're loving this season
The full body workout for serious fat-burning using ONLY a bar
11 fast fat loss secrets from this world-leading fitness retreat
Margot Robbie's personal trainer on exactly how to get a Hollywood body
Like this article? Sign up to our newsletter to get more articles like this delivered straight to your inbox.